by Tracy Stella
Have you ever been running next to someone and thought, "What IS that stench?"  Heaven forbid if you inhale deeply through your nostrils for fear that your nose hair might get singed away.  The acidic fumes of the person's body odor as they perspire next to you about makes you stumble as your stomach beckons you to lose your Power Bar™.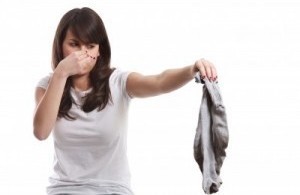 You quicken your pace so you no longer have to open mouth breathe.  The thought of not being able to take deep breaths through your nose for an entire race is just not a pleasant one.  You speed up, but somehow the smell follows you.  You can't escape it.  You think, "I'll just breathe the fresh outdoor air deeply until that nasty smell is cleansed from my nose".
The only problem is, you realize as you look around and see no one within proximity, that the smell just may be you!  You lift up your arm a bit, subtly of course, there are spectators watching this event after all.  You position your nose within good sniffing direction of your pit.  Doesn't smell too bad.  It's not a bed of roses, but it's not that horrible, inescapable smell.  Hmmm.  What could be the culprit?  You lift your shirt up a bit to wipe sweat from your face and get a good whiff.  Oh, my gosh, a toxic dump might smell better than this sweat-impregnated shirt.  If you're a guy, you might opt to rip the shirt off and run the rest of the way without it.  If you're a lady, it's not like you can just rip the shirt off during the race. Noooo, we must endure this nastiness for the entire race.  No worries.  That shirt is going in the trash as soon as this race is finished!
Alas, the stinky strides could have been avoided!  There is a simple, stink-free solution to wreaking running clothes.  It's a blend of ideas to keep us smelling, if not good, at least not knock me over stinky pooh.  After all, athletic apparel is an investment.   Here's how we protect ours.
First, if we are not going to have time to wash the apparel upon finishing our workout, we immediately hang the clothes to dry on racks in our utility room.  Sounds gross, but the clothes aren't puddled together in a bunch until laundry day, not drying, and growing more and more in need of fumigating.  If you are into saving water and the environment, hanging your clothes also allows you to save up a few outfits so you are not washing very small loads every single day.
Second, when we get around to washing our workout clothes, we wash them in cold water with detergent as you normally would.  The secret smell-stopping weapon?  Thanks to my grandma, we throw a little vinegar (1/4 cup to be precise) in the load too.  If when pouring the vinegar you think, "wow, this smell might be worse than my body odor impregnated shirt", don't worry.  The vinegar odor dissipates after washing.
Lastly, hang the clothes back up to dry after washing.
In summary,
Step 1:  Immediately after work out completed, hang athletic apparel to dry
Step 2:  Wash in cold water with laundry detergent, adding ¼ cup of vinegar
Step 3:  Hang apparel to dry after washing
Step 4:  Run breathing in and out of your nose as you please