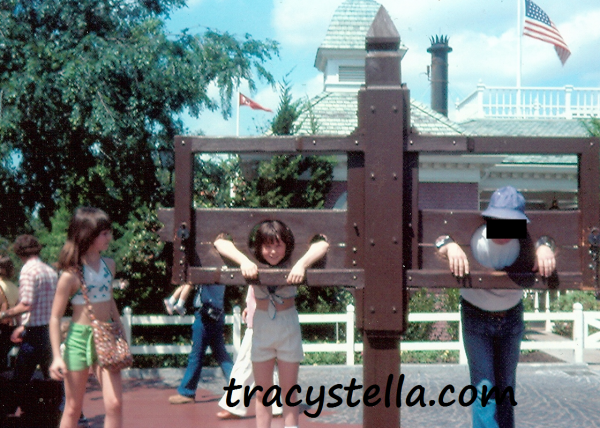 Matthew 11:28-30
Come to me, all you who are weary and burdened, and I will give you rest.  Take my yoke upon you and learn from me, for I am gentle and humble in heart, and you will find rest for your souls.  For my yoke is easy and my burden is light.
Above is a picture of my cousin Kim and me on vacation.   This photo was the closest approximation to a yoke I had lying around amongst all the family albums.  Since a yoke isn't something you come across every day, you might not be familiar with what one is.  Here's how dictionary.com describes it.
"A yoke is a device for joining together a pair of draft animals, especially oxen, usually consisting of a crosspiece with two bow-shaped pieces, each enclosing the head of an animal."
If you have a really good imagination, you can visualize a yoke.  Consider me the draft animal whose head is poking through the stockade.  Go figure.  I'm the one who often tries to carry loads that aren't mine to carry.
Whenever I feel myself becoming weary, I need to stop and ask myself why am I attempting to carry the burden?  God's Word promises that His yoke is light.  He also promises He will bring us rest for our souls.  He doesn't promise that He is going to bog us down with burdens until we can't move.
Intellectually, I know this.  Yet still there are times when I pick things up I have no business lifting.  I'll try to carry what really is God's burden to shoulder.  He knows I could collapse under the weight of the burden.  God's shoulders are broad and can withstand holding all of the world's burdens – mine, yours, all of them!
Lately, I have been presented with a plethora of people whose circumstances are overwhelming.  My heart breaks for them – for the places they hurt, for the crisis they are in, for the mistakes they might have made, or for the injustices done to them.  There are so many hurting people; it can be more than I can bear.
When I start to think I have to shoulder all of that, I can become paralyzed.  I think to myself, "gosh, I can't fix all that".  Well, gee, that's brilliant!  I cannot fix all that.  It is not my job to fix all that.  My job is to love people in the midst of "all that".  My job is to do what I can.  My job is to listen to God and go where He says, help whom He says to help.  I am not responsible for fixing the world's problems.  Repeat after me, "I am not responsible to fix all that".
When God calls us to participate in "all that", the burden is light.  Don't mistake that for easy.  There have been seasons where I had to walk through handling major "all that" God was calling me to deal with.  In those times, even if it was sometimes painful, I felt God's strength.  I felt His power.  I felt God's wisdom sinking into my soul so I could say and do what needed to be said and done.  The situation itself was heavy, but my burden was not.  God's hands were outstretched, carrying the load for me.
Feelings of being overwhelmed are a symptom.  They are a symptom that we are trying to do God's job.  Every time we see those symptoms, we need to stop.  Those feelings need to be an indicator for us to step from under trying to carry the burdens of the world.  (We're not to stop caring … just stop carrying.)  There are important things at stake.  The enemy would love to bog us down in our (or other's) burdens, burying us, and them, from fulfilling our potential.
Let's recognize together when we are shouldering a burden which is not ours to carry.  As it says in Galatians 5:1,
It is for freedom that Christ has set us free.  Stand firm, then, and do not let yourselves be burdened again by a yoke of slavery.
What burdens have you tried to carry, only to realize they were not yours to shoulder?
How did you (or can you) release your burdens to God's care?