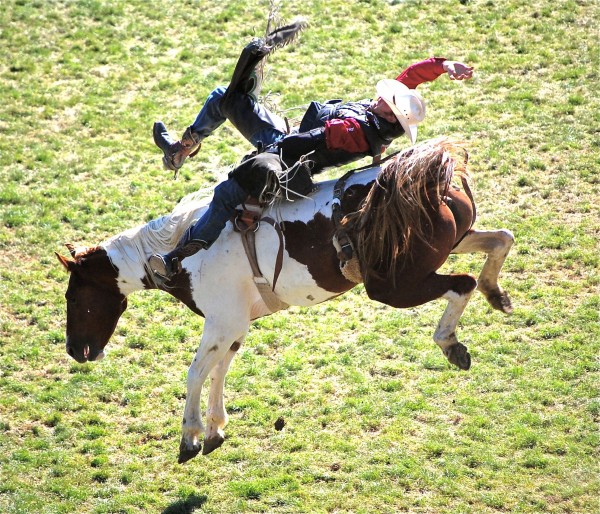 James 1:2-4
Consider it pure joy, my brothers, whenever you face trials of many kinds, because you know that the testing of your faith develops perseverance.  Perseverance must finish its work so that you may be mature and complete, not lacking anything.
I used to proudly boast, "I am like a wild mustang and no one is ever going to tame me."  If anyone would have tried, I probably would have given him a figurative kick!  Independent?  Stubborn?  Rebellious?   I'd later learn those characteristics were part of my arsenal, my defense mechanism, to avoid getting hurt.
Reining me in was not a safe task for mere mortals.  Only God could break me in, without breaking me.  Only God knew everything that had brought me to the place of wanting to buck everyone off.  At the time, I didn't even understand much of it myself.
God allowed me to experience many trials as He continued to reach for me.  I think my level of stubbornness is demonstrated by what it took for God to break through my tough facade.
The trials started with the loss of my career, the place I received much of my self-worth.  I was rewarded for my sales results.  It was an easy formula.  Do a good job.  Make money.  Receive accolades.  People think you are successful.  I think we can all be drawn into finding our worth and value in something or someone else.  For me, it was my job. Yet, when I lost it, I told everyone "I'm fine."  "I'm doing great."  Blah, blah, blah.  Lie, lie, lie – even to yourself.  "Keep it together, girl!"
At around the same time, I received some devastating news about a family member.  Still, head reeling, keep it together.  Must.  Look.  Like.  You.  Got.  This.
Bam!  Here's another explosion.  My first marriage disintegrated.  There were things I didn't see.  Over time my stubborn nature said, "Enough!  I am done!  My Cinderella story?  Shoe doesn't fit anymore."
Continue onward toward your Academy Award winning performance.  "I'm ok.  Really, I'm ok."
Later, God would teach me about pride – and its antecdote, humility.
As the pieces continued to crumble, I found myself crying out to God one morning in the shower January 29, 2009.  Emotionally, I was in seriously bad shape.  I knew I was probably going to lose my home.  Later, I did.  I tried to run from the pain, but I couldn't escape.  I was non-functioning, barely able to do even the most mundane task.  Opening the mail felt impossible.  Smiles were unimaginable.  I was shutting down.  I didn't know how to pray, but I was desperate.  My prayer that morning consisted of two words:  "help me".
Lucky for us, God only needs a small seed of faith.  I showed just enough that God was able to ignite it.  He slowly turned the flame of faith up as He healed me.  God was so faithful in seeing me through those moments where no person could have withstood my anguish.  It would have been too overwhelming for human consumption.  Thankfully, God can handle our pain.  Thankfully, God doesn't leave us in it.  Thankfully, He has the power to heal us.
Since those early days, God has done mighty things in my life.  God has taught me much through the trials.  He drew me near to Him.  He taught me how to persevere and has been growing me up in the knowledge of who He is and what He wants from and for me.
One of the most awesome things about God is He has the power to transform a tarnished life into a life that is good and beautiful – if we let Him.  The song from Fresh Prince of Bel Aire comes to mind …. "Now this is a story all about how my life got flipped, turned upside down."  I wouldn't be who I am today.  I wouldn't know who I KNOW today if my life hadn't been flipped upside down.  Somehow, my life is better because of all the trials He delivered me through.  Now I am on the path God intended for me to be on all along.  I'm committed to persevere with God, and we're working on that maturity thing.
If you find yourself in a place where your life is flipped upside down, I pray you find hope in my story.  The journey has not always been easy, but the work with God has definitely been worth it.  God knows where you are at.  God knows where He wants to bring you.  I hope you let Him.  Don't give up.  And just in case you don't know this, God is good!
Has God ever used tragic or trying circumstances to reach you?
If so, how has that impacted your life?
How have you experienced God's redemption?
How did your life change as a result?