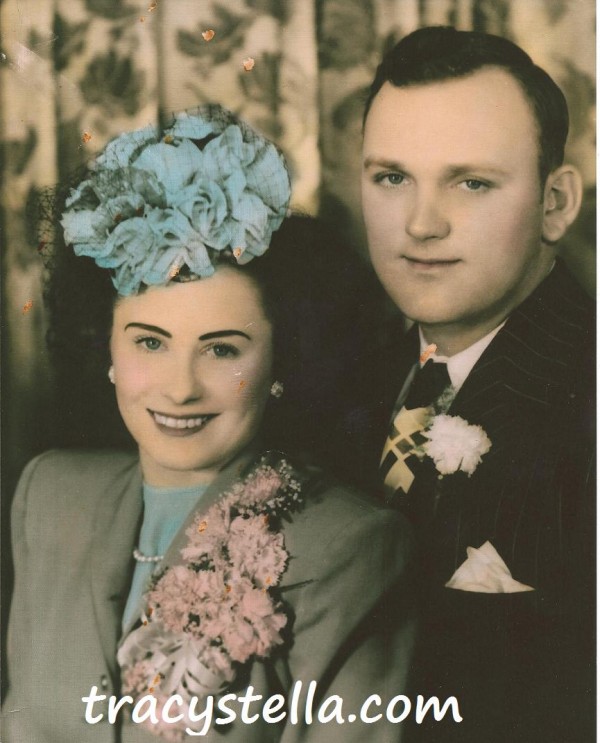 My Grandma Price passed away August 6, 2012.  This is a picture of her and my grandpa from their wedding day.  Grandma's slight 4'11" stature was barely big enough to contain her sassy, exuberant personality.  Her height was always the yardstick her grandchildren, and then great grandchildren, used to measure our growth against.  We stood back-to-back with Grandma Price.  We didn't need a wall marked with pencil graffiti.  We knew we were "getting big" when we could look grandma eye-to-eye.
During her wake and funeral, it was difficult to process emotions.  It felt like there were too many people watching.  I tried to keep it together.  I wanted to be strong, at least in that public moment.  After grandma's casket was lowered into the ground, I had to step away from the crowd.  I walked toward the corn fields billowing in the breeze.  I thought of how much I was going to miss my grandma.  I took a moment to compose myself and then walked toward the church vestibule.
After eating the meal the lovely ladies from church prepared for us, my husband, my son and I drove out past my grandparent's farm.  I didn't want to let go of my grandma or the place that housed so many childhood memories.  I tried to burn the images into my brain.  As much as I love my son and my husband, I still felt like there were too many people around to process.  I needed time alone.
My husband is very in tune with my moods and rhythms.  I am grateful for that.  He took me out to Lake Storey and the three of us sat on a picnic table.  I kicked my heels off and sat numbly gazing over the water.  I know my grandma was old and had led a very good life.  I'm sure she missed my grandpa who had passed away a few years earlier.  I knew about heaven.  But still – I missed my grandma.
The next day, I received a gift.  I had time to myself, so I head out for a run along the path that lined the perimeter of Lake Storey.  Running is one of the best ways for me to clear my head.  No interruptions.  No technology.   Just me.  No talk.  Except to talk with God as my feet pang against the pavement.
During my run I finally got to process the loss of my grandma.  No witnesses.  Just me and God working it out.  I started to remember all the sweet things my grandma did with and for me.  I recalled all the times out at the farm that we had weenie pie (yum).  With grandma, you could always count on a dessert!  I remember the special little red, white, and blue crocheted apron grandma had for me, kid-sized so I could cook alongside her.  I remember how she would buy me cherry baby food, even when I was way too big to be eating it, because she knew I liked it.  I remember riding go-karts around the gravel circle drive, kicking up clouds of dust that grandma would later scrub off the sidewalk with a bucket and broom.  I remember sleeping over and waking up to birds chirping, nature's alarm clock to get up and face what the day held as I breathed in the fresh country air.  Sometimes, not so fresh!
As I was thanking God for giving me such an awesome grandma, tears streamed down my face.  I celebrated grandma during that morning long run as the water of Lake Storey glistened with reflected sun rays.  It's now a holy spot for me.
After several miles of prayer, I felt a new reality begin to sink deep within my spirit.  Through grandma's passing, God revealed a new truth to me.  He gave me a new level of healing.  You see, I'm adopted.  My mom is my biological mom, but my dad is not my biological dad.  He officially adopted me when I was five.  I struggled with many issues as a result of how I felt because of being adopted.  I'm not going to get into all that here.  I will likely write about adoption later.  The only point I need to make is that I had a lot of hang ups about it.
That day, the day after grandma's funeral, I realized what a blessing it was to be adopted into a new family.  Had I not been adopted, I would never have had Grandma and Grandpa Price.  I was the only granddaughter they had.  Later, I would share the title with my niece as she became the only great-granddaughter.  There were several grandsons, but only one granddaughter per generation.  There were special moments because I was the only girl of my generation.  Had I remained in my biological father's family, I would have been one of a gazillion grandkids.  I think my bio dad had 7 or 8 siblings and they all had a handful of kids.  There would have been no special place for me amidst so many.
My grandparents were excellent grandparents!  I was adopted into a new family, one full of laughter, lots of meals shared together, and many Canasta marathons.  For probably the first time ever, at 43 years of age I experienced true peace about being adopted.  Thanks grandma!  I love you!
How do you connect with God to process your feelings?
What have you done to celebrate the life of someone you've lost?
What things have you learned in life that changed your perspective?
ORANGE DESSERT
You have to have dessert in a blog about Grandma Price!  This recipe comes from one of the women at the church in Woodhull, Illinois.  Funeral services were held there to honor both my grandparents.
INGREDIENTS:  Crust—
1 lb box of Ritz crackers, rolled fine
½ cup sugar
1-1/2 sticks butter, melted
INGREDIENTS:  Filling—
12 oz can frozen orange juice concentrate (do not dilute)
2 cans Eagle Brand sweetened condensed milk
10 oz container Cool Whip
20 oz can crushed pineapple, drained
3-4 cans mandarin oranges, 11 oz size drained
DIRECTIONS:
Before you start:  thaw Cool Whip; partially thaw o.j.; drain fruit & save some slices for topping.
Mix crust ingredients and save some to sprinkle on top; pat remainder into 9×13 pan and refrigerate.
In a large bowl, use mixer to combine o.j. concentrate with Eagle Brand.  Then fold in Cool Whip and then fold in drained fruit.  Pour onto crust and top with cracker mixture and orange slices.  Chill and ENJOY.  Can be made a day ahead.