Remember, "Friday's Finding Your Funny" is dedicated to good, clean fun! Know someone whom you would like to nominate?   Submit the nomination in the "Contact Me" section of my blog including a link to the material.
I am excited to announce the first-ever recipient of Friday's Finding Your Funny Award!  The award is presented to Kate Hall!  Kate writes over at canigetanotherbottleofwhine.com.  Check her out.  She is absolutely hilarious!  She's a home-schooling mom of 3 adopted children from China.  She's not afraid to share embarrassing moments (hers or her husband Steve's).  If you grew up in the 70's and 80's, you'll relate to her retro writings as she often takes you for a trip down memory lane.
Not only is Kate awesomely funny, she has been a huge help and inspiration to me as a writer!  Kate has encouraged me to write.  She's freely shared her knowledge of blogging and let me know when there are writing seminars in our area.  Seeing Kate courageously step into her writing has challenged me to do the same.  I'm grateful that God has placed her in my life!
With permission received from Kate Hall, prepare to have your funny bone tickled as you read her post "10 Totally Awkward Handshakes" as originally post on canigetanotherbottleofwhine.com.
Steve and I were driving to a restaurant today.  We were talking about handshakes and our experiences with some of them and how uncomfortable or awkward they made us feel.  Here's a list of the ones we came up with:
1.  "The Napoleon Complex Handshake", formerly known as "Popeye Just Ate Himself Some Spinach Handshake" – This is the handshake where the person tries to prove all their manliness and hide all their insecurities behind their handshake.  They grip your hand so hard you're convinced at least 14 of your 27 hand bones have been shattered.  You instantly hate this person.
2.  "The Backhander Handshake" – This occurs when you reach to shake a person's hand, but they have something in their right hand.  They don't want to blow you off, so they throw their left hand out and you're suddenly thrust into that awkward situation where you think, what do I do?  They didn't teach me about this in my business school.  So you grab their left hand with your right and shake it like a dirty diaper.
3.  "The Secret Handshake Handshake" – This is a person that puts a little something on the end of their handshake:  maybe a fist bump, the pistol or jazz hands.  And they look at you, eagerly waiting for you to join in on the fun, but you are clueless and only feel awkward and old and kind of like Charlie Brown.
4.  "The Limp Bizkit Handshake" – This is just what it sounds like:  You smile and say nice to meet you, reach for the shake and when your hands meet it feels like you're shaking a limp biscuit.  A biscuit can't grab your hand, and apparently, neither can this person.  They're also quick because as fast as they got their hand in, it's out of there even faster.
5.  "The Pity Handshake" – This person shakes your hand then wants to show you that they have great concern for you because you're either in a tough spot or you're just worthless, so as you shake hands they cover both your hands with their extra hand.  This handshake says, "I know you're having a hard time and I'm going to pretend like I care.  Maybe this caring handshake will magically heal all your problems."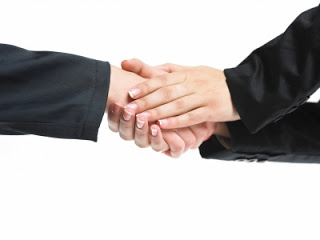 FreeDigitalPhotos.net
ICK!
6.  "The Fake-out Handshake"  – You go in for the handshake, but they throw out a fist bump.  You both realize your mistake and while he changes to a handshake, you ball your hand into a fist.  Then you both switch back.  You do this three times until you're fed up and punch him in the face.  Just kidding, you either, give up and hide your hands behind your back or you grab his hand with your extra hand and shake it.  Either way, you both feel like complete morons.
7.  "The I Love You Man Handshake" – This person believes that his hand shake just isn't enough for them, and they can tell by the look on your face that it's not enough for you either.  Gimme a hug, you big lug, and they yank your hand and pull you into a full frontal embrace.
8.  "The Slip n' Slide Handshake" – As you clasp hands you feel your grip slide a little.  Is that moisture you detect?  Your spine straightens a little as you hope that the moisture is from their recent grip on a cold beverage rather than sweat or even worse, a trip to the commode.
9.  "The Overtime Handshake" – This person shakes your hand beyond the maximum two shakes to seven, eight, nine….Or, the formal handshake is complete, but they continue holding your hand as they finish telling you a story about their Uncle Ned's psoriasis.  You think, The handshake game is over, dude.  And based on the fact that you're still holding my hand, you lose.
10.  "The Communicable Disease Handshake" – Current societal protocol says, cough in your arm not your hand, but this person sitting in front of you at church just hawked up their left lung into their right hand.  Then, the pastor says, "turn and greet your neighbor," and Mr. Walking Pneumonia turns around and groggily makes eye contract with you while reaching an outstretched hand.  You're stuck.  You look at the hand and hesitantly reach in and give him a "Limp Bizkit".  You curse him in your head for the likelihood of getting you sick and then curse yourself for worrying about offending him, then wonder if it's appropriate to curse someone in church and then think that God would be okay with it because you know, "an eye for an eye".
I asked Steve what a "just right" handshake feels like.  He said one firm downward shake.  I told him I think two shakes.  So we practiced.  I thought his handshake was arrogant.  He thought my shake felt like I was a chef missing salad dressing.
What kind of handshakes have you experienced?