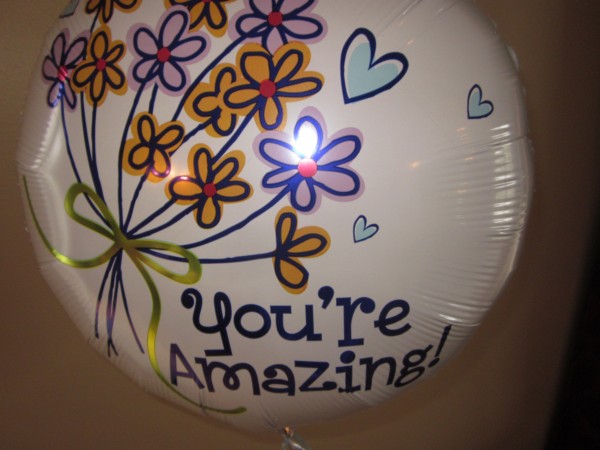 Recently, my husband brought home this helium-filled hooray to celebrate exciting news.  What Sam didn't realize was how God was going to use him to knock my socks off!
I had been thanking God for His answer to prayer.  God had powerfully opened a door for me to step further into my calling.  I had applied to a respected ministry for a writing internship in spite of the fact that their web site clearly stated all applicants must reside in the state of Colorado.  I live in Illinois.
While the Colorado requirement was clear, I felt compelled to submit my application anyhow. It seemed like a stretch.  I told my husband, "If it is meant to be, God will open that door and He will provide a way."
I've been walking with God long enough to know my obedience could have nothing at all to do with me.  Maybe my application would serve as an encouragement to the ministry by sharing how their writing had impacted me.  (The founders are both Christian authors.)
I collected my thoughts, prayed, and got busy putting words to work.  As I wrapped up the writing process, I prayed one last time and pushed send on my email.  I asked God to go before me and open the door if this internship was His will for my life.  I also asked Him to close the door tightly if that was not what He wanted for me.  Prayers like this give me so much peace.  It's about trusting God to know what's best.
I received an email from the ministry saying they would entertain an out-of-state internship arrangement.  The hiring manager established an interview time.  All that was left for me to do was say another prayer and patiently await my fate.
As discussion ensued and I was eventually offered the position, I knew as I knew that God had thrown that door wide open!
I thanked God immediately for answering my prayer so powerfully.  The next morning during my quiet time, I focused on more celebration and thanks to God.  When someone does something really nice, we want to do something really nice in return.  I wanted to lavish God with my gratitude and love, since that's really all I have to give Him.  I was thrilled at what I would learn from this internship and what it might lead to.
God put a Beatles song in my head as I was praising Him.  As you listen, imagine yourself as Paul McCartney singing to God.  I know.  I know.  Weird.  We're now Paul McCartney impersonators.  Hope you have a good imagination!   By the way, you also need to envision God as a woman.  Thankfully, the author of The Shack already paved that gender bender for us!
I strongly encourage you to listen to the song (even if you are familiar with it) before reading any further.  Click the link:  Maybe I'm Amazed.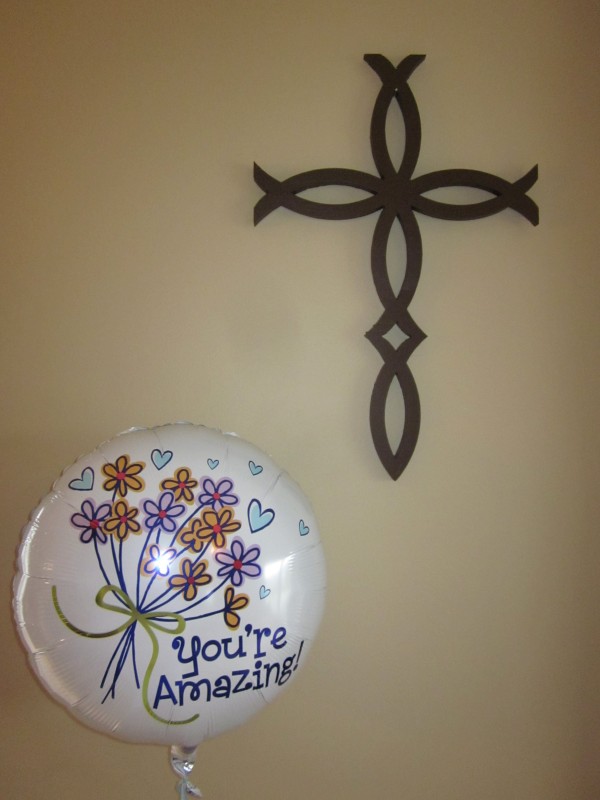 Maybe I sometimes am afraid of the way I really love God.  Will people think I'm weird?
Maybe I am amazed at the way God pulled me out of time.  God took me to a place where all time stood still.   It did feel like I'd been hung on a line, like I was all washed up.
Maybe I am amazed at the way I really need God.  I'm desperate for you, God!
Maybe I am a lonely woman until I realize you are my constant companion and I am never alone.
And oh boy … I have often been in the middle of something that I really didn't understand!  God's up to something really good this time.  Oh boy!  What is it?  I don't know.  I don't understand.  But we're on our way!
God is the only one who could ever help me.  He may choose to use people, but God is the only one who could ever help me.  He helps me to understand.
Maybe I'm amazed at the way you're with me all the time.
Maybe I'm afraid of the way I leave you.  I don't want to, but I'm afraid I might.  What would happen to me then?
Maybe I'm amazed at the way you helped me sing my song.
Psalm 33:1-3

1 Sing joyfully to the LORD you righteous; it is fitting for the upright to praise him.  2 Praise him with the harp; make music to him on the ten-stringed lyre.  3 Sing to him a new song; play skillfully, and shout for joy.
My husband knew nothing of my morning jam fest with God.  Sam came home that same day and brought the helium-filled hooray to me.  The balloon is the one pictured.
"You're Amazing".  He said something to the effect of "You're amazing.  God is amazing."  I later told Sam about my jam session with God, and Sam shared that he went to get a balloon that said "Congratulations" but felt prompted to get the one that said "You're Amazing".
MAYBE I'M AMAZED!
Maybe you have been amazed by God too!
Maybe I'm amazed at every miraculous thing you, God, have done in my life!  There have been countless amazing ways that God has revealed Himself – and that's just since I began to pay attention to all He does with and for me.  God has taught me to sing a new song, one as sweet as the birds chirping in the crisp morning dew.
God has brought me to a place where I am often in a state of being in the middle of something that I really don't understand.  Many of those times are exciting and good.  Sometimes, my lack of understanding is in the midst of a situation that doesn't feel good.  Regardless of our understanding, God is amazing.  When we understand, God is amazing.  When we don't understand, God is amazing.  It's good that we can't always wrap our minds around what God is up to.  It's what makes God – God!
Let's celebrate God together.  Remember the amazing things God has done in your life.
If you can't think of any amazing moments, ask God to reveal to you how He has been there for you in love and protection, comfort, provision, or humor (or any other way).  I didn't always realize or see what God has done in my life.  Ask for His help with this and He will be faithful to reveal Himself to you.  I actually ask Him to reveal Himself all the time, every morning.
I hope when you hear this Beatles song, you think of God.  I hope you ponder every amazing thing God has done in your life.  I hope you know how amazing our God truly is!  Be amazed at the way you really need Him!
Take time to write down 5 things God has done in your life that are amazing.  At the bottom of the list, share with Him how amazing you think He is.  Thank Him for all He has already done in your life.  Thank Him for all He is yet to do in your life.
And consider signing it …
Love, Your Amazed Daughter (or Son)!