Remember, "Friday's Finding Your Funny" is dedicated to good, clean fun! Know someone whom you would like to nominate? Submit the nomination in the "Contact Me" section of my blog including a link to the material.
FINALLY, I am featured on mom's Friday's Finding Your Funny!  You won't believe what it took for me to get an honorable mention on her blog.  Gee, if I didn't know any better I'd think mom didn't love me or something.  What's that you say?  Oh, my name.  I forgot to introduce myself.  Head injuries will do that to a pup!
My name is Stewart, Stewart Little Stella to be specific.  I'm also affectionately known as Stewie, Chewie Stewey, Sir Sniffs A Lot, and the ridiculous Buddy Boo Boo.  I know.  It's embarrassing!   I don't know how that one got started.  I don't even look like a Buddy Boo Boo!  I sometimes pretend like I can't hear mom when she uses that one.  La, La, La, La, La, La, La … I can't hear you.  I'm hoping one of these days, if I ignore her long enough, she'll stop calling me Buddy Boo Boo.  Maybe.  Hmmm.  Maybe if I call her Mommy Moo Moo she'd get the point!  But I like treats way too much to risk it.  I'll deal with the name calling so I can get me a biscuit.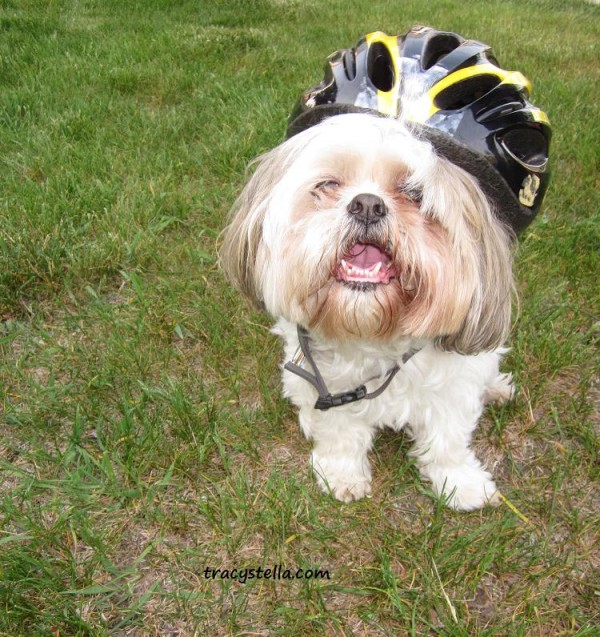 Sometimes, I get excited even without a biscuit bribe.  I know you can't tell from the picture, but my tail was wagging in anticipation.  At last, the day had arrived.  My parents were taking me on a bike ride.  They promised for over a year that I could come along with them on one of their adventures.   I was pawlesed to be part of the pedaling parade.
I was panting in excitement as dad tried to settle me down, so he could put on my bike helmet.  "Safety first," that's what dad says.   If it were up to mom, she would have left the helmet off of me.  I heard her telling dad that it was going to make my fur flat and then I'd have to go to the groomer.  Do you have any idea how much a Bow-Wow Brazillian Blow-Out costs these days?  Dad put his foot down and said, "Stewie needs to be safe.  He's wearing a helmet, or he's not coming."  Lucky for me, dad is a stickler about these things.
We drove for over an hour, and I smelled all sorts of new smells along the way.  I didn't think we were ever going to get there.  Then, I felt the car slow and turn into a parking lot.  I saw a sign that said "Kettle Moraine State Forest".  Kettle.  Wonder if there's food here?  Are they gonna cook us dinner?  THAT would be great!  Talk about gravy on the mashed potatoes!  A bike ride AND dinner?!  I am one lucky pup!
Dad hopped out of the car and got the bikes off the bike rack.  Ask him about how cool it is.  He's always talking about how awesome that thing is.  If I've had to watch this Saris video once, I've had to watch it 100 times.  I brush my fur in front of my face and roll my eyes as dad drones on and on about how convenient that thing is.  Lucky for me my fur is long, so he can't see my eyes rolling back in my head.  Hey, I'm no dummy.  Dad doles out treats too.
I brushed the fur away from my face so I could get a good look at my seat.  I got it as an early birthday present.  It was so cool.  Way cooler than that rack dad's always yapping about!  Mom and dad said they got it because my Cousin Vinny was the model and they wanted to support him.  (Really, I think they were just a little scared.)  Either way, it worked out well for me.   This thing was the cat's meow.  And with a name like "Snoozer Pet Rider Bicycle Seat",  how can you lose?  A bike ride and a nap?  Doesn't get any better than that!  Or so I thought.
Family.  All safely strapped into our helmets and ready to go.  As dad hooked me into my bike seat harness, I couldn't help but think, Toto ain't got nothing on me.  Wicker basket – shmashket.  I'm riding in style.  This baby is fleece lined and comes with a red racing stripe.  I hope that means we're gonna go fast.  I love a little wind whipping the fur off my face.  Ahhhh.  Fresh air.  Ahhhh.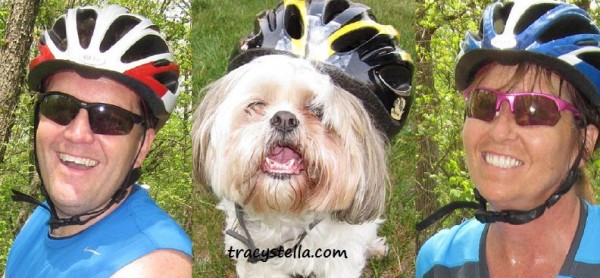 Ready.  Set.  Go.  Man, this is a great time.  Dad's pedaling and we're zipping past all these other people.  This trail is nice for a Sunday drive.   About 20 minutes in, I was singing a different tune.  You ever hear a hound dog howl?  Ouuwwwww, Ouuwwwww.  Bump, Bump, Bump.  Watch out for that tree stump!  Bump, Bump, Bump …. Ouuwwwww, Ouuwwwww … my Rump, Rump, Rump!  (Not to be confused with Pa-Rum-Pa-Pum-Pum!  Dogs can't drum.)
You think I'm kidding?  Check this out!  My parents are ca-ra-zy!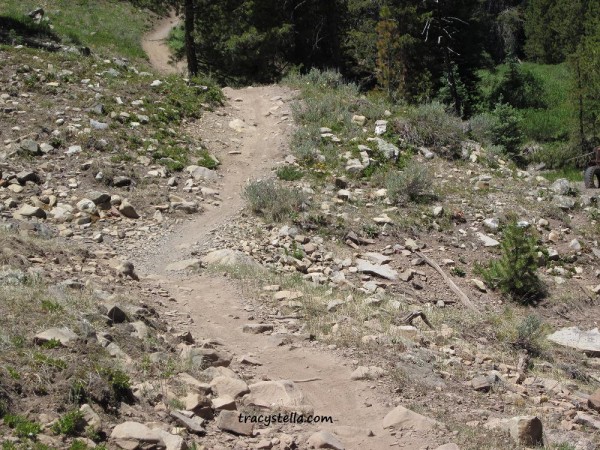 My Snoozer Pet Bicycle Rider Seat didn't come standard with shocks.  That was an aftermarket add-on option.  Really?  My parents couldn't have sprung for the extra coin so I could ride in comfort?  (If you'd like to submit donations, I'm sure my mom can collect them in a can until we have enough that I NEVER have to bump on my butt like that again!)
I didn't think I was going to make it out alive.  We rode this treacherous terrain for miles and miles, all the while I'm yelping and trying to remain seated like the safety instructions said.
Finally, I saw flat terrain up ahead and just beyond that the parking lot.  Man, was I happy to see that safety zone but was I ever ticked off!  My parents could have killed me out there.  What were they thinking?  I thought dad was Mr. "Safety First".  What happened to Safety First?  I think it came in 3rd or 4th if you ask me.
Once dad removed me from my Snoozer Pet Bicycle Rider Seat, I hauled off in a huff.  After a ride like that, I needed to find a tree to relieve myself!  That ride scared the pee out of me.  Besides, I had to warn the other pups.  Maybe they could smell my fear here.  Whew, that's better!
Wait a minute.  Who's that?  A maltese off her leash!  What a looker!  Wowza!  I wish I had a Mr. Microphone to tell her, "Hey good lookin' I'll be back to pick you up later."  Wag, wag, wag.  Walk, walk, walk …. Curclunk!  Crash!  Splat!   Knocked out cold.
I woke up, cradled in my mom's arms as she was rocking me.  She was kissing all my boo boo's, all while saying "oh, Buddy Boo Boo".  I didn't mind this time.  She had dad get the first aid kit out and placed band aids on my boo boo's.   I had no idea what had happened until I overhead my mom telling dad, he forgot to put the bike rack back up and it was all his fault that Buddy Boo Boo ran into it and got knocked out.  Uh-oh.  Somebody's in trouble!  But then he reminded her, that it was probably my helmet that had saved my life – so she forgave him.  And then she gave me a biscuit.
All-in-all it was a pretty exciting day. And now I get to say, "dad gave me a concussion!" Oh yeah, and there was that maltese!