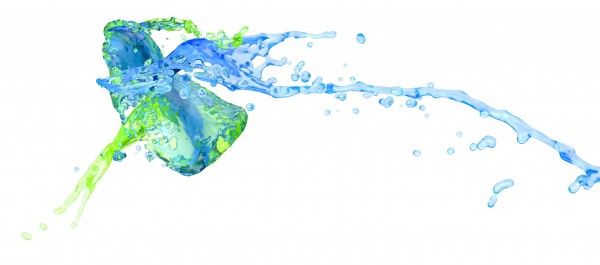 Last Wednesday I wrote about meeting my biological father, Rex.  About a year later, I met his entire family when I attended his wake.  Rex was only 40 years old when he passed away.  I was 17.  I met Rex's rather large family all at once.  If I'm not mistaken he had six or seven siblings, plus their families were all there as well.  Overwhelming, to say the least.
The interaction that stands out the most is not with them, however.  It's actually with Rex's ex- wife, Jane, and her daughter.  You see, I have a sister.  I always said I wished I had a sister, when in all reality I have one.  I just barely know her.
Let me back up a second and say I have an awesome brother.  Technically, he's a half brother but we have never been half siblings.  He's my brother and I'm his sister.  We were raised together.  We have the same mom. Biologically speaking, we have different dads, although his biological dad is my adoptive dad.  So confusing, I know!  I'm sure I'll write about my brother in greater detail some other time.
I just wanted to establish I have an incredible brother, but I always had wanted a sister too.  What girl doesn't want a sister to share girly things with?   My brother could care less about fashion trends, girl crushes, or playing with Barbies (unless it involved chopping all their hair off – thanks bro!).
After Rex's wake, a more private meeting was arranged between me and my sister.  My mom, Rex's ex-wife Jane, my sister and I all met at Lake Storey.  My mom picked up Kentucky Fried Chicken and we had a picnic lunch.  All four of us sat and talked under the white gazebo as we ate our lunch.  Later, there was the pungent aroma of the wet wipes as we swiped away chicken grease from our fingers.
So much of that time is a blur.  It's like when you spill a big blob of ink over a handwritten page.  Some of the letters are decipherable, while others you can't see any longer.  The ink spill is hiding what was originally there.  That's how I feel sometimes.
I remember really liking Jane.  I thought she was nice.  Thinking about it now, I have to commend both women:  Jane and my mom.  How uncomfortable that meeting must have been for both of them.   They both had daughters from the same man.  Yet, here they were across the table having lunch together in order to give their daughters the opportunity to meet one another.
I believe my sister was in fourth grade when we met, so she would have been only 9 or 10.  When you put our fourth grade photos side-by-side, we look very much alike.  We are even both wearing red and white – a combo I hardly ever wear.   Here we both are.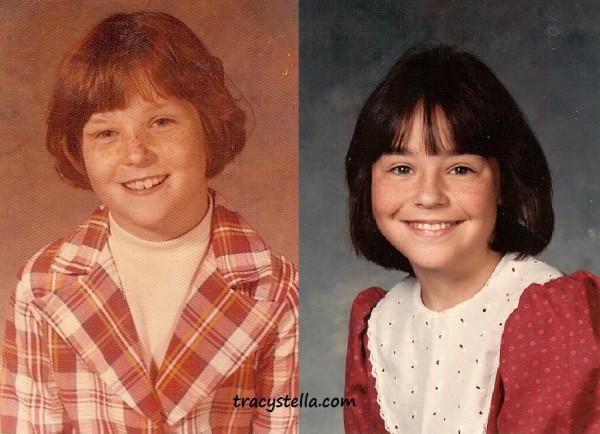 I don't know why, exactly, but my sister and I didn't stay connected after that meeting.  My guess is distance and the age gap.  If I'm calculating correctly, we have a 7-8 year age difference between us.  When you're 17 and 10, that variance is significant.
Lately, I've been thinking about my little sister more often.  I wonder what she's doing.  I wonder if she's happy.  I'm 44 so she would be in her upper 30's today, both of us "all grown up".  I wonder if she'd mind if I reached out to her, or whether that would be an intrusion on her life.  One just doesn't know.  I also wonder if I did reach out to her, would we have anything in common?  Would genetics be enough to help us relate to one another, even if it's only our father's DNA that we share?  So many questions.
I also sometimes blame myself for losing contact.  After all, I'M the BIG sister.  Keeping in contact should have been my responsibility.  I have issues with these types of things, and then God gently reminds me that I am not responsible for the world, that I was confused and grieving a loss too.  I was grieving the loss of something I never had.  It's ok.
I don't think my sister ever had any more siblings.  I had my brother.  She didn't have anyone.
The last I heard, she had gotten married and moved to France.  Obviously, she's leading a far more luxurious life than I am here in Northern Illinois – at least based on geography.  Although, I don't want to eat snails – EVER – so I'm perfectly ok with my geography.
I have seen a situation play out with my extended family that gives me hope for a relationship with my sister.  One of my relatives is adopted and has been able to establish excellent relationships with her sisters she didn't know while growing up, while maintaining her relationship with her brother that she was raised with.  I see her relationship with her sisters and think to myself, maybe I should reach out to my sister.  …. And, no, I'm not just trying to get a trip to France!
Certainly, it's something to pray about.  Maybe it's something to talk to my relative about who has already navigated this course.  Maybe.  Maybe.  Maybe.  A lot of maybe's.  For now, I'm not going to obsess about it.  I'm going to let it rest in God's hands and let it unfold if and when He wants it to.
Could you have seen yourself as Jane or my mom, coming together for your children?
If you had a sibling you had lost contact with or didn't know, would you reach out to him or her?
Why or why not?