Remember, "Friday's Finding Your Funny" is dedicated to good, clean fun! Know someone whom you would like to nominate?  Submit the nomination in the "Contact Me" section of my blog including a link to the material.
My parents tortured me.  No.  Really.  They did.  I have proof.  Proof positive!  Do NOT let the smile fool you.  You have no idea what they were threatening me with in the background.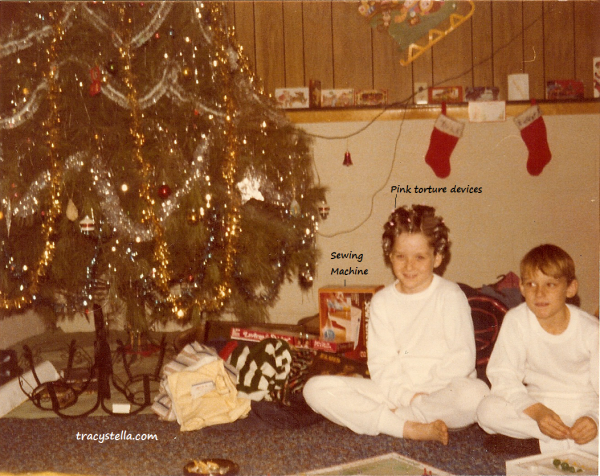 "Smile.  Smile now or you won't get to open Christmas presents tomorrow morning at grandma's."
When that didn't work…
"Smile.  Right.  Now.  That sewing machine you just unwrapped?  If you're not careful, you'll have to make all of your own clothes from now on … and your brothers!"
See the look of fear on his face?  I'm telling you.  It all happened EXACTLY like that.  Wink.  Wink.
Little did my parents know, the idea of making my own clothes wasn't much of a threat.  Maybe I could get a pattern and make some cute thermal underwear, ones with flowers and curly cue stems or possibly little pink hearts that said I Love You all over them.  Why did I have to wear the ugly white thermal underwear, especially on Christmas Eve where they would be captured in photos for time immemorial?   Did my parents think I was a boy?   Gee whiz!  Girl's thermals don't have that opening in the front of them.  Girl's thermals aren't bland, boring white.
I remember coveting my Cousin Kim's thermals.  She had the cute ones:  pinks, purples, & flowers – so unfair!  She even had a pink girlie room.  Remember my orange and lime green room I wrote about before?  I told you my parents tortured me!
Do you need more proof?  Tough crowd!
Um.  Large elephant in the room anyone?  Check out those rollers!  I'm surprised I can hold my head up from the weight of them.  These babies were SERIOUS torture devices.  I HATED them!!!  (I don't think there are enough exclamation points to drive that home.)
These weren't the cushy, comfy foam rollers that my cousin Kim had.  I know.  I know.  She got all the good stuff.  What's up with that?  I'm still harboring resentment over those gall darned rollers.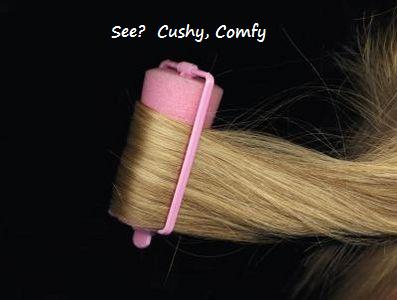 Noooooo.  The rollers my mom used on me were metal and boy did they hurt!  Notice:  "used on me", not "placed gently in my hair".  See those pink picks?  Yeah.  True to their name:  great stabbing devices!   If my mom didn't get the angle "just so", well, pick, pick, pick like a woodpecker pecking a tree.  I'm surprised there's anything left of my scalp.  But at least the picks were pink.
When I would whine and complain about the rollers, my mom would tell me about how she had to use ripped up rags to curl her hair.  She and her sisters would tie their hair up with the pieces of rag while their hair was wet.  They'd sleep like that, allowing their hair to air dry.  Sounds nice and soothing.  Really, mom?  Rags are soft.  She's getting no sympathy from me on that one!
Just like a game show host, "but wait, there's more".  There was a whole process involved with the roller torture device.  Like mom, I had to allow my hair to air dry too.  That's where the similarities ended.  Not only did the wire rollers make my head feel off balance because they weighed a ton, they had sharp edges.
Once my hair was all rolled up, I had to sleep with them on my head.  Imagine trying to sleep in a bed of thorn bushes.  I would start by falling asleep on my stomach, head stuffed into my pillow about to suffocate me, but that position could never endure for the evening.
Generally, I sleep on my back or side so it was inevitable that I would switch from suffocation to my normal back-sleeping position.  The beauty devices (the things we don't go through to make ourselves look "beautiful"!) would have a jousting match with my head in the middle of the night, often waking me up from a deep sleep.  Christmas & picture day – they both became dreaded occasions.
What's the big deal, you say?  Women have suffered for centuries, all in the name of beautification.  Well, if beauty had been the end result, I might agree with you.  However, I ended up looking like helmet head.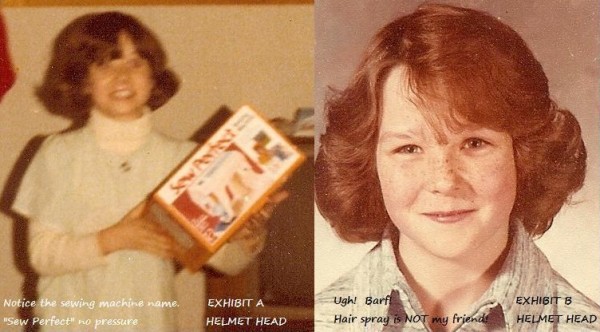 I remember my mom would cover my eyes and lay on the aerosol nozzle as she shellacked my hair in place.  Just when you would think the coast was clear, she'd come back for the second coat.  This trauma is probably why I'm not all that fond of hairspray.  A can lasts me over a year.  The 80's were an exception.  I'm just saying.
"But wait, there's more."  Anyone else's mom use Toni's Hair Perms?  At home permanents were such a fabulous concept.  What idiot thought of this idea?  Where's Toni, so I can smack her?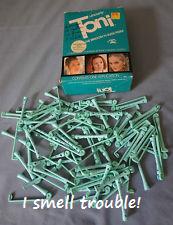 Yeah.  There's more trauma with rollers.  Only this time, there's the added benefit of chemical smells that will clear your sinuses and require you to open-mouth breath to avoid smelling the stench.  Inhaling the fumes is safe, right?  I'm assuming you know what a perm is.  If you've had one, there was probably a qualified professional involved.  Getting a perm from your mom, well that's worse than trusting the girls in cosmetology school to do your hair so you can get a discount on your do.  Are you crazy?  I'll pay full price, thank you very much.  I've already endured enough bad hair!  At least the cosmetology want-a-be girls have an instructor overseeing their work.  Not my mom.  Don't believe me?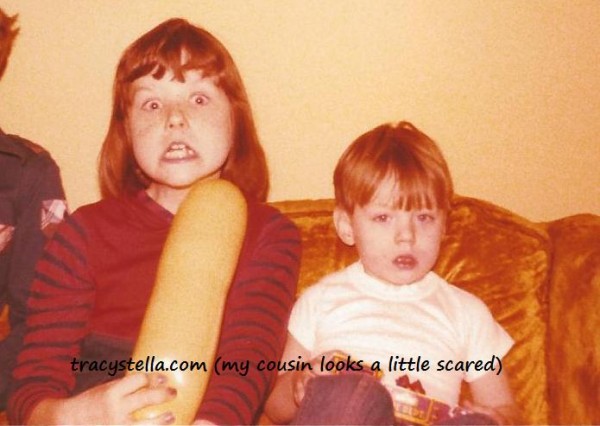 I read on the internet that they discontinued Toni perms because they could cause burn damage to your hair.  Not sure if that's true, but if my hair could testify it might agree.  Fried.  Crispier than a batch of down home catfish dropped into a sizzling pan of grease.
P.S.  Kids, be careful of the ugly expressions you make when photos are being shot.  You may think that face is funny now, but you will regret that ugly face in the future.  It's such a good look, don't you think?
"But wait, there's more."  I'm telling you, there was a whole lot of torture going on in our household.  Whenever my brother or I were sick, mom knew just the remedy.  "Let me get the Vics Vapor Rub.  That'll fix you right up."  It's good for the whole family, as this commercial promises!  Gag.  Choke.  Choke.  That is one God-awful smell!   Mom would coat us with the stinky salve until we just about couldn't stand it anymore.  Our chests were covered with at least half a bottle of the gooey gunk that had the consistency of Vaseline.  Once we were sufficiently slathered in the stench, mom would take an old towel and wrap it around our necks to hold in the wonderful aroma.  Lovely.  My mom was the original inventor of aromatherapy.  Mom thought the Vics Vapor Rub is what cured us.  Nope.  We'd pretend we were "all better" just so she'd keep that stinky salve away from us!
"But wait, there's more."  This one is going to sound like I'm making it up.  I have a decent imagination, but it's not this good.  I already told you mom always knew just the right remedy.  If you ever get an earache in her vicinity, pretend you are just fine.  Water gurgling in your ears?  Feeling great!  Can't hear a thing?  You're just fine.
I have no idea who told my mom this old wives tail.  They're lucky I don't know who they are.  He or she might have to go on my, "I want to smack you list" with the aforementioned Toni.  The ever-infamous ear ache cure involved cutting an onion in half.  You heard me correctly:  an onion.  Mom peeled off the outer layer of the onion after she had sliced it in half.  Why did she slice it in half?  So the full force of the fumes could somehow, miraculously heal my ear.  Not my nose … my ear.  At least if this was supposed to heal my nose it would make a little bit of sense.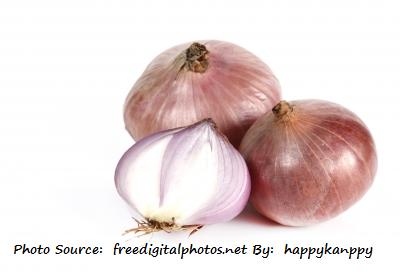 Anyhow, the half onion was placed over the affected ear and held in place with a scarf that was tied around my head.  It looked really glamorous, let me tell you.  I was wearing Madonna-ish headbands long before they became all the rage.  Mine just had half an orb sticking out from one of my ears.  I would have to sleep in my high fashion overnight to give the onion the full time needed to cure my earache.
I'm realizing there's a bit of a theme going on here.  Most of these traumatic moments involved me having to sleep over night enduring said torture.  The Metal Rollers, Vics Vapor Rub, and Onion Earache Cure all required camping out with them for a sleepover.  That might explain how I became such a sound sleeper.  I had a lot of hand-to-hand combat training to withstand all sorts of sleep disturbance as a kid.  By the time I became an adult, a freight train couldn't awaken me.
Now do you believe that my parents tortured me?  Pretty compelling evidence if you ask me.
PLEASE play along.  I promise not to tell your mom and dad.
How did your parents torture you?
How do you torture your children?
Any parents willing to fess up to the finger lick, child face swipe move?
Get some disposable wipes would ya?  Otherwise, your kids might be blogging about you in a decade or so.