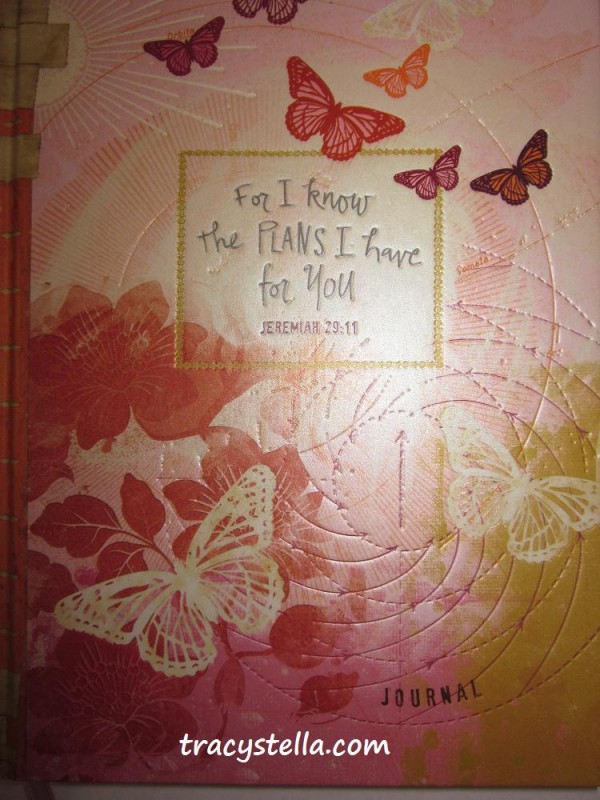 Awhile back God told me, "write to get right".  No, not in an audible voice, silly.   God impressed upon my heart He wanted me to write and in doing so, He would heal me.  Typical Tracy fashion, I didn't act right away.  I don't know why I resisted for so long.  My guess is probably something to do with fear.
It's funny how my son's view of me was that I was fearless, like Princess Leah.  He told me that once.  He thought his mom was fearless.  Ha!  Not so.  Actress – yes.  Fearless – no.  I bought into that "fake it 'til you make it" mantra and ran with it most of my life.
Writing, that's different.  You have to be open and vulnerable to write, at least to write anything worth reading in my opinion.  You mean I have to let down the walls I so effectively built and share myself?  Terrifying!  I even attempted to write some children's books so that I wouldn't have to write my story.  Half obedience.  I'm writing, but it's this innocent little kid's book, not the messy stuff of grown-ups.
I used to journal when I was a child.   I got afraid my parents would read it, so I stopped.  Later, I jot my thoughts down as an adult, but then was afraid someone would read it.  Now you are beginning to wonder what juicy stuff did she not want those people to see?  Exactly!  My thoughts were my thoughts – nobody else's.  You thought I was going to spill the beans, didn't you?  Tricked ya.
Beyond going public with my writing, I think I was more terrified with what God might dredge up during the writing process for me personally.  The last couple of Wednesday writings are a prime example.  I wrote about meeting my biological father.  I'm ½ adopted – is there such a thing?  I also wrote about meeting my family at my biological father's wake and meeting my sister, his daughter from another woman, about a year after I first met my bio father.  That's dredging some stuff up.
I'm sharing this part because maybe you, too, need to write to get right.  We all have "stuff".  We all have things we need to process so we can come to a better emotional place with situations or people.  Maybe writing to get right for you is about figuring out the best path:  which job to take, which person to date, is this the person you should marry, should you go to school or back to school, should you move across country or stay put, and on and on and on.
Writing can be about "working it out".  If I do this … this, this, and this happen.   If I do that … this, that, and this happen.  What's best for us often comes out when we're writing our thoughts down.
Something else has happened to me as I write.  God shares secrets to me about me.  You may be thinking:  what is she talking about?  God tells her secrets now?  Kind of.  They were secrets to me.  Things revealed that I wouldn't have even known to write about that land upon my pages.  God will use my writing to reveal a feeling or an emotion I wasn't aware I had.
I'll give you a for instance.  Last week I wrote this about my sister.
"I also sometimes blame myself for losing contact.  After all, I'M the BIG sister.  Keeping in contact should have been my responsibility.  I have issues with these types of things, and then God gently reminds me that I am not responsible for the world, that I was confused and grieving a loss too.  I was grieving the loss of something I never had.  It's ok."
The secret God revealed to me about me:  I was blaming myself for losing contact with my sister I met once when I was 17.  Through the clickity clack of the keys of my keyboard, only a moment later, God told me it wasn't my fault.  I was confused and grieving.  I know God was revealing a new truth to me.  How, you say?  Often when He has revealed something to me, an emotion and a truth, I cry.  It's His little way of indicating to me, yep, that's truth.  Gentle tears streaming down my face tell me it's God's truth.  If He did speak audibly, He would say, "that's exactly what I want you to see and feel and be set free from".  Lest you think God is a meaney for making me cry … oh contraire!  I would explain the tears as tears of relief.  In this instance I didn't even know I was walking around with the burden of guilt.
I have had some of my most tender moments with God through the writing process.  He has told me some of the sweetest things in those quiet, reflective times.  He's even made me crack up laughing as I write some crazy thing down that He has said.  Personally, I think God is a little quirky.  He made me after all.  Plus, he made armadillos.  And then, He inspired someone to make an armadillo cake.   And then, He inspired some human to make an armadillo red velvet cake a tradition for the groom's cake.   See?  That's pretty quirky.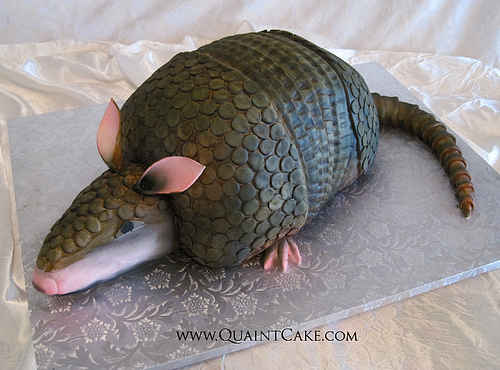 So, how can you start to write to get right?  (Or keep on the right track?)  God led me to write on index cards.  Maybe that would be helpful for you as well.  I now have a big shoe box full of cards.  There are several things I love about good, old fashioned index cards.
First of all, index cards are not intimidating for non-writers.   It doesn't take a huge amount of effort to fill up an index card.  3" x 5" … not a big commitment.  If you write in big, curly letters, you could make it more like a 1.5" x 3" card and work your way up to a content- full 3" x 5" size.  There you go.  Piece of cake.  I've got to find somebody getting married so I can snag me a piece of that armadillo cake.  I've got cake on the brain and it is only 9:30 am.
Second, you can categorize your thoughts and organize them in a manner that's logical to you.  That way, if you are feeling a certain way or need to be reminded about a certain topic, you can go straight to your organized shoe box full of categories and re-read some of your thoughts.  OCD?  Maybe.  But then you look at my dining room table and see the books spewed all over the top of it, with pencils, markers, and a myriad of other piles and you think – impossible.  Not OCD.   My organization does not make sense – even to me.  Movies must be alphabetized, but it's completely acceptable to have shoes piled in front of the door in haphazard fashion.  Ask Sam, stepping on a high heel with your heal?  Ouchie wawa!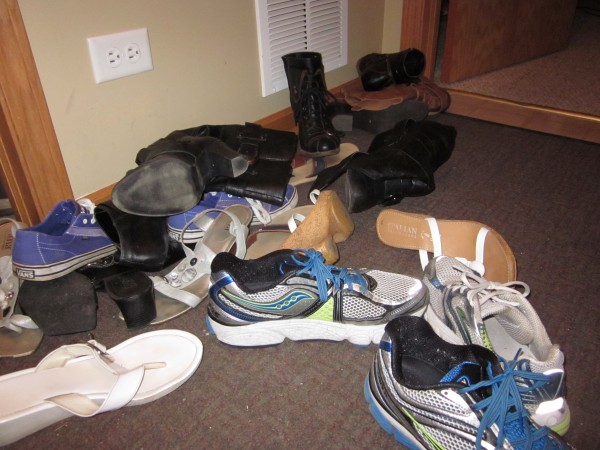 Third, God used the index cards to reinforce Scripture.  Scripture was our starting point.  I'd jot the verse(s) down on the front side of the index card, underlining words or phrases that resonated with me that day.  On the back side I would date and journal my thoughts about whatever the Scripture topic was.  Then, I'd flip the card back over and write a category that I wanted to organize the card by.
Since God wanted me to write devotionals, He had me assign titles to my note cards.  I don't know if you would find this helpful or not, but it was fun for me to come up with a title to coincide with the journal entry.
Below is a picture of the front side of one of my index cards from January 2012.  I don't have enough White Out to cover up certain thoughts I wrote on the back, so you'll just have to trust me that I wrote my personal thoughts on the other side.  This card was written long before I worked collaboratively on writing a daily devotional with a friend from church, almost a year ahead of when she and I worked on the project.  God was preparing me, and I didn't even know it.  He wants to prepare you for something as well.  Maybe writing about "it" will help flush it out.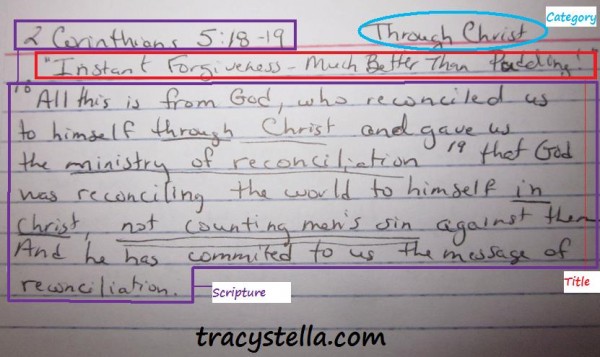 Instant forgiveness.  That's much better than instant pudding!  Right?!  And I LOVE pudding.  Maybe they could put instant pudding in my armadillo cake.   So, why don't you join me on my journey to write to get right (or stay right)?  All together now.  Right, Right, Right, Left, Right.  Write, Right, Write, Left, Right.
Have you ever written to get right?
What helps you process your thoughts and emotions?
What helps you make wise decisions when you are at a crossroads?