Remember, "Friday's Finding Your Funny" is dedicated to good, clean fun! Know someone whom you would like to nominate? Submit the nomination in the "Contact Me" section of my blog including a link to the material.
It was brought to my attention that I really haven't written much about my family, so I thought I'd take time out this holiday weekend to celebrate my family with a bang.  Families are funny.  Sometimes, they are funnier than we care to admit.
These are photos from my cousin Camille's wedding from a number of years ago.  She's stunning, isn't she?  Good thing she's pretty, because she's a bit of a ninny.  Her husband, Keifer, reminds me a little of Hugh Grant, but maybe that's just because I'm thinking of the movie Four Weddings And A Funeral.   It must be the hair.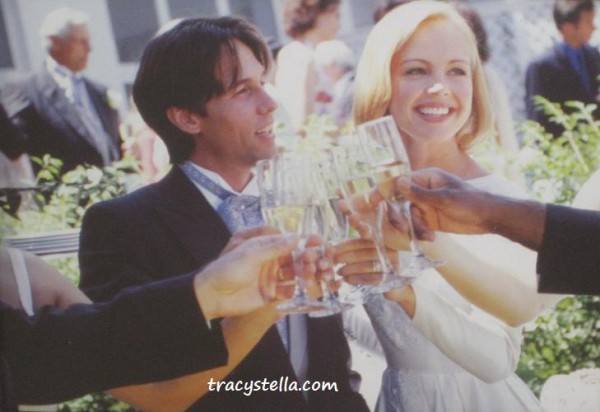 The bride and groom look so proper, don't they?  Proper as an Englishmen taking a tea.  Tea people.  Tea.  How did I get such refined relatives?  Just lucky, I guess.
Actually, I think some people are just better at plastering on the smile for the camera.  Gotta keep up appearances, you know.
Why do I say something that sounds so harsh and risk being ostracized from my family?  Because it's the truth and somebody's gotta tell it.  You should have seen what ensued leading up to and on their wedding day.
Camille had asked my niece Gabrielle to be the flower girl in her wedding.  Gabrielle is cute and very well behaved.   Gabrielle seemed like the perfect choice for such a princess role.  Camille rehearsed with Gabrielle how she would walk down the aisle, dropping flower petals in a dainty fashion.  A debutante in development.
Two days before Camille and Kiefer's wedding, the unthinkable happened.  Gabrielle was riding her scooter when something went haywire and it careened out of control.  Before she knew what happened, Gabrielle flew face forward over the handle bars and knocked four of her top front teeth out.  Not only that, but she scraped up her chin something fierce.
When my sister called Camille, all Camille could talk about was how her wedding and her pictures were going to be ruined now.  Later, my sister told me Camille caused such a stink she was lucky she still had all her teeth.  I got to giggling thinking about Camille smiling for her wedding day minus her front teeth.  That might have fixed her up real good.
If you hadn't gathered, Camille had become a bit of a bridezilla.  The family could barely tolerate her.  The saying, "I've about had it up to here."?  That was definitely where we were all sitting.  In fact, Kiefer told Camille if she didn't get a grip about this situation, he was going to call off the wedding altogether.  (Told you they were keeping up appearances.)
Camille pulled herself together enough that Kiefer didn't follow through with his threat to call off the shindig.  I heard Uncle Theodore might have flipped Kiefer some cash to quiet down the calling off conversation.  All I know is I'm thankful.  I like champagne and had I had to deal with all of Camille's tirades without the bubbly fringe benefit I might have resented Camille's antics.
On her "big day" Camille was still silently fretting about the photos.  She talked to the photographer about the dilemma and he came up with the solution below.  Any shot Gabrielle is in, she looks like a masked marauder, but at least Camille was happy there wasn't a gap as large as a gorge grinning back at us in the photos.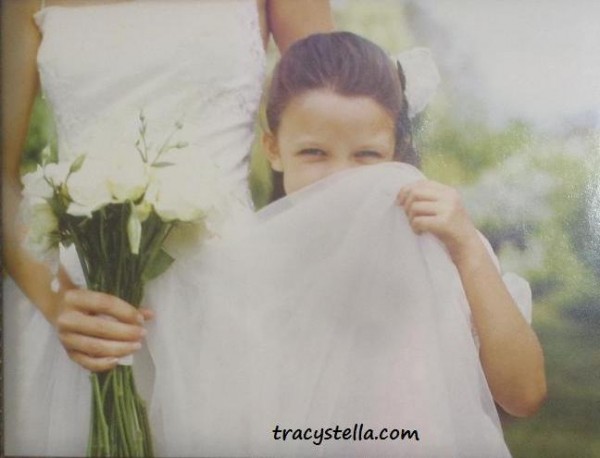 You may be wondering who created this monster.  Who else do we blame when things go awry?  Her parents, of course:  my Aunt Victoria and Uncle Theodore, Camille's mom and dad.  I remember when I was little my mom used to say they were so pretentious; they acted like they were heirs to the king.  When mom realized there were little ears, she would say, "Now you never mind this conversation and you just keep it between us.  There's no need to go stirring up trouble telling all our business & what we talk about."
One time I even got away with saying Aunt Victoria and Uncle Theodore walked around like they had sticks up their hineys.  If I would have said that about anyone else, I probably would have gotten my mouth washed out with soap.  Since it was about Aunt Victoria & Uncle Theodore, I didn't have to bite down on the bar of Ivory soap.  Capitalism at its finest.
When I was a teenager I overheard the grown-ups talking.  That's when I learned the truth:  Aunt Victoria and Uncle Theodore weren't even Aunt Victoria and Uncle Theodore at all.  After Uncle Theodore struck it lucky with some stocks he bought, and they came into all their money, they changed their names.  What?  Are you kidding me?  Aunt Victoria was really Aunt Sissy Mae and Uncle Theodore was really Uncle Jed?  Apparently, they thought Victoria & Theodore were more highfalutin sounding names that might get them accepted into high society, that and dropping a whole heap of cash at every turn.  My dad used to say, "They're going to lose it all, the way they fritter their money away, flaunting it as if they were something."
I remember shopping with Aunt Sissy Mae, I mean Aunt Victoria, and Camille.  There was this really cute knit sweater I wanted and Camille wanted one too.  Aunt Victoria wouldn't buy it.  She said, "Oh no, Camille.  You know you only wear cashshshshshmere sweaters.  What would the girls at the club say if you showed up in that knotted up knit?"  Camille conceded and got the cashmere.
Uncle Theodore was even worse.  I became really good at "overhearing" things when I was a teenager.  I overheard Uncle Theodore went onto the genealogy website and created a profile with fake family history.  If any of his business partners ever investigated his background, all they would see was lineage of a refined blue blood nature.  He even said he was named after his great, great, grandfather Teddy Roosevelt.  I overheard once if you're going to make up a lie, you make it a hum dinger so it seems all the more believable.  Who would make up a lie saying they were related to Teddy Roosevelt?  Uncle Jed that's who!
Sorry Uncle Jed, the gig is up.  Maybe I drank a little too much champagne before writing this.  But after what you said at the wedding, your secret is no longer safe with me.   My nephews are not heathens, they were bored out of their skull with your hoity toity festivities.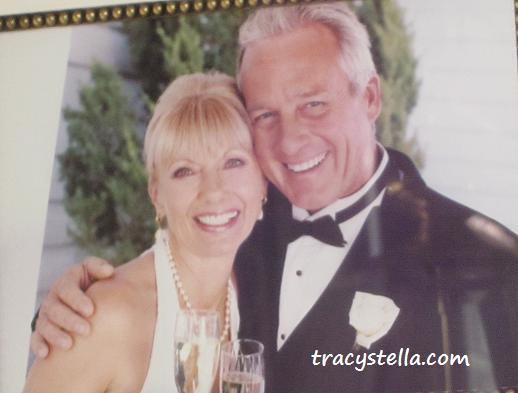 Not heathens …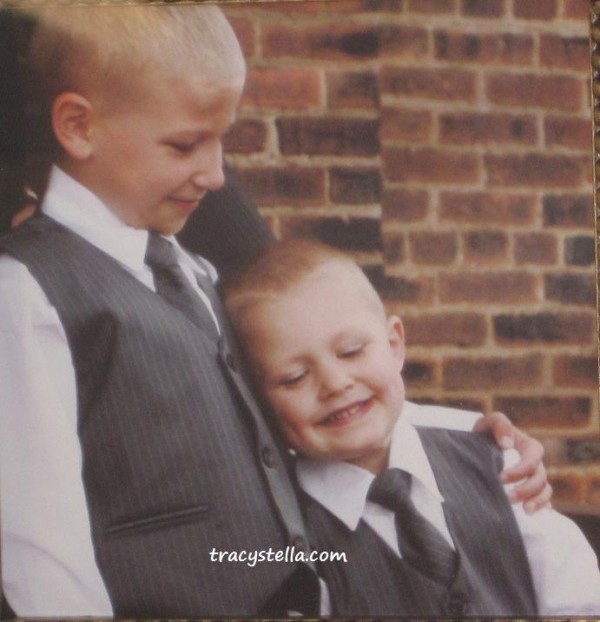 Camille's sister, Burgandy, was her made of honor.  Who names their child Burgandy?  Especially when she doesn't even have red hair.  That makes no sense.  Burgandy didn't want to stand up in her sister's wedding, but Uncle Theodore told her if she didn't stand by her sister's side, she'd be cut out of the will.  Those words would motivate just about anyone, but especially Burgandy.  She had grown pretty accustomed to the finer things in life.
After the wedding ceremony, Burgandy stepped on the back of Camille's dress as they were leaving the church.  The awful sound of fabric ripping as the bride was jerked backwards caught everyone's attention.  Lucky for Camille it was after the ceremony and she had a really long veil that hid her posterior side enough that not everybody saw her business.  After seeing the look of horror on Camille's face, I caught a glimpse of Burgandy's expression.  It looked like there was a glint of glee lurking behind her half smurk that I happened to see.  The two of them always did have a serious case of sibling rivalry.  From what I could gather, it certainly appeared that Burgandy stepped on her sister's dress intentionally.  But I guess we'll never know for sure.  I always did like that Burgandy.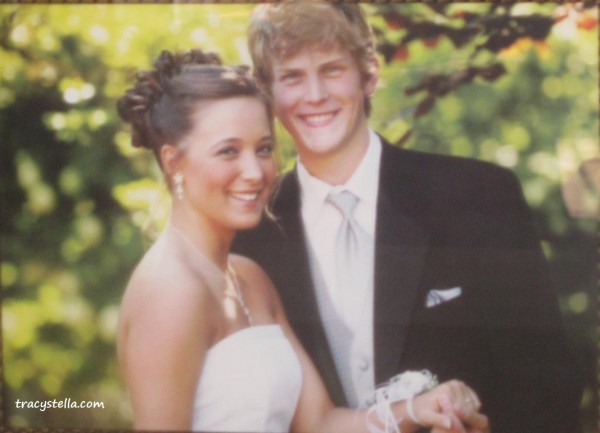 As if that wasn't bad enough, at the reception the twins, Addison and Mathew, caused quite a stir.  The photographer captured their childhood innocence as they glanced somewhere toward the heavens.  Don't let their dreamy eyes fool you.  These two are terrible little devils who wreak havoc wherever they go.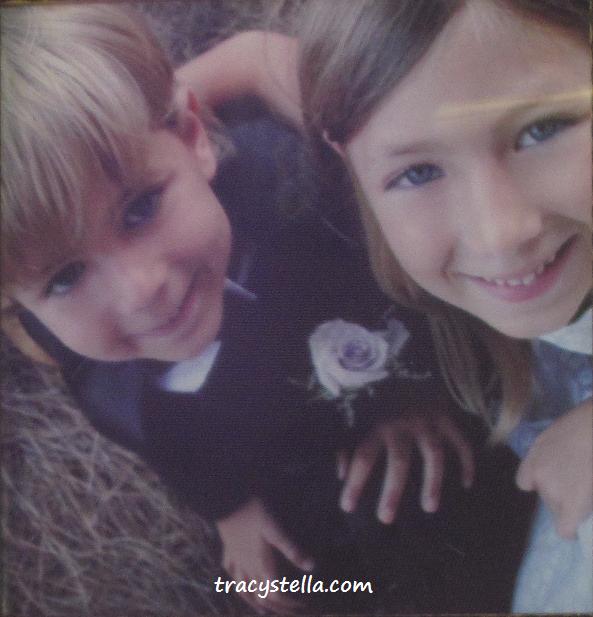 Camille had thought it would be elegant and soothing to have white fish serenely swimming in glass decanters as her table centerpieces.  A little weird if you ask me, but she didn't seek my opinion.  My guess is Camille will never make that decorating mistake again, at least not within the vicinity of Addison and Mathew.
When no one was watching, Addison and Mathew took the white fish out of the decanters and started eating them.  Eating them!  Before anybody knew what was going on, all the table decorations had disappeared.  It took awhile for all the details to be pieced together.  In all fairness, it really wasn't the twin's fault.  They were young and impressionable.  Aunt Victoria and Uncle Theodore had taken the twins for sushi a lot in an effort to expose them to the finer things.  The twins really didn't know any better.
Okay.  So maybe none of this is true.  So maybe all of this was a tall tale, not containing even an ounce of truth.  So maybe none of these people are really my family, although they are starting to feel like family.
Sam bought this photo collage for me as a Christmas gift.  I picked it out saying how much I really liked it and went on and on about how much I loved the frame.  My raving was my subtle hint, so subtle, that I really, really, really wanted this for Christmas.  My husband is very astute and picked up on my clues right away.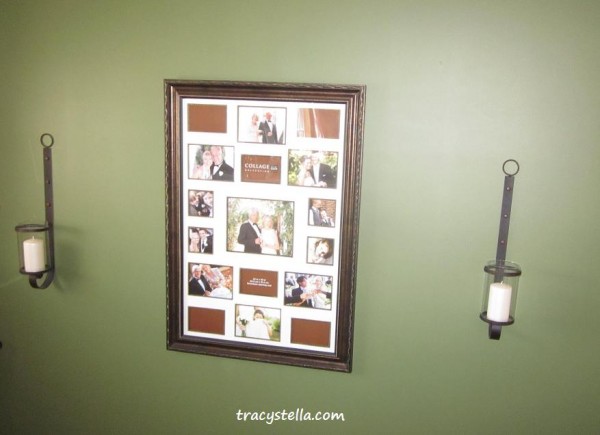 It's July and I'm still looking at photos of people I never used to know, flanked by candles I can't light because they might draw too much attention.  I thought it was high time I made the people a reality in my life since I walk past them each and every day, numerous times throughout the day.  It's almost reached the point of embarrassing since this photo collage greets all our guests first thing as they enter our home.  It's kind of become our running joke.
The older couple actually remind me of Blake and Crystal Carrington from Dynasty, so glamorous.  There's enough drama in this made-up family that they could have all made guest appearances for the thinly veiled Dynasty soap opera.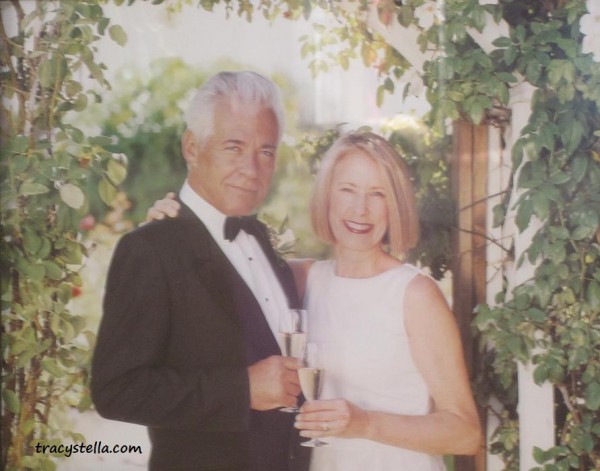 It seems to me I'm forgetting something.  Oh, I know, but that's only a minor detail.
We have been viewing our fake family and friends for quite some time.  You thought I meant I got this as a gift this past Christmas?  Nope.  I got this baby Christmas of 2011!  I might actually miss Camille, Gabrielle, Aunt Victoria, Uncle Theodore, Burgandy & the twins if ever I were to replace the photos with people from my real family.  A photo façade is much funnier.  Besides, it's a great conversation piece as people enter our home.
Do you have any funny wedding moments you can share without getting booted out of your family?
Dish the scoop!