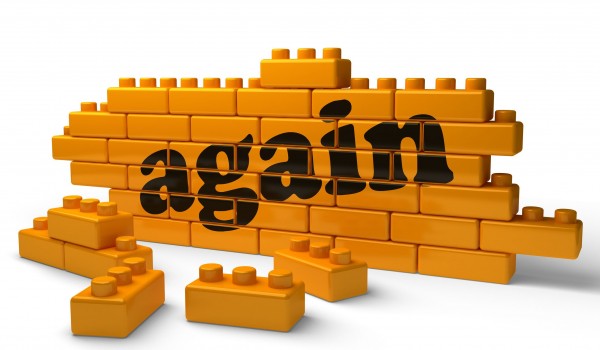 Psalm 71:20-23
20 Though you have made me see troubles, many and bitter, you will restore my life again; from the depths of the earth you will again bring me up.  21 You will increase my honor and comfort me once again.  22 I will praise you with the harp for your faithfulness, O my God; I will sing praise to you with the lyre, O Holy One of Israel.  23 My lips will shout for joy when I sing praise to you – I whom you have redeemed.
Today's Monday's Marinate is about redemption – a sister to last week's topic of restoration.  Before we get into specifics about redemption, we'll explore a bit of King David's life.
Notice how many times the psalmist, David, uses the word "again".  You will restore my life again (v 20).  You will again bring me up (v 20).  You will increase my honor and comfort me once again (v 21).  He's trusting God because he has been on the receiving end of God's goodness even through the worst of times, times of trouble and bitterness (v 20).  David saw much sadness in his life often, but not always, as a result of his own sinful nature.
David was chased and persecuted by King Saul, who in a fit of jealous rage pursued David relentlessly.  David fled for his safety.  He left a place of honor as part of Saul's inner circle and found himself hiding in a cave before he could ever step into the promise God had given him – David would one day reign as king.   I'm sure there were many times David questioned whether or not that promise would ever come true.  Eventually, it did.
David committed adultery with Bathsheba.  Through their relationship, they had a son together.  David tried to deceive Uriah, Bathsheba's husband, by attempting to put Uriah in a position that would have appeared he was the father of David's child.  When David's plan didn't work he had Uriah, a man of honor and character, murdered on the battlefield.
What David had done greatly displeased the LORD as Scripture states in 2 Samuel 11:26.  David saw the painful consequence from his sin when his illegitimate son was struck ill and died.
Later, David had an evil son, Amnon.  Amnon raped David's daughter Tamar.  David didn't deal with the situation.  Therefore, one of his other sons, Absalom, ended up taking justice into his own hands and murdered Amnon.   This entire situation ended with an estranged father – son relationship.  David's son Absalom fled to Geshur.  After David had mourned the death of his son Amnon, David desired restoration of his relationship with his son Absalom.  However, once again David didn't handle the situation effectively.  As a result, Absalom conspired against his father and David ended up fleeing for his safety.
David definitely experienced troubles many and bitter.  How, then, could he speak of restoration, honor, and comfort?  How did David have the ability to praise God in spite of all of these troubled times?
David had seen the LORD's faithfulness over the course of his life – again, and again, and again.  David is trusting in God's faithfulness as he mentions in verse 22.  When David is at his lowest, he is counting on God to bring him up.  He knows God has delivered him before, so he believes God will deliver him again.
God delivered David to safety after encountering a lion and a bear.   God strengthened David to defeat the ferocious animals, even as a young boy.
God helped this same young boy to defeat the giant Philistine, Goliath, with only a sling shot.
God gave David a promise to be ruler over Israel and led David to many victories in war both prior to being king as well as once he stepped into the full authority of king.
Even after God's fury with David for his adulteress relationship with Bathsheba, God later allowed them to get married.  God allowed the couple to have another son, Solomon, whom the LORD loved according to Scripture.  (See 2 Samuel 12:24-25)
As David had witnessed first-hand, our God is a God of many chances.  One of the great advantages to walking with the LORD (having a relationship with Him) for a lifetime, was David knew God intimately.  David had seen God's wrath.  But he had also experienced God's love, mercy, and faithfulness.
In spite of all of David's sin, God redeemed David's life.  God called David "a man after his own heart".  David loved God immensely as can be seen when one wanders through the psalms penned by David.  Of the 150 psalms, David wrote 73 of them.  They are a clear demonstration that God can and does redeem our sinful nature and that God greatly desires a heart turned toward Him.
Evidence of redemption often comes when we are no longer here on earth, in the legacy we leave behind and by what is said of us after we have entered into heaven.  King David, while flawed, is famous for his devotion to God.  King David is cited in Hebrews 11 as one of the members of Faith's Hall of Fame.  And one of my favorites, Psalm 78:70-72 reads
70 He chose David his servant and took him from the sheep pens; 71 from tending the sheep he brought him to be the shepherd of his people Jacob, or Israel his inheritance.  72 And David shepherded them with integrity of heart; with skillful hands he led them.
Being considered a person with integrity of heart by God?  That seems to me like a whole heap of redemption.  David, cared for others with skillful hands and integrity of heart thanks to all that God had done in and through David – in spite of David and his failings.
What does it mean to be redeemed?  According to Merriam-Webster, redeem means:
1  a: to buy back : repurchase
    b: to get or win back
2: to free from what distresses or harms: as
    a: to free from captivity by payment of ransom
    b: to extricate from or help to overcome something detrimental
    c: to release from blame or debt : clear
    d: to free from the consequences of sin
3: to change for the better : reform
5  a: to free from a lien by payment of an amount secured thereby
    b (1): to remove the obligation of by payment <the United States Treasury redeems savings bonds on
       demand> (2): to exchange for something of value <redeem trading stamps>
    c: to make good : fulfill
6  a: to atone for : expiate <redeem an error>
    b (1): to offset the bad effect of (2): to make worthwhile : retrieve
In particular, "to free from what distresses or harms", "to free from captivity by payment of ransom", "to release from blame or debt", "to free from the consequences of sin", "to change for the the better", and "to atone for" all speak to biblical redemption.
Jesus seeks to free us from what distresses or harms us, namely sin.  Jesus died on the cross as a ransom to release us from blame or debt, so we would be free from the consequences of sin.  All we need do is accept Him into our hearts and seek His forgiveness.  In doing so Jesus repairs and restores us.  We don't have to carry the burden of our sin.  We can trust that God will change us for the better as He works in and through us over the course of our lives.
You may be aware that David lived long before the birth of Jesus.  If God extended so much mercy and forgiveness to David, how much more mercy and forgiveness does God extend to us as a result of Jesus' death on the cross for the forgiveness of our sins?
David had learned through a lifetime of walking with God that God would increase his honor and comfort him once again.  Because David knew that, he could praise God and trust in his redemption.  David could move beyond the failures of his past to the hope of his future with God.
Just like God didn't want David to stay stuck in his past mistakes, God is calling us to move beyond our sin and regret.  If we've accepted Jesus into our heart, and have sought forgiveness for our sins, we are forgiven.  God redeems us because the sacrifice of Jesus covered all of our sin.  We don't need to look in the rear view mirror of regret.
As Pastor Perry Noble from New Spring Church stated in a Life Today interview on December of 2012,
"If you don't let your past die, it won't let you live.  You don't have to live where you used to live.  We cannot embrace our future until we embrace that everything in our past:  paid for, forgiven, redeemed.  And we need to move on, because God has."
If you've accepted Christ into your heart and sought His forgiveness, do you trust that your sin has been forgiven?
If you do not, what's one practical step you can take to BELIEVE  you have been redeemed?
Do you find yourself looking in the rear view mirror of regret?
How does (or has) your view of your future change when you look through the lens of redemption?