Today's Wednesday's What Not is about butter – kind of.  I love butter.  Sweet, creamy, slightly salty, delicious butter!  Prior to knowing me, my husband used to freeze butter.  A brick of four sticks would last him about a year or so.  Once I came into the equation, there was no need for frozen butter.
Butter just may be tastier than a chocolate éclair.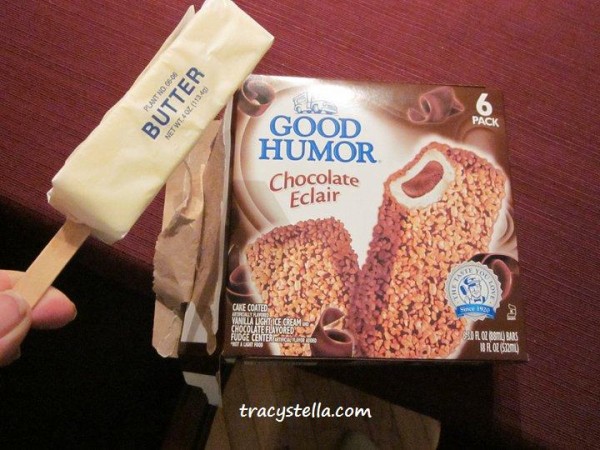 Well, that might be a stretch, but it is very good.  If there weren't so many calories, I'd gobble up a butter popsicle in a heartbeat.  My husband actually "made" these butter popsicles.  One more reason I love him … he's pretty funny.
Part of my love affair with butter is likely connected to memories with my grandma.  I call her Grandma Nanny because she used to let me climb on the table and eat her bananas when I was a little kid.  The name just stuck.  To this day, I call her Grandma Nanny (for nanners).
She could just as easily have been called Grandma Butter, because she also let me crawl up and eat the butter off her table when I was a little girl.  Hopefully, the dinner guests who followed me didn't mind kid prints all over their butter.  I'm sure my grandma made me wash my hands.  Sure of it.  Maybe.
All this to establish I love butter.  Gee whiz.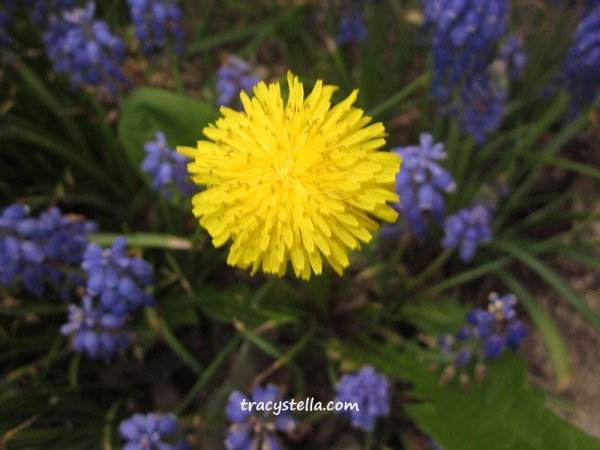 In grade school we played the game "Do You Like Butter" using dandelions.  You might have played it when you were a kid as well.  I'm not sure how this game actually got started or why we even thought it was fun.
In case you have no idea what I'm talking about, you pluck a dandelion and hold it under another person's chin.  If there is a yellow reflection on her chin, she is supposed to like butter.  If there is not a yellow glow, you swipe the dandelion on her chin staining it with the yellow pigment.  The moment of swiping is probably what appealed to me about this game.  Maybe I fibbed once or twice about whether or not I actually saw a reflection, just so I could get a quick swipe in.  Admit it.  You maybe did that too.
Actually, I hadn't given a whole lot of thought to dandelions as an adult.  I know some people think of them as an utter nuisance.  My dad used to pluck them out with a special tool, one by one, so that his yard was pristine.  Not a dose of yellow in sight.
Weed or flower?  Flower or weed?   Flower indeed.  Blow their furry seed.
How we view the dandelion is really about perspective.  I was out for a long run.  I had committed to the mileage, but was running out of steam.  I was putting one foot in front of the other, but was slowly losing form.  Trudge.  Trudge.  Trudge.  Chug.  Chug.  Chug.  Chug.  I started to hunch forward, as I leaned my head into the wind.  Maybe I could plow through the rest of my run.  I was looking at my toes now and it was getting harder and harder to breathe.
I wasn't even aware I was looking down, not forward, until I passed by a dandelion on the side of the road.  As I passed, I got the sense God was saying, "Chin up Buttercup" which made me smile.  Anything with butter is a term of endearment in my book!  My running form improved as I straightened my posture, allowing air to flow more freely through my once-compressed lungs.
The golden yellow flower was coupled with purple – an inside joke between me and God.  I really don't care for yellow much, but God is changing my opinion about it.  He did create it, after all.  My favorite color is purple.  God keeps showing me combinations of yellow and purple in nature as if to say, "See?  Yellow is just as beautiful as purple."  I did actually plant some yellow flowers in my planters this year.  Gasp.  But I still say purple is much prettier.
God used our little color joke to confirm I heard correctly about the "Chin up Buttercup" comment.  Little did I know, God wanted to talk to me about more than just my running form.
In the next moment, I felt as if God was saying, "Chin up Buttercup.  Hold your head up high!"   God was speaking to me about where I am at in my life, where He has grown me to.  It was kind of as if God was saying, "I'm proud of you".  "You're not who you used to be and you have nothing to be ashamed of.  You hold your head up high because you are royalty.  You are my daughter."
I hope you hung in with me long enough to finally get to this point, because this next bit is important.  Over the last few weeks we've been talking about redemption.  This past Monday, we explored shame and how the enemy wants us to feel "less than", unqualified, and unworthy.
Here's what God says to you:
Chin up Buttercup.  Hold your head up high!
Nothing you have ever done is beyond God's forgiveness.  God is proud of you too.  You have nothing to be ashamed of.  Seek his forgiveness and it's done.  If you've accepted Jesus as your Savior, you are royalty.  You are HIS DAUGHTER.
Chin up Buttercup.  Hold your head up high!
Isn't our God awesome?  Thoughts of our awesome God bring me back to our cliff hanger from Monday.  God had been using the phrase Chin Up Buttercup to encourage me.  As I sat and listened to the song Redeemed by Big Daddy Weave during our prayer meeting, one lyric in particular jumped out at me:
"But when I hear you whisper 'child lift up your head' I remember oh God you're not done with me yet."
God had whispered for me to lift up my head.  In the next breath, God was saying He wasn't done with me yet.
God wants us to hold our heads up high so we can see ahead of us, into our future:  one that is good as long as we are in His presence.
The morning following our prayer meeting, I had tried to write but had gotten distracted.  I was reading a "Message From God", which is kind of like a devotional.  Here is what it said:
"There is a whole big world that was created for you.  Go forth into it!  Humans were not made to be indoor creatures; nature is our playground."
After reading the devotional, I felt as if God was beckoning me to head outside for a run.  Writing would come later.  Maybe I'd receive some inspiration out on the road.  It was a gorgeous day, even more so because it had been raining for several days prior.  Today was a perfect day for a run:  sunny, 60 degrees, light breeze, birds chirping, and lush green grass from all the rain.  God didn't' have to tell me twice as I quickly threw on my running clothes and head for the sunshine.
As I was out on my run, I couldn't get a worship song out of my head.  The song was My Redeemer Lives by Nicole C. Mullen.  The lyric kept repeating.
"Let all creation testify.  This life within me cries.  I know my Redeemer lives."
Creation was testifying in a very big way.  It was a spectacular day.  God drew me out away from my computer to enjoy the beauty of His creation and to remind me that He is my Redeemer.  It was as if He was driving home the point from the evening before.
Redemption.  Sweet redemption made possible because we have a Redeemer who loves us more than we can imagine.
Do you find you hear from God while out in nature?  Or listening to worship music?  Or through some other means, perhaps.
However you feel you connect with God best, take 5 minutes today to do that something.  Take a walk.  Listen to a song that moves you.  Journal.  Whatever it is, take 5 minutes to see what God has to say to you.
Prayerfully ask God if you have any issues believing you are redeemed.