You knew this was coming.  Anticipation was in the air.  You can't start a blog post about the dog days of summer without jamming to this tune by Florence & The Machine.  Sing along with the song.  I guarantee you'll be smiling as you trip over your tongue trying to keep up with the ever-changing tempo.
Without further ado, The Dog Days Are Over.  Everybody put their paws in the air and wave them like you just don't care.  Let me here you sing it now, "The dog days are o-o-ver."
I just wanted to see my mom chair dance to that song.  She looks so funny as she's snapping her fingers and flailing her arms above her head – snap, snap, moving her body back and forth to the rhythm, kind of.  If I didn't know any better, I'd think she was having a seizure.  Nahhh.  She's just weird.  I think she took me literally when I said "Put your paws in the air and wave them like you just don't care."  Obviously, she didn't give a hoot.  I wish she would listen that well when I tell her, "Bark, Bark – Woman, Get me a treat."  I have to resort to deceptive measures like looking all cute and stuff.
Mom does seem pretty happy these days.  This song doesn't really make a whole bunch of sense because I'M the reason she's so darned happy.  If dog days are over, what does that mean for me?  Good thing we don't live in another country where I might end up on the dinner menu.  Yikes!  I'd have a bone or two to pick with mom then, wouldn't I?
Where was I?  Oh yeah.  Back to me.  So, we've been doing all sorts of fun things these dog days of summer.  Every time I leave the house, I get all sorts of extra attention.  I just lap it up and lay it on thick for anyone I encounter.  Little girls – yeah – they love me.  As soon as I hear, "Awwww. look at the cute puppy."  I realize I've still got it after all these years.
I'm so glad I wear my age well, not like this poor schmuck.  Anti-wrinkle cream, dude!  Woof!  Woof!  Actually, I think we might need to break out the super duper, heavy duty beauty cream.   I heard Preparation H works wonders to reduce swelling and minimize those nasty wrinkles.  Pick some up at the store.  Really, no one will think you are buying the Preparation H for anything other than beauty cream.  It's totally believable.  What do you think my secret is, Wrinkle Mutt?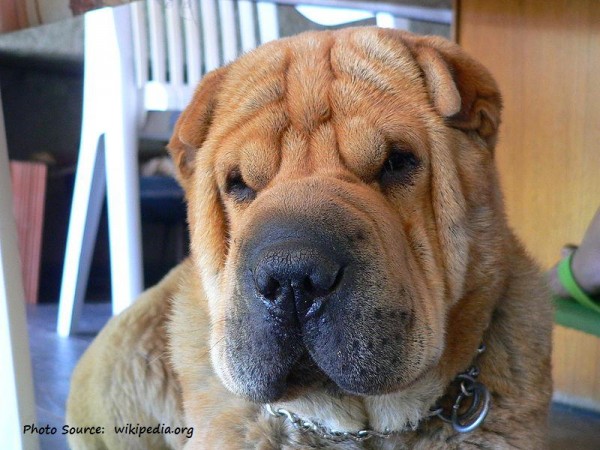 I know.  I know.  Play nice.  This is why mom and dad haven't gotten me a baby brother or sister.  I'm still working out my behavior issues.  This is what happens when you are an only pup.   It's really not my fault; my dad didn't raise me right.  Shhh don't tell him I know this, but he kind of spoils me.
Case in point.  Huskies can learn a thing or two from me.  Mush, hush.  I ain't pulling no sled around.  The only one calling mush is me.  My dad, Sam Sr., can schlep me around.   See?  Mush, dad, Mush.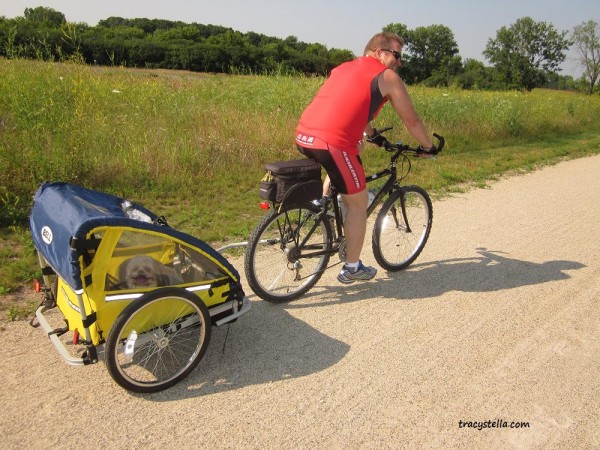 We went on our first legit bike ride in my new carrier.  It is one sweet ride.  This must be how kings felt back in medieval times as their minions carted them around.  My parent's friend, Laura Burke, gave the bike carrier to us.  She's a personal trainer & registered dietician, so she cares about my family being all healthy and stuff.  A family that is active together is one happy family indeed.  Thanks, Laura, for such a generous gift!
Mom and dad told Laura how depressed I was getting staying home alllll byyyyy myself while they went on these fun bike riding excursions.  Well, my mood certainly turned around when I got to join in the family fun.  Now, if I can just get Laura to teach my mom how to make me healthy homemade treats.  Maybe I can get dad to be my cupbearer and taste the treats first to see if they are any good.  Wonder what kale does to pups?  Not only do we need Preparation H in the house, we might want to get some Pepto Bismol before I try a kale puppy treat – just to be safe.
Speaking of bathroom issues …
On hot days, it's important a little guy like me stays hydrated.  There's only one problem.  Mom & dad didn't work out a signal with me to let them know when I had to go potty.  I'm getting all jostled around in this jalopy and all of a sudden, I AM IN BIG TROUBLE.
I started scratching on the window and mom yelled at me to stop it.  I was like, you have got to be kidding me.  She can't figure this one out.  Hellllllloooo.  I do this at home all the time, why can you not figure out I need to find a tree and find a tree right now?
Finally.  It sinks into my parent's heads.  Better pull over.  Me and dad abandoned ship and high-tailed it into the woods.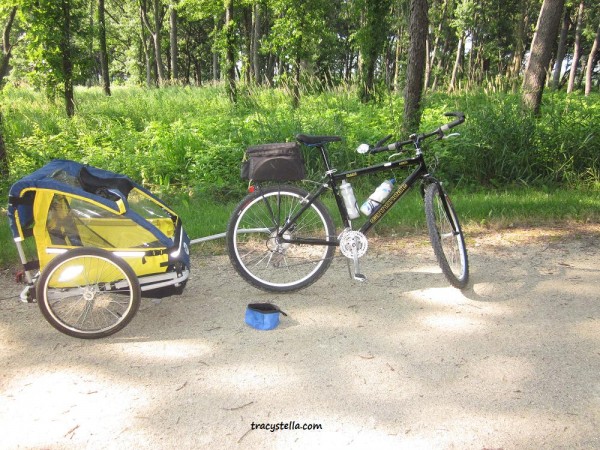 I told dad, "what happens in the woods, stay's in the woods".  Somehow, he didn't understand my lingo (people!).  I was so embarrassed.  He brought my business out for mom to see in a little zip lock baggie.  Gee, thanks dad.  You could have just covered it up with some dirt or something.  I think those strangers that passed us might have even seen it.  How would you like it if I pulled out your pooh?  You better lock the bathroom door if you know what's good for you.
I guess I should be nicer.  After all, dad did use his manpower to haul me around.  By the time we made it back to the parking lot, these new wheels felt like my home away from home.  Happiness hit me like a train on a track.  Just like the song says, the dog days are oooover.  There's no turning back now.  Not depressed anymore.  I get to come along for the journey.  You can't carry your love with you if you want to survive.  Yep, that's true.   I guess I better give mom & dad lots of kisses and show 'em my love.  Clap, Clap.  Clap, Clap.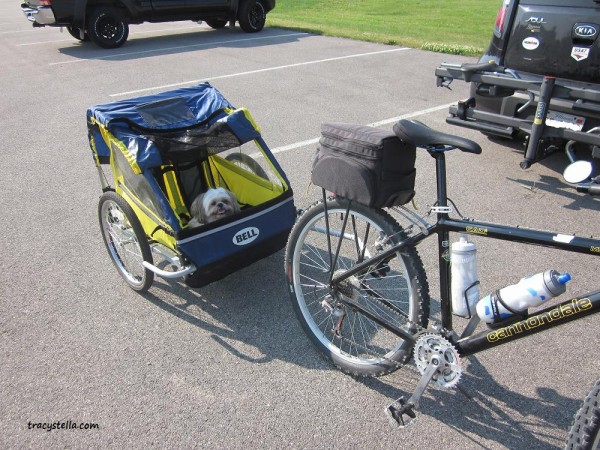 I'm kind of understanding the appeal to mom's chair dancing now.  That song is pretty catchy.  I might just listen to it again.
I wonder if mom and dad can figure out a way to pipe some music back here for my next bike ride.   Subwoofers, gotta get me some.  What will the other bike riders think when they see me chair dancing as my pop pulls past them on the trail?  The dog days are oooover.  That's what they'll think.
What do you enjoy doing during the dog days of summer?
Share your great ideas!
Special thanks to our friend, Laura, for little Stewie's carrier.  Yes, that was a thinly veiled plug for our friend in the above story, but I wouldn't do it if she weren't very talented and knowledgeable.  If any of you are ever interested in learning more about your nutrition / dietary needs, or would like help from a Personal Trainer, check out Laura's business website, ELB Consulting or like her Facebook page to receive updates & nutrition info.  (And she really did make me a really yummy kale shake.  Who knew?)