Today's Wednesday's What Not is about trying new things.    As we embark on our edible exploration, we don't know how we'll fare.  Sometimes, new things work out amazingly well.  Other times, whaah, whaaah, whaah, not so much.
I challenge you to consider the exploration process a success even if some new menu items miss the mark.  There aren't any promises on this expedition, but if you never try anything new you might lose out on many a meal that would have otherwise delighted you.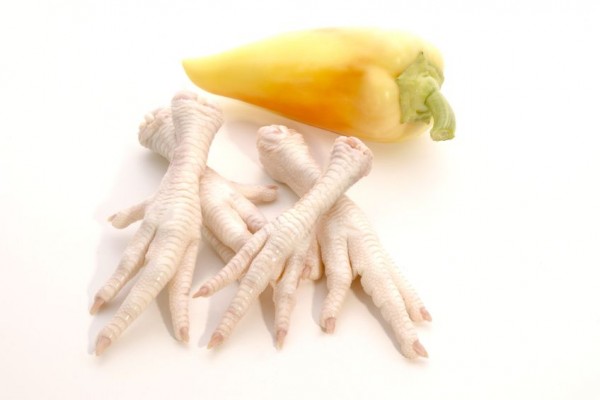 I think we get comfortable with our routine.  Often, we get stuck in a rut.  It might be easier to continue with our systems and schedules and meal plans, swimming in sameness.  But that can also be a little BO-RING.  Once in awhile, we've got to spice things up.  Give me a shake, shake, shake of some red hot chili peppers, so to speak.  We've got a life to live people, so let's get living it one bite at a time.
Food is a simple "New To You" place to start, my friends.  This is only the beginning of "New To You" possibilities.  Consider setting a "try one new thing" rule.  Each week, try one new food or recipe.  Take your taste buds on an appetizing adventure.
Recently, I've been doing this more with mixed results.  Sometimes, I want to dance with delight as my fork delves into dinner, fork twirling across my plate collecting every last morsel.  Other times, my attempt for something new goes from taste buds to trash can in minutes.  That's okay.  I'm living life one bite at a time, remember?
I should say, my idea of adventurous might not match yours.  That's not really the point.  The point is to stretch your food horizons, whatever they are.  Work within your comfort zone (or just outside of it).
For example, I know people love sushi.  You will not catch me eating it.  Sushi is too far outside of my comfort zone.
Chicken feet – they are out too.  I don't even like how my own feet look, let alone cocka doodle do's feet playing peek-a-boo across my plate.  (Yes, that disgusting picture is really chicken feet.  I could barely stand to select the picture.  Gross!)
Oysters – slime is not my thing.  I have trauma from watching my dad let the slippery suckers slide down his throat.  Gag.
Any form of the aforementioned yuck a pooh won't make it on my menu.
Mexican Mole won't make it on my menu either.  One of my Hispanic girlfriends made it for me – authentic, real deal Mexican mole.  I'm so glad she is a good friend, because she can interpret my hand motions rather effectively.
Me, pointing to my mouth.
Her, "Do you want a paper towel?"
Me, nodding my head up and down.
Her, rips paper towel from the roll and quickly gives it to her friend.
After spitting out the mole in the paper towel, I scrubbed my tongue clear of any remnant of mole sauce.   Somebody went and messed up some perfectly good chocolate in my opinion.  (Kind of like the time she brought Mexican candy back  to the U.S. and gave me a piece.  Pop goes the candy in the mouth.  Schplat it gets spit immediately out.  Dis-gus-ting!  Who eats spicy hard candy?)
I thought I would share some of my recent culinary catastrophes as well as fabulous food finds from my "New To You" adventures.
Who put the comfort in comfort food?  Why, mac and cheese of course.  Num, num, num.  I try not to eat it a whole bunch these days, because I might as well just watch my butt puff up faster than a Pillsbury pastry.  But, oh it's so good.
What's another common comfort food?  Pizza, pizza, pizza.  Chicago and pizza are inseparable.  It's not my fault I consume this cuisine.  Gobbling up its goodness is a geographical hazard.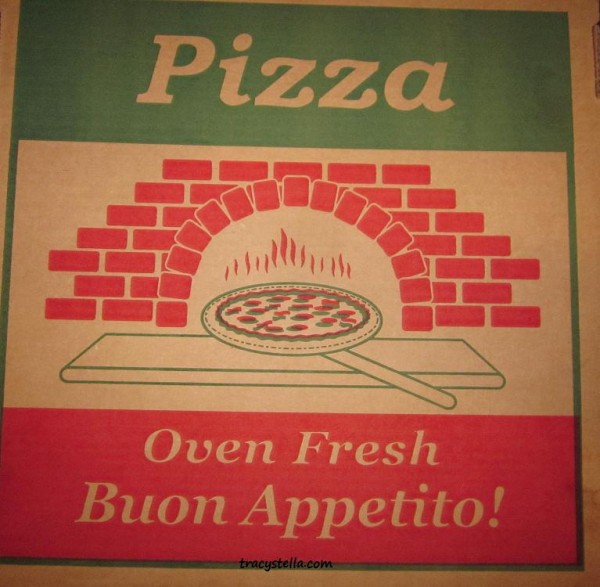 You might be thinking there's nothing new about pizza or mac and cheese, for that matter.  True that.  But have you ever tried them together?  Ahhhh, now we're talking.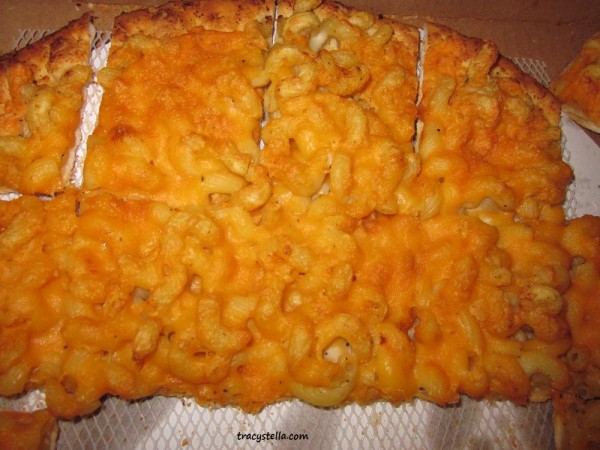 I was tricked into trying this tango of temptation by a local food establishment.   Besides the idea of combining two of my favorite comfort foods, the restaurant's marketing "Seen live on NBC and WGN" had me at hello.
Every time I saw it on the menu, I would tell my husband, "I have to try it".
Sam wasn't into the idea of a mac and cheese pizza.  Maybe it's because we always saw wee little ones eating it.  Maybe it wasn't for grown up consumption.
Did I mention my husband travels for business?
"Hello.  I'd like to place an order for delivery please."
Consumption of kid cuisine thanks to carry out, all within the comfortable confines of my hiding spot of a home.
Ding dong.  The moment had arrived.  As I scampered down the stairs, money in hand, I greeted the delivery driver with a smile as warm as my pizza.   The driver was delivering a delectable delicacy for my personal delight.   I gladly handed over the cash as I snatched the box from his hands.
I loaded up my plate with as many pieces of pizza as would fit.  After settling into a comfy chair in front of the TV, I took my first, much-anticipated bite.   All kinds of bad behavior going on here, verifying when grown-ups (aka Sam) are away things can go very, very astray.
Who would have ever thought mac and cheese pizza could miss the mark?  I would have placed bets it would not be possible.  Good thing I didn't bet.  I would have lost more than the $30 bucks I wasted on this pizza!  I might as well have licked sand for all its bland, blah, and dryer than a desert taste.
I guess I should be grateful.  Can you imagine how many calories are in that thing?  Hello.  I'm not sure I can run that many miles in a week to work all the weight waiting to happen off.
What's next on the "New To You Menu"?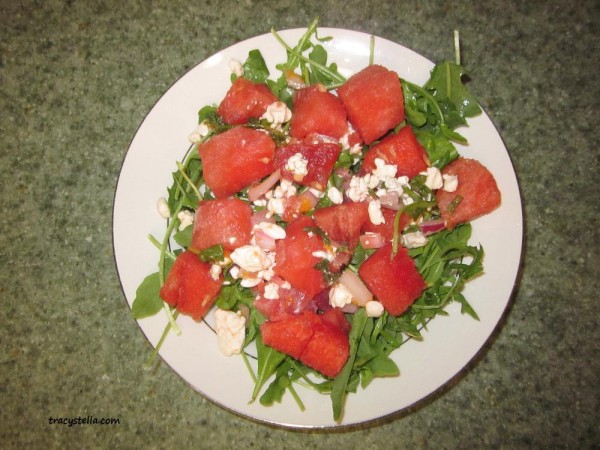 I got this Watermelon Feta Salad recipe from the book, "Bread & Wine" by Shauna Niequist.  I had never read a book like hers before.  Shauna takes life experiences and blends them with one of her favorite things – food.
Bonus points for me.  Even the book format made it to my "New To You" list.  See?  Trying new things is easy.
I'm grateful she wrote the book.  Otherwise, I might not have ever tasted such a savory salad.  If you like watermelon, you have to give it a whirl.  Okay, so you don't really have to, but if you don't ever try something new, remember what happens to you.  You don't want to get stuck in a rut, now do you?
Don't you just love when you are reading through a recipe and you encounter an ingredient, wondering, "What the heck is that"?  Not only did I try a new recipe with the Watermelon Feta Salad, I tried a brand new-to-me ingredient.   Double round bonus points.  Score for me.
Arugula … sounds a bit like arooga, arooga (as in an old fashioned car horn) arooga, arooga.  Where can I get me some aruuuuugula?  I couldn't visualize what arugula was.  Was it a spice?  That was going to be my first guess.  Good thing I have a smart phone or I would have looked like a big dummy in the grocery store, stranded in the spice aisle asking the grocer why don't you have any arugula?  (For those of you who are thinking, "Duh, who doesn't know what arugula is", be nice.  Everybody's got to start exploring new stuff somewhere.)
For those of you as potentially unrefined as I can be sometimes, arugula is the green, leafy substance under the watermelon in the picture above.  It has a sturdy texture that withstands the water in the watermelon, preventing the leaf from getting soggy.  It also has a very distinct taste.  One website described it as having a peppery kick.
Watermelon Feta Salad has become one of my summer favorites this year.   It's tasty and refreshing, especially on a hot day.  I struck salad gold with this one.  Give it a try to see if you strike gold too.
I've included Shauna's recipe at the bottom of today's blog.
I was on a mission to find beet recipes when I happened upon the recipe for Quinoa, Beet, & Arugula Salad.  Since I had become a lover of all things arugula, I couldn't wait to try this next recipe.  Besides, I needed a beet bail-out after my first misadventure with them.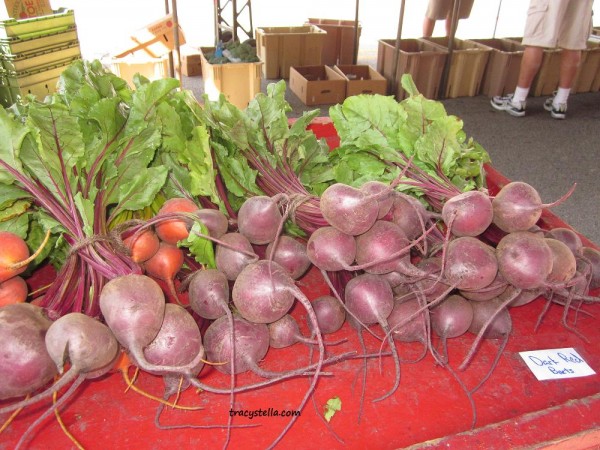 Beets aren't really new to me, but they are new in the sense that it has been a really long time since I've had them.  My grandma used to make pickled beets and they were absolutely de-licious!   I'm sure that's what inspired me to grab a gaggle of beets in the produce section.
Sam looked at me curiously as he asked, "What are you going to do with those?"
I said, "I don't know.  I'm going to make something with them."
What, I hadn't a clue.  I thought to myself, "I'll put some on a salad".
I peeled the beet and sliced it into little pieces as I tossed it on top of my salad.  Crunch.  Crunch.  Not very good.  I remember beets tasting WAY better.  Something's not right.  Ucky!  Fortunately for Sam, he had taken a pass on the beets for his salad.  He's smarter than the average rabbit.
A couple of days later, I went on a mission to find a better beet way.  Oh internet, internet, wherefore art there a better beet recipe?
I looked at the pickled beet recipe.  Pshhst.  Not doing that!  Dang, my grandma went to a lot of work for those pickled beets.  I'm too lazy.  Pickled beets I bid thee farewell.  Not gonna happen.
Keep searching.
Quinoa, Beet, and Arugula Salad (Recipe source www.allrecipes.com)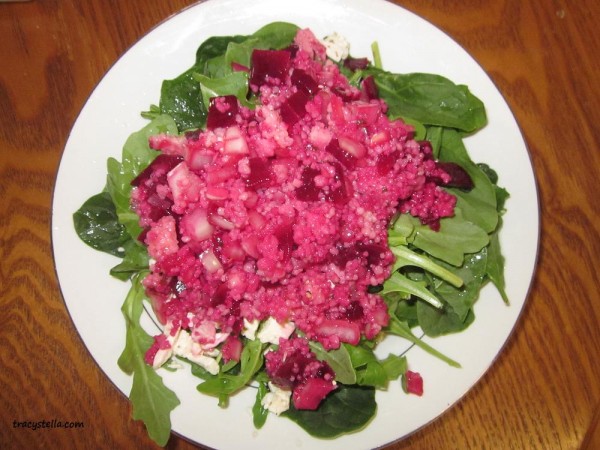 Now we're talking.  I read through the list of ingredients (and their substitutes).  Lucky me.  All ingredients were in the household.  A beet recipe romance meant to be.
I interrupt this recipe review for an important announcement.  After analyzing this recipe, I learned you must steam beets in order to soften them.  Soften them.  Ohhhhhhh!  Steaming the beats would have prevented my little salad mishap.  I needed to SOFTEN the beats before placing them upon their leafy resting spot.  Well, that would make a difference.  Who knew?  Probably you and everybody's brother, but it was news to me.
And now back to our previously scheduled recipe review.  The beet salad wasn't horrible, but it wasn't great either.  It tasted a tad too much like vinegar for my taste buds.  Not the end of the world.  I just won't be making this one again.  I'm looking for a beet recipe that can't be beat.  This isn't it.
If you have a great beet recipe that doesn't require sterilizing jars and performing other high-maintenance tasks, I'd love it if you'd share.  Your old familiar thing could become one of my favorite new to me things.  Thanks in advance.
Next up on my "New To You" menu adventure is:   Tuna and White Bean Salad.  What else am I going to do with the bag of white kidney beans that has been hiding in my pantry for well over a year?  Good thing they have a long shelf life.  Nothing bad will happen to me for consuming them until March of 2015.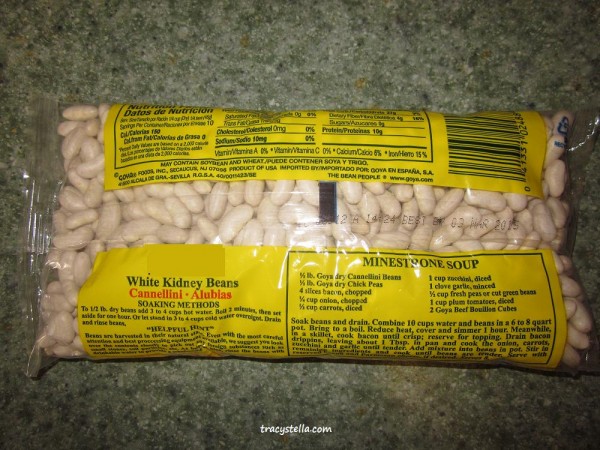 Boy, am I glad I needed to check the expiration date on the beans.   I learned two very important things about these beans in a bag that I otherwise would have missed when I tossed them into my tuna salad.
What a close call.  I almost had my second salad snafu.  Want to come over and chip a tooth on my crunchy white bean tuna salad?  You're safe thanks to my being directed to the instructions which say to soak the beans in hot water, boiling them for two minutes to soften them.  Who knew?  Normally, I just open a can of beans and rinse them, but I'm trying to be all adventurous and stuff.
Read the fine print.  It might be important.  The bag has a section called "HELPFUL HINT".  I'm so glad they used all caps.  Otherwise, I might have missed this "hint".  And I quote, "Even with the most careful attention and best processing equipment available, we suggest you look over the contents closely to pick out any foreign substances such as small stones, soil particles, etc."  Gravel.  It's not just for driveways.  The etc. is worrying me a bit.  What do you think etc is?  Better yet, don't tell me or I might not be making my "New To You Tuna And White Bean Salad".
Your assignment today is to find one new recipe or ingredient and try it sometime this week.  Don't forget to read the instructions.  Remove any rocks before serving to avoid emergency dental visits.
What has been one of your worst recipe disasters?
What was something you avoided trying only to find you really liked the taste of it?
Watermelon Feta Salad Recipe
Ingredients –
8 cups watermelon, cubed
8 ounces feta cheese, crumbled
3 tablespoons fresh mint, chopped
¼ of a red onion, finely chopped
10 ounces arugula
2 limes
¼ cup white balsamic vinegar or white wine vinegar
½ cup olive oil
Salt and pepper to taste
Instructions –
Cube 8 cups of watermelon, and let the cubes marinate in the juice of one fresh squeezed lime for several hours.
Vinaigrette –
Combine fresh squeezed lime juice and zest from the remaining lime, white balsamic vinegar or white wine vinegar, olive oil, salt, and pepper.
At serving time, toss arugula with half the vinaigrette, and combine watermelon, feta, red onion, and fresh mint.  Layer the watermelon mixture over the arugula, and drizzle with remaining vinaigrette.
Quinoa, Beet, and Arugula Salad
(only if you like the taste of vinegar … a lot)
Ingredients –
½ pound beets, peeled and sliced
1 cup red quinoa (or couscous)
2 cups water
½ cup olive oil
½ cup red wine vinegar
1-1/2 tsp white sugar
1 clove garlic, crushed
1 tsp salt
¼ tsp ground black pepper
2 green onions, sliced
3 oz arugula, chopped
5 oz goat cheese, crumbled (or feta cheese)
Directions –
 Place a steamer insert into a saucepan, and fill with water to just below the bottom of the steamer.  Cover pan and bring the water to a boil.  Add beets, cover pan, and steam until just tender, 7 to 10 minutes.  Set aside.
Bring quinoa and 2 cups water a saucepan over high heat.  Reduce the heat to medium-low, cover, and simmer until the quinoa is tender and the liquid has been absorbed, about 15 minutes.
(or prepare couscous according to box instructions)
 While the quinoa is cooking, whisk olive oil, red wine vinegar, sugar, garlic, salt, and black pepper together in a large bowl.
Remove quinoa from heat, then immediately add half of the vinegar dressing while fluffing the quinoa with a fork; reserve remaining dressing.  Cover and refrigerate quinoa until cool, at least 1 hour.
Stir green onions, arugula, goat cheese (or feta cheese), beets, and remaining dressing into cooled quinoa mixture.  Toss lightly before serving.