Remember, "Friday's Finding Your Funny" is dedicated to good, clean fun! Know someone whom you would like to nominate? Submit the nomination in the "Contact Me" section of my blog including a link to the material.
I'm pretty sure my husband thinks I'm mean.  He'll give me a look.  You might know the kind.  The one that says, "You're not right".
Why would he give me such a look?  Maybe it's because I laugh like a hyena at other's antics as I watch America's Funniest Home Videos.  The videos that are all cute, don't appeal to me much.  Give me the ones where someone is hiding in a garbage can and jumps out to scare a family member.  Now that's what I'm talking about!  Those will get me giggling every time.
Recently, I saw an episode where someone's kid had a fake spider on a clear string and dangled it over his dad's shoulder.  The dad screamed like a girl as he flung himself out of his car and flailed to the ground.  Just typing it makes me laugh again.  Maybe Sam's right.   I AM wrong.
If the show Candid Camera were still on the air, I'd watch that too.  I used to love that show.  Here we go, let's set the scene for some crazy scenario and see how much one person can be duped.
Maybe I love these shows because I have been known to play a practical joke or two.  Anyone who ever thought I was nice might think otherwise after reading this blog post.   My funny might be your, "that's so mean".   The good thing is the statute of limitations was met for most of these.  What this innocent girl won't share with you to get a laugh.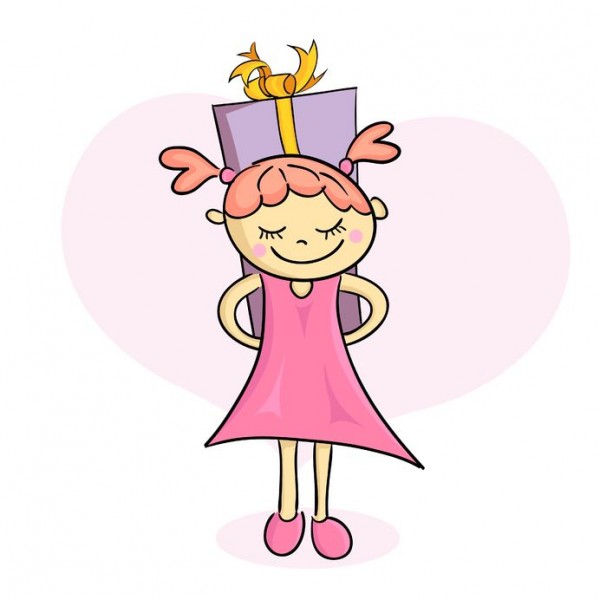 If you are a teacher, make a mental note of this first joke when developing lesson plans.  Timing is imperative.
I love my Grandma Nanny very much.  You'll understand why I need to clarify this point in just a moment.
Grandma used to live right behind us when I was a kid.  I could easily pop over for a visit after school.  I was a sweet little girl with occasional rotten tendencies.
One day, I decided to give my grandma a present.  I wrapped up a project from school and gave it to grandma as a gift.  I chose a beautiful bow, because presentation is really important when gift-giving.
My grandma opened the special present and then shrieked, "Tracy Lynn"!
You know it's not good when the middle name is invoked.  She might have said she was going to kick my butt or some other choice word.
Did I mention it was April Fools?  Never, ever, EVER open a gift from someone on April Fools.  You've heard of the saying, "snug as a bug in a rug".  This practical joke present is close to that.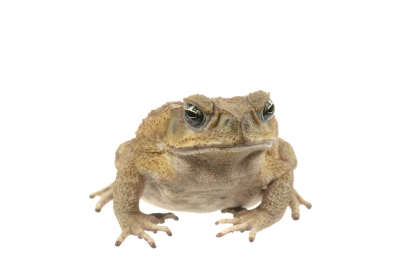 We had dissected frogs in science class that day.  (What WAS my grade school teacher thinking?)    I thought it would be hilarious to wrap the frog up for my grandma as a joke, so I smuggled the frog out of class.  When I got home, I nestled the frog into a jewelry box and covered him under a blanket of cotton.  I forgot to say a little pray for my frog friend before I tucked him into his eternal resting spot.
I'm lucky I didn't cause my grandma to have a heart attack!   I'm lucky I didn't send grandma to her eternal resting spot along with Mr. Frog!  Grandma still reminds me about the unforgettable frog joke most times we are together.   And I still laugh about it – even if I think it wasn't all that nice.   Maybe it was a teaching moment.   Forever Rely On God … FROG … Forever Rely On God … FROG … not to wring your granddaughter's ever-lovin' neck!  Forever Rely On God!
For this next joke I had a few accomplices.  Do not ever be the first one asleep – ever.  That especially applies when you are gathered together with your cousins.  That's laying oneself on a silver platter, a temptation too tasty to resist.
When we were kids, one of my family members zonked out first.  Okay, so I might have been a teenager who should have been more mature than this, but that's beside the point.   My cousins and I were hanging out in the basement when someone came up with the idea to play a joke on our sleeping victim.   He was defenseless after all.  I don't remember whose idea it was, but we all jumped aboard the train of teenage torture pretty quickly.
The family member (yes, I'm protecting his identity) was sleeping when we decided to paint his toenails a pretty shade of pink.  As I'm typing this I'm wondering how we actually got away with this joke.  Didn't my parents smell the nail polish and wonder what we were up to?  Not only did we give him a pink pedicure, we hid the bottle of nail polish remover.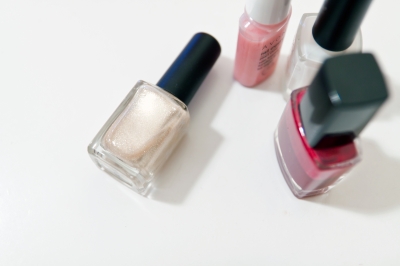 We were very patient pranksters.  After we allowed time for the polish to dry, we stirred the victim from his slumber.  He awoke mad, but what was he going to do?  He was outnumbered 3 to 1.
He searched for the nail polish remover.   Too bad it was well hidden.  After he had looked for it to no avail, we told him hairspray would help remove the polish.  That was the funniest part, seeing the victim douse his toes with hairspray as he vigorously scrubbed in an attempt to remove the polish.  Every time he'd spray his toes, we'd all crack up laughing. The hairspray only made everything sticky and gloppy and made the basement smell even more like a beauty salon.
We finally did give the victim nail polish remover.  Poor guy!  I know.  I know.  That was mean.  Is it too late to seek forgiveness?  Oh family member, if you are reading this, please oh please forgive me for this and every other rotten thing I ever did to you.
I'm not sure this next one counts as an actual practical joke … yet.  My dad better keep alert.  Pops made the mistake of letting his children see he has a very weak stomach.  We used to keep the garbage in the garage when I was a kid.  My dad went to lift the garbage bag up and found a family of maggots squiggling about.  Instant dry heaving and vomiting ensued.  My brother and I would only have to mention the maggots and pretend to dry heave, and my dad would start dry heaving all over again.  We could make the vomit noise years later and he will still dry heave.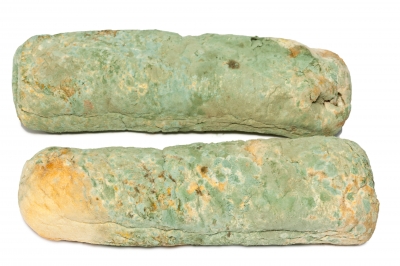 Well, along those same lines, my dad has an aversion to mold.  If he even sees mold on bread, dry heaves happen. When we were teenagers, we (ok so it might have been me, but my brother laughed) chased my dad with moldy bread extended as if we were going to touch him with it.  Dad was running away and gagging and I was cracking up as I chased after him.  My parent's house has a floor plan where you can run in a circle from living room to entry way to kitchen and around again.  Well, I was like Tom chasing Jerry as my dad scampered away from the furry green mold.  Lucky for my dad I wasn't an endurance athlete at the time.  He might still be getting chased around the kitchen.
I have often thought it would be hilarious to wrap moldy bread up for Christmas and give it to my dad.  It's green.  It would match the seasonal color scheme.   I hear another "Tracy Lynn" in my future.  At least I'm too old to get grounded.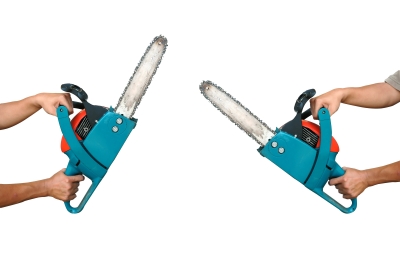 This next joke was quite a scare as a kid.  We watched Texas Chainsaw Massacre at the drive-in.   We went from a fun playground experience with my cousins before the show started to sheer terror.  I remember sitting in our car, frightened, in the pitch black outdoor setting.  Early trauma – one more reason I hate scary movies!
Time elapsed.  Then, one very early morning, we heard the clamor of a chainsaw at our door.  Shrieking ensued from inside the house.  I was running in place, which is what I always do when I'm scared.  I would be the first one to disappear in a horror film.  I don't propel forward no matter how much adrenaline is pumping.  Imagine someone standing in the same spot, unable to move forward, even though their legs are moving up and down faster than a jackhammer.
I'm surprised I didn't wear a hole in my mom's rug that day from my version of running man.  My uncle thought it would be hilarious to come scare the crap out of us with his chainsaw.  He has the most ornery laugh.  After the fear subsided, we could laugh with him.  We were probably more relieved than anything else.  I still owe him for that one!
When I was in high school, I was a Matmaid.  What's that you say?  Matmaids kept score for the wrestling team.  Why would anyone choose to be a Matmaid?  I probably had a crush on a wrestler, causing me to suddenly become intrigued with the sweaty, stinky sport.
After one of the wrestling meets, my dad came to pick me up.  Dad waited for me in the school parking lot.   And waited.  And waited some more.  He got fed up and came into the building to look for me.   It took him awhile to find me, considering he had to search the school.  He finally found his daughter dangling upside down from a ladder that was hanging from the ceiling in one of the other gyms.  The wrestlers had decided to use the ladder for more than make-shift monkey bars.   They had other monkey business in mind.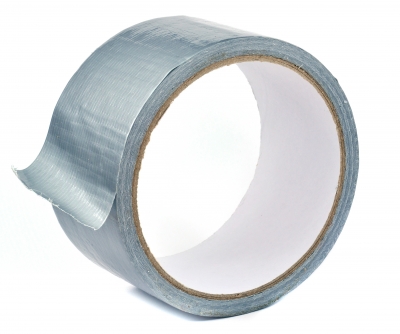 Some of the wrestlers thought it would be funny to duct tape me to the ladder and leave me hanging.  My dad wasn't mad once he saw there wasn't much I could do from my vantage point.  Dad cut the duct tape and released me from captivity.  Hey, I'm just grateful it wasn't like Nell when Dudley Do Right had to rescue her from the train tracks.  That would have been infinitely scarier than having to avoid strings of drool dripping down from my mouth as I laughed while dangling from the ceiling.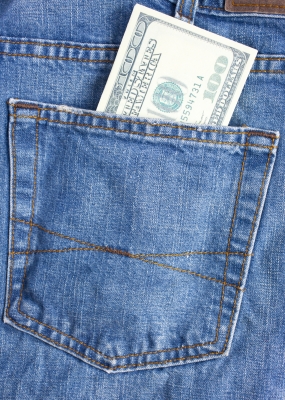 Fast forward.  For my 30th birthday, I received a scratch off lottery ticket as a gift.  I scraped away the silver layer to reveal a prize.   The ticket said "You win $10,000".
Have you ever seen an Indian rain dance?  If you were at my 30th birthday party, you saw a close approximation to one.  I was hooting and hollering, as I danced in a circle of celebration all the while shouting, "I won $10,000"!   Over and over again, "I won $10,000"!
Eventually, everybody let me in on the little secret.  It was not a legit lottery ticket.  I might not have won $10,000 that day, but I did get a good laugh out of it.
Now, let's look at a Christmas tradition.  White Elephant exchanges, sometimes called Yankee Traders, are so much fun.  You get to exchange gifts with others, and there's an opportunity for a present swap or two.  I used to participate in a white elephant where we would have a real gift for one of the exchanges.  We'd also have a separate gift exchange where we would wrap up gag gifts from our home and trade them.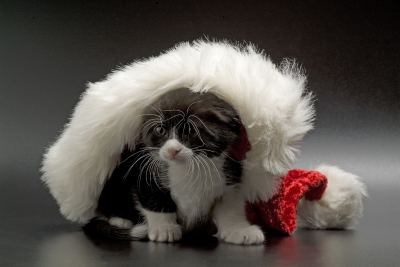 One year, I had a brilliant idea.  For my joke gift, I grabbed a clear plastic box.  I put on a pair of gloves.  No sense leaving any finger prints to incriminate me as the gift giver.
I filled the bottom of the box with kitty litter.  Those gloves were multi-purpose.  I grabbed some cat poop out of the dirty litter box.  Only a couple of pieces of pooh, people.  Gee whiz!  I made sure the cat poop was standing in a straight up salute as it peeked out of the kitty litter.  Everyone needed to get a good glimpse at what the cat drug in.
I wrapped the package in beautiful paper.  Gift presentation was just as important decades after my frog giving experience as a little girl.  Sure enough.  The present tantalized and tempted.  Like a fishing lure to a fish, wiggle, wiggle, wiggle.  Pick me.  Pick me.
A girl got the gag gift of the evening.  No one would trade her.  She was stuck with it.  After all, who wants poop?   Turns out the gloves weren't so multi-purpose after all.  Even though I didn't leave a trace of fingerprints, everyone knew who the guilty gift giver was.   All fingers pointed to me.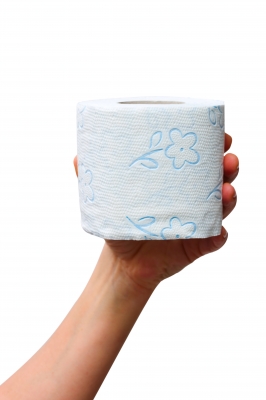 Sam didn't know I was writing this post, but he may want to consider getting a topical writing plan from me moving forward.   Although I'm not a teacher, timing might still play as significant a role today as it did when I was a little girl.  You see, unbeknownst to Sam, I had practical jokes mulling about in my head yesterday.
Sam went to the garage to get something.  I just so happened to have to get toilet paper out of the basement closet at the same time.  While I was rummaging through the closet, I heard Sam coming back into the house.  It's not original, but it certainly works like a charm every time.  I jumped out of the basement closet and yelled "yoarrrrr".  Sam almost pooped himself.  Good thing I had toilet paper handy, just in case.
What's the lesson in all this joke sharing?  For sure I would be very concerned if you receive a gift from me.  You might want to wear some gloves before you open the present.  If you happen to be married to me, just watch your back and consider sleeping with one eye open.
What's a funny practical joke someone has played on you?  One you've played on others?