Psalm 31:19
How great is your goodness, which you have stored up for those who fear you, which you bestow in the sight of men on those who take refuge in you.
Today's Monday's Marinate we'll look at what first captured my attention about this verse.  Then, we'll explore the Scripture in more detail.
Psalm 31:19 has been my constant companion for over a year now.  Every time I get behind the driver's wheel of my car, I am greeted by this verse.  It says, "Hello.  Remember God's goodness.  It is stored up for you."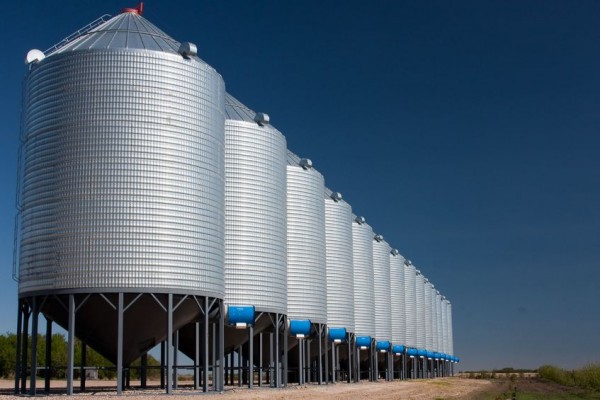 The index card doesn't actually talk, of course.  However, it does rest on my dashboard as it silently speaks to me from its home near my car's speedometer.  At any given time when I have run low on energy, faith, or hope, I can read the Scripture reflecting upon God's goodness.  The reality that God's goodness is so plentiful it needs to be stored up for us is reassuring when I'm wrestling with a problem.
I might think, "This problem is horrible.  I hate this problem.  I want it to go away.  Why can't it just go away?"   (I'm not two, but sometimes I sound like a whiny two year old.)
Then, I can read the words of Psalm 31:19 and let them sink into my spirit, soothing me as I meditate on God's goodness.
One of my grandfathers was a farmer.  When I hear the words "stored up", I envision his grain bins overflowing from an abundant harvest.  The crops he had planted in the spring yielded a bountiful blessing.  He sold his crops and had much left in reserve.  He had grain stored up for future needs.
Like my grandfather's storing of grain for the future, God's goodness is stored up for us.  It's held in place for our future.  There will be those times when we need reassurance of God's goodness.  We will need to tap into those reserves, remembering all the good things God has laid up for us.   This verse isn't really talking about the "nice things" God does for us along the way.  This goodness we are looking at is far beyond those nice gestures of kindness and blessing God sends to us.
Before we move on from this point, let's look at the New Living Translation (NLT) of this same verse to reinforce the words God has for us.
Psalm 31:19 (NLT)
How great is the goodness you have stored up for those who fear you.  You lavish it on those who come to you for protection, blessing them before the watching world.
Not only does God have His goodness stored up for us, He wants to lavish it on us for our protection and blessing as the world watches.  Sit back and relish that thought for a moment.  He wants to lavish His goodness on us.
Last Wednesday I wrote about God's promises.  God directed me to "Hold On To The Promises" – His promises in His Word (the Bible) – in the midst of my feeling distraught that particular day.
Psalm 31:19 contains a promise of God's goodness, stored up for us.  The promise is left in the Bible for all of us to see and know about.  However, if we want to claim that promise, we must be believers in Jesus Christ.
As we've talked about before on this blog, being a believer in Jesus Christ is not an exclusive membership.  Take it from yours truly, anyone can be a believer in Jesus Christ and claim his promises.  There's a prayer of salvation, where you can say "yes" to Jesus at the bottom of this post.
What leads me to draw the conclusion that this promise, God's goodness stored up for us, is only for believers in Jesus?
The Scripture itself contains a conditional promise.  Notice the words "for those who fear you".  The goodness God has stored up is for those who fear Him.
I'll use myself as an example.  Prior to becoming a believer in Jesus Christ, I didn't fear God.  I didn't give God much thought at all.  At the time, my actions clearly didn't depict those of anyone who fears God.  I did what I wanted, when I wanted without giving a second thought to God or what He thought about whatever it was I was doing.  Because I didn't know God, I was not capable of knowing His goodness.  I couldn't receive the things God has stored up for believers; I couldn't claim them at the time.
Think about it this way.
You have two children, one is disobedient and rebellious.  That same rebellious child stays away from home, causing you to worry about her where-bouts.  You are constantly concerned for her safety.  When she is home, she's angry and disrespectful to you.  You love her and will keep going after her because you don't want any harm to befall her.  But you're so tired from tracking her down that all your time and energy is spent bailing her out of trouble.  (Thankfully, God isn't like human parents.  He doesn't get tired from tracking us down.)
Contrast your daughter above with your other theoretical daughter who listens to you and follows your rules.  She respects you and, overall, is relatively obedient to you and what you ask from her.  Because you don't have to focus on bailing her out of trouble all of the time, this daughter gets to see the softer, more loving part of your nature.  She's more likely to see the goodness in your heart for her when you spend time together.
The point to the above:  you love both the daughters.  You are the same parent, the same person.  But one of your children gets to see you one way and the other child experiences you a completely different way.  If your rebellious daughter turned to you and said, "I'm sorry mom.  I love you.  I'm not going to do that again" you would likely be so happy at her change of heart that you would want to shower her in goodness.
"Gill's Exposition" * states it this way:
(God's goodness is) displayed in a way of special grace and favor to his own people, and which the psalmist (King David) saw his interest in and was affected with; and which supported his faith under his present troubles, and appeared to be so great, both for quality and quantity; that he could not well say how great the blessings of his goodness were; … both grace and glory; the blessings of grace were laid up in God's heart, in his thoughts and purposes, from everlasting; and in Christ, in whom the fullness of all grace dwells; he was loaded with the blessings of goodness, and his people were blessed in him with all spiritual blessings, and had all grace given them in him before the world was; and these were likewise laid up in the covenant of grace, ordered in all things, and sure, eternal glory is the hope and crown of righteousness laid up in heaven, where it is reserved for the saints (Christians), who are heirs of it:  and the laying up of all this goodness shows it to be a treasure, riches of grace, and riches of glory; and that it is a hidden treasure, and riches of secret places, which are out of view of carnal men (non-Christians), and not perfectly seen and enjoyed by the people of God themselves as yet' and also that it is safe and secure for them, and can never be lost.
The promise in Psalm 31:19 is even more important to claim than what it seems at first glance.  While the idea of God's goodness being stored up for us as believers (those who fear God) is awesome to reflect upon, it's even more awesome when we see what goodness God has stored up for those who fear Him.
Before we get to some of those examples, let's briefly address the statement "those who fear God".  What does it mean to fear God?  There are several Hebrew words which are translated "fear" in the English language.  We don't have time to get into all the specifics of those definitions, but here's a quote from Strong's explaining the Hebrew primary verb for fear that we are looking at in Psalm 31:19.
People who feared God were considered faithful and trustworthy for such fear constrained them to believe and act morally.
Back to the commentary, "Gill's Exposition" to see what it says about fear of the Lord,
the fear of God is not in man naturally, but is put there by the grace of God; and such who have it are those who are brought to a true sight and sense of sin, so as to loathe it and forsake it; for the fear of the Lord is to hate evil, and by it men depart from it, and because of it cannot sin as others do; such have a humble sense of themselves, their own insufficiency and weakness, and trust in the grace of God and righteousness of Christ; they have a filial (having a relation of a child to a parent) reverence of God, and worship him in spirit and in truth
When we respect our Parent, God, our actions begin to look different.  Our morals begin to line up with those God holds in high regard.  This is a process.  God walks us through it.  Moral perfection is not a requirement to get into His Kingdom (thankfully, or none of us would make it in).   It's not even fully attainable while we are here on earth.  What this is about is our heart.  God knows our heart.  The more we respect God, the more we desire to live morally, in a way pleasing to Him.
So what about that goodness God has stored up for us?  As I was researching and reading through some commentaries, I found these Scripture references of God's goodness stored up for us.  This is not an exhaustive list, but some examples for us to hang onto.
Psalm 16:11 (NLT)
You will show me the way of life, granting me the joy of your presence and the pleasures of living with you forever.
His goodness stored up for believers ensures we will have the pleasure of spending all of eternity living in the Presence of God.  Not only that, He will show us how to live our lives.
Isaiah 35:10 (NLT)
Those who have been ransomed by the LORD will return.  They will enter Jerusalem singing, crowned with everlasting joy.  Sorrow and mourning will disappear, and they will be filled with joy and gladness.
God's goodness stored up for believers ensures there will be no more pain and sorrow when we enter heaven.  We will have only joy and gladness for our everlasting future.  Yours truly loves to dance and sing, so I think it's awesome that we are even ensured music and celebration as part of God's goodness stored up for us.
Colossians 3:2-4 (NLT)
2 Think about the things of heaven, not the things of earth.  3 For you died to this life, and your real life is hidden with Christ in God.  4 And when Christ, who is your life, is revealed to the whole world, you will share in all his glory.
Okay, so this next thought just about blows my mind.  We will get to share in God's glory!  I want to put a question mark on the end of that, as if to say, "Are you kidding me?"  But there is no question mark to the magnitude of God's goodness here.  It's a statement of truth from God's Word.  We will, in fact, get to share in all His glory.  How crazy is that?  Additionally, our eternal life is hidden with Jesus.  That's some pretty safe keeping!
James 2:5 (NLT)
Listen to me, dear brothers and sisters.  Hasn't God chosen the poor in this world to be rich in faith?  Aren't they the ones who will inherit the Kingdom he promised to those who love him?
God promises those who love Him will inherit the Kingdom – heaven descended here on earth.
1 Peter 1:4-5 (NLT)
4 and we have a priceless inheritance – an inheritance that is kept in heaven for you, pure and undefiled, beyond the reach of change and decay.  5 And through your faith, God is protecting you by his power until you receive this salvation, which is ready to be revealed on the last day for all to see.
God's goodness stored up for believers promises that we will inherit His Kingdom.  Nothing will decay or change.  I think about my flowers never dying, always blooming, ever fragrant.
This Scripture also promises while we are living here on earth, God will protect us in His power through our faith.  He is here to oversee our lives while we walk upon the earth and will reveal our salvation which is ready.  Our salvation is already prepared and will be seen by all.
My prayer is that all who read this will have their salvation revealed to them one day, so that we may spend all of eternity with Jesus together.
If you'd like to ensure your salvation, Jesus saving you so that you may enjoy eternity (all of time forever moving forward) with Him in His love and presence, say the prayer below from your heart.
Thank you, Jesus, for loving me so much that you died on the cross for the forgiveness of my sin.  Please forgive me for the sins I have commit.  Please lead me and guide me as I embark upon this journey with you.  Thank you for making all of your promises available to me, Lord.  Thank you for teaching me and helping me to grow in my relationship with you.  Continue to show me how much you love me.  Help me to see how precious I am to you.  As I grow in my understanding of who I am in Christ, I ask that you would help me to walk in obedience and righteousness in the power of the Holy Spirit.  In Jesus' Name, Amen!
QUESTIONS:
What comes to mind when you think about God's goodness?
Which of the Scriptures on God's goodness resonates most with you?  Why?
*Gill's Exposition sourced www.biblehub.com.  (Information in parenthesis added for clarification purposes within the quotes from Gill's Exposition.)