Over the next few Wednesday's What Not's we'll be exploring God's Presence.  I have found the more I stand in the midst of His Presence, the more I desire to be in God's Presence.  How does this happen?  When we begin to feel, really feel, what it is like to walk in the intimacy that can only be had with our loving Father, we can't help but want more.
Think of a time when you were first falling in love with someone:  the excitement of where he might take you on your date, the anticipation at when you'd get to see him next, and the fluttering of your stomach as you thought about him.
The chemistry we felt in those early stages of new love dim in comparison to the chemistry we experience in a deep, meaningful relationship with Jesus.  God is not just an experience of love.  God is the source of Love.  Love COMES from God as 1 John 4:7 says.  And as 1 John 4:8 says, God IS LOVE.
As we touched upon last week, God does not break His promises.  His Word is true.  And His Word tells us that if we seek Him, we will find Him.
Each of us has equal opportunity to walk in God's Presence.  He loves us all abundantly.
The more we experience God, the easier it is to experience God.  If you don't feel God's Presence today, you can.  He's there.  He'll cultivate that seed of desire we have to know Him more.
If we do feel God's Presence, there's always more of it to encounter.  Just when we think we can't feel Him any closer than we do today, God will show up in amazing ways to let us know we are in the midst of His awesome Presence.
The best way to know how to experience God is for us to ask HIM for His help.  God will cultivate our relationship with Him.  He will show us who He is when we ask Him.  Kari Jobe expresses this desire in her song, "The More I Seek You".
If you read no further in this blog, I encourage you to click the song link and sing the lyrics as a prayer to Jesus.  He is very faithful in answering our heart-felt prayers to know Him more.
Over time, God has grown me to feel the enormity of His Presence.  YET.  As much as I have been blessed to feel His Presence today, I know there is much more of Him to be had.
It's like when you are reading a really great book and you just don't want to put it down.  The plot keeps developing and unfolding and you are entrenched in the story line.  You don't want anything to distract you.  The words unfold and you are consumed by them.
The difference between a really great book and the story of Jesus and His Presence is the story of Jesus doesn't end.  We get to experience His story, who He is, for all of eternity if we've accepted Him into our hearts.
If our experience of God's Presence here on earth even remotely reflects what walking in God's Presence will be like one day in heaven, I wonder how we will not be overwhelmed and undone by the enormity of who He is.
As it is, here on earth, He can take my breath away.
A few weeks ago my husband and I were on vacation in one of our favorite places, Colorado.  While this trip was primarily a time for the two of us to get away together, one day was allocated to conduct business we both needed to attend to.   Sam had an early morning appointment, while my business entailed a late afternoon meeting.  Thus, we had some down time in between our commitments, but not enough to go traipsing upon mountain trails like we love to do.
During the day's intermission, we stumbled upon the quaint town of Monument, Colorado.
We had driven around looking for a place to grab a late morning breakfast.   After some searching, we found a place called Coffee Cup Café.  It was a cozy diner with really good breakfast.  I liked this place – a lot.  It felt like your favorite pair of flannel pajamas, very comfy & unpretentious.
Breakfast over; we still had time before my meeting.  I was nervous about my appointment and was grateful Sam and I had a busy morning to keep my mind occupied.
Without getting into all the details, I was meeting with people about my writing.  As much as I enjoy writing, I feel a little like Bambi – wobbly in the legs as I'm learning to stand.  While I was trying to appear calm, cool, and collected, inside I was quivering with nerves.  Of course God knew this.
God led my husband to speak words of encouragement over me.  After breakfast Sam "made" me say, "I'm a writer."  He asked me, "Who are you?"  My timid response, "I'm a writer."  So timid – odd because I can sometimes be like a bull in a china shop – anything but timid.   Sam made me say it more than once, but it felt like I was speaking a foreign language.  I couldn't recognize the words as my own.
As we left the Coffee Cup Café, I felt drawn to a cute shop near the restaurant.  The name got me.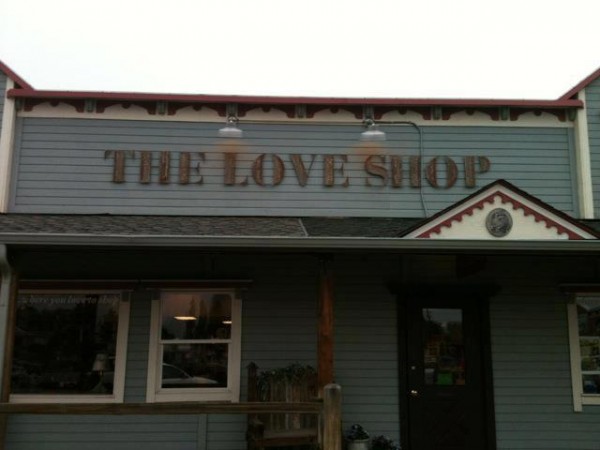 As I stepped across the threshold of The Love Shop, I felt God's peace.  God had led me into a Christian gift shop.  There was Christian music playing in the background and I was warmly greeted by the proprietor.  We chit chatted and I learned a lot of writers live in Monument.  No wonder I felt drawn to the little town.
Apparently, God was calling a meeting with me.  I'd call it an impromptu meeting, but God already knew it was going to happen.
I was drawn to an art collection displayed toward the front of The Love Shop.  The art was whimsical – right up my alley.  As I read the sentiment on the painting, I almost cried.  God was speaking to me through Kelly Rae Roberts' art collection.
Here's a picture of the painting.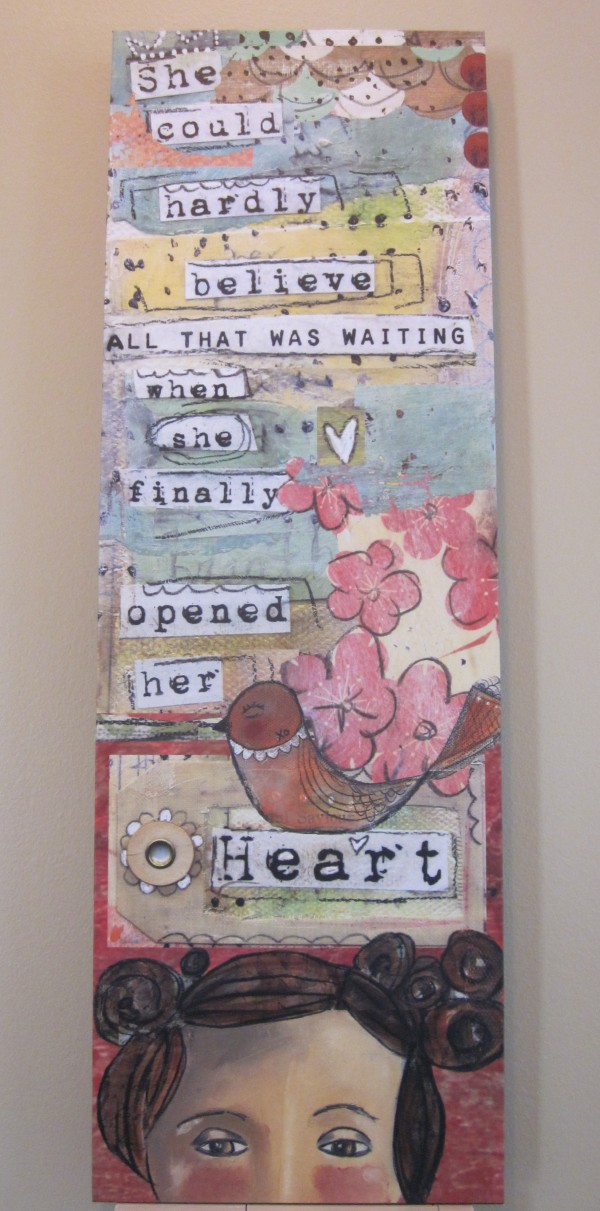 I kept walking away from the painting, but couldn't avoid returning to it.  I couldn't escape its hold upon me.  As I read it I silently said, "I am so glad I finally opened my heart."  God knew I meant to Him.  God had all this beautiful stuff – a beautiful life – waiting, waiting for me.  All I had to do all along was open my heart to Him.  That's it.
It was as if God was smiling a huge smile just for me.
While I can hardly believe all that was waiting for me, He knew it all along.  It was as if God was saying to me, "I'm so glad you opened your heart too, my dear."   That's what He wants – our hearts.
Part of my not believing where God had brought me to, the "all that was waiting" was this huge door He had opened for my writing.  It could only be from God.  It is completely illogical to think that someone like me could even be a part of what God is doing in and through this opportunity He presented.  Crazy.
I took the painting up to the cashier.  I knew it had to be mine.  It spoke too profoundly to me.
I wasn't getting out of the store with just one purchase.  Hmmm.  This just dawned on me.  I wonder if the proprietor prayed for God's provision before I came into her store.  God is the Master at answering multiple prayers in one-fell-swoop!
A second display of Kelly Rae Roberts' art was set up in the back of The Love Shop.  This time I encountered a painting that unleashed the water works waiting within me.  Hello.  This is a public place.  The store owner is going to think you are one crazy woman for sniffling at the back of her store.
As much as I wanted to hold back my tears, I couldn't.
My heart used to be hard.  Very little could make me cry.  I used to believe crying was a sign of weakness.  Now I know it's not.  Now that God has tenderized my heart, He sometimes uses my tears to let me know He's gently touched that soft spot He created in my heart just for Him.
Here's the art that God used to touch my heart for a second time in The Love Shop.  Love comes from God.  God is love.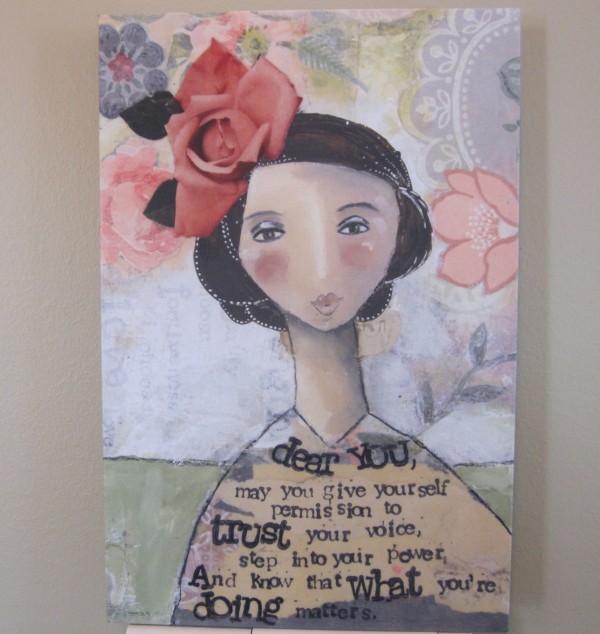 Writers have a voice.  God knew I didn't trust mine.  I was afraid.  What if I don't get it right?  What if I make a mistake?  What if I misinterpret God's Word and communicate the wrong message?
It still makes me cry.  This next part really makes me cry.
God impressed upon me I can trust my voice because He's given me His.  I need to give myself permission to trust all that He has taught me and will continue to teach me.
God also expressed He wants me to step into my power.  He knew I wouldn't misinterpret this sentiment like I did when I was younger.  The only power I have is in His power.  As long as I stay connected to His power, I can trust my voice.  Again, it's His.  He gave it to me in the first place.
And I really came undone at the last sentiment God used the artwork to speak into my heart.  This is when I really couldn't control my tears any longer.  When God impressed upon me, "What you're doing really matters."
You see, what God knows is that I was questioning whether or not anything I write would really matter to anyone.  Anyone at all.  The enemy was whispering in my ear I was wasting my time writing, no one would even read what I wrote, and my words wouldn't make a difference to anyone.
I know.  I know.  When will I ever learn that when the enemy feels compelled to lash out with a slew of lies that maybe, just maybe, his lies couldn't be further from the truth?
I don't know how the words God gives me to write will really matter to others.  I won't even necessarily know who reads those words and how those people are impacted.  But I have to trust God's promptings, calling me to write.  My prayer is that my mere words on a page will matter for eternity to someone – actually lots of someone's.
With the purchases made, I left The Love Shop with a peaceful sense of God's Presence.  I carried His peace with me into my afternoon appointment.  I didn't have jittery butterflies jumping around in my stomach.  I knew as I knew that God was right there, navigating this whole situation with me.  I was covered in His grace, lavished in His love, and overwhelmed by His Presence.
Questions / Actions
If you haven't already done so, listen to the Kari Jobe song and open your heart in prayer to God as you sing this song, desiring to seek and know Him more.