This "Friday's Finding Your Funny" we are going to take a peek at MORE things that make my husband nervous.
Bees make my husband jumpy.  Unless you are a bee keeper, it is likely you are not a huge lover of bees any more than Sam.  He tolerates bees when they are out in nature doing what they are called to do: pollinate the flowers and give us the sticky sweet honey from all their hard labor.  It's when bees infringe upon Sam's territory, that he becomes a little anxious.
I'm not saying I disagree with Sam about the risks inherent in entertaining company with Burt & Beatrice, the Bee family.  What I am saying is I would handle the Bee family's extermination a bit differently.  Maybe a good old fashioned fly swatter as I bat the bees and then run for my life just in case I miss.  Sam chose to be a bee slayer, slinging his sword to protect his wife – you know, damsel in distress waiting for prince charming to rescue her.
Before a knight goes off to battle, he needs his armor.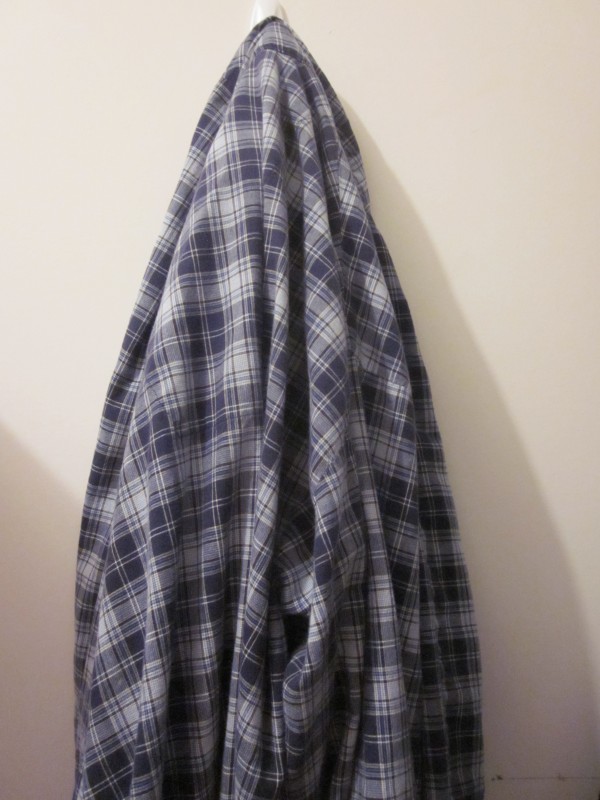 That bathrobe doesn't look like it will do much good if Burt & Beatrice decide to get all riled up hotter than a hornet's nest.
Hoi-ya (that's a karate chop in case you missed it).  Oh I see.  It's Sam's dragon-slayer, tae kwon do, karate guru, Mr. Miyagi inspired warrior outfit.  The plaid is just a more profound fashion statement than the plain white robe with a black belt holding things together.
I should be grateful Sam didn't break out the chop sticks in his bee slaying efforts.  Oh no.  Sam wasn't messing around.  He broke out the big guns.   Mr. Miyagi probably didn't have electricity, like my bee-slaying husband.
Check out Sam's sword.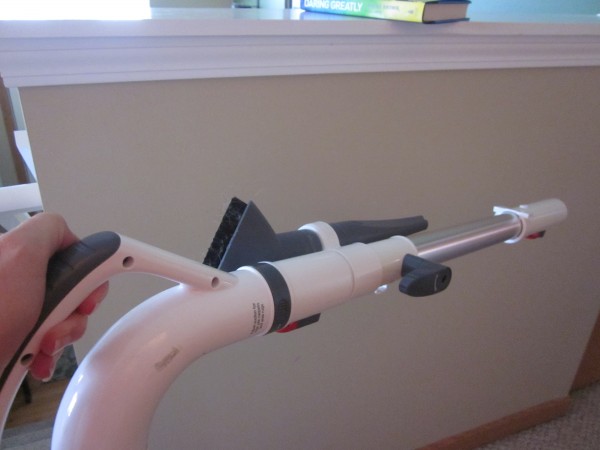 Now THAT'S a weapon for a warrior.  The Bee family didn't stand a chance.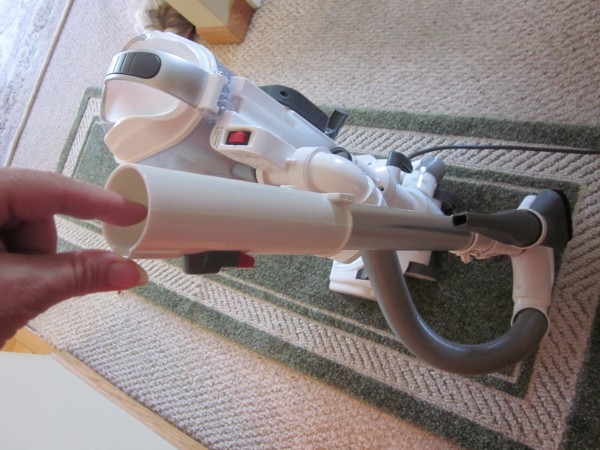 After all, this baby's called "A Shark".  Chomp.  Chomp.  You've heard of the Bermuda Triangle, haven't you?  Well, let's just say after Burt and Beatrice were swimming around in this air tunnel, they may have mysteriously disappeared to an unknown fate.
Because Sam was so nervous that the Bee family might be like that house guest you just can't get rid of, you know – the one who says they are going to visit for a week and ends up staying for a month, he took safety precautions.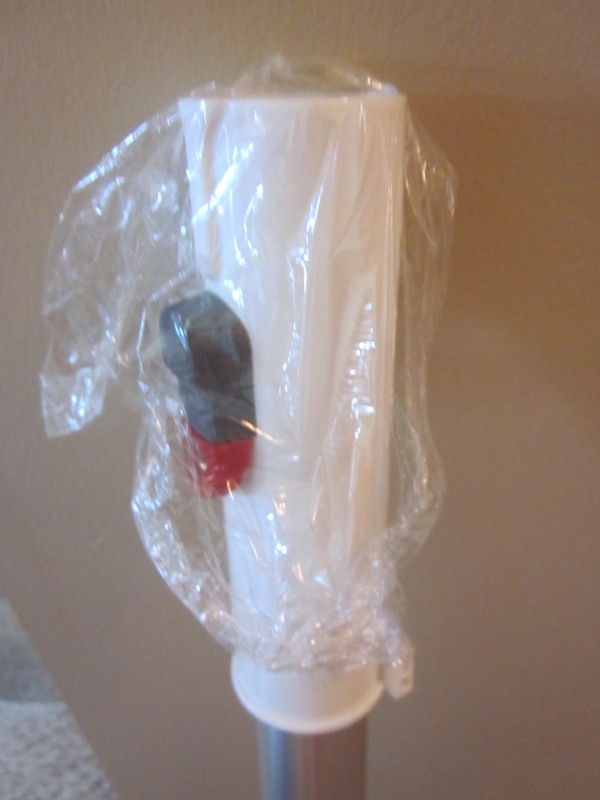 If Burt and Beatrice actually survived the Shark's Bermuda Triangle wind war, they would end up gasping for air.  After all, Sam had a damsel to protect.  He wasn't taking any chances as he sealed the vacuum cleaner with Saran Wrap and a rubber band leaving no chance of escape for the Bee family to flutter away to the fragrant scents of flowers in need of pollination.  Nope.   Not a chance.
Beyond the amusement factor of seeing Sam's sword fight with the Bee family, his damsel thought to herself, that's genius – pure genius.  Way better than chop sticks!  Mr. Miyagi doesn't have anything on my bee slayer!
It's a good thing bananas don't require pollination to grow.  Otherwise, Sam might have to revisit his bee slaying activities.  (At least I don't think bananas require bees to pollinate them.  Don't ask me. I'm not a banana guru.)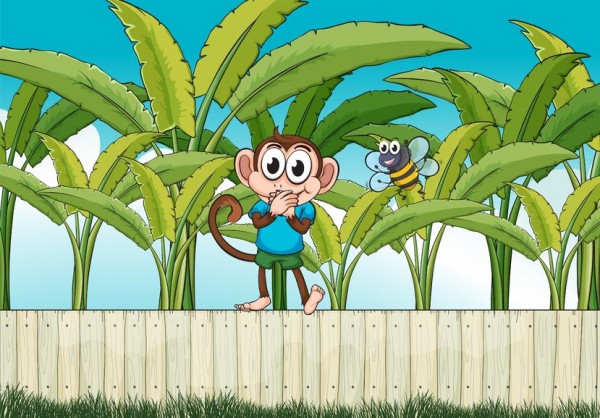 If Sam sees a shortage of bananas on the horizon he gets a bit jumpy.  Sam is not a hoarder in general, but there are certain things we must not be without:  toilet paper as we learned last week and bananas as we find out this week.
Did you know that it is likely bananas may have first been domesticated in Papau New Guinea? * That really has nothing to do with Sam's anxiety level as banana quantities deplete within our home.  This is an educational element, so you don't feel like you're wasting your time reading this!  Hey, you never know.  This might be a question in Trivial Pursuit.  You could now be in possession of the game-winning answer.  Maybe.  It's possible.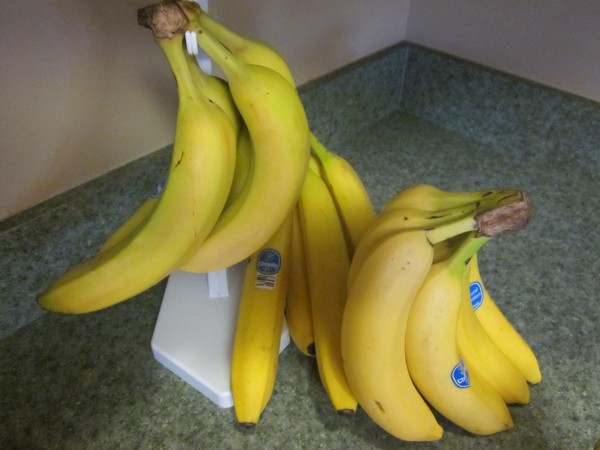 There are two people living in this household.  We are currently in possession of 15 bananas.   There are no issues with banana hoarding, none what-so-ever.
I guess I should just be grateful Sam doesn't eat them with his feet or shove them in his mouth like this monkey does.  Check out this monkey eating his banana.  There's even banana eating tunage to go along with the short video snippet.
Maybe I can talk Sam into a photo shoot with him eating a banana with his feet.  Now THAT would be funny.  "Honey, I need you to do me a faaaaavoooor.  It'll increase visitors to my blog.  You might become famous.  Oh, come on.  If you love me you would!"  That one gets 'em every time, doesn't it ladies.
I bet if you all helped encourage Sam to shoot the video, he probably would do it.  Help a lady out.  Let him know inquiring minds want to see this disgusting feet.  I mean feat.  I see him doing a little Samba to that song, "Do you see banana man hopping over on the white-hot sand?"  I think we need to shoot the video on location though.  I'm thinking Tahiti.  I wonder if I can expense that?
QUESTIONS:
What is something you can't live without?
How have you been a dragon slayer, bee slinger, spider smashing, or snake stomper warrior?
Because there are a lot of funny people out there …
Remember, "Friday's Finding Your Funny" is dedicated to good, clean fun! Know someone whom you would like to nominate? Submit the nomination in the "Contact Me" section of my blog including a link to the material.
That's all folks.  Go get your giggle on this weekend!
*Source:  http://en.wikipedia.org/wiki/Banana