For this episode of Wednesday's What-Not, I wonder if you have ever had a brush with celebrity.  What was your response?  Did you play it cool?  Perhaps, you went a little "groupie" and later thought, was that really me?  Why DO we wait in line at book signings or to get an autograph on a napkin that will disintegrate and decay over time?
I think the short answer might be, we're searching for something more.  We're a society searching for significance.
Recently, my husband and I were on vacation in Colorado.  We decided at the last minute to visit a tourist attraction, Seven Falls.  It was later in the evening than we typically would have started such an adventure.  Still, something prodded us to proceed with this sojourn.
We drove up to the ticket booth.  The attendant apologetically explained some of the attractions were closed or delayed.  There was a weight loss show shooting a television episode that evening.
In unison my husband and I exclaimed, "Chris Powell is here?"
The attendant inquired, "You know Chris Powell?"
We said, "Yes."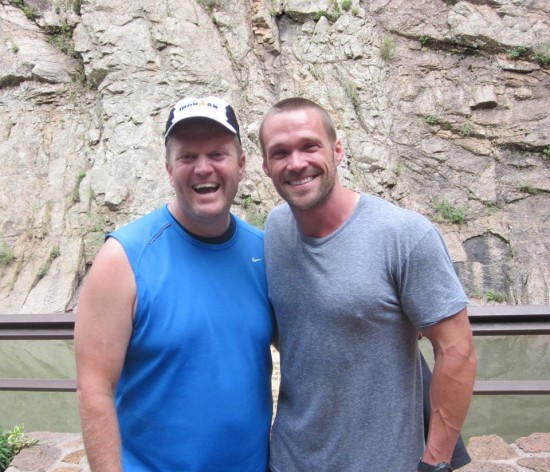 (We kind of know Chris Powell.  We watch him on Extreme Makeover Weight Loss Edition every week.)
My husband and I were both excited at the opportunity to see the show filmed.  For those unfamiliar with the program, Chris (yeah, we're on a first-name basis) trains and inspires morbidly obese individuals for a year as they journey toward significant weight loss goals.
I was excited, but my husband was over the moon.  It was cute.  I don't think I've ever seen him so excited to meet someone.  If Chris were a famous football player or actor, Sam probably would have nodded his head and moved on.  But this was CHRIS POWELL.
At one time my husband had been morbidly obese.  Of course, Chris Powell would be someone he would look up to.  Sam understands full-well the importance of what Chris helps his clients achieve.
Chris helps his clients take back their lives.  Chris sometimes pushes his clients to the point where they think they might break, but he is showing them what their bodies can achieve.  They just don't know it yet, because they haven't done it before.  Ultimately, Chris helps those under his tutelage transform their lives.  The people are stronger.  They come out more confident.  They are changed forever based on their encounter with Chris and his program.
Interesting parallels to our faith walk.
Awesome as it was to encounter Chris, we know it is Christ who truly transforms all aspects of our lives.  Christ desires to be the "Celebrity" we most want to meet.
He's not asking us to wait until we die and go to heaven to brush His Presence. Actually, the only way to heaven is if we know Jesus here on earth, having accepted Him into our hearts as the leader of our lives.
As Christ followers, we get the privilege of having an adventure with God in the midst of His Presence here on earth.
God showed me this early in my walk with Him.  He gave me a precious prayer picture – an image of me as a little girl.  It's the first prayer picture He gifted me, and I will treasure it always.  It was my initial brush with the sweet nature of the "Celebrity" of our Savior.
Prior to my prayer picture, I was very frightened.  I felt like I was getting consumed by my circumstances.  I was overwhelmed.  I felt extremely alone.  It was the year of the tear – actually there were a few of those years.
And then, God gave me strong imagery to hang onto.
I love the beach.  The water calms my spirit.  God knows this.  He watched over me, even before I knew He was doing so.  He saw how I escaped stress, sitting on the wooden pier at the edge of my property for moments of solitude as my eyes gazed across the lake.
I think that's one of the things that touched me so much.  I knew God knew me.  That was a game changer.
The prayer picture looked like me as a little girl.  I could only see the back of my body.  My dark brown hair had a shiny sheen as it brushed between my shoulder blades.  God was holding my hand as we walked along the beach, my little hand cradled in His.  I felt very safe.  The water lapped at my feet as the tide gently brought the water to graze them just beneath the ruffle of my white cotton nightgown.  A strong sense of God's peace overwhelmed me.  I knew somehow I was going to be okay.  When we know we are not alone, we can move forward even through our fear.
God used that innocent image of the little girl He knew I was inside to comfort me in times of trial – that first day, and many more in the future.  I was not innocent.  I was in my 40's, and certainly not a little girl by the world's standards.  But in HIS eyes, I was His precious little daughter, spiritually young and in need of his tender loving care.
I'm not sure how many times God actually used the imagery to reassure me I am His little girl that he treasures.  Many would be my best answer.
Much later, God showed me similar imagery in a prayer picture.  I had grown taller.  I still had long, dark hair.  I still had a white cotton nightgown with a ruffle that grazed my ankles.  I still walked with God on the beach, as He held my hand.  I looked to be about the age of a high school student.  As we walked along the beach, I felt like God was showing me I had matured.  I was no longer a child in my faith.
Like the weight loss analogy with Chris Powell, God comes to inspire us.  God comes to transform our lives.  God grows us to be strong and confident, In Christ.  When we really and truly encounter the "Celebrity of Christ", it changes everything about us.  God desires to help us achieve more than we think we are capable of.
God has not yet shown me a prayer picture of me as an older woman, gray hair dangling down my back in a pure white night gown.  It's pretty safe to say, I still have quite a ways to go on this transformation journey He has me on.
I am not the same person who encountered God several years ago.  I won't be the same person tomorrow that God sees today.  I've committed to this adventure with Him.  Transformation is sometimes challenging, sometimes unbelievably rewarding, and sometimes scary – until I remember God is right there, forever holding my hand.
Questions / Actions
1.  What does God use to confirm He is with you?
If you have not felt God's Presence, ask Him to reveal Himself to you.
2.  How does the awareness of God's Presence change your perspective in challenging times, in happy times, and in times of decision making?
3.  If God were to give you His autograph, what would you want His message to say?
4.  Write down that message as a prayer request. God, I desire Your autograph especially written for me to say …
5.  How is God looking to transform your life today?  Ask Him and obey.