For this "Friday's Finding Your Funny" we're taking a last look at summer.  The season for buying other people's rubbish at rummage sales has almost closed up shop.  It's time for those final year end clearance sales we love so much.  Buyer beware as you search for your bounty. "Beware of what?" you might ask.
You've heard of X marks the spot on treasure maps, right?  If you are a pirate or pirattess, you may want to make sure little Stewart Stella, my dog, hasn't marked a spot on your treasured trinket first.
Oh no he didn't!
Oh yes he did!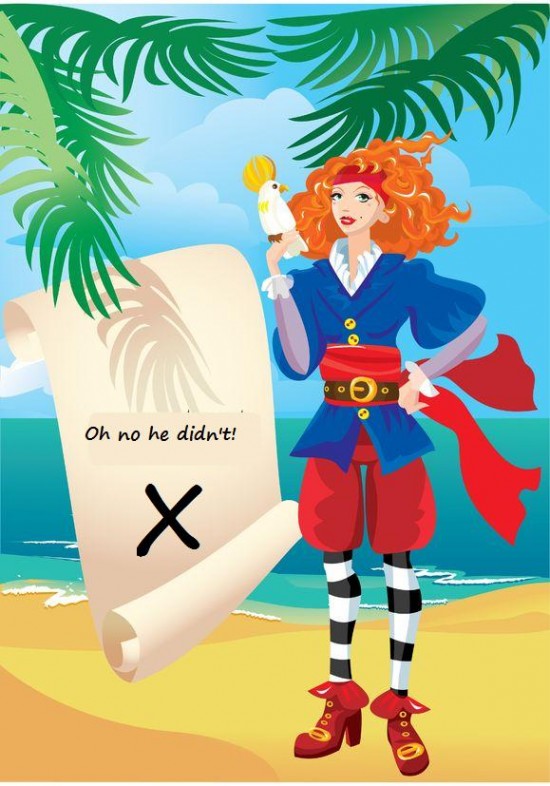 Every year our neighborhood has an annual garage sale.  (Notice, Stewie made sure that I'd have plenty of opportunity to see these people again!)   I thought I'd kill two birds with one stone.  I grabbed Stewart's leash and we head out the door for a walk through the neighborhood, so we could snoop through our neighbor's stuff look for loot.
Stewie and I were sniffing out the sales.  "There's gotta be some good stuff here."   As I was looking through the potential plunder, I caught a scene that made this sale seeker stop in her tracks.  All of a sudden, Stewie lifted his leg and peed on the woman's stuff.
Unfortunately, Sam wasn't with me so I couldn't smack him (gently of course … it's merely for dramatic effect) and blame him for bad judgment.  "I told you not to bring the dog.  Why did you bring the dog when you knew there would be junk on the ground?!"  Nope.  All fingers pointed to me as the bad pet parent.
Speaking of ground, I wanted to get a shovel and dig a whole so deep that I could bury myself in it.  What do you do in these moments?  I was mortified.
I think I mumbled, "Sorry."  As if that's good enough.
I could have at least said, "Sorry my dog peed on your stuff ruining any potential revenue stream you dreamt of.  Nope.  You've encountered a completely different type of stream.  My bad."
Or I could have inquired, "50% off?"
What did I do?  I made like a dog, stuck my tail between my legs, and high stepped it out of there.  In my utter embarrassment I didn't even offer to pay for the item.  I was too busy making tracks.
Never again does Stewart get to go on a field trip – unless it's in an actual field where it does not matter if he decides to mark his spot.
Questions:
How has your pet embarrassed you (or your child if you don't have a pet)?
What's the best yard sale treasure you ever acquired?
Because there are a lot of funny people out there …
Remember, "Friday's Finding Your Funny" is dedicated to good, clean fun! Know someone whom you would like to nominate? Submit the nomination in the "Contact Me" section of my blog including a link to the material.
That's all folks.  Go get your giggle on this weekend!