This Wednesday's What-Not might make us world travelers.  Have you ever heard a message you knew was for you?  That's where a journey to travel the world begins:  with a message.  When we have ears to hear and eyes to see, God opens our heart to those in need of our help—even if those in need live half-way across the globe.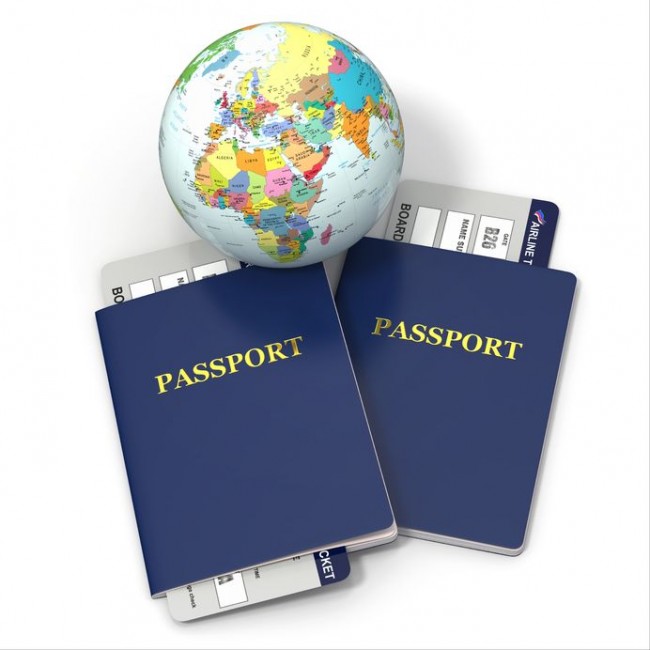 Candidly, I'll share I'm terrified of opening my heart to those hurting hundreds, possibly thousands, of miles from the safety of my home.  I'm not terrified of loving others.  I'm terrified that I might love them too much, if that makes sense.  Looking at other's painful circumstances directly in the eye could crush me.  My safe suburban life might never look the same.
Who am I kidding?  I know life would look dramatically different.  How can you not be changed by looking need directly in the face?
I try to reassure myself as I think, God would not put me in a position He had not prepared me for.  His grace is sufficient, and His Word promises greater grace for those who need it.
Meet Dhevita.  Dhevita is a soon-to-be 10 year old Indonesian girl my husband and I sponsor through Compassion International.  Isn't she cute?  We've sponsored her for a couple of years.  You'll understand why I'm introducing you to her as we continue.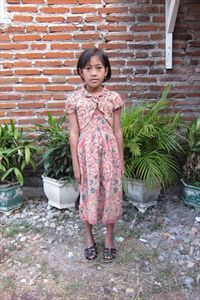 On October 13th of this year, one of the senior pastors from my church gave a sermon on Global Outreach Missions.  As Pastor Jeff Griffin was giving his message, God was giving me His.  There are some areas I still need to pray about, but there was one very concrete directive I received from God.  We'll get to that in a bit too.
Jeff's message was about the Great Commission.   Therefore go and make disciples of all nations.— Matthew 28:19a
Pastor Jeff shared a story of how his daughter inspired his first mission trip to Kenya.  They sponsor a little girl named Penny.  He and his family had the opportunity to meet little Penny when they visited the orphanage she lives in.  They gave Penny a Bible and learned she was able to recite an entire psalm by memory.
The story was very touching and immediately brought Dhevita to my mind.
God convicted me as I listened to Jeff's message.  A little conviction never hurt anybody!
You see, while we sponsor Dhevita, I hadn't interacted with her much.  I rarely wrote her, mentally claiming "I'm very busy."  Never mind the fact I'M A WRITER!  How hard is it—really—to write a letter?
I do pray for Dhevita almost every day, but how would she know that?  I certainly hadn't been telling her I pray for her.   I think it would be pretty powerful information God could use for a little girl miles across the globe.  To know someone who doesn't even know you, who has never met you, prays for you virtually every day – I'm thinking God can use that information to let little Dhevita know how much HE loves her.
Compassion gave us a great tool to remind us to pray for Dhevita.  They gave us a bookmark with her picture on it.  I keep it in my Bible.  During my quiet time, I look at her picture and pray for her.  You can look at a picture for a long time, yet notice something different when you peer closely.  She appears shy.  I noticed the way she holds her foot.  I sometimes stand that way.  Interesting.
You can bet your bottom dollar I have since written Dhevita a letter.  I put a note on my calendar to write her another letter a month from now.  I am a writer. God has gifted me in that area. I should be a better steward of the gift He gave.   Words have power.  I know that full well.  I repented to God and am committed to use the writing gift He gave me to help reach little Dhevita miles and miles away.
Regularly writing Dhevita is the concrete directive I received through the conviction of the Holy Spirit.
Pastor Jeff shared 5 ways to become a global Christian:
 Learn
Pray
Give
Serve
Go
I am in the midst of this process.  If you are Christian, I pray that you will join me on this journey to determine how God is calling us to become more globally minded Christians.
I went out of sequence to what Jeff suggests.  Go figure.  I am often "out of order", so to speak.  We've been giving for awhile, and my heart was in the right place.  I just didn't go deep enough.
As part of the learning process, I attended a Global Outreach meeting.  The focus was on missions available through our church.  We were able to hear from Pastor Biju Thomas visiting from India.
Something Pastor Dave Griffin said that evening struck me.  He said, "We have no idea when we go what God does."
God can use our seemingly simple gifts, even if it's a smile or a hug, to let someone know how much Jesus loves them.  We have no idea how God can magnify our simple gestures of love, kindness, and compassion.  We can all show up.  We don't have to be preachers.  We don't have to be medical practitioners who provide medical care.  We can show up.  And we can love.
I do have a heart for India, but I'm not sure that's where God is calling me.  I'll be praying about whether I am to "Go".  I wonder if I am supposed to go on any of the mission trips from my church.  I wonder, instead, if I am supposed to go on a mission trip to Indonesia to meet Dhevita and others in her region.
Before all of the conviction happened through Pastor Jeff's sermon, I had received an email from Compassion about a mission trip to Indonesia.  "For some reason" I didn't delete the email.  I saved it in my email archives.  It's expensive (at least to me) so I don't even know how I would go.  But I guess if God wants it, He will make a way.  I was given one potential fund raising idea if I'm supposed to go.  I would have to have funds in by February, so that would definitely be God.  Maybe God didn't intend for me to go on an actual trip.  Maybe He just wanted me to write.  I don't know.  That's what prayer is for.
Interesting, the ministry I'm interning at has a project they are working on in Indonesia.  They are translating teaching materials for this region.  I just realized this the other day when I was navigating through the ministry's web site.  My guess is someone from the ministry has likely visited the region and might be a source to help in my learning process, step 1.
If God is calling me to go on a mission trip, it would seem logical any trip I would go on would entail activities engaging women or children.  I serve in women's ministry at our church and, in general, God places women and girls in my path a lot.  God has made my heart very soft toward His daughters.
For now, I'm in the learning and praying stage.
I am geographically challenged in that I was not a stellar student of geography.  I barely realized where Indonesia is located.  I had a general notion, but not a knowing.  Indonesia is located between the continents of Asia and Australia.  If you know where Malaysia or the Philippines are, you're in the general vicinity of Indonesia.
I've included a map of Indonesia by religions.  According to Compassion, the predominant religion in the region of Indonesia where Dhevita lives is Islam.  In a letter to me she asked for prayer for her father, and I am able to freely write and talk with her about praying in the name of Jesus.  I told Dhevita I pray she will shine brightly for Jesus like her sparkly earrings (her ears are pierced, but it might be hard to see in the picture).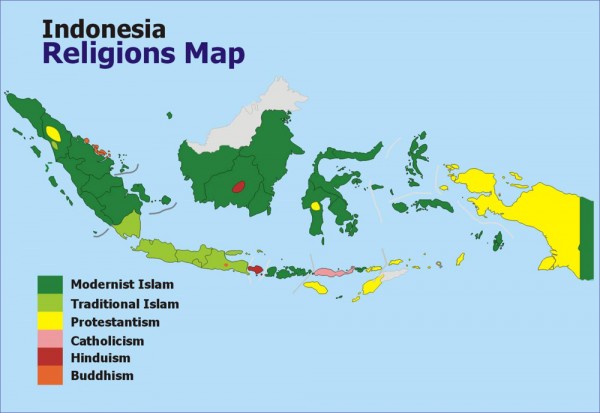 I know if I ever do get to go see her, I want to give her cross earrings with her birthstone in them.  (December 1st is her birthday.)  I think God impressed that gift for her on my heart.  As a sponsor I am only aware that we can send money, not actual packages.  I would love to be able to give them to her in person if that is God's plan.
According to Compassion, Indonesia is a group of islands comprised of the largest grouping of active volcanoes in the world.  It's full of tropical forests and lowland mountains.   Compassion began their work in Indonesia the same year I was born—1968.  (Now don't go doing the math.  It's a long time.  Let's leave it at that.)
If you have any information about Indonesia, I would love to learn what you have to share.
Please pray that God's will is revealed to me about:
Am I supposed to go on a mission trip?
If so, where and when?
If not, what does God want me to do to become a more globally minded Christian?
Thank you!
Questions / Actions
Maybe you know nothing about Indonesia – or very little – but would be interested in learning more with me and possibly sponsoring a child from that region.  I encourage you to pray about that.  Compassion International has an excellent reputation and has been helping children for a long time.   Pray and ask God if this would be an area He is calling you to step into as a globally minded Christian.
Click each child's picture for an Indonesian sponsorship opportunities from Compassion.  (There are sponsorships in many countries.  If God puts a different region on your heart, consider sponsoring in that area.)
Salomo is 8 years old and has been waiting for a sponsor 235 days.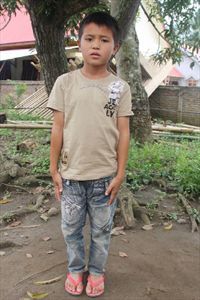 Nonci is 18.  I imagine it might be more difficult to find sponsorship for her due to her age.  I encourage you to pray about sponsoring her.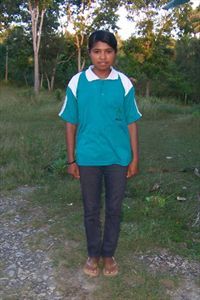 May God bless your generosity abundantly!