For this episode of Wednesday's What-Not, we'll take one last look at Halloween before The Great Pumpkin gets baked into a Thanksgiving pie.
This year was the first Trunk or Treat Sam & and I participated in, but it won't be our last.  It was a great day to give some cookies away.  Cookie, Cookie, Cookie!  I even got to heckle my friend Kate about her frozen chocolate addiction as I handed her a bag of cookies, suggesting she stay away from her freezer that evening.  Sweet moment to savor!
WELCOME TO COOKIE CORNER where everything cookie could be found.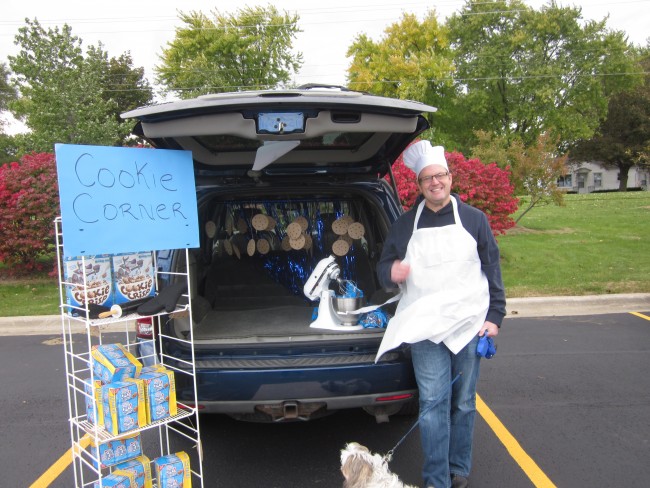 Cookie Baker
Cookie Soundtrack
Cookie Candle Scent
Cookie Crisp Cereal
Over 100 Bags of Chips Ahoy Cookies
Cookie Monster
With a few more details added …
WELCOME TO COOKIE CORNER where everything cookie could be found.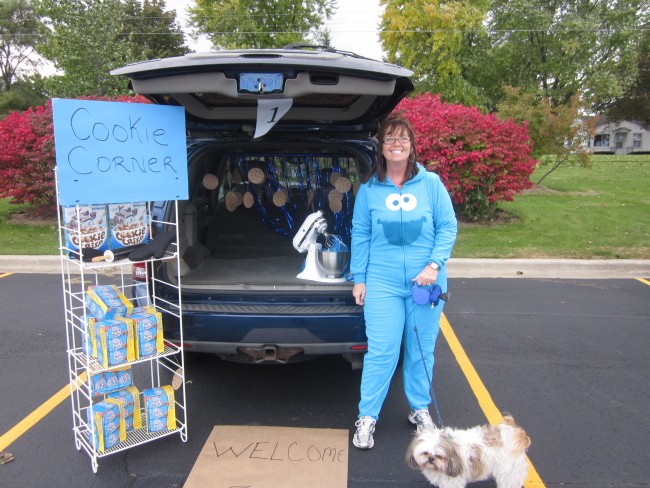 Cookie Baker (aka Sam) who was thrilled I hadn't seen the 70's disco theme before cookie theme was well established.  He got off easy this year with an apron and a baker's hat for his costume.
Cookie Soundtrack—As the little monster would say, "C is for Cookie and that's good enough for me.   Oh, Cookie, Cookie, Cookie starts with C."  I heard that song enough over the span of the day, as it blasted from our stereo speakers, to have it permanently memorialized in my mind.  Thanks, Cookie Monster!  I will never forget cookie starts with "C".
Cookie Candle Scent—Against my husband's better judgment, we had aroma therapy wafting from the car with our bakery-scented candle.   I had to reassure Sam we wouldn't burn the car down with my scent shenanigans.  Actually, Sam did test the blue fringe hanging from our car ceiling to make sure we wouldn't combust the kiddos.  He held the blue fringe over the flame to see if it would burst into flame.  All was safe in the Stella-mobile.  We were covered anyhow.  The fire department was in attendance with their trucks front and center.  Someone must have called and warned them we were coming.  It was all good in the hood.
Cookie Crisp Cereal—I'm pretty sure Cookie Monster never ate shredded wheat for breakfast.
Over 100 Bags of Chips Ahoy Cookies—Almost not enough.  We started to get a little anxious we were going to run out of cookies.  It would have been no good to hand out candy with our cookie theme.  Martha Stewart would have been ashamed.  Pinterest would never let us post.  Cookies would have crumbled, tarnishing the Stella name.  It was a cookie close call, but ended up being a false alarm.
Cookie Monster – num, num, num, not-so-much.  No cookies for me considering we almost ran out of our cookie treats.  Whew.  Saved by the shortage! 
This is what 3rd place Trunk or Treat looks like…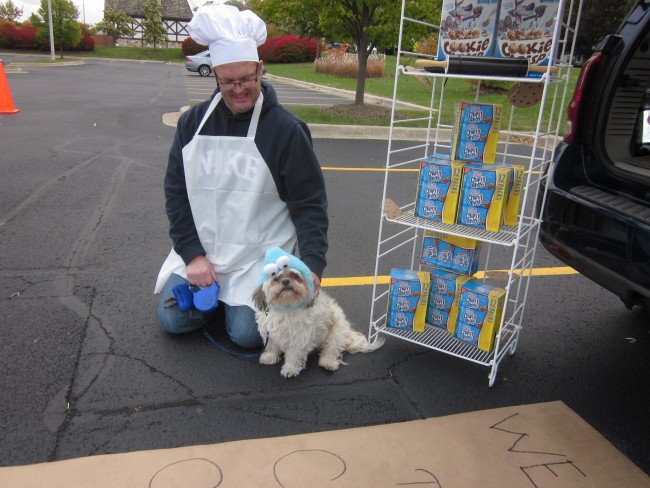 We are NOT opposed to using little Stewie to win a prize on behalf of the Stella's.  Doesn't he look cute in his little Cookie Monster hat?  Work it.  Work it, Stewart.  We actually earned that 3rd place prize.    Do you know how hard it is to get the little guy to wear his costume?  Yeah, sure he looks like he's sitting so sweetly.  However, appearances are deceptive.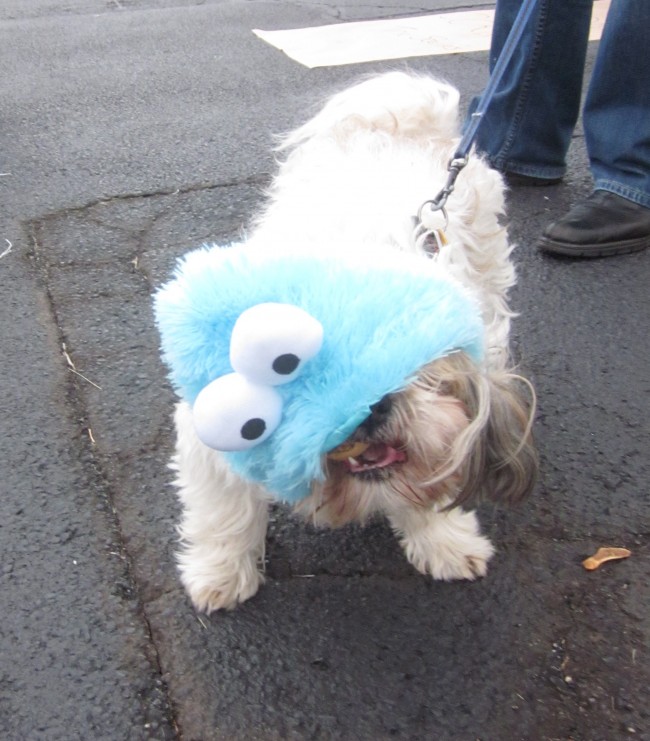 This is Stewie wrestling off his costume. I think we caught him just in time before he chewed Cookie Monster's eyes off.  Working up a sweat keeping Stewie's costume on him was well worth it.
Oh, why didn't I have my camera when awards were announced in church?  Oh why, oh why, oh why?  Secretly, Sam has wanted to bring Stewie to church for quite some time.  I had kept talking Sam out of it, telling him it wasn't a good idea.   Finally, Sam seized the opportunity to bring Stewart into church.
And the 3rd place winner is…. The Stella's with their Cookie Monster theme.
Little Stewie went bounding up the stairs in our church to accept the Stella family's award.  It was all I could do to contain myself from cracking up laughing.  My. Dog. Was. In. Church. Up. On. Stage. Where. Our. Pastor. Stands.  Oh my goodness, I thought I was going to die laughing.  Especially when I got in the car and could really let my laughter loose.
It is a good thing our pastor has such a spirit of forgiveness.  Otherwise, we might be banned from church.  But, you see, Stewie has the heart of a minister.  Stewie is always soothing others, loving people who are hurting, and he even reads Scripture each day with his momma.  I guess it wasn't such a stretch after all to have little Stewie up on stage.
And just look at how sweet he was the next day when he went trick or treating at grandma and grandpa's house.  Grandma can get Stewie to do just about anything, because like all good grandma's, she spoils Stewie rotten.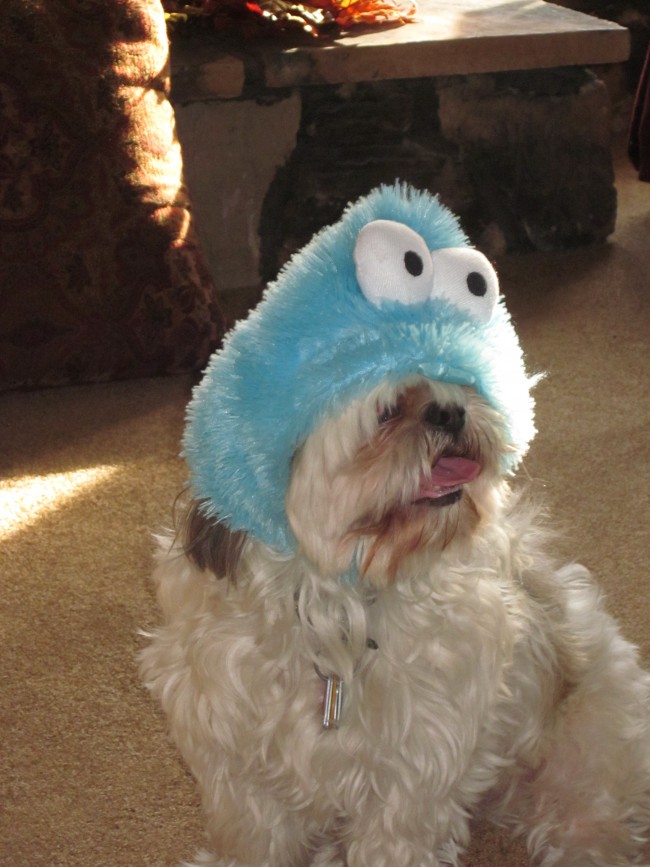 On behalf of the Stella's, Stewie hopes you have a sweet Halloween.
Questions / Actions
Who really believes only Sam wanted Stewart to come to church?
Who else is grateful for forgiveness?
What mischief have you gotten into this Halloween season?