Today's Wednesday's What-Not starts with a reminiscent thought.  I tried to remember what we called the plastic cards with two distinct images.  I can see the card's scratchy plastic surface, images bouncing from one picture to another.
As a child I rummaged through the cereal box to beat my brother to the prize buried beneath breakfast.  The thought of grubby hands foraging through the food makes this grown up cringe.  I'm sure I didn't wash my hands before putting my mitts all over the marshmallows in our Lucky Charms.
I would have considered it my lucky day if I got a prize as magically delicious as my Lucky Charms.  A prize like the image below, where the butterfly flutters its' wings with the flick of my wrist, would have become a treasured possession.  Faster and faster, I would make the butterfly flap its wings as it transformed from a still image to one which took flight.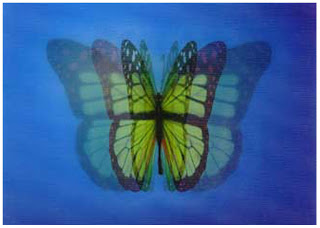 A similar image flashed back and forth during my prayer time.
Bear with me.  There is a universal message in this prayer picture.  My hope is the message will get flushed out as the prayer picture transforms from a still image to one which takes flight in our lives.
I was praying for little Dhevita.  She is the child from Indonesia Sam and I sponsor through Compassion International.
From half a world away I need to rely on God to direct my prayers for her.  I don't know Dhevita's day-to-day dilemmas & delights.
Here's her picture in case you have missed previous writing about Dhevita.  During a recent prayer time, God gave me a word for this precious, young girl.
The word God gave me for Dhevita is…
Poised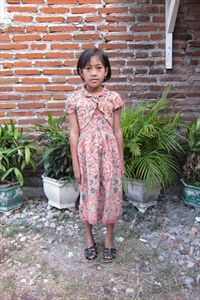 This is the first time I recall getting a specific word used in conjunction with a prayer picture.
The imagery came just before the word.  Two separate pictures flashed back and forth.  It was as quick as if you were to say:  one, two.  The morph from one picture to the next made me think of those images from childhood, like the butterfly image, as they came to life when I viewed them from a different angle.
In the first image shown of Dhevita, she stood straight.  She walked upright, shoulders back.  Books balanced on her head like she was attending Ms. Manners School of Poise.  She held her head high in order to avoid the books falling to the ground.  Dhevita walked in a slow, determined manner.  She glided gracefully.
Flash to image number two.
Image number two sharply contrasted with the first picture.  The second picture showed Dhevita with a completely different stance.  The books were gone and she was in warrior mode.  She wasn't aggressive, but she was on guard.  She was in a sword fighting stance.  I didn't see anything coming at Dhevita, but she was ready, armed and in position.
The contrast between the two images was extreme as they flashed from peaceful, to prepared for battle.  I don't know how many times God flashed the images from one to the other, but it was numerous.
The opposing images were confusing until God plunked the word poised into my brain.
One definition of poised is this, "a dignified, self-confident manner or bearing; composure, self-possession".

A second definition applies to the imagery as well," to hold or carry in a particular manner".  As in, "she walked, carefully poising a water jug on her head."*
Image one.  I prayed Dhevita would become a woman, poised and graceful.  A woman clothed in dignity who can laugh at her days to come (see Proverbs 31:25).  She speaks with wisdom and faithful instruction is on her tongue (Proverbs 31:26).  "Many women do noble things, but you (Dhevita will) surpass them all." (Proverbs 31:29)  Honor her for all that her hands have done, and let her works bring her praise at the city gate (Proverbs 31:31)  Poised with dignity and grace looks like a Proverbs 31 woman.  I pray Dhevita will arise to her calling as a poised Proverbs 31 woman.
I also prayed Dhevita will always be able to hold her head high.  Shame has a way of settling over us.  Satan loves to use shame as a tool to make us feel less than, so we will do less than we are capable of doing for Christ.  Not so with little Dhevita.  I prayed there will be no shame in her life.  She lives in a scary world where girls are trafficked and there is extreme poverty, two things capable to create tremendous shame.  I pray she will be kept safe in a world where danger lurks.  Do not let Dhevita be put to shame, nor let the enemy triumph over her (see Psalm 25:2).  Keep her safe from shame always, Lord.
Another definition of poised is this, "to hold supported or raised, as in position for casting, using, etc."  As in, "to poise a spear."*
Image two.  I prayed Dhevita would be armed and dangerous for Christ, not dangerous in a violent way.  Rather, dangerous as an unstoppable warrior for Christ.  I prayed she would always be prepared and the enemy would never catch her off guard.  I prayed she would stand in the strength of our Savior.  The world can be wicked.  We need more warriors for Christ.  I feel God wanted me to pray for Dhevita to be a warrior for Him.  Watch out world, Dhevita is going to be dangerous, dangerous in the most delightful way!  She will be armed.  She will be ready.  She will succeed in the purpose God has called her for.  There is a verse in Scripture not applicable, other than the principle:  poised for attack.  What God was showing me for Dhevita is this:  she will be poised for attack.
When God gives a word as powerful as this, I want to turn it over every which way.
A few synonyms for the word poised jumped out at me as I looked them up. **
Hold
Position
Steady
Support
Stand
Be Ready
While the picture which flashed before my eyes of a dignified to "dangerous" woman was a prayer God was guiding me to speak on behalf of Dhevita, it is also a prayer for each of us.
My prayer is each of us will be poised.  My prayer is we will hold our head high for the position God has placed upon our lives.  I pray we would hold steady in the support Christ alone gives.  I pray we stand poised and ready, always on guard.
I think about the power of the two images intertwined.  Dignified juxtaposed with a warrior's stance.  Together, they create a woman unstoppable for Christ.  Let's allow Christ to use us in powerful ways as He flashes dramatically different images, intertwined for the world to see His dignified daughters destined for victory.
Questions / Actions
What images are brought to mind when you hear the word poised?
Have you ever thought of yourself as poised?
Pray a Scripture from the Poised woman of Proverbs 31 over your life.  (You can look up Proverbs 31 by clicking this link to Biblegateway.)
By the way, the images that flash back and forth are technically referred to as lenticular 3D images.  Who says this isn't an educational blog?
*Dictionary.com. Accessed 11/9/2013.
**Thesaurus.com.  Accessed 11/9/2013.