With the approach of Thanksgiving, we see people's thoughts meander toward gratitude.  Hopefully, we maintain our thankful thinking beyond a day which fosters a heart of thanksgiving.   Hopefully, our hearts remember all we have been blessed with, even if we've experienced trials along the way.  We're still here.  And as long as we're still here, there's hope for tomorrow.  Hope is harvested from a heart of gratitude.
One thing I am grateful for is God's wisdom as He calls us to rest.
For this Wednesday's What-Not imagine as we walk listening to whispers in the wind, fallen leaves rustled on the forest floor.  The wind stirs the crisp leaves to speak, "shhh, shhh, shhh."  Silence orchestrated by nature in honor of the Sabbath celebration.
Join me as I share my Sabbath experience.  My hope is you will be inspired to invest time to rest before the start of a busy holiday season soon to be upon us.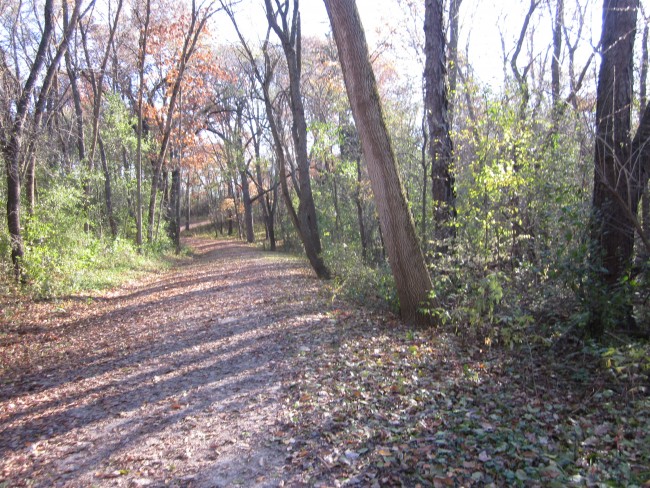 Quiet solitude.  A time to ponder.  A time to reflect.
It was a beautiful Sunday afternoon in the month of November.  Imagine the sun warming your face as it did mine that day.  There's treasure in stolen moments.  I knew we wouldn't have too many more Midwestern days as glorious as this.  Soon, we would be bundled up in boots and parka, scarf and hat as we lock out blustery billows.    This day required only a light sweatshirt, even that unnecessary at times.
Part of what made the day so delightful was its unexpected nature.  I hadn't planned to take a Sabbath.  Perhaps, my Savior planned the Sabbath as a surprise for me.  I rather think He did.  I think He wanted to spend time with me, time uninterrupted by others.  Who wouldn't love such a surprise?
By the way, I know we are supposed to take a Sabbath every week.  I have tried.  Sometimes, I succeed.  Others, I do not.  I'm getting better at slowing myself down, but I have not fully arrived.  Our society promotes busy, busy, busy.  God says, "Be.  Be.  Be.  Be with Him."
I came home from church and collected little Stewie, my dog.  I had been writing so much lately, I felt Stewie and I needed to get out of the house and go on an adventure.  As soon as he saw his leash, his tail began to wag, barely able to contain his excitement.  I opened the passenger door to my vehicle and he jubilantly hopped in, knowing full well he was the guest of honor as he gazed out the window.  I wasn't sure where we were headed.  I just knew Stewie & I deserved a break and what better way to spend it than outside on a beautiful day.
God's guiding hand led Stewie & I to Moraine Hills that afternoon.
Stewie was in his idea of heaven, all sorts of scents to sniff out.  I was content to "shhh, shhh, shhh" stepping through the leaves as the silence settled over me.  I didn't have anything troubling me, no problems plaguing.  It was peaceful.  I was enjoying the silent setting as we traversed the hilly terrain.  For someone's mind that is always racing, it was good to put my thoughts into park and enjoy the scenery.
Sometimes, we need a gentle reminder to glance back upon all we have to be thankful for.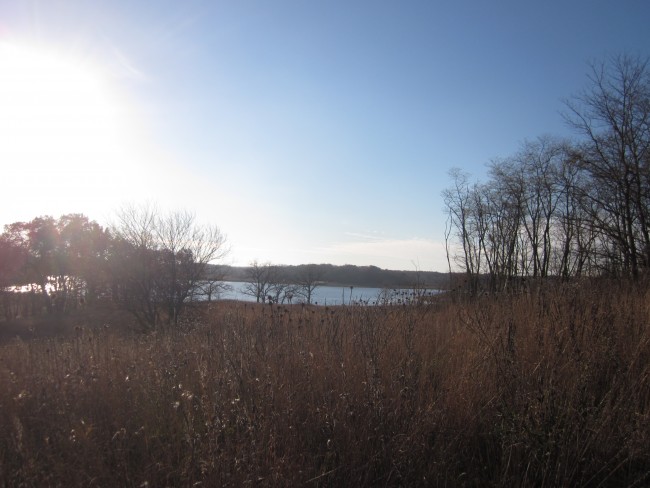 About an hour or so into my walk, I came upon a clearing which overlooked the water.  I was on one of the hilly portions of the trail, so there were panoramic views of nature's scenery.   I had time to spare, so I stopped to take in the beauty of the sun's brilliance glinting on the water.  The sun became even brighter as I continued to gaze over the picture painted before me.
It was as if someone pushed a pause button, urging me not to move on.  I felt a nudge to turn on the K-Love radio station.  I had my phone with me, so I guessed I could listen to the radio through the music app my hubby had previously loaded.  It seemed odd to interrupt the sacred silence, but I turned K-Love on anyhow.
I'm glad I took a chance at disturbing the peace.  God was speaking.
Did you ever have a significant other you had "your song" with?  Whenever "your song" would play, it was a testament to the love you shared with one another.
God and I have two love songs.  When I hear those lyrics, I know God is whispering sweet everything's into my ear.
As I stood overlooking nature's sanctuary, God led me to listen to our song.  If you are in a place where you can listen, here it is.  It's called What Faith Can Do, by Kutless.
This is a great moment to pause and thank God for our faith.  If He didn't give us our desire for faith, our desire for Him, we would have nothing – at least nothing of real, lasting value.
What makes this song so special to me is it demonstrates what God can do when we find Him through our faith.  As I listen to the song today, it tells me something much different than it used to.  Today, God says, "Look at where we've come!"  It's a song of celebration because there is such strong contrast from where we started.
I used to sing this song, not knowing how God would find a silver lining in the midst of the muddiness of my life.  It was really a tragic mess, so murky that I could barely see a glimmer of hope.  Yet, somehow God spoke to me spurring me on.  If anyone would have seen the reality of my life at that time, they would have thought there was very little hope for me.
I was virtually homeless, had a messed up first marriage, my career had careened out of control, I was plagued with depression … and yet, God planted a seed of hope in me that didn't make sense.  I guess that's what hope is:  a desire for something that seems completely unattainable.
Can I tell you, even though it made no sense, I sang that song like I owned it— like it was God's promise to me.  You know what?  It was.  It is.  God has fulfilled dreams I didn't even know I had.  He has blessed me in ways I cannot even begin to articulate.
As I stood, tears streaming down my face, looking out upon the water, all I could think was "Wow, God.  I can't even believe where You have brought me to in such a short amount of time."
When I first claimed this song as mine, I used to cry when I would sing it alone and think how can a good life ever be possible again?  Now, I cry thinking how powerfully God outdid Himself.  He brought me people, experiences and other blessings beyond my wildest imagination.  He brought me Him, a gift wrapped in love because He is love.
That's what faith can do.
As I think about what I am most thankful for, my answer today is faith.  Faith has made every other bountiful blessing possible.
What are you most thankful for?
Questions / Actions
If you find yourself in a place where your hope is waning, listen to the song What Faith Can Do.  We can share the song as it becomes a promise for you too.  I'm going to tell you the same thing God whispered in my ear all those years ago, "You are stronger than you know!"
No matter how far along we get on our journey with Christ, it is important for us to remember where He brought us from.
Read Psalm 105.  (Click here for a link to Psalm 105.)
Afterward, reflect upon what God has done for you.  Thank Him.