Today's Monday's Marinate wraps up our exploration of the powerful little engine that could  N-E-W.  We're moving forward, full-steam ahead.
We're about ready to pull into the station, but we have one more stop along the way.  God, our Conductor, engages the train's whistle as He proclaims, "Next Stop New Era."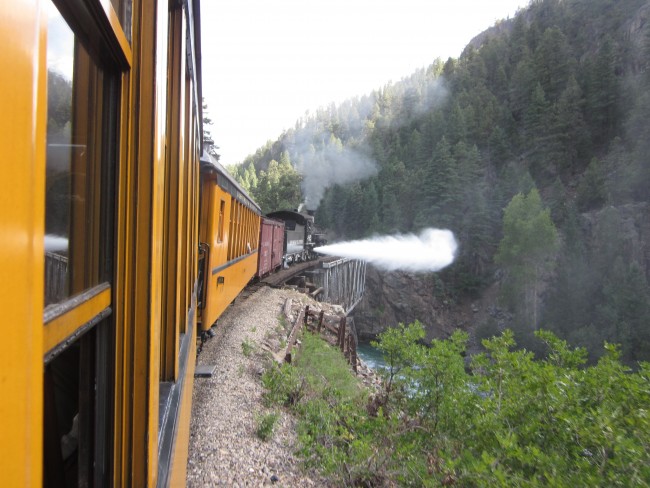 New Definition #5: other than the former or the old: a new era *
Last week we looked at God's desire to usher us into a new era.   As Christians we were once lost and now found in Christ Jesus. His sacrifice on the cross, blood dripped enough to fully cover our sin.  Our salvation made possible, because He paid a heavy price.
Christ Jesus ushered all of humanity forward in a new era with His death and resurrection as He delivered us—from sinner to saint.
If we know Jesus as our Lord and Savior, we have even greater new eras to anticipate.
And he who was seated on the throne said, "Behold, I am making all things new."  Also he said, "Write this down, for these words are trustworthy and true."—Revelation 21:5 ESV
This was our first stop in Scripture exploring all things new.  We wrote them down because His words ARE trustworthy and true.
He makes us new as He leads and guides us while we are here on earth.
He is now seated on His throne in heaven.  And He prepares new eras for us.
But in keeping with his promise we are looking forward to a new heaven and a new earth, where righteousness dwells.—2 Peter 3:13 NIV
Not only does the death and resurrection of Jesus Christ make possible our ability to be made new.  One day a new heaven and a new earth will descend.   They will replace the death and decay of our current dwelling here on earth.  One day all whom righteousness dwells within will also dwell within a new city, called New Jerusalem.
Today, all of creation groans frustrated because of man's sin (Romans 8:20).  When Adam sinned creation was subjected to bondage and decay (Romans 8:21).
Trees fall to the ground and crumble.  The earth literally quakes.  Its' foundation cracks in a zigzag of land ripped apart with jagged edges that were once one.  Waves of water consume land as the salty seas do more than splash upon our beaches.  They bring devastation as they rip people and possessions out into the ocean's abyss with Tsunami force.
The new heaven and new earth God prepared for us is free from death and destruction.  It is a place of lush life and liberty.  God's promise to us:  our inheritance of His new heaven and new earth is a place of opulent beauty.  There is the oft mentioned gates made of pearl and streets made of gold.
God's presence will surround us.  Angels will greet us.  There will be multitudes among us, many who will join in celebration as we worship God in all His glory.
Within the new era, the new heaven and new earth God promises to usher in will be a place of richness and vibrancy we won't want to miss.
How do I know?
First and foremost, Scripture promises much about heaven.  Consider an independent exploration of God's Word and all He has to say to us about His holy dwelling.  (Heaven, New Heaven or New Jerusalem)
Second, God gave me a vision of heaven a number of years ago.  Now before you think – time to check out – Scripture documents many places where God gives His children visions.  I am a very visual learner, so it would make sense for God to use pictures as a method of communication with me.   In fact, the book of Revelation originated as a vision.  God showed the apostle John images He desired us to see, search out, and understand.  He shared them with John so that John could document them for us.  God wants us to know about heaven because He desires us to dwell there with Him.
Before I share my vision, I am going to preface it with this statement.  I am not saying this is what heaven will look like.  What I am saying is God used visual imagery as a form of "language" with me.  He knows what each of us likes, what appeals to our souls.  When He shared this image with me, He knew I would love it.  Heaven may not look anything like this, but in God's way He was showing me I wouldn't want to miss it.
I was sitting in a comfy chair New Year's Day a number of years ago.  I happened to be reading a book by Randy Alcorn about heaven.  I registered in my mind this was an altogether new way for me to begin a new year.
Perhaps, that is why God gave me the vision of heaven that day.  He knew quiet solitude with Him was an entirely new behavior for me.  I don't know.  What I do know is this:  it is one of the most precious and poignant moments with God I have had to date.
I was reading and praying and then it was as if I were watching a movie reel.  I didn't want to move and disrupt the imagery.
I was on a beach with Jesus.  We were playing together.  He was so much fun.  We ran and frolicked on the sand, laughing free as the wind.  We ran into the ocean.  As the waves splashed us, Jesus lifted me in the air above his head like a dad does his infant.  I was safe as He dunked my legs in and out of the water.  All the while we were laughing.  In fact, we laughed so much we stirred up laughter in a grove of trees behind us.  I couldn't see anyone.  It was as if they were playing hide-and-seek.  Even though I couldn't see the people behind the laughing voices, I knew they were there.  The voices sounded like children's.  They were enjoying watching Jesus and I play in the water.  There were large rocks off to our left.  The rocks served to buffer us, sheltering us from too many waves.  We were safely nestled in a cove of sorts.
I don't know how long I was playing with Jesus.  I wish I could have stayed in that moment forever.  It was peaceful and fun.  He knows I need fun.   Who gets to laugh and play with Jesus while they are here on earth?  Who gets to hold onto the hope that someday I will get to have such fun with Him again?  I do.  And if you know Him as your Lord and Savior, you will get to enjoy Jesus in all of His joyful presence in heaven too.
You might wonder how I know I didn't just make the vision up.  It's really difficult to explain.  I just know.  As Scripture says, I am now one of His sheep and I know His voice—even if "His voice" is imagery and sounds of laughter rather than sentences spoken.  I know when He is talking to me—especially when it is in such a profound, prophetic manner.
I can't wait to laugh again with Jesus in heaven.  He knows how to make a splash with me.  I'm His quirky kid who loves the ocean, sandy beaches, and silly fun.
He knows you too.  He desires for you to dwell in heaven with Him.  He doesn't want you to miss it.  Do you know Him as your Lord and Savior?  He can make you new.  He can prepare you for the new heaven and the new earth.
There is only one way to enter heaven, His eternal kingdom.  It is simple.  We must accept Jesus Christ into our hearts and let the Holy Spirit lead and guide us toward righteousness.
Yet there will be people who miss it.  Please don't be one of them.
Grasp the blessing and heed the warning in Jesus' words here.
Behold, I am coming soon!  My reward is with me, and I will give to everyone according to what he has done.  I am the Alpha and the Omega, the First and the Last, the Beginning and the End.  Blessed are those who wash their robes, that they may have the right to the tree of life and may go through the gates into the city.  Outside are the dogs, those who practice magic arts, the sexually immoral, the murderers, the idolaters and everyone who loves and practices falsehood.—Revelation 22:13-15
QUESTONS & ACTIONS
What knowledge do you have of heaven?  How would you describe it?
If you have not accepted Jesus as your Lord and Savior and desire to enter heaven, submit your heart to Him by saying this prayer.
Jesus, please forgive me all my sins and wash me clean with your righteousness.  Thank you for dying on the cross for the forgiveness of my sin.  Lead me in the way everlasting.  Guide my steps with your wisdom and truth.  Help me to grow in my knowledge of who You are and what You desire from and for me.  In Jesus' name, amen.
* http://dictionary.reference.com/browse/new?s=t, accessed 01-21-2014