This Wednesday's What-Not I wonder what your smile says about you.  Smiles are important.  Smiles speak volumes.  Smiles signify joy in our hearts, projected upon our faces.
One smile begets another, begets another, causing a chain reaction.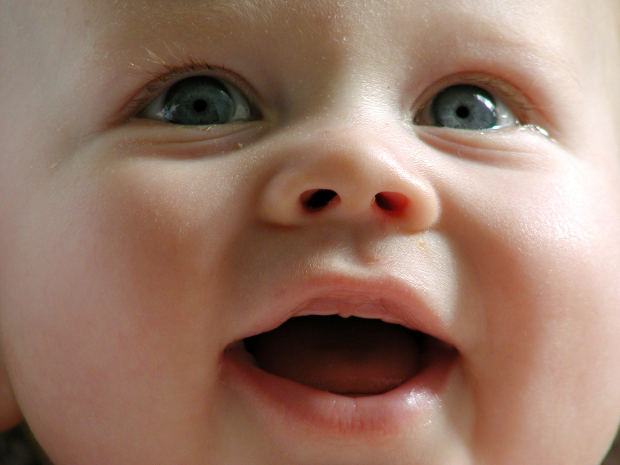 Smiles convey much, before a word ever muttered.  The baby's smile above reaches the heights of his now- twinkling eyes.  Perhaps, looking at his sweet smile your smile ushered out of hiding.   
We make assumptions about others based on a smile.  We assume he must be a happy baby.  He must come from a good family.
Smiles carry tremendous power.  Consider these sentiments about a smile's ability to influence and impact others.
"Let us always meet each other with smile, for the smile is the beginning of love."—Mother Teresa
"Too often we underestimate the power of a touch, a smile, a kind word, a listening ear, an honest compliment, or the smallest act of caring, all of which have the potential to turn a life around."—Leo Buscaglia
"What sunshine is to flowers, smiles are to humanity.   These are but trifles, to be sure; but scattered along life's pathway, the good they do is inconceivable." —Joseph Addison
A smile is the beginning of love.  It has the potential to turn a life around.  The good they do is inconceivable.
There were seasons in my life when I lost my smile.   With a heart that was heavy, my smile played hide-and-seek.  Burdens weighed down the corners of my mouth, mourning written upon my face. 
Thankfully, God's grace erased the sadness and replaced it with a smile, one which generally grins from ear-to-ear especially if I find something particularly silly.   (That's code for really stupid.  Ask my husband.  He has to endure my amusement at all things rather off-the-wall.)
I am very grateful to God that he healed the pain and brought joy to me in the morning.  There was pain for the night, but joy absolutely came in the morning.
Weeping may spend the night, but there is joy in the morning.—Psalm 30:5b HCSB
There's joy for me—and there's joy for you.  It's available to us all. 
We choose joy.  We choose joy when we decide to lay our burdens down and let God carry them for us. 
That choice doesn't mean we don't deal with things.  It merely means we'll let the One who knows ALL lead and guide us.  For His Word says, there is enough to deal with each day.  Jesus says,
"Give your entire attention to what God is doing right now, and don't get worked up about what may or may not happen tomorrow.  God will help you deal with whatever hard things come up when the time comes."—Matthew 6:34 MSG
Here's my smile today.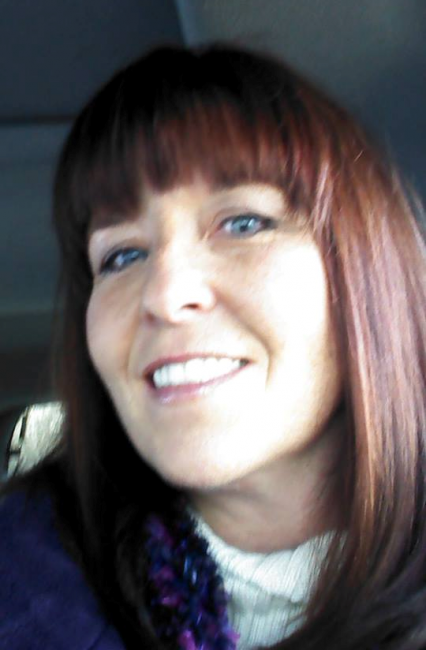 God has warmed my heart and healed my hurts (and continues to do so).  He is faithful to do that for us all. 
I love giving gifts and I have been told I am a good gift-giver.  God is an even better gift-giver.  He delights in us and I think it brings him great joy to deliver the gift of a grin. 
How do I know God delights in giving the gift of a grin?
Here's a story for you.  You have my permission to laugh.  After all, laughs generate grins which linger.   
I help out with our women's ministry at church.  As part of that responsibility, I get the opportunity to speak to and help lead other women on their faith journey.   God entrusted to me what felt like a powerful message.  I sensed He wanted me to share it this past Tuesday evening.
There was only one slight problem.
The preceding evening, while eating a sandwich, my front tooth fell out!  That might be bad.  Maybe.
To make matters worse, I was sitting inside my church's Libertyville campus.  I was waiting for someone who attends the work ministry program.  I was this person's ride.  I couldn't leave.  Oh bother.  Oh brother!  I prayed a prayer pleading with God not to let anyone approach for conversation.
Mercifully, that did not happen.  I'm sure all manner of hand gestures would have come into play had someone approached. 
Perhaps, I could have written a note and pretended (that's a much better word than lied) that I was unable to speak. 
Mouth clenched tightly, as I mmmm, mmmm, mmmm'd and wrote,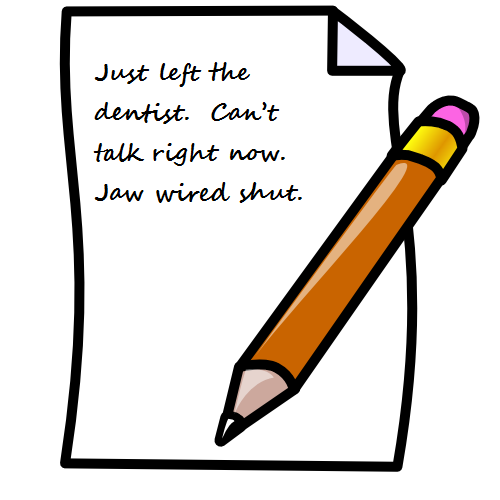 Yeah, something like that.
As I shared with the ladies last night, a toothless grin from a precious baby has quite a different effect than when a 40-ish year old woman is sporting one!  Not so cute.
Talk about a problem.  This was a problem for that day. 
I prayed and I asked a friend to pray for me as well.
I was in the moment and thought, "Oh boy.  Lord, I need a miracle.  There is no way I am going to talk to a large group of women, with my front tooth missing.  I'm not going to get worked up about this, God, but I need you to help me deal with it!"
I knew the message God had given me to share was important, otherwise the enemy would never have messed with me – or my front tooth!  Still makes me stinkin' mad.  But that's okay.  God had the last word.
My sweet friend was rendered speechless, not knowing what to say.  I was grateful for her prayers.  That's what I needed most.  And to be able to laugh about the situation. 
I sent her a text that said, "All I want for Christmas is my two front teeth!  Enemy not stealing my joy!  See?  =)  Still smiling!!"
 My spirits were pretty good, considering.  I did chuckle.  What are you going to do?  I could have put my hands in my face and cried myself into a puddle.  That wouldn't serve any good purpose.  Might as well laugh and roll with the punches. 
Tuesday morning, the day I was scheduled to speak, I contacted my dentist for an emergency appointment.  Fortunately, the office was able to fit me in.  They would address my dental disaster right away.  I still didn't know whether they could fix it that day, but they fit me in.  Out the door I ran. 
On the drive over, I was like a little kid.  I kept sticking my tongue through the cavernous hole in my teeth.  Peek-a-boo, said my tongue. 
I just thought of something:  the Tooth Fairy didn't visit.  I got jipped!  Okay, so that's not entirely true.  I didn't really get jipped.
God took care of me.  Listen to this.
God worked a miracle through my dentist's hands.  He was able to restore my smile that day!  No longer did I have a gap the size of the Grand Canyon to greet you with.  Thank you sweet Jesus, my smile was restored!  Good as new.
You want to know what else?  My dentist didn't charge me.  Services rendered free of charge! 
My smile was completely restored in plenty of time to speak later that evening.
The enemy tried to silence me.  He thought he could disarm me, wounding me in the mouth—a weapon I can use against Satan to speak God's Word left as truth for us all.
But God showed He is more powerful than any obstacle the enemy hurls our way! 
The enemy did not get to muzzle me because GOD SHOWED HIS MIGHT!
On the way home from my dental appointment, I was behind this car.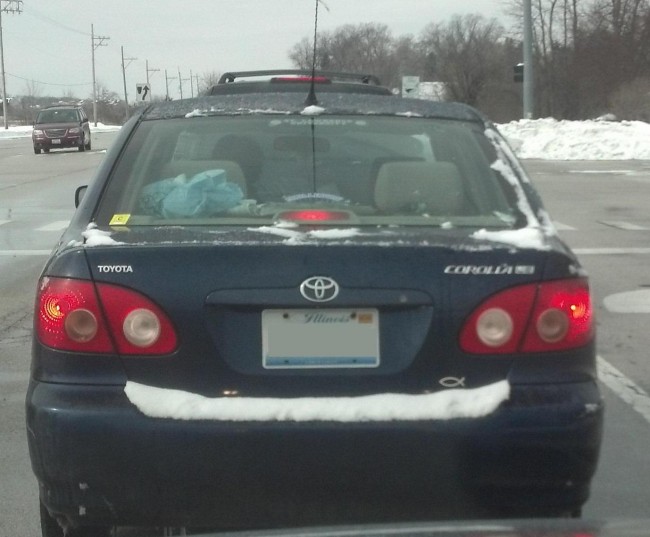 It seemed like God was sending a smile my way.  Brake lights were the eyes, the snow-covered bumper His smile sent to melt my heart.  It made me smile to think God was grinning at me from the bumper of a car.  Finally!  A purpose for all that snow we've been getting.
Then, something else dawned on me.
Do you see the beauty mark?  The mark of Jesus perched above the smile?  Certainly, the fish symbolizes the most beautiful mark of all.  Jesus.
God gives good grins.  Doesn't He?
May the LORD bless you and protect you.  May the LORD smile on you and be gracious to you.  May the LORD show you His favor and give you his peace.—Numbers 6:24-26 NLT
Questions / Actions
What does your smile say about you? #WhatDoesYourSmileSay?

What sentiment is your smile speaking?

How has someone else's smile impacted you / your day?

Your assignment for today?  Go make someone smile.  Wear yours well, so that one smile begets another, begets another causing a chain reaction of love.