Today's Monday's Marinate we look at evidence that compels.  God's gavel pounded truth into parchment.  Through His Word He presents a clear case.  The way prepared in advance to set prisoners free from every stronghold.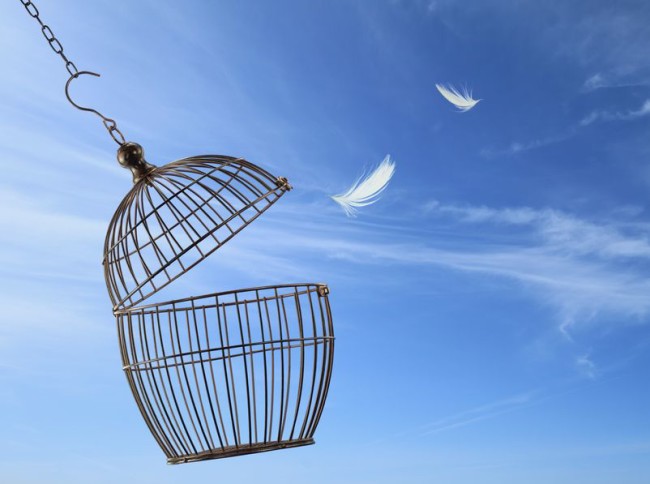 For the weapons of our warfare are not carnal but mighty in God for pulling down strongholds, casting down arguments and every high thing that exalts itself against the knowledge of god, bringing every thought into captivity to the obedience of Christ.—2 Corinthians 10:4-5 NKJV
The power of God's truth tears down strongholds.
A stronghold is an untrue premise which denies God's promise. "God's weapons are mighty for pulling down strongholds." (2 Corinthians 10:3-4)*
In Praying God's Word: Breaking Free from Spiritual Strongholds, Beth Moore describes a stronghold as …
Any argument or pretention that "sets itself up against the knowledge of God."  …  A stronghold is anything that exalts itself in our minds, "pretending" to be bigger or more powerful than our God.  It steals much of our focus and causes us to feel overpowered.  Controlled.  Mastered. … it is something that consumes so much of our emotional and mental energy that abundant life is strangled—our callings remain largely unfulfilled and our believing lives are virtually ineffective.** (emphasis added)
We need to get to the truth of things, so we don't suffer these side effects.
Especially vivid is the imagery of an abundant life strangled.  Can't breathe.  Buried beneath burdens.  Like a weed strongholds choke out the very lives we are called to live.
Free.  Fierce.   Flourishing.
That's pretty big incentive to do some gardening.  Let's pull some weeds and allow new growth to generate.
God has delivered me from many strongholds.  God continues to pluck them from my path.
We know that God is a God of our past, our present, and our future.  (See Hebrews 13:8) Recently, God used a word from my past to effect my present and help determine my future.  Before He could move me deeper into my calling, we needed to deal with something.
Believe.
We meet again.  Thankfully, under much better circumstances this time.  A firm foundation in Christ thanks to our heavenly Father.
I couldn't believe.  Why is this word sneaking through the soil of my soul like a worm?  Again.  How could "believe" be a stronghold?  I denied it.  Ahem, Peter.
No.  Not possible.
I'm one of His saints.  I love Jesus.  I believe in Jesus.  I believe He died on the cross for the forgiveness of my sin.
Oh really.
I do.
Now.
Here's why.
I hiked down a healing journey of the heart.  As I traversed the rocky crags, God spoke these words and I scribbled them upon the page.
I'm going to ask you to do some hard things, but I want you to trust me, my dear.  I need you to lean into the healing process, because I desire to bring wholeness to you.  I will fill you up with my love when you need it.  My grace will give you the courage and the ability to move forward.  Do not allow the enemy to hold you down in this stronghold any longer.  My dear daughter, I desire that you walk in liberty with an awareness of the fullness of my forgiveness.  It's not just a little bit.  There are no remnants of guilt left.  I have washed you white as snow.  Do you know that?  Do you believe it?  Believe it, my Beloved!  Believe it.  For when you do, others will too.  There's much at stake.  Accept my free gift of forgiveness.
Notice, believe it spoken three times.  Ahem, Peter.
Have you ever done anything where you think, "That's something God could never forgive"?  Not true.  He can.  He does.  Forgiveness is free.  It's a lavish and extravagant gift.
In my mind, I knew that.  I could tell you until I was blue in the face from not taking a breath.  God loves you.  He forgives you.  After all, these are basic principles of the Christian faith.  Yet, I didn't believe.
Oh, I could believe for you.
But for me?  I learned, even lately, I couldn't believe for me.
I was deceived and didn't know it.  Lack of knowledge, of self-awareness, is at the core of every deception.  Like the seeds hidden within an apple, we can't see the interior until we slice into the flesh of the fruit.  Until God reveals His truth, we don't know what we don't know.
I bought the enemy's lie.  In all honesty, I wasn't even aware I had purchased it.  And this after Christ had already purchased my forgiveness.  Here's what else God told me.
… Every good and perfect gift is given by me – your heavenly Father.  Forgiveness is my gift to you.  Don't keep returning it.  Accept my gift, my precious child.  And go tell others.  Share what you have been given with others.  I love you, my precious daughter.
Such sentiments take your breath away.  Who speaks such sweetness?  Our Savior – that's who!
All this time I believed IN Jesus, but I didn't believe HIM.
Jesus is a truth teller.  It's important we believe Jesus, not just believe IN him.  There's a lot at stake.
Believers who don't believe.  Where's the faith in that?
The enemy tries to consume and master us.  He wants to eradicate and overpower, making us ineffective for Christ.
Christ says, oh no, no!  I have taught my children to take every thought captive.
God's compelling evidence contained in the truth of His Word.  We have the ability to tear down every stronghold.  Whatever stronghold keeps us captive need not be.    He says we attain victory when we take our thoughts captive.
Are we going to believe everything that falls into our brain?  God's Word says we should not.
Instead of believing the nonsense the enemy spews "whatever sets itself up against the knowledge of God", we need to believe the truth of God's Word.
Let's tear down some strongholds.  Brick by brick.  God's truth layered and lavished upon us as we immerse ourselves in the pool of His grace.
Free.  Fierce.  Flourishing … and, oh yeah, Forgiven.  THE Judge has rendered us "Not Guilty".  His Word says so.
Believe.
QUESTIONS & ACTIONS
Do you believe IN Jesus?
Do you BELIEVE Jesus – what He says in His Word?  He is trustworthy.  You are worthy.  You are chosen.  You are qualified.  You are redeemed.  You are loved.  You are forgiven.  He will provide for you.  You can freely forgive others.
What truth in God's Word are you NOT believing?
What stronghold does God desire to set you free from?  Search out God's Word and take every thought captive by countering lies of the enemy with the truth contained in God's Word.
*Lucado, M. [Max Lucado]. (2014, March 29).  A stronghold is an untrue premise which denies God's promise. "God's weapons are mighty for pulling down strongholds." [Tweet].  Retrieved from https://twitter.com/MaxLucado
** Moore, B. (2009). Praying God's Word:  Breaking Free from Spiritual Strongholds.  Nashville: B&H