For today's Wednesday's What-Not, we interrupt our previously scheduled programming for a special news bulletin.
I am excited to announce my first-ever collaborative writing project with some wonderful "sisters".  We've written supplemental devotionals to coincide with an upcoming Bible study hosted at our church.  These devotionals are designed for enjoyment whether you are able to participate in the Bible study with us or not.
We've taken themes and truths contained in Christine Caine's Bible study, Undaunted, and written personal pieces to complement the material.
Over the next five weeks, you will see guest contributions from Erin Nicole Thompson and Deb Hoang.  I have written some as well.  I love that a trio of voices have come together to share insights from God's Word.  After all, a chord of three strands is not easily broken.
These posts will release on Thursdays and Mondays. ("Monday's Marinate" will resume after the Undaunted Supplemental Devotional Series wraps up.)
You'll recognize the Undaunted Supplement Devotional Series when you see this image.  The picture will remain the same for easy identification purposes, but the writing in each post will be unique.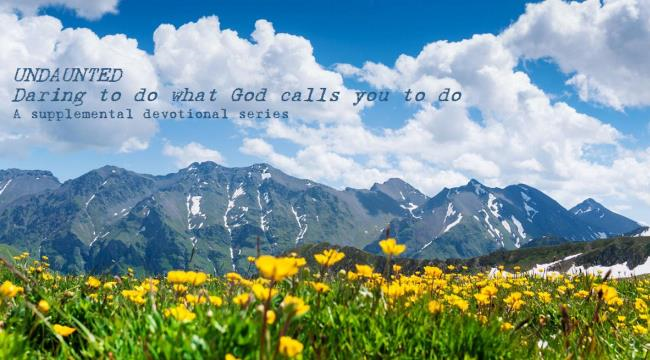 Erin Nicole Thompson is Wife. Mama. Grace-needing. Coffee-loving. People person.  What you get is what you see or read.  She looks to experience the extraordinary thru the ordinary.  She writes over at erinnicolethompson.com.
Deb Hoang is a wife and the mother of two beautiful girls.  She's full of wisdom for women of all ages and is a blessing to serve alongside.
I hope you enjoy reading insights from my sisters as we embark on this journey together!