I sat in front of my computer, sobbing at the young girls' plight. Over 200 girls snatched from school by hands meant to harm. Imagine someone you love sitting in a classroom, innocent, engaged in learning.  And then, their whole world turned upside down.  Any hope of a normal day now destroyed.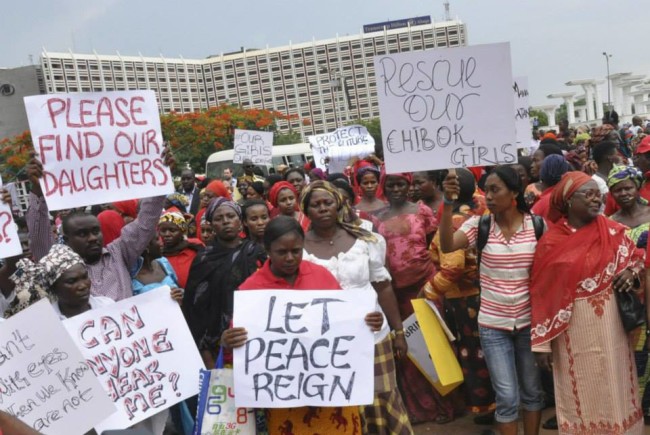 Until evil's darkness crossed the threshold and dashed toward the young Nigerian girls, this was their situation.  The students were expecting a day no different than any other.   Little did they know, their lives were about to dramatically change.
Girls should be screaming with glee.  Instead, I imagine these girls screamed and kicked to free themselves from the clutches of something more sinister than my heart can bear to think about.
This incident happened April 15, 2014.  It's not some made up, fictional story.  It's many people's real-life nightmare!  Where was the public outcry?  In a world of instant everything, where have the news reports been on this human injustice?
It seems the girls' predicament barely caused a peep.  But when we galvanize people's singular voices, together, our unified voice is amplified on behalf of the oppressed.   Loud and clear, we call for the rescue of these girls.  Peer pressure of sorts to change the girls' plight.
If we remove the "p" from plight, we get light.
Let's be the light of Christ to change these Nigerian girls' plight.
What would you do if this happened to someone you love?   Your sister?  Daughter?  Niece?
We would do everything in our power to help them.  Let's consider these Nigerian girls our sisters.  Daughters. Nieces.  Like we have been adopted into Christ, let's "adopt" these young girls.  Let's help how we can.  That's one reason I'm writing this.  It's part of how "I can".
Remember, we can do ALL things through Christ who strengthens us. (Philippians 4:13)
In our suburban American culture, the scene is almost impossible to fathom.  This happens?  Still?  People treated as if they don't matter.  Traumatized.  Dispensable.
Reports state these girls are being sold into trafficking situations for only $12!  These girls are priceless and precious to God.  He calls us to be the love the world needs.
We can all do something and every little bit of action we take matters.  It's significant, because these sweet little sisters of ours are significant.
Here is a link to a video.  Look at their faces.  They are humans who are hurting.  And we have the power to help.
I can't sit back and idly do nothing.  No!  How can I help?  What can I possibly do?  There are ways, even from thousands of miles apart that we can lend a hand.
Simple Ways to Help Our Sisters
1.       Pray
First of all, pray for these girls and their families.  We need the Divine to intervene.  Our Sovereign God hears the prayers of the righteous.  Let's lift them up. Pray for the girls' physical and emotional protection.  Pray for rescue. Pray for God's peace, comfort, and presence in what has to be a terrifying situation.
Not only should we pray for the victims, we should pray for the perpetrators.  Pray the captors are convicted by Christ's power and have a change of heart. Pray that they release the young girls without further harm.
And don't forget to pray and ask how God desires you to be a part of the solution.  As a matter of a fact, let's do that right now.  Dear heavenly Father, please help us not to be overwhelmed with the problem.  Instead, help us to know what it is specifically that You are calling each of us to do as part of Your solution.  Thank You, that You unify the body of Christ and have gifted each of us with different skills, abilities, and resources to help children across the globe.  May the voice of Your love resound half a world away.  In Jesus' name, amen!
2.      Sign Petition to U.S. Secretary of State & Inspector General Nigerian National Police
The petition needs 20,000 signatures.  At the time of this publishing, the goal is roughly half-way met.  Thus, your signature is needed. Let your voice be heard.
Here is a link to sign the petition.
3.      Sign Petition to Nigerian President, Goodluck Jonathon
This second petition needs roughly 16,000 additional signatures at the time of this publication.  Your signature and voice is needed here too.
Here is a link to sign the petition.
4.      Spread the word with your friends through social media
More voices mean more volume.  Let's turn up the decibels.  
5.      Keep Current With The Issues
If you are on Twitter, you can follow the issue at #BringBackOurGirls.
If you are on Facebook, you can follow the issue by clicking this link.
6.      Get Creative (and I'll give you some examples)
I plan to reach out to someone who has a powerful "voice" over the internet, with a large readership. I'm going to ask if he will help spread the word over his platform, and perhaps write a piece about the issue. What's the worst that can happen?  He says "no".  Okay.  I can handle that.
Because we serve a God of redemption, I'd love to redeem the$12 the girls are being sold for.  Let's turn that number into something really great. We know human life is worth far more than $12, but let's send a strong message. Jesus had 12 disciples. We all have 12 bucks.  Twelve times each of us equates to God's provision and blessing being poured out on behalf of these girls.
Within my circle of influence, I plan to see if there is a way we can organize efforts around campaigning and collecting on behalf of these girls. Interesting.  I looked up the biblical significance for the number 12.  Most of us probably know about the twelve tribes of Israel and the twelve thrones mentioned in Revelation.  But this next little tidbit arrested my attention in light of what I had just been thinking.
Like "seven times seven," "twelve times twelve" increases the force of the number. When this is further multiplied by a 1,000, the figure becomes 144,000 redeemed (Rev 7:4)… * (emphasis added)
I find that interesting because I had just been thinking we need to redeem the number 12.  Our efforts multiplied together increase the force of the number and can be used as part of God's redemptive plan.
Providentially, I am in a Bible study right now by Christine Caine called Undaunted.  There was no way God was going to allow me to walk past this incident, not seeing, not hearing.  Oh no!  He knew this was coming and He knew it would break my heart enough to do something.
Christine Caine and her husband founded A21, which is an organization established to help victims of trafficking.  Her organization is one I would trust to steward the money effectively or help point us to the organization with feet on the ground in that region.
I've left a message to find out more.  If organizing something like this wherever you are is of interest, please let me know.
Admittedly, I don't have all the answers.  But I am committed to do what I can, my part, to find out.
QUESTIONS & ACTIONS
Do what you can.  Whatever that is. But do something.
* Elwell, W.A., & Beitzel, B.J. (1988). In Baker Encylopedia of the Bible. Grand Rapids, MI: Baker Book House.