Like an airplane in a storm I circle round and round. Trust. Faith. Belief. Concepts easy enough to grasp, but turbulence tempts me to doubt the mechanics of faith will hold firm.  That somehow, the plane won't break apart when life gets too bumpy and leave my wreckage of woes on the tarmac.
We all have woes. It's what we do in the midst of them that matters.
This Monday's Marinate we look at doubt and what it takes to dispel worrisome thoughts that threaten like a sky darkened grey, metallic tasting air from lightning strikes too close to home.
I consider myself to be a godly woman. Not perfect, but in pursuit of the One who is.  So where does this doubt come from?
Often times, doubt dashes me against the rocks when I've had to endure for a long season. Too much time takes me to thoughts that don't match up with a woman who has seen what standing in faith produces— God's glory and goodness revealed when we weather a storm well.
What does doubt look like?
Let's start with a few definitions for doubt from dictionary.com (emphasis mine):
·         To be uncertain about; consider questionable or unlikely; hesitate to believe.
·         To distrust.
·         A feeling of uncertainty about the truth, reality or nature of something.
Doubt doesn't paint a pretty picture. It's more like a messy finger painting, colors once beautiful, turned a muddy brown from too much mixing. Churn, churn, churn go our thoughts, minds now murky with unbelief.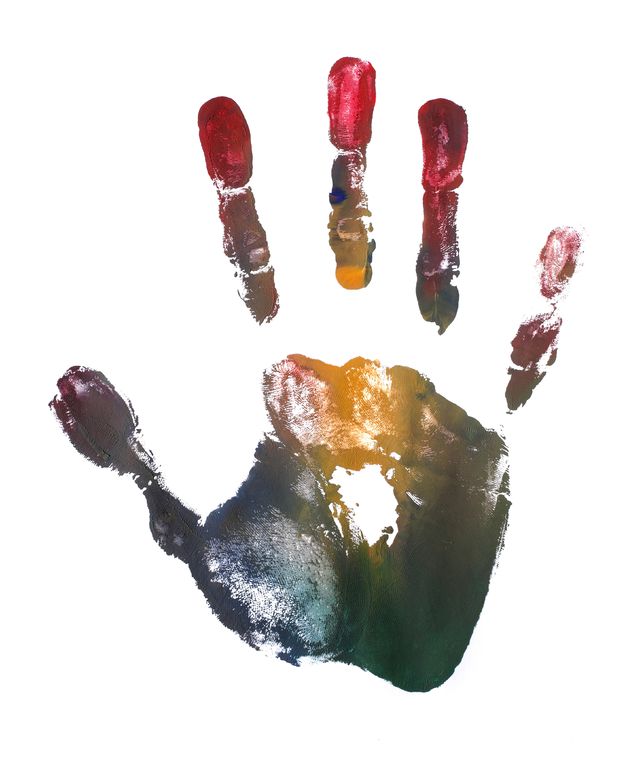 We are likely all familiar with the story of Peter and how he stepped out of the boat, but then hesitated to believe. He had faith sufficient enough to step out of the boat, but he didn't have faith to fuel the steps he needed to courageously walk with God to arrive safely on shore.
So Peter went over the side of the boat and walked on the water toward Jesus. But when he saw the strong wind and the waves, he was terrified and began to sink. "Save me, Lord!" he shouted.

Jesus immediately reached out and grabbed him. "You have so little faith," Jesus said. "Why did you doubt me?—Matthew 14:29-31 NLT
Peter hesitated. He stepped out of the boat, but then he waivered. As he waivered, the waves threatened to overtake him.
I can relate to Peter on many levels.  Peter loved Jesus. He wanted to trust God. He had walked with Jesus and learned much from Him. And yet. Hesitation hit him and almost pulled Peter under.
I can relate to Peter with something else Scripture shows us.  Peter was actually doing it. He was doing the unimaginable.  He was walking in faith. On water. With the Lord. Peter had dipped his toes in the water and walked on it in front of the other disciples and Jesus Himself. But then Peter looked around at his circumstances and must have thought, "This is crazy. I shouldn't be doing this. It's not safe to walk on water."
Not too long ago, I had a moment like Peter. Financial strain endured over a long period has stretched my faith, if I'm honest more than I would care to have it tested. After all, some stretches might leave unsightly marks. Like Peter, I've been out of the boat, walking. With God. Doing what the world might deem "crazy", but feeling like I was doing exactly what God wanted me to do. I'm supposed to write, among other things. He's opened too many doors for me to think otherwise.
When the world would scream, "Get a job!" God says, "Write your story." Even typing that makes me cry. Emotion triggered by the Holy Spirit to confirm the truth of the words just typed. It makes no sense. None of it.
The "truth" of my circumstances looks like Peter's. A tidal wave that could take me down threatens if I look at the state of my finances without spiritual eyes. If I step out of the boat, and then hesitate I might have a bit of a problem. I've found if I entertain, for even a moment, how frightening a situation could be I don't leave a lot of room for my faith to work. In fact, I've unintentionally opened the door for the enemy to blaze through and blast me with emotional bombs meant to pull me far off course from God's plan.
The timing of looking at circumstances, suspect.  Drop a bomb to detonate the evening before I get together with strong Christian women all called to write. Amazing women God brought together to help refine our writing, and us, in the process. Of course the enemy wouldn't want me engaging here or in my writing. He wants to lock me – us – down in fear and doubt.
Luckily, it was only a momentary sinking. Discernment sets in and says, "You keep going and doing exactly what you know you are called to do. Keep seeking. And keep listening – to the voice of truth and not the taunts of the enemy."
In the process, I'll pray continuously as Scripture directs. Through prayer, God may redirect. For now, move forward with where He's moving.
The world would definitely say, "Get a job!" And I want(ed) to. That's what I would have done in the past. "I'll fix it. I can do this. I can muscle through and do whatever needs to be done.  I'm the girl who picks herself up by the boot straps."
Not anymore. That was me always striving to swim upstream, because I was "strong enough" to do it – at least for a little while. But God doesn't want me – or you – swimming upstream. He wants us to look to Him in our successes, in our failures, in our fears, in our time of doubt and unbelief, in all times and in all circumstances He wants our eyes fixed firmly on His. Faith-filled eyes, gazes locked. Okay. I'm staring into Your eyes, LORD.
Without looking up to God, sinking leads to drowning. But when my eyes are locked on His, sinking tells a different story. Emily Freeman¹
Part of my unbelief grounded in the idea that I, somehow, have to dig my way out from under this financial strain.  After all, the former six figure girl would have done just that.
No. No. No. You're not to believe in yourself over believing God. Some things a girl can't fix on her own accord. She's called to something greater. Faith.
Believe in myself and I sink into the waves of worry…But sink hard into God and He will buoy the soul on top of the water. Emily Freeman¹
As Emily suggests, we have to sink hard into God. If I'm honest, that can feel a little scary – even though it shouldn't.  Okay, God, I'm falling face-forward in faith. Help me to see and fix my eyes on You.  You know the whole picture, what's waiting just around the bend.  I can't quite see that far, so I'll keep looking at You.
You know what really comforts me?  Look at Jesus' response. Unlike Peter. Unlike me. Unlike you, perhaps. Jesus didn't hesitate.
Jesus immediately reached out and grabbed him.—Matthew 14:31a (emphasis mine)
Jesus didn't delay.
Sadly, our doubt comes when we don't trust God or that He will come through for us.
I find myself trusting God in many areas. I can give Him full access and authority, complete with a VIP pass. "Yours God. Yes. I give that to You. You're authorized to access." (As if God needs my permission.)
And then. There's a particular circumstance or person that I don't fully trust God in or with. If I'm not fully trusting, it's not really faith. I want to trust. I try. I give. I take back. And give again. It makes no sense, really, but I do it. Sometimes. Sometimes I am rock solid, like a body builder muscles bulging in my faith. Then I get flabby, muscles go flat, faith deflated.
The enemy wants us to doubt that we can trust God. In all things. With all things.  God is so patient with us, showing us time and again of His faithfulness.
Doubt comes into play when we distrust the nature of something, or Someone.
This truth saddens me for I believe it is at the root of all unbelief. When I doubt, I don't trust that God is good. It's His nature I'm questioning. Don't get me wrong. If you were to ask me, "Is God good?" I would immediately respond, "Absolutely!" I would probably even site many instances where I have seen God's goodness first hand.
But if I believed in God's goodness unequivocally, I wouldn't doubt Him even if I tasted the metallic air from lightning that struck a little too close to home for my comfort.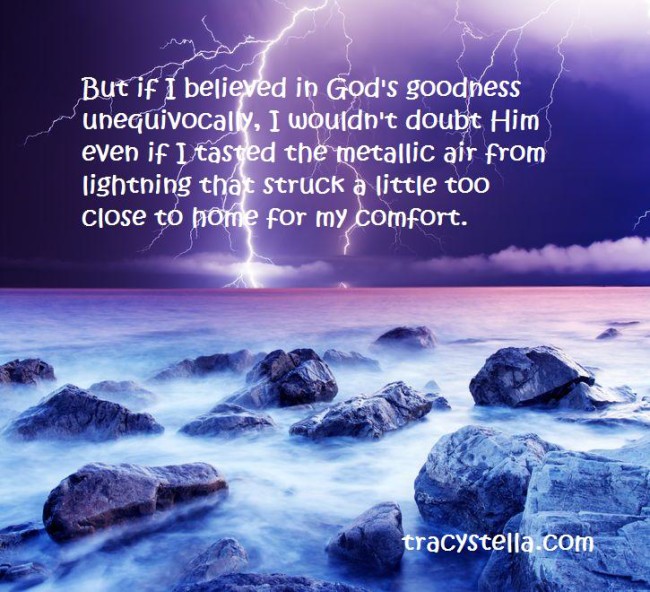 That's the sad truth.  And I hate that truth. Because God has been amazing in my life. THAT'S the truth. God is absolutely good, even when I don't always understand what is happening or why. On my watch, it doesn't make sense. I'm marking time. Marching in place (or so it feels). Then I see God move mountains in other ways. Why is there a delay – years and years of delay sometimes? I'm sure Joseph could have asked the same question. David too. Who am I to think I won't experience delays?
"I would like to place an order for immediate deliverance please." 
My consolation, I know I am not alone in this desire for instant deliverance. However, there must be lessons for me and or others to learn in this delay.  Until deliverance, I will sink into the truth of God's Word that teaches me how to hold my head bravely high in courage.
Yet I am confident I will see the LORD's goodness while I am here in the land of the living. Wait patiently for the LORD. Be brave and courageous. Yes, wait patiently for the LORD.—Psalm 27:13-14 NLT
God's promise that we will see the LORD'S goodness is what lies beyond the shadow of a doubt.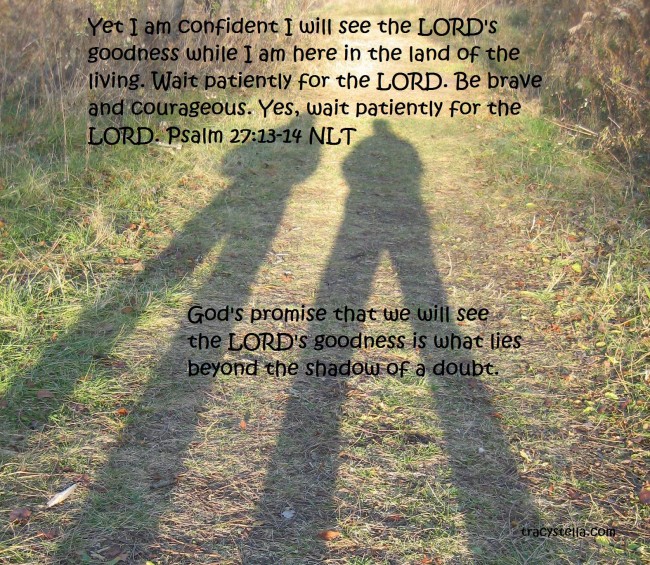 The psalmist, David, is confident he will see the LORD's goodness. This Scripture lets us borrow a little of David's confidence. Bury the truth of this Word into our war-weary souls.
The beauty of this promise is that it is not just a promise for when we are in heaven for all eternity – although those are significant promises to hold onto as well. However, this promise is for while [we are] here in the land of the living.  We aren't waiting until we die to see God's goodness. His goodness is available for us to gaze upon here on earth, in the land of the living.
He commands us to wait patiently. This is not my strong suit. Maybe it's not most people's strong suit and why God repeated it twice in this Scripture, and even capped it with a confirmatory "yes" in case we had any doubt.  Because of course we would.
Remember, we're aiming to live beyond the shadow of a doubt. Yes. Yes spoken and believed beyond the shadow of a doubt – even if it takes a little time. God is good.
QUESTIONS:
1.        Have a worry on your mind? Listen and believe the lyrics of this song from Citizen Way, "All Things".²
2.       Think of a time when your faith waivered in the waves. How did God help you "walk on water"?
3.       How does remembering God's deliverance in the past help you walk through current storms?
4.       How does God's promise that you will see His goodness here in the land of the living impact you? How can you live in courage and bravery here on earth as you walk in the fullness of this truth?
¹Freeman, E. (2013). A million little ways. 1st ed. Grand Rapids: Revell a division of Baker Publishing Group, pp.78, 86.
²Citizen Way, (2013). All Things.