Has this ever happened to you? You're plodding along, doing life the way you always have. Then all-of-a-sudden, there's a change that feels abrupt. It came far too soon for your comfort. However, you know if you remain where you are, you'll be like a houseguest who overstayed her welcome.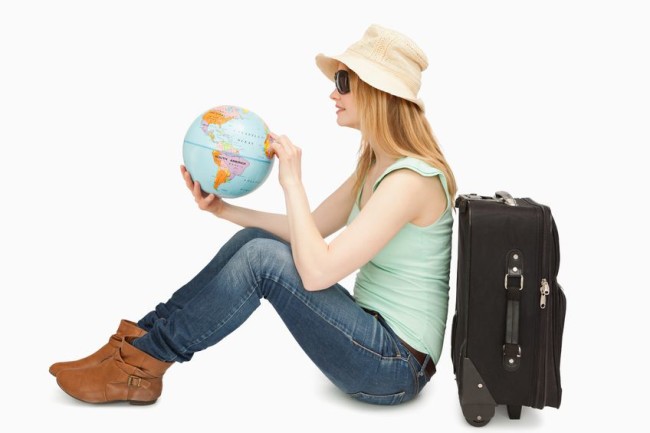 Instead, you recognize it's time to pack your bags. You agree to go on an adventure with God, not knowing your final destination, but realizing it's time to travel elsewhere. He says so in that still, small voice that speaks to us of next steps and new directions.
Sometimes we are called to let go of good things to experience God things.
After all, we desire to be in His will. As we loosen our grip on those very good things, we enter into a fuller experience of who God is and what He has for us.
Just because we are travelling into God's will doesn't mean He has mapped out every mile-marker for us. All we know is we've been told to pack our belongings and go where He is guiding. Sometimes, that may be a literal move as He navigates us from one geographical location to another. Other times, it's a change in direction. Perhaps, God gives a new dream or refines an existing one.
Today's Wednesday's What-Not we look at letting go of good things to experience the fullness of living a faith-filled life intent on experiencing God things.
In our humanness, many of us find it difficult to embrace change. Jumping into the unknown can feel like plunging out of a plane without a parachute. Many people I have spoken with want the full plan. Often times, I'm one of those individuals. We want to know everything ends well. We want reassurance we'll arrive at our final destination without delays and in a linear manner. Shoot opens and we glide in a serene and safe fashion as we land gracefully on our feet.
Change is the law of life. And those who look only to the past or present are certain to miss the future. ~ John F. Kennedy
If we don't embrace change, we are certain to miss the future. That is definitely true in God's economy. God is a God of new departures and arrivals and He doesn't want us to miss the plane. After all, He's got great plans for us (Jeremiah 29:11). God transforms us into new creations (2 Corinthians 5:17). With that knowledge, why wouldn't we anticipate His desire to bring us to new destinations?
I was caught off guard by a change God recently led me to make. I anticipated one change, but wasn't expecting the second one that came quickly in its' tailwind.
I had prayed for several months about transitioning away from my role in women's ministry. I felt God prompting me to step out of those responsibilities. This was a difficult decision in that I loved serving with the group of women God had brought together. I have been blessed with many friendships as a result of my engagement here. I had grown and stretched much with the responsibilities entrusted to me. I'd laughed with these women. I'd cried with many of them. We'd prayed intimately for one another. I'd even had to navigate conflict and come out better for it, because I didn't run away (like I would have in the past). I'd had to push beyond myself and my fears and felt safe to be vulnerable with these women. And it's also where my love of writing resurfaced as I wrote devotionals with a friend.
But. Even good things must be exchanged for God things.
I'd sensed God saying that leg of my journey was ending. I took the brave step to communicate to my friend and leader that I would be stepping away from the ministry role at the end of our serving season.
I'm not sure if this counts as bravery in your mind. In mine it did. It wasn't like I was letting go of something I didn't enjoy. And I knew that I would miss much with these women – now my dear friends. Although our friendships remain, they will be different. I had to trust God that He knew where He was guiding me and that He would help keep relationships intact, even if we weren't serving together on a regular basis, even if we were no longer sitting, Bibles spread open learning together.
Here's the thing. Grace abounds in God's will.
I need God's grace. We all need God's grace.
If we are in His will, we can trust that God empowers us to do whatever it is He is calling us to do. We can pack our suitcases and leave the place we call home to explore new adventures God desires to take us on. His grace is sufficient (2 Corinthians 12:9).
As I weighed the significance of God's grace in my decision, embracing the change actually became easier. If I hadn't changed when God wanted me to, I could have lost his covering and equipping. I couldn't risk that for myself, or for those He had called me to serve for a time. I needed to be where God's grace would be for my sake and the sake of others.
The more we grasp the principle of God's grace, the easier it is to embrace change.
Where He is, so is His grace. He guides us to His grace. God says…
Travel with me, my child. We have a wonderful journey I've planned for you for a very long time – even before you were born. I knew you would eventually travel with me, trusting where once there was fear. I knew there would be pieces of this transition that would be difficult for you to handle, but I knew you would eventually let go and let me take you to all the beautiful places I cannot wait to show you. We will have such fun together, and you will grow and stretch some more, but you will always be covered in my grace, my sweet child.
And so, God brought more change on the heels of this one. Not only would I step down from women's ministry, God was calling me to a new church home. I didn't see that change coming. The news dipped down from the sky's puffy white clouds, where it had been hiding and caught me off guard.
The change in churches couldn't be revealed to me until I first was obedient with the prompt from God to step down from ministry. There would have been no easy way to switch churches while I was so deeply entrenched in serving. Now, I was free to make the decision I knew God was leading me to all along. He knew. Certainly, I didn't. But the way everything came together, my husband and I both sensed this move was a God move. We knew we would miss our friends, greatly. But we didn't want to miss the will of God.
My family's roots had run deep at our church. I met my husband there even before the church officially opened. I had met God there and said "yes" to Him for the very first time as I welcomed Him into my heart. My son accepted Christ within those church walls. And we shared what, quite possibly, was one of the sweetest mother & child moments I will treasure up in my memory as we were baptized together. Moments that make a momma smile warmly inside.
I would have to say good-bye to all of that too, and even deeper good-byes than I had originally imagined to my friends. Not only would we not be serving together, I wouldn't see them every week like I had for so many years.
While those good-byes have saddened my heart, I know I have to pack and head to God's grace.
There are gifts in these good-byes. I've already opened a few. I anticipate there will be many more. I sense them on the horizon, perhaps as we head into even more change. Who knows?
I remind myself sometimes we are called to let go of good things to experience God things.
QUESTIONS & ACTIONS
Has God ever called you to let go of a good thing to experience a deeper God thing?
If so, how did you navigate that change? What did you learn along the way? What would you do differently?
If not, how would you navigate letting go of something you felt was very good and close to you to step into God's will?
How does thinking about God's grace impact your feelings about change?