Have you ever felt surrounded by your troubles? Everywhere you turn, you see the enemy waging war. It might feel a bit like you're an actor in an old film in the midst of all the melodrama. The enemy shouts, "We've got you surrounded. Come out with your hands up!"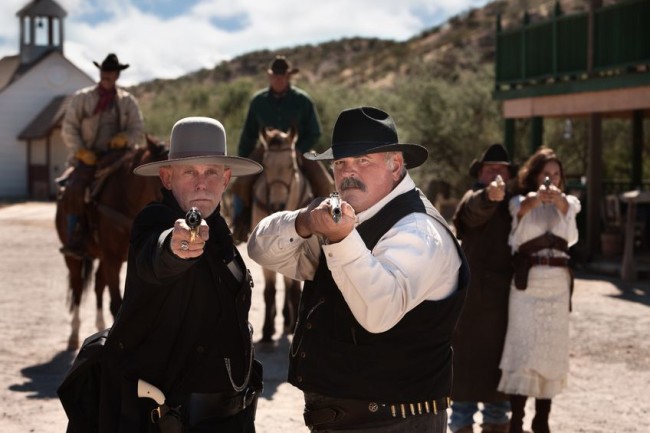 At this point, maybe the piano plays a little faster and louder to intensify the scene. Everyone's cowering inside the western saloon not knowing how to be rid of Bad Bart who stands outside intimidating. Spurs sharp. Black cowboy hat to signify he's one of the bad guys. Menacing and mean spirited.
Where's Dudley Do- Right when we need him to save the day?
Since he's nowhere in sight, we raise our hands, lower our head, and walk out in defeat.
But what if there's a different way to respond?
Today's Monday's Marinate we look at what protects us from Bad Bart, the knick name I've given the enemy. So what if he has spurs? We have the sword of God's Word that pierces the darkness (Ephesians 6:17). We don't need Dudley Do-Right to rescue us. We have a Savior who already did.
Therefore let all the faithful pray to you while you may be found; surely the rising of the mighty waters will not reach them. You are my hiding place; you will protect me from trouble and surround me with songs of deliverance. —Psalm 32:6-7 NIV (emphasis added)
When surrounded by trouble, we are told to pray.
The faithful pray in the midst of their problems. As we pray we are ushered into God's hiding place, His presence. He is a person and a place all at once. He is where we run to when we need solace and solutions, when we need to hear His guiding voice that roars louder than any mighty waters rising. His voice is heard above the crashing crescendo as He surrounds us with songs of deliverance.
Perhaps because I love music so much, I was stopped in my tracks at the idea of being surrounded in song.
What might that look like? What would it feel like to be submersed in song? Everywhere I turn a melody to stop the melodrama. Think about it. What would it feel like to be surrounded in song?
I once visited Chitzinitza, a Mayan ruin located in Mexico. The acoustics of this ancient city fascinated me. Somehow, the architects of old had designed the theater with an ancient version of Bose® surround sound. You can stand in the theater, clap your hands, and the sound reverberates. One clap magnified for the masses to hear. Maybe this is my best earthly way to imagine song that surrounds.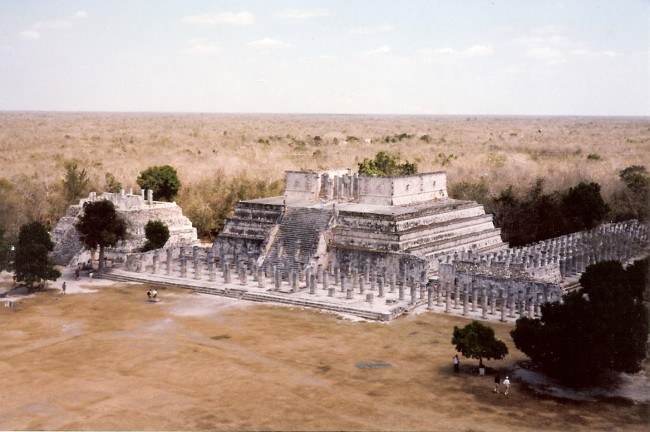 God's Word gives us another way to visualize song that surrounds.
The four living creatures mentioned in the book of Revelation know the power of worship as it surrounds. In the vision God gave John on the island of Patmos, Scripture says,
Day and night they never stop saying:

"Holy, holy, holy

is the Lord, God Almighty

who was, and is, and is to come."—Revelation 4:8b NIV (emphasis added)
Like a circle that surrounds, there's no end and no beginning. They never stop singing. I imagine that's what it's like to be surrounded in songs of deliverance. A chorus full of notes strung together to deliver us as we worship the Lord.
When it feels like the enemy has us surrounded, remember we are surrounded in songs of deliverance. Hands raised in worship of our Lord. Worship in times of trouble delivers a fatal blow to the enemy's attacks.
Not only are we surrounded in song, we are surrounded in God's unfailing love. The enemy can no longer surround us when we grasp the fullness of God's love for us. God's love is unfailing.
Many are the woes of the wicked, but the LORD's unfailing love surrounds the one who trusts in him. —Psalm 32:10 NIV (emphasis added)
Once we surrender our hearts to the LORD, His unfailing love surrounds us. He always loves us, but this particular promise in Scripture is for those who trust in Him. When we surrender our lives to Him, we demonstrate our trust. When we trust in Him, we have the certainty that His unfailing love surrounds us. Like a hug, His love embraces.
Again, this idea of being surrounded stopped me in my tracks.
I know God loves me, and I know what that feels like. God's love is beyond good. God's love is better than amazing.   God's love was the answer to love I'd been searching for all my life. He demonstrated His love to me in ways, large and small.
But what about this being surrounded in God's love?
Immediately, I think to myself, "There's no escaping it."
Everywhere we turn, His love is there. When we do something good, His love meets us. When we do something bad, sinful even, His love remains. His love is our constant companion.
Sometimes, a picture helps me to digest the truth contained in God's Word.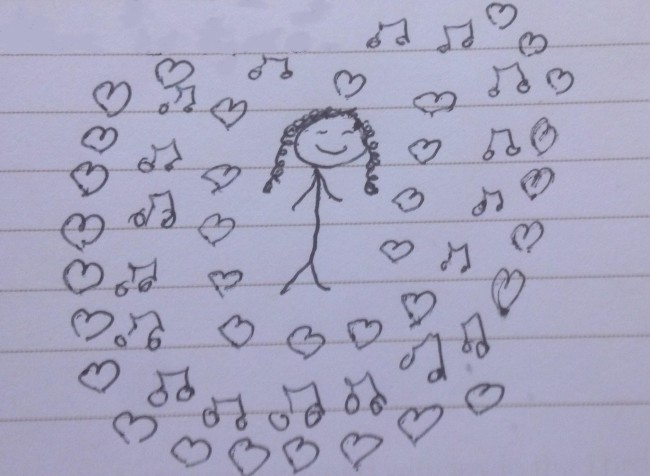 Our Scriptures from today promise that everywhere we turn there is love and lyric.
If there's anyone in Scripture who grasps what it feels like to be surrounded in the love of Jesus, it has to be the apostle John.  Long before John was ever sent to the island of Patmos, he walked in close relationship with Jesus.  Prior to Jesus' death, John was in His inner circle and would go about referring to himself as the disciple whom Jesus loved!  (Read the gospel of John to see how frequently John referred to himself this way.)
I wonder what a difference it would make in our lives if we walked around referring to ourselves as the son or daughter Jesus loves. I (insert your name) am the child Jesus loves. Words can be "spoken" quietly in our heads, they don't have to be said aloud for us to believe them.
After doing a little digging, I found something else to drive our message home, this whole love and lyric surround sound. I was in search of the original Hebrew word definition for surround. In my pursuit, I stumbled upon the King James Version of our verses. Now bear with me on this. I promise there's a point.  I'm trying to help paint the picture of love and song, as we stand surrounded in God's goodness.
Here are our same verses, only this time, KJV.
For this shall every one that is godly pray unto thee in a time when thou mayest be found: surely in the floods of great waters they shall not come nigh unto him. Thou art my hiding place; thou shalt preserve me from trouble; thou shalt compass me about with songs of deliverance. Selah.—Psalm 32:6-7 KJV (emphasis mine)

Many sorrows shall be to the wicked: but he that trusteth in the LORD, mercy shall compass him about.—Psalm 32:10 KJV (emphasis mine)
The King James Version translates our word surround as compass about. I thought to myself, "Well, what does that mean?" It's not as if I use that turn of phrase in my every day vocabulary. I doest not thinkest so.
Let's get a little help from dictionary.com as we look at a few of their definitions for the word compass.
to encircle or surround; hem in
an instrument used for drawing circles, measuring distances, etc, that consists of two arms, joined at one end, one arm of which serves as a pivot or stationary reference point, while the other is extended or describes a circle
to comprehend or grasp mentally
I included that last one just for fun, because, I'm trying to grasp this idea! How does one really mentally grasp what it means to be surrounded, compassed, in God's songs of deliverance and unfailing love?
If we use the idea of the actual instrument we probably all remember from our childhood, we do get a better idea.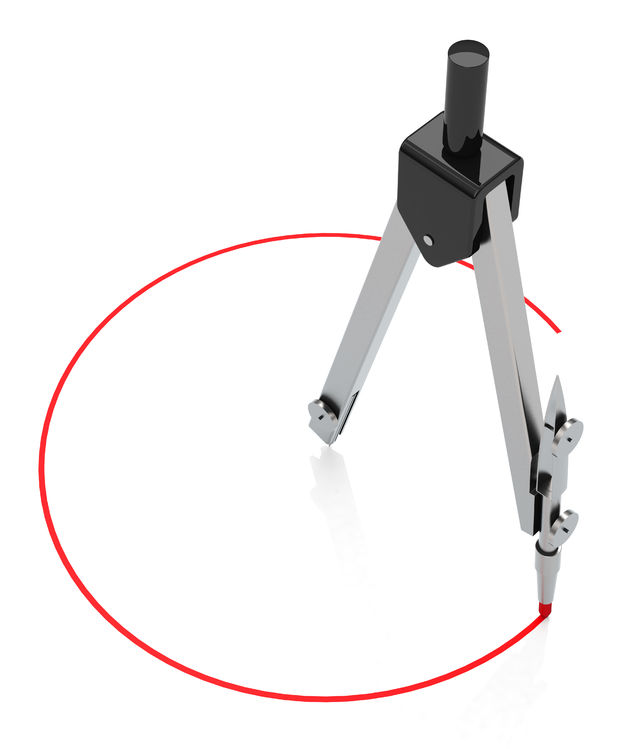 The compass helps us draw a perfect circle. There's no end. There's no beginning. There's no breach in the wall for the enemy to enter in. If it were a square, seams could be pulled apart. The same can be said with a triangle. The joints could be wiggled until room was made for enemy infiltration. Not so with a circle. A circle compasses. It surrounds. It keeps us safe.
We are compassed in Christ's songs of deliverance and His unfailing love.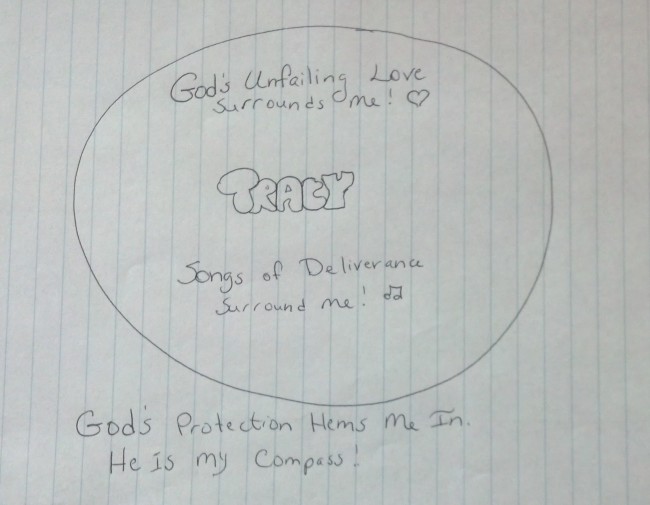 I pray you know the fullness of God's unfailing love for you. Know that you are compassed in His embrace.
QUESTIONS & ACTIONS
Draw a circle and write your name in the center. Somewhere in the circle, write "God's Unfailing Love surrounds me". Also, within the circle write, "Songs of deliverance surround me". Somewhere underneath your circle write, "God's protection hems me in. He is my Compass." (You can follow the example I wrote for myself above or feel free to be creative.)
As you reflect upon your drawing,listen to How He Loves by David Crowder Band.  Surround yourself in song and Christ's love for you.