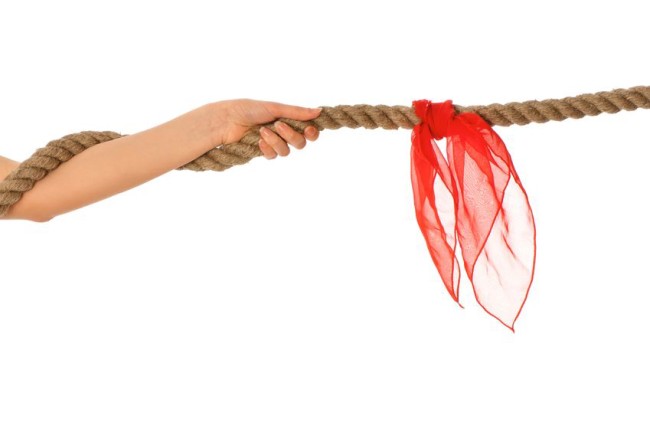 This past Sunday I listened to a sermon at church about resting in God's plan. We've been studying the book of James. The pastor spoke about prideful planning—our best idea of how things should go—versus following God's sovereign plan.
It's fine for us to set a course of action, but we need to be willing to adjust our steps when we feel God nudging us to do so.
His plan is always best, even when we don't understand it. His plan is always best, even when we don't feel productive while we're doing it.  Waiting can feel like we're wasting time.
Certainly, there have been times I've wrestled with God. Especially early on, I pulled against God's will, moments where I played tug-of-war with Him. If only I could pull the red scarf hanging from the rope a little closer to my way of thinking.
Thankfully, God didn't let me tug the scarf where I wanted it. No telling what disasters I could have encountered. No telling the blessings I would have missed, all to maintain control. Actually, to maintain control of the illusion I had control.
We need to stop digging our feet in the sand and let God lead us. Lean into God rather than against Him.
Today's Wednesday's What-Not we look at what happens when we stop digging our feet in the sand, leaning back with all our might against the rope's pull to maintain control. If we always have to stick to our plan, we may very well miss sweet moments with our Savior.
As a writer, I need structure in my days and a routine to maintain discipline and focus. I'm easily distracted and have found there is a necessary rhythm to writing. The rhythm and routine help build momentum. It's kind of like when you are working out and you build muscle memory. Working out gets easier because your muscles begin to remember what they need to do. The practice of writing with some sort of routine helps my mind to remember how to write, and over time it becomes easier. Words flow more freely.
However, I can be a bit legalistic with myself about schedules and plans and goals. Deep roots entrenched from years of goal setting in corporate sales. Set the goal. Establish milestones. Focus. Obtain the objective. But this is not the formula for success. I've learned, and am learning, to be more flexible with these things.  Perhaps God is more concerned about what we are learning in the process, the pursuit of our goals, rather than our attaining them. Not that God won't help us fulfill our calling and the goals He places in our hearts, of course He will (although it might not look the way we thought). But He has a plan to get us to our intended destination in one piece and full of His peace.
Last Thursday I intended to write. But as I processed personal thoughts lurking in my mind, pen scratching pages in my journal that day, I felt God calling me to disrupt my schedule and my plan. He had something else in mind all together. He wanted me to step outside into His restful peace, the beautiful places in nature God created and that nourish my soul.
I can't really talk about the particulars, but I sense God is calling me to address a situation. It is one that involves a specific person. In all honesty, in my humanness it feels a bit overwhelming. I sense there are significant ripple effects to my obedience in walking this out with God. There were details I needed to gather which might help this person, some of which "fell" into my inbox without my seeking of solutions. All of this stirs up emotions within me, because it is a very sensitive situation.
The details and potential ramifications of this scenario rammed into my day of writing. I imagine I would not have been able to write that day, emotions too murky and unable to craft anything creative.
Instead of following my plan, which probably would have resulted in a very frustrating day of writing, I went with God's plan. Sometimes it's just easier to give in (smile). I'm learning.
My trusty little companion, Stewie, was a beneficiary of God's plan as we stepped into the beautiful day God arranged for us. There are many great options to explore nature in our little slice of suburbia. Where to go? A little pondering as I piled Stewie into the car. Head over to Beaver Dam.
As Stewie and I traversed the trail, I found my pace matched my mood—slow and observant. I took my time as I stooped to breathe in a flower's beauty, absorb a stunning view, or watch an animal in his element – all in more detail. Pay attention. These things of nature may tell you something.
Sometimes, my feet would plant firm as I stood steady in the cool day's breeze. This walk I wouldn't have to wish my eyelids were like a camera lens able to click and capture natures' beauty as I opened and closed them. Often, when I am without camera, I wish my eyes could take a snap shot of what they are taking in. This walk I was able to capture the simple beauty of these scenes as I took pictures along the way.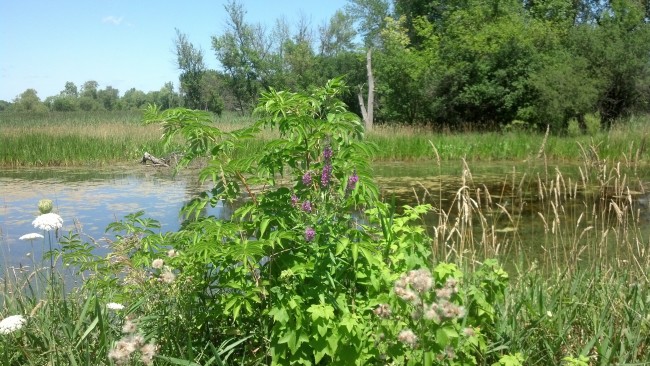 I wasn't thinking about anything consciously. I was clearing my mind from all that encumbered as my eyes consumed all that God created.
Little Stewie tired out on me. We were only half way around the trail, when his will got in the way of mine. He wanted to rest. Stubborn, he'd take a few steps and then plop along the trail's edge. We'd walked much further in the past without all this plopping and my necessary prodding. What gives, Stewie?
And then it came to me. God used my dog to teach me another lesson. Rest. Take a few steps. And rest. Take a few steps. And rest. When you're tired, you need only to stop and take a break. Today, a Thursday (gasp at giving up a day of productivity) was about taking a break. From it all. From writing. From thinking. From doing. Today was about being.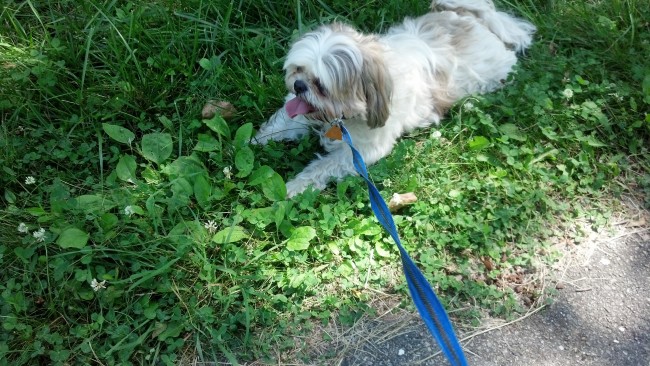 Finally, we made it around the two mile loop. I reached into the car and grabbed my chair, a book, and a beverage. I walked Stewie over near the water, so he could lounge under a tree. He was happy to relax and indulge in a treat while I read. I grabbed Emily Freeman's A Million Little Ways, settled into my lounge chair, and listened to the white noise of the water crashing over the dam. Water's splash like a sponge absorbing all other sound.
It seems counterintuitive to stop just when you've convinced yourself you are already so far behind. But stopping is really the only answer, because to carry on is to become a manic workaholic. To carry on is to worship the art rather than the Artist with a capital A. To carry on is to be pushed around by fear.¹
As I read Emily's words, really God's words He was using Emily to speak to me, I observed that was exactly what I was doing. That Thursday I was doing the counterintuitive. I should have been writing, but my soul said, "No. Step outside onto the canvas God has painted—His creation. It's important. Rest in the picturesque times standing in His presence."
Significant. Because I had once been a raging workaholic and I do not ever want to fall into that pit of deception again. Now, that God's spirit is within me, and as long as I listen, that won't happen. God will prod me to a different place, a place where it is not about productivity. Rather, this place is with Him in His presence, listening to His prompts to relinquish control of outcomes. To rest in whatever it is He is doing. In me. Through me. With me.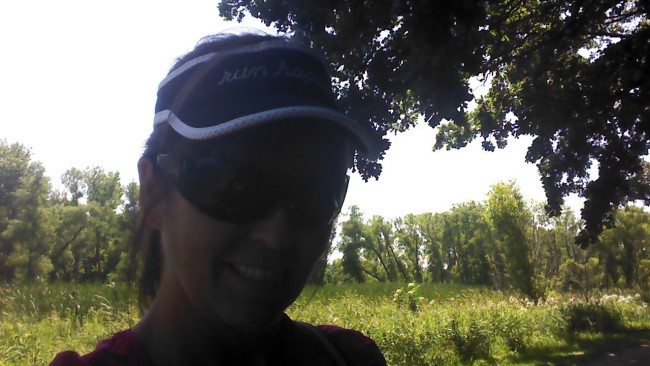 I felt a kindred spirit with Ms. Freeman as I sunk further into the chapter.
I'm learning how to walk like a believer, how to look ahead on the path rather than just at my feet. How to stop and touch the bark on that funny looking tree. How to see.¹
Me too, Emily! Were you on my walk with me? I stopped. Took pictures. Turtles on a downed tree. Bird – crane or egret (because I'm not an expert bird watcher) – stoic off in the distance in pea-green soup water. Fuzzy purple flower, nature's pom pom cheered me on in this letting go of productivity and performance.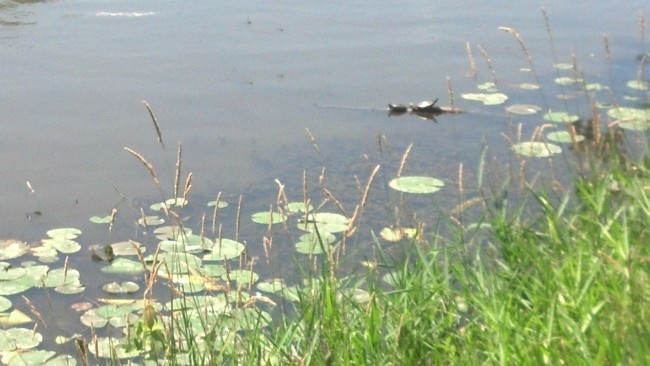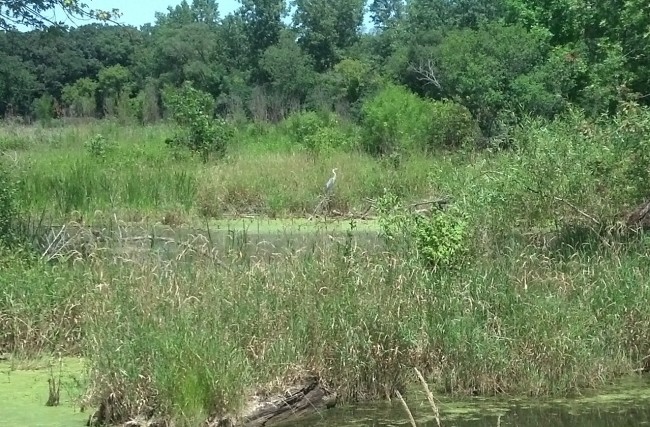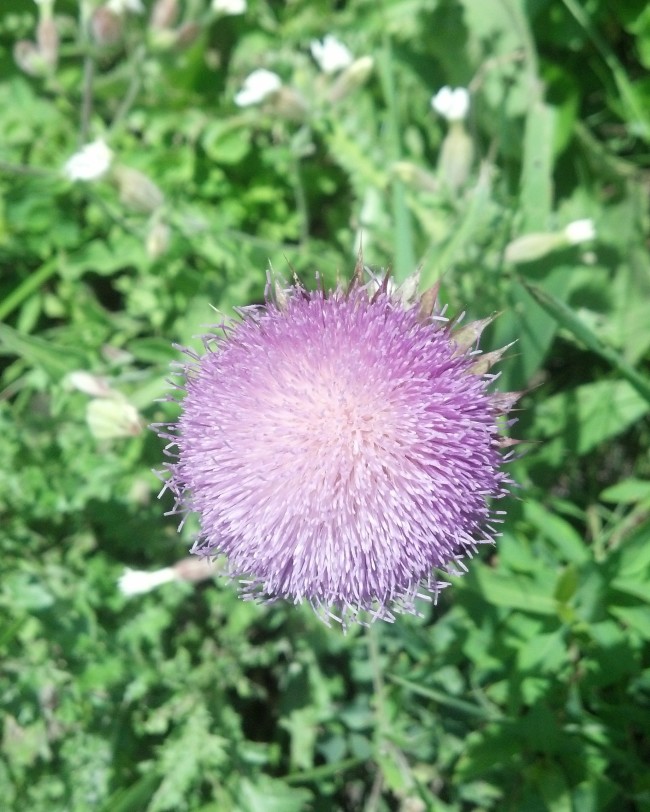 Leaves wave. My day lining up with this chapter.
God knew what He called Emily to write. God knew this chapter on seeing and the next on listening would align with lessons He desired me to learn. God reinforces as we read of other's journeys with Him. In the sisterhood of sharing, we see God's lessons lived out. Easier to follow when reinforced by this seeing and listening to others' tales.
Honestly, that's what I hope I can do with others. Share what God does in the hope that others – that you – see what is possible when we stop playing tug of war with God.
Had I tugged against God's will in order to obtain my way, I would have missed the beautiful blessings of a picture perfect day.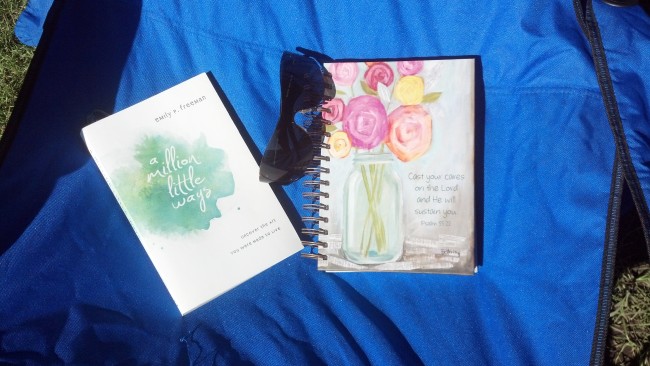 QUESTIONS & ACTIONS
Have you felt God calling you to something counterintuitive? If so, how does that make you feel? How can you act upon God's calling?
When's the last time you played tug of war with God? Why did you feel the need to control the situation? What did it take for you to realize you were playing tug of war with God? How did you stop? Or how can you stop if you are currently playing tug of war with God?
Perhaps God is calling you to His creation, the canvas He painted for your eyes to see.  Take a walk.  Bring a camera.  And take Him all in.
¹Freeman, E. (2013). A million little ways. 1st ed. Grand Rapids: Revell a division of Baker Publishing Group, pp. 101-102