Every day life teaches us lessons—if we'll let it. We need to pay attention, but that's a small price for wisdom revealed. As we slow down to hear what God has to speak to us, we see how He interweaves various threads of our life. Like a devoted teacher who prepares her curriculum for the year, God prepared our individual lesson plans long ago.
Rabbi, Teacher, You have much to tell. You have much to show. We have much to learn. In the pursuit to live our lives well, we are Your students for life. We sit in the classroom of Christ.
I can't pretend to understand all that God has done and will do in my life, or make sense of all the links—past, present, and future—that are sewn together. Perhaps one day in heaven I will get to see how every choice and decision I made were interconnected to end results. Timing imperative, as outcomes synchronize to actions I took or didn't take.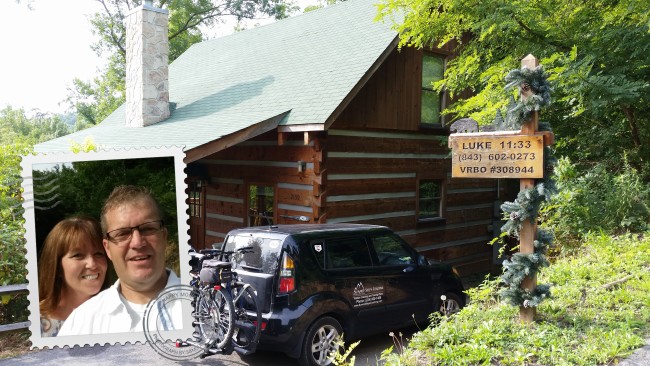 A number of months back, God led my husband and me to plan a trip to Tennessee. Typically, when we have a craving for a mountain get-away we pack up and head to Colorado. This year we deviated. We were given a different experience to compare and contrast – Rocky Mountains to Smokey Mountains.
Colorado is known for its days of sunshine. Its rays warm your skin, and even in winter one needs to wear sunglasses, because the light reflects brilliantly off the snow. Perched high atop one of Colorado's 14,000 foot elevation mountains you can see for miles.
In Tennessee there's often a murky mist that covers the mountainous terrain. Until the sun burns through the fog, visibility is impaired. Not knowing what might lurk in the mist that muddied our view made some days feel a bit eerie. It was what I couldn't see in the dark that made me leery. After all, danger lurked, real danger like bears and snakes and places I could lose my footing and fall if I couldn't see clearly.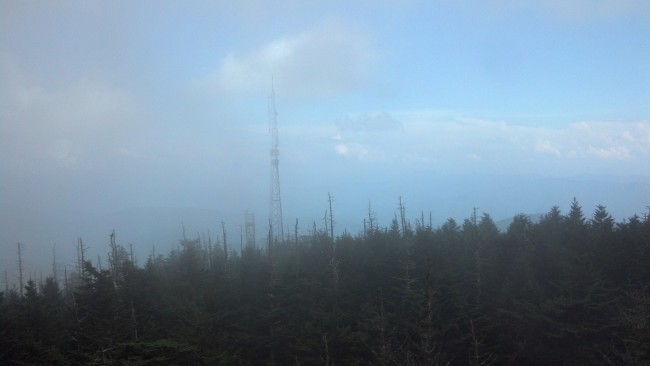 Contrast can teach us much.
As I sit writing, an unexpected storm rolled through. Torrents of rain poured out of the dark, murky sky. The glow of my computer screen shone insufficient, like a flashlight too small, to illuminate my office. In the darkened room, it became difficult to see. I got up and switched on the lamp.
It's this contrast between light and dark that God led me to explore while on vacation. Today's Monday's Marinate we look at light and its importance in our lives and in the lives of those we touch.
Before we can positively impact anyone else's life for Christ, we need to have a personal experience with Him ourselves. That experience needs to be ongoing. Like a solar panel that replenishes energy, time spent with Christ rejuvenates. We can't possibly radiate Christ's light until we have first-hand exposure to Him. Makes sense. We can't share what we don't have.
For you are my lamp, O LORD, and my God lightens my darkness.—2 Samuel 22:29 ESV
Just like the sun burns through the fog of the Smokey Mountains, Christ's light burns through the fog of our lives. Our failures and follies forgiven and forgotten as far as east is from west (Psalm 103:12). Sin no longer touches and tarnishes our soul, because we have said yes to Christ. He extends His free gift of forgiveness. And in so doing, Christ lights up the darkness that once dwelt in all of us.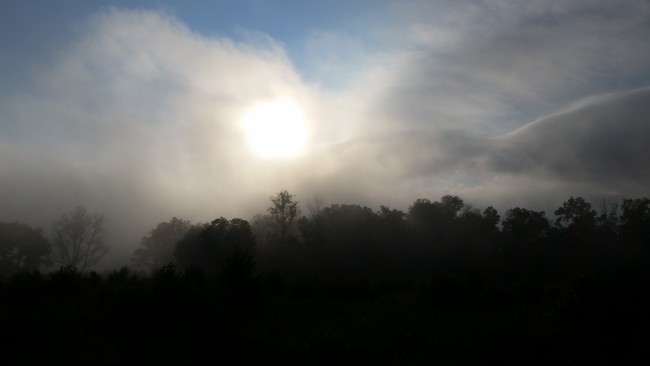 Darkness is daunting. Light makes life less scary.
While on vacation, we went on a cave tour. The stop in Kentucky broke up our trip and gave our legs a chance to stretch as we stepped deep beneath the earth's surface for a two hour cave experience. I'm a little claustrophobic and when the guide began talking about tight spots throughout I wondered whether I really wanted to take this adventure. What if panic set in? This wasn't an elevator that would stop at the next floor and open its doors in short time. No. I would have to endure two hours of torture if the walls started to close around me.
About half-way through the tour, we encountered a large opening. It reminded me of a room you might see in the Flintstones, a cavernous room that could host a party it was so spacious. There were over 100 of us gathered together as our guide informed us of everything cave-ish.
While deep beneath the earth's surface, all-of-a-sudden our guide switched off the lights. We were plunged into pitch black night, even though it was midday. As I held my hand in front of my face, I couldn't see it even though it was only inches away. The cave and all that was in it was darker than night. Like an ink spot, no contrast to differentiate one thing from another. No color. Dark didn't have one. Darkness needs light in order to reveal color and contrast.
Before electricity, miners carried candles into the cavernous abyss in order to light their way. Later they had oil lamps. But none of these sources of light can compare to the flame of Christ. Unlike those sources, Christ's light cannot be extinguished.
Without light we can't see beyond the darkness.
Thankfully, our guide turned the lights back on so we could safely navigate the rest of the tour. And here I thought I should be worried about tight spots, when all along it was darkness. But it was a great example of how quickly light can penetrate fear as we stand in darkness. In a moment, what had been plunged in darkness was infused with light. It was safe for us to proceed.
The same is true when Christ's light shines in the darkness. Instantly, it is safe to proceed. His light goes before us and we follow in the glow of His lamp.
What if we wouldn't have said yes to Christ? We'd still be sitting in darkness. The longer we dwell there, the deeper darkness gets.
Maybe you've never said yes to Christ. Today is not too late. Let His light guide you. There comes a point when we get fed up with stumbling in the dark. One too many stubbed toes from walking places God never intended for us to travel. He loves you and He wants to shine the light of His hope into your life. No more darkness. Let Him dispel it. Pray a simple prayer.
Jesus, please forgive me for all my sins. I have made mistakes and I have experienced darkness that I no longer wish to walk in. Please bring the light of your hope into my life as You lead and guide my steps for now and all eternity. Teach me how much You love me and help me to love as You do. Give me Your wisdom and power to live the life You intended for me all along. In Jesus name. Amen.
Tell someone you prayed this prayer and accepted Christ into your life. If you don't have anyone to tell, you can send me a private message and I will pray for you.
This leads me to more Scripture, and where God has been moving us toward.
"No one lights a lamp and then hides it or puts it under a basket. Instead, a lamp is placed on a stand, where its light can be seen by all who enter the house." —Luke 11:33 NLT
When we have Christ's light inside of us—and that's all of us who have said yes to Christ—we have a responsibility to let our light shine for others to see.
If you've just said yes to Christ, He wants you to tell someone who can help you on your journey. As you tell someone, you gain confidence and will be more willing to place your lamp on a stand for all to see. It means you're not ashamed to tell people you are a Christ-follower. As God's light transforms your heart, people will begin to take notice. They may even ask, What's different about you? That's your open opportunity to let your light shine as you tell them, I accepted Jesus into my heart as my Lord and Savior.
For those of us who have said yes to Jesus some time ago, we too have a responsibility. We need to continue to shine for the world to see. It's not so much what we say, although words do matter. It's more what we do.
Are you living your life in a way that glorifies God? Only you can answer that question.
"Make sure that the light you think you have is not actually darkness. If you are filled with light, with no dark corners, then your whole life will be radiant, as though a floodlight were filling you with light." —Luke 11:35-36 NLT (emphasis added)
Jesus calls us to have no dark corners in our lives.
Do you have any dark corners? Dark corners don't have to be glaring sin, although that could be the case.
What about days when we're not very joyful? A sour expression or mood certainly doesn't shine Christ's light. Who wants to possess something so dour? No one! Living your best life, full of joy, is a powerful gift you can give others. Wattage from a high voltage life can set the world on fire for Christ.
Perhaps you've allowed yourself to stay stuck in a pool of pity. Not moving forward is like sweeping the floor clean with forgiveness, and then leaving a pile of crumbs in the corner where confusion and chaos exist. Pity contaminates progress. Anyone can stay stuck. The power of Christ illuminates our path. Step into His light, move forward, and let your light shine.
Are you afraid to do something? When we're living in fear, we're dwelling in darkness. Christ's light casts out fear. It's His perfect love that does away with it (1 John 4:18). Fear only dwells in the recesses of dark corners. Sometimes, shedding light on our fears by sharing them with someone we trust and who can speak God's truth to us will sweep fear from those dark corners. Sometimes, it's God Himself who reveals the truth to us.
For instance, I was afraid to take a step toward a new goal. A lie lurked in my head. The lie said I was not a good listener. Therefore, I wouldn't be qualified for a role I'm considering. But then God stirred me to see the truth. He reminded me that I had been an excellent salesperson. In order to perform well in sales, I had to be a good listener. Thank You, Jesus, for picking up the broom and sweeping the dark corner of fear as I momentarily believed the lie. I had feared I wouldn't be capable.
If I would have believed the lie, I wouldn't have been in pursuit of living my best life either. Another dark corner I would have had to sweep out over time as Christ shined His light upon the situation. That's at least one of the advantages of seeking Him every single day. I didn't get sent too far down the wrong path; He gently drew me back to where He wanted me.
All of these lessons are pieces of the fabric Christ is weaving in my life. The choice to choose Him led to a life in pursuit of fulfilling His purposes for me. In that, there is hope and joy and great pleasure. There's stretching. There are smiles and sometimes tears too. Growing pains. But like light helps plants grow, His light helps me grow as well. These are but a few of the lessons taught in the classroom of Christ.
Did anyone notice the name of the cabin my husband and I stayed in?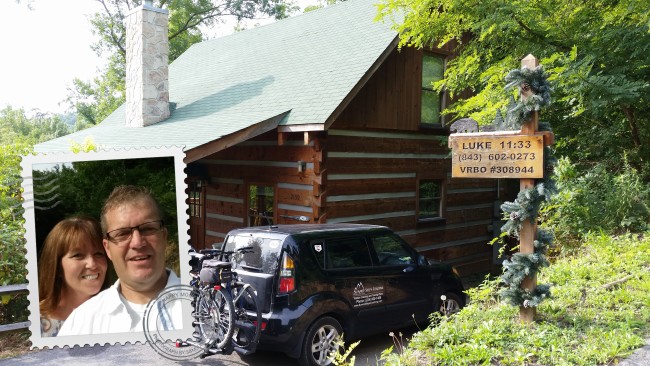 Luke 11:33
No one lights a lamp and then hides it or puts it under a basket. Instead, a lamp is placed on a stand, where its light can be seen by all who enter the house." —Luke 11:33 NLT
When we say yes to Christ and let His light shine forth, there is a world of opportunity open to us. Everything is interconnected.
My prayer for us all is that there will be no dark corners in our lives. I pray our whole life will be radiant, as though a floodlight were filling us with light. Let your light shine forth brilliantly for the world to see and desire to know Christ by the love and joy you exude as you live a life full of purpose and passion for all that is good and pleasing to the Lord. In Jesus name. Amen.
QUESTIONS & ACTIONS
Ask God to reveal any dark corners you have in your life that are diminishing your light for Christ.
How can you live a high voltage life that sets you and the world on fire for Christ?
Take one immediate step toward living a high voltage life today.
Sit down over the next week and write 3 more steps you can take to pursue a high voltage life with Christ. Assign timeframes to accomplish each step.