When we see a greater purpose to our calling, we are more likely to carry it out. We have limited amount of time here on earth, and it's important we do what we can while we're here. Often, we think we'll get around to this or that tomorrow. But what happens if tomorrow never comes? I don't want to leave any cards face down on the table, not played. I don't want to miss the opportunity to have a full house.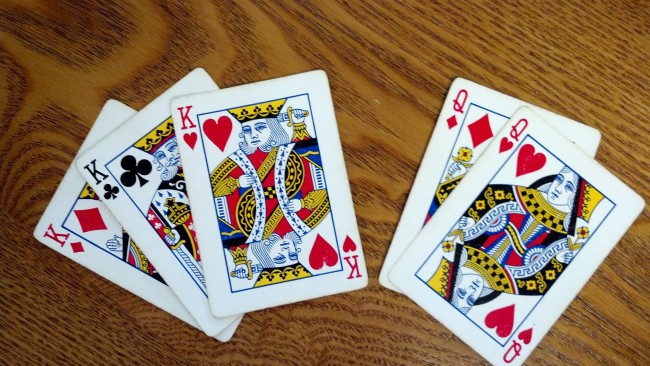 Today's Monday's Marinate we explore an example of people who assumed they had all the time in the world.
The word of the LORD came to me: "Son of man, the Israelites are saying, ' The vision he sees is for many years from now, and he prophesies about the distant future.'

"Therefore say to them, 'This is what the Sovereign LORD says: None of my words will be delayed any longer; whatever I say will be fulfilled, declares the Sovereign LORD.' "—Ezekiel 12:26-28 NIV (emphasis mine)
Ezekiel was a prophet God entrusted to speak wisdom and warning to Israel. He was one of the chosen few during the Old Testament era who had the Spirit of the Lord come upon him. (Ezekiel 2:2) Ezekiel possessed closeness with God that was rare for his time and circumstance. He was a man of God committed to carry out all God commanded of him. And Ezekiel's task was no easy one.
People didn't want to hear what Ezekiel had to say. But his inability to convince people to change their ways had nothing to do with his effectiveness as a communicator for God. Some people just don't want to give up their sin, so they stop up their ears and say they can't hear you. They are perfectly content to live the lifestyle they believe will lead to their happiness. That's what the Israelites did. Earlier in Scripture, God forewarned Ezekiel that people wouldn't listen to his message, yet he was to deliver it anyhow.
The word of the LORD came to me: "Son of man, you are living among a rebellious people. They have eyes to see but do not see and ears to hear but do not hear, for they are a rebellious people.—Ezekiel 12:1-2 NIV
Israelites were so deceived they would rather believe corrupt leaders who plotted evil and gave wicked advice than listen to the word of the LORD as delivered by God's messenger, Ezekiel. (Ezekiel 11:2) These corrupt "leaders" judged themselves better than others as they spoke poorly of their fellow Israelites who had been captured and exiled to Babylon.
The corrupt leaders were a poor example to follow, yet Israel trailed behind these men of bad influence like baby ducklings following their mother across a busy street of cars. They were being led to their demise.
God used Ezekiel as Israel's crossing guard, to show those who would listen the way that led to their safety. Follow God and His commands. In fact, God went out of His way to ensure Israel would see and hear what He had to say through Ezekiel. Not only was one of Ezekiel's tasks to deliver messages through the spoken word, he was often called to unbelievably difficult tasks.
Imagine what you would do if God asked you to lie on your left side for 390 days as means of reaching others. The 390 days symbolized the number of years Israel had sinned. (Ezekiel 4:5) God had been patient, long-suffering of Israel's sin.
During the time Ezekiel was called to lay before the people, he was only allowed to eat bread prepared with specific ingredients and baked over excrement. I know. Gross. Right? But God prepared Ezekiel in advance for what his calling would entail. It was going to be a difficult assignment full of sacrifice on the part of Ezekiel. Eat the same bland food for over a year. Cook his food source over cow waste. All the while trying not to let his left arm cramp up or get an Old Testament version of a bedsore from laying on his side for over a year. That's a tough calling.
We think we have it bad. God has asked me to do difficult things, but never anything like Ezekiel had to go through. Why would God ask Ezekiel to make such a personal sacrifice?
First of all, God knew Ezekiel loved Him and would do what He asked of him.
Do you love God enough to do all that He asks? Obedience is not always easy, but there's always a bigger purpose to the difficult things in life that God calls us to. Sometimes there are lessons for us. Sometimes the lessons are for others. Sometimes the lessons leave a legacy greater than we can imagine. What an awesome thought that perhaps our hands have touched someone in a way that touches them for Christ. Sometimes we don't even know who, how, or how much.
Second, God wanted to convey His message in a compelling manner, because He knew what was at stake. If the people of Israel did not repent and turn from their sin, at some point their evil behavior would affect their eternal destination.
Yes, God had been patient for 390 years, but the Israelites weren't hearing what He had to say and, in fact, they worshipped other gods. God had delivered Israel many times and this was His payback – disregard by His people. Even still, God wanted to give each person every opportunity to turn to Him, for their sake and for generations to come. So much so that in another instance God commanded Ezekiel to pack his belongings for exile in the daytime where Israel could not miss seeing what God attempted to convey to them through Ezekiel's actions. Several times, God said "During the day", "During the day", "During the day" or some version of those words. (Ezekiel 12:3, 12:4, 12:7) God was hopeful as He said…
Perhaps (Israel) will understand, though they are a rebellious house.—Ezekiel 12:3b
God desperately wanted them to see. Desperately.
Third, God used Ezekiel to demonstrate His love for Israel all along.
Ezekiel had prophesied countless times and with great personal sacrifice. God would use those experiences to convey to Israel—and thousands of years later to us—what great lengths God will go to so that no soul is lost.
I love the picture God places in the midst of prophecy when He says this,
When any Israelite sets up idols in his heart and puts a wicked stumbling block before his face and then goes to a prophet, I the LORD will answer him myself in keeping with his great idolatry. I will do this to recapture the hearts of the people of Israel who have deserted me for their idols.—Ezekiel14:4-5
Israel deserted. God desired. He desired to recapture their hearts.
To recapture something, one needs to have once possessed it. God had their hearts once. Something must have hardened them. Perhaps, it was indifference. Perhaps, He had been too good to them and they mistook all their blessings from God to be personal accomplishments. Maybe they had become self-sufficient, not needing a Sovereign God to guide them. Sometimes when we have things too easy in life, it's too easy to turn our back on God. If that's you, don't break God's heart. All He wants is to recapture yours.
There's another picture of God's love in Ezekiel's call to carry out difficult tasks. I don't have specific Scripture to back this up, but I do have a personal example.
During my high school years, I remember two sisters who loved Jesus. I played field hockey with them. During down time at practice, the sisters would sit on the bleachers, Bibles splayed open. I thought their behavior was the strangest thing. I thought they were the strangest things!
They didn't verbally preach to me from the bleachers, but in their silence they preached. Mind you, I didn't hear the message. Just. Like. The. Israelites! (Specifically the ones who made fun of Ezekiel.) I made fun of these girls behind their backs. Believe me when I say this … I've repented! I feel horrible about how I taunted God's daughters who were only sitting, spending time with Him and causing me no harm what-so-ever … except perhaps to convict me of my sin. I'm sure God wanted me to look at my sin. Not to be mired down in it, only to know that it existed and that I needed Him – my Savior.
I need to restate an earlier comment.
When I said I didn't hear the message God gave those girls, I should have said I didn't hear the message God gave those girls to deliver to me until YEARS (decades) later.
When I have wondered why God didn't reach out to me sooner, I see He had – many, many times. He reminded me of this incident and then God said,
See? I have loved you all along. I tried to reach you then. I tried to reach you several times. I have loved you all along.
This is why our obedience to our calling is important. When we share Christ with others in whatever way Christ calls us to, He uses it as a message of love for all those who need to hear it. In this world, sadly, there are many people who don't feel loved, and if we have to be uncomfortable from time-to-time we should consider it a privilege that God trusts us enough to help carry out His plan. The closeness Ezekiel felt to God, we all can feel. Ezekiel loved God, because God loved him first. Just like us.
Love is an action. Ezekiel demonstrated his in obedience.
Maybe you are like I was, sitting on the sidelines for a long time. I didn't participate in God's plan for my life. I went my own way. For quite awhile I was self-sufficient, successful even. Or so I thought. Ultimately, I saw something better, something more permanent I wanted in my life. To be more correct, Someone. Finally, I realized I needed a Savior. I was sick of trying to do everything on my own. Quite frankly, it was exhausting! Keeping up appearances. Trying to be someone, not realizing I already was. For a woman who prided herself in her independence, I didn't realize I was not independent at all. I was completely dependent upon the control I thought I had in my life. I'll let you in on a little secret. There's no such thing! It's like a magic trick—all illusion. That bears repeating.
Assuming you have control over your life is like a magic trick—all illusion.
The word of the LORD came to me: "Son of man, the Israelites are saying, ' The vision he sees is for many years from now, and he prophesies about the distant future.'

"Therefore say to them, 'This is what the Sovereign LORD says: None of my words will be delayed any longer; whatever I say will be fulfilled, declares the Sovereign LORD.' "—Ezekiel 12:26-28 NIV
Eventually, Jerusalem fell to Babylon just as God told Israel would happen through His prophet Ezekiel. Perhaps Israel thought they had plenty of time. It sounds like it. "The vision he sees is for many years from now". It might feel that way. Eventually, time runs out.
In part, salvation is the certainty of knowing we will spend our time in heaven—forever—with Jesus and our loved ones who have left this earth before us. There's one God and only one way to get to heaven. It's through Him.
In terms of salvation, we have until our last breath to accept Christ into our heart before it's too late. The problem in waiting is we never know when our last breath will be.
Now listen, you who say, "Today or tomorrow we will go to this or that city, spend a year there, carry on business and make money." Why, you don't even know what will happen tomorrow. What is your life? You are a mist that appears for a little while and then vanishes.—James 4:13-15 NIV
God wants His house full. Let's not leave any of our cards on the table.
QUESTIONS & ACTIONS
Have you ever rebelled from God like the Israelites?
What was the root of your rebellion? What did God teach you from that time?
How can you grow your obedience to Christ? Take one practical step.
Have you ever thought of your obedience in terms of playing a role in God's love letter to someone else?
Are you willing to participate even if you never see the impact you made (like the girls from my high school)?
Perhaps one of your steps to obedience is to say "yes" to Jesus. If so, here is a simple prayer you can pray and know with certainty that you will live forever with Jesus.
Jesus, please forgive me for my sins. Help me to grow in wisdom and purity in the knowledge of your purposes for my life. Thank you for loving me so much that you pursued me, even when I turned my back toward you. The reality that you want to capture my heart shows me how much you truly do care. I'm just now beginning to understand how much you desire a relationship with me. Reveal more of what a relationship with You looks like. Lead and guide my steps and show me the way to my eternal hope in You. In Jesus name. Amen.
You can send me a private message if you would like. I'd be happy to pray for you and correspond about good next steps that will help you on your journey as a Christ follower.