Nearly six years ago now, I found myself in a place I didn't know how to find my way out of. My life was unraveling in ways I couldn't have imagined. Like a cat trapped in a paper bag, I scratched and clawed and tried to escape from an environment that frightened me.
Being a story teller, I have a vivid imagination. However, I couldn't have foreseen all the plot twists and turns that came from such a tumultuous time in my life. As much as I love writing stories, God, authors one greater in each of us than our imagination can muster. He'll give us the adventure of a lifetime—if we let Him. It requires sweet surrender on our part. Surrender that first time we feel brave enough to say, "Yes" to Jesus. Surrender each day as God guides us through. Surrender requires trust which comes in spits and spurts and grows over time.
Before I knew I could trust God, I stood silent in the shower. I held my head under the flow of water as I let it pour over my face, eyes closed, head tipped back. The water from my well married with the well of salty tears from within. The tears I never let others see. The ones God ultimately wiped away. God brings joy in the morning if we'll join Him.
As I stood in the shower the morning that feels forever-ago, I asked God for help. Four letters. Not even a complete sentence.
It's all it took for God to step in. Even before I said "Yes" to Him, God ran to my side in that shower where all seemed hopeless. Hope ran in to help.
Every dingy part of my life— the sin that tainted, the pain that was palpable—the enemy determined to destroy me without mercy. Like a mercenary, he was in hot pursuit.
But Hope ran in, in the form of our heavenly Father.
I don't think it's by accident that God met me in the shower. It's where He began my cleansing process. He was on a mission to wash away all my sin, to make me righteous because He is righteous and His blood cleanses us all from our sin.
It would take almost a full year of God showing me who He is, was, and will always be—faithful, loving, & trustworthy—before I would be brave enough to let Him take control of my life. He wasn't controlling and manipulative like I had sometimes encountered in people. He was nurturing and caring (still is) as He carried my heart. Gentle. Because I was still so fragile.
He opened the door and welcomed me in.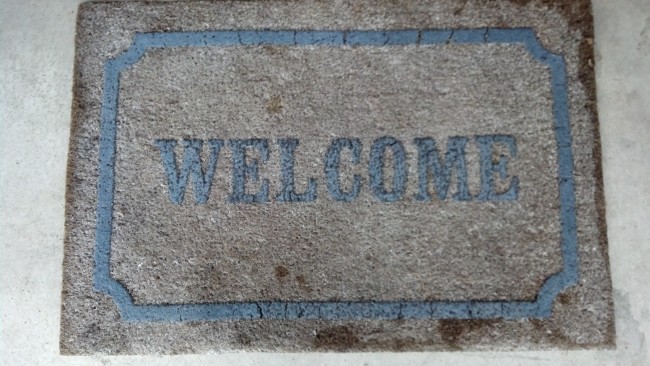 As I crossed the threshold to His house, the welcome mat He set out for me gathered all my dirt and grime. We wouldn't be carrying that. Just like He washed the disciples' feet clean, Jesus did the same with me when He opened His door with great hospitality and welcomed me into His kingdom.
Right away I felt new, even though it would take awhile for my actions to match up to the way I felt inside. I was new. I just knew it. Belief before it was believable. Because God said so. His Scriptures would speak it meaningfully into my heart.
So what do we do when we've participated in such a grand welcome?
Today's Wednesday's What-Not we'll see what God wants.
Not too long ago, I was wrapping up my quiet time when the doorbell rang. I was home alone, other than my trusty companion Stewart. Since he's not tall enough to reach the door, checking to see who could possibly be stopping over so early in the morning was up to me.
Normally, I would hide. I was in my pajamas, barely through my first cup of coffee. Heaven only knows what condition my hair was in, as it had yet to see the back side of a brush. Like men at work (only they would have been late still drinking their first cup of coffee and all), I wondered Who could it be knocking at my door?
Something inside of me said, See who's there.
As I pulled open the door and peeked through the screen, I was greeted by a strange sight. Before me stood a woman I didn't know, head turbaned in a towel. Standing beside her was a cute little boy. It's not every day someone stops by with a towel on her head, so that shook me alert.
I must have given her a curious look, because she began to pour out her dilemma.
I'm Carol* and this is Scotty*. I'm Scotty's grandma and we accidentally got locked out of the house.
She pointed to the townhome her granddaughter lives in. They are renters, so I don't know them well, other than in passing. As Carol continued to explain her situation, I ushered her inside. No sense her standing on the stoop in a towel. Poor thing! She stood in my entry way and continued to explain.
Apparently, Scotty wanted a toy he had left in the car. Carol had just gotten out of the shower, walked outside, hair wrapped in what looked like a terry-cotton blend. She thought it would be a quick errand to grant her grandson's wish for Jake the Pirate. Pursuit of the action figure caused a chain reaction.
When Carol went to open the door to get back into the house, nothing happened. The knob wouldn't turn. Scotty must have locked the door without Carol seeing him do it. So there they stood first on my stoop, then in my entry way, seeking help. Slightly panicked, grandma saw my living room light on and so we came to meet that morning.
To make matters worse, Carol didn't have a cell phone. It was inside the house. Here she was responsible for her grandchild, and she was beside herself. You could see it. She was pretty upset.
To add another layer of interest, Carol didn't know anyone in the area. She didn't live near here, so she couldn't reach out to a friend for help.
I believe God led her to my house and He led me to help her. As I said, I normally wouldn't have answered the door based on my unsightly condition. Thankfully, I had at least brushed my teeth!
I even had something to occupy her grandson. Remember the toy they were in pursuit of? Jake the Pirate. I just so happened to have a large coloring book of Jake the Pirate. Mind you, I have no little children at home, but I do have a friend whose little boy also likes Jake the Pirate. I had purchased the book for when he visits.
Little Scotty occupied with pictures and colored pencils, Carol and I tried to track down Scotty's mom to determine a plan of action. After several attempts to reach Scotty's mom, we finally found her. Mommy was pulled out of a meeting, and a plan was hatched as to how to get back into their home.
Carol thanked me profusely. I assured her there was no need. It hadn't been a big deal. I did hope she saw the cross on my wall, or perhaps the verse that greets everyone who enters my household, Jeremiah 29:11. I hoped she saw Christ helped her out, because it's Him in us that generates any kindness. He prompts us to take action.
So what does God want when He welcomes us into His home?
He wants us to open up our homes in hospitality and our hearts in love. He wants us to have compassion toward others. Like a mom who teaches her child how to share and play nicely with others, God calls us to do the same. It is how others will see Him and know that He is real. And it doesn't have to be a big deal, as was the case with what He had me do. It took only a little time, but it meant a lot to Carol. God knew it would.
I wasn't expecting a reward. After all, it was nothing. A small gesture. I couldn't have anticipated the gift I would receive for doing what I felt anyone would do. But that's just like God, to give us a reward for following Him and being His hands and feet. In the helping, He often wants to touch our hearts too.
The best part of the gift was the letter I received from Carol. She also enclosed a gift card to Olive Garden. Neither of which was necessary.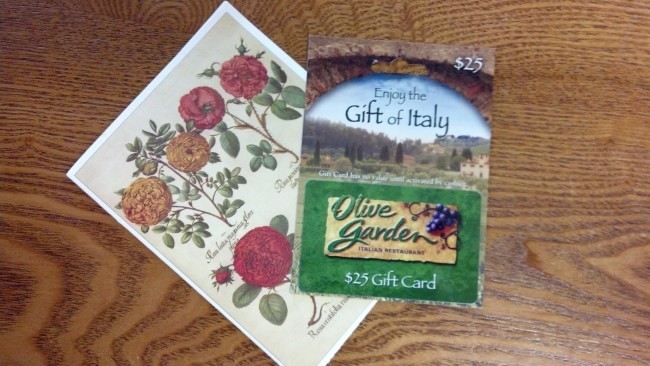 What I found interesting were sentiments she shared about the world. She didn't believe many people in the world would have helped her. That's not how people are anymore. Neighbor doesn't necessarily help neighbor.
Sadly, there's a bit of truth to what Carol wrote. But that's an opportunity for all of us who call ourselves Christians. It doesn't take much to be seen as different.
Just as God set out His welcome mat for each of us as He ushered us into His home, we have a similar opportunity to lay out the welcome mat for all who need a little help. Remember? That's where my journey started with Him.
Help.
Welcome others into our time. Welcome others into our hearts. Welcome others into our homes. As we do, they have the opportunity to meet the One who is in us. He wants to welcome them into His home and perhaps He wants to use you as the catalyst to lead them there.
Welcome one. Welcome all. For God so loved the world. That is our call.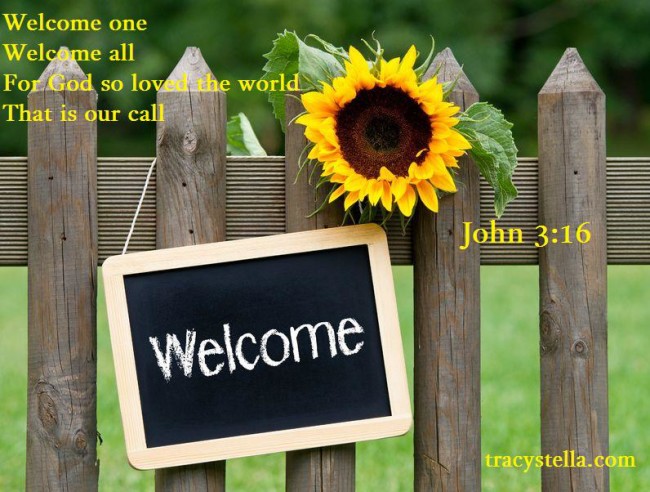 Love is an action and it doesn't take much to set off a chain reaction. There's sweetness in the small things. Give what you've got. You'll be amazed at how God uses it!
QUESTIONS & ACTIONS
Extend a kindness to someone today. Help someone see how much God wants to welcome them into His home.
* Names fictionalized.