Sometimes a word encountered in Scripture arrests. It causes more than a moment's pause. Curious as a kitten, I scratch beneath the surface to get a better look. Truth uncovered as I wade through God's Word in pursuit. Tell me more. What does this mean? So often, that is where my journey to understand God and His purposes begins. Questions arise as I read God's Word. Why is that there? Why did God say it that way? How can I understand this better? Teach me, Lord – and help me not to get overwhelmed or confused.
How often that is my prayer! Sometimes the deeper I dig, the more I think, Help me to make logical sense of all this. I might have jumped off the deep end of the pool … and cats can't swim all that well. Help me get to the shallow end of the pool, the part that's easier for me to wade in.
Sometimes I feel like I need to do the backstroke and swim to where I started. I'm in over my head, I tell God. He reassures me, because He knows I am a little like Moses and need it! I'm not qualified.
But I know the One who is.
I don't know if you ever feel that way (please tell me I'm not the only one). I suppose it's okay if we do. We're pursuing God and I'm sure that pleases Him. And when we get in over our heads, we can lift our hands up to the Lord and ask Him to lift us – and our understanding – up. I'm going to need His heavy lifting today!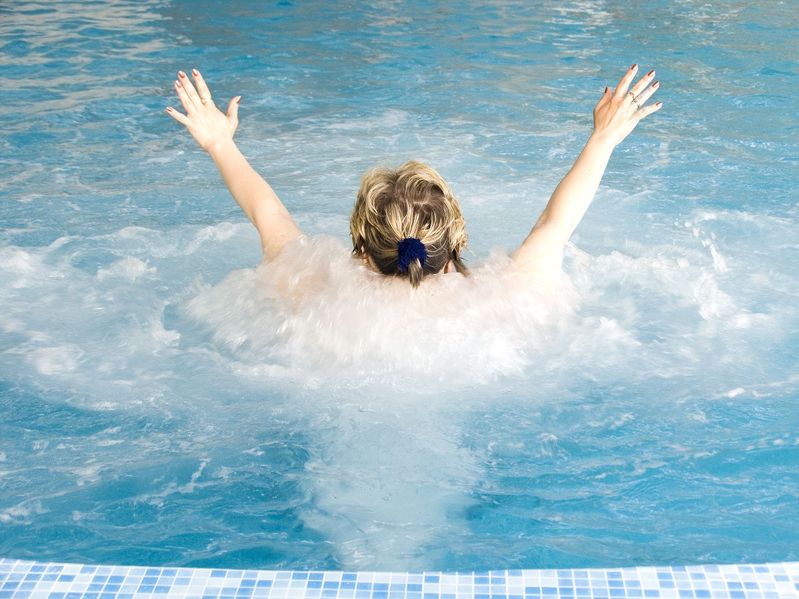 God reminds me. He'll help make sense of it all.
Let's get to today's Monday's Marinate as we keep our heads above water and find out what it means to desecrate.
Like a lifeguard counts heads above the water's surface, we can count on whenever the same word is used in close proximity to itself in Scripture, we should pay attention.
As I stumbled through Ezekiel, I did just that.
The Lord speaking said,
"Yet the people of Israel rebelled against me in the desert. They did not follow my decrees but rejected my laws — although the man who obeys them will live by them — and they utterly desecrated my Sabbaths. So I said I would pour out my wrath on them and destroy them in the desert."—Ezekiel 20:13 NIV (Emphasis added)

"Also with uplifted hand I swore to them in the desert that I would not bring them into the land I had given them — a land flowing with milk and honey, most beautiful of all lands — because they rejected my laws and did not follow my decrees and desecrated my Sabbath. For their hearts were devoted to their idols."—Ezekiel 20:15-16 NIV (Emphasis added)

"But the children rebelled against me: They did not follow my decrees, they were not careful to keep my laws — although the man who obeys them will live by them — and they desecrated my Sabbaths. So I said I would pour out my wrath on them and spend my anger against them in the desert."—Ezekiel 20:21 NIV (Emphasis added)

"Also with uplifted hand I swore to them in the desert that I would disperse them among the nations and scatter them throughout the countries, because they had not obeyed my laws but had rejected my decrees and desecrated my Sabbaths, and their eyes lusted after their fathers' idols."—Ezekiel 20:23-24 NIV (Emphasis added)
That's some heavy stuff. Wrath. On the spectrum of anger, that's high on the scale. Like the chart you get when the ER nurse asks you to rank your pain as she points to faces that grimace, 1 being slight and 10 being unbearable, wrath may very well be a 10.
The Israelites had completely disregarded all that God had done for them. They didn't pay one bit of attention to what He had commanded them to do — they pursued their own desires. Worse than that, they desecrated the Sabbath. If God is holy, and He is, how could they dare do such a thing? That certainly doesn't sound wise. None of us would want to be on the receiving end of God's wrath. What was Israel thinking?
Perhaps one might be tempted to think, Isn't God's reaction a bit extreme?
No. It is not. Let's look at what desecrated means, exactly.
What does Merriam Webster have to say about desecrated? :to damage (a holy place or object) : to treat (a holy place or object) with disrespect.
But you ask, Isn't God merciful? Yes. He is. He is a forgiving God. But let's not forget He is a God of justice as well. If a person's heart is unrepentant for their misdeeds—their sin— God has something to say about that. And we want Him to. In a world that is uncertain and can feel frightening to live in sometimes, I need to know that I can count on God to be a God of justice. I need to know that if someone will never feel remorse, God won't stand for the sin that evil hands commit. That understanding is how I can bear to watch the news sometimes—especially these days. Otherwise, I might sit in front of the TV in tears for all that is wrong in the world and wring my hands with worry. I don't need to do that, nor does God want me to. When I don't know what to do (and that's often), I pray.
Prayer is active. It is not idle. It shifts the spiritual world, and often God gives us instructions to act upon during times of prayer.
I don't pray God's wrath on people (of course). I pray people repent. I pray they turn from horrific sin and turn toward God. I pray it for them and I pray it for their victims. But if violators don't or won't seek forgiveness from God, I need to know there is a penalty the perpetrators in the world have to pay. I don't need to execute judgment. That is God's job.
One day we will all be held accountable to God as He keeps the scales of justice perfectly balanced.
As God's children, we are His holy place. Our body is His temple and we possess the Holy Spirit, God Himself, within us if we have accepted Jesus as our Savior. If someone harms one of God's children, I believe that infuriates God. He didn't put us here to harm one another. He placed us here to help one another. The command He gives us today, in New Testament times, is to love God and love one another (John 13:34). Long ago He said, "It is not good for man to be alone" (Genesis 2:18). But just like He never intended for Cain to murder Abel, God never intended for us to harm one another either.
The atrocities committed against Christians throughout the world are not unnoticed and will not go unchecked by God. Join me in praying for persecuted Christians and their perpetrators across the globe. They are desecrating God's holy place—His people. God won't stand for that forever. Free will gives evil the choice to select eternal hell. One day their sentence will be executed.
As we read or hear about churches getting blown up or burned down, we have to believe this infuriates God too. A church is not just a building; it is a holy dwelling, a sacred place that should never be desecrated. The absolute disregard shown to our Sovereign God astounds me. It saddens me. I wonder, How does a person arrive to a place where they think this is okay, warranted even?
God leaves the messages of wrath in Scripture as warning. He is a God of love and doesn't want one soul to perish. Telling us what will happen if we don't turn from sin and turn toward Him is an act of love. I pray people's eyes and ears are opened to the truth contained in God's Word. I pray they would see the warnings throughout Scripture intended to give us all a home with the One who wants to save every last soul and give us a place in His kingdom, co-heirs with Christ (Romans 8:17).
In Proverbs, Scripture says…
He who listens to a life-giving rebuke will be at home among the wise.—Proverbs 15:31 NIV
NIV Bible translators chose desecrated as the best English word from the original Hebrew châlal (pronounced khaw-lal). Other translations used words such as defiled, profaned, polluted, greatly polluted and despised—to name a few.
God's enemies of today certainly despise who He is and what He stands for. I don't understand such violent anger toward a loving God. Yet it exists. And not just across the globe. America too. And we should know better sitting in such a blessed nation. One nation under God indivisible with liberty and justice for all. I pray we once again become a nation known for being "under God and indivisible".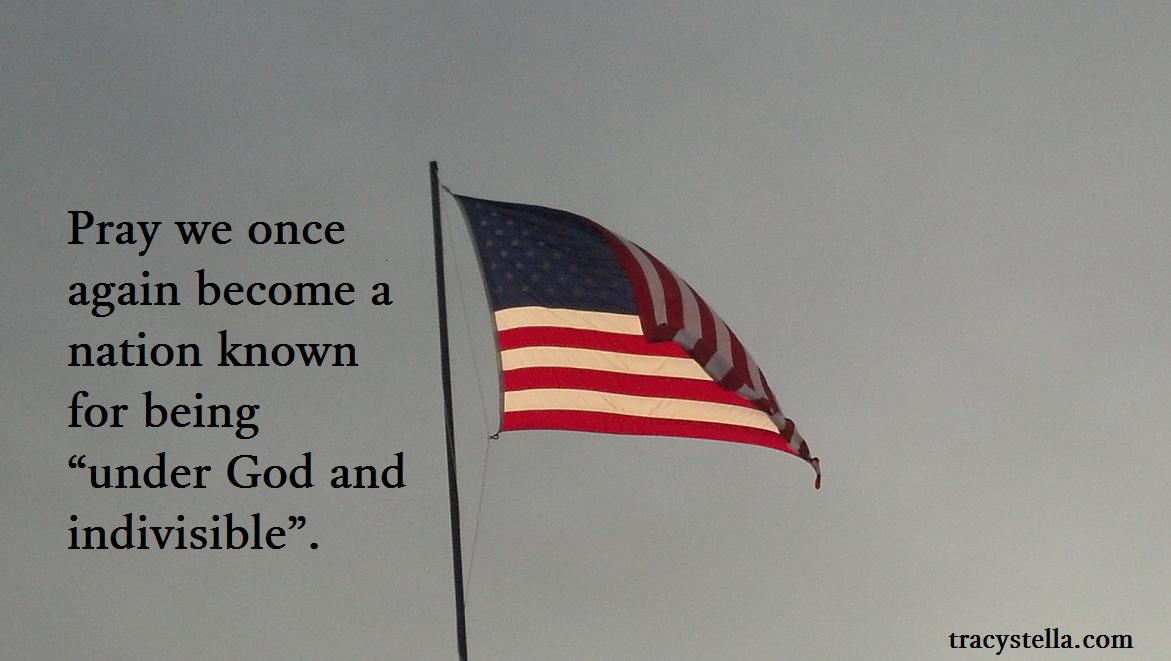 DID YOU KNOW?
In response to communist threat (1954), President Eisenhower encouraged congress to add the words "Under God" to the Pledge of Allegiance?²
Not only God's enemies risk desecrating God. Pollution, in particular, leads me to think of Christians who need to take care not to desecrate God and His holy places. We can pollute with our words, with our thoughts, and with our sin. Like a swimming pool in need of chlorine, our sin contaminates us and others. Christ's blood covers us with His grace and mercy, but we shouldn't take those for granted. We should strive to live our lives (in God's strength) in a manner that is holy and pleasing to God.
If you love Jesus like I love Jesus (and if you've read this far I have to believe you do!), there's another incentive to live our lives holy and pleasing to God. We need to scratch just a little more beneath the surface in our word study.
The answer is held in the Hebrew definition for châlal (pronounced khaw-lal) from Strongs. Here are a couple of the definitions in reverse order.
"The third meaning is to profane or to defile, which is used primarily of the ceremonial objects of worship; of the Sabbath; of God's name; of God's priests. However, it also refers to sexual defilement; the breaking of a covenant…" (Covenant is a promise.)
"The first meaning is to pierce or wound, either physically unto death or figuratively unto despair.¹
As I thought about the Hebrew definitions, I also thought about wrath and why God might have been so angry at the Israelites. I'm only looking at this from my human perspective, which is very limited. With that in mind and understanding this is my thought alone (that's my disclaimer), I considered when I get most angry. In the past I would have classified my pre-sanctified reactions as fury at times. My anger was a symptom of something deeper. I had been wounded. Rather than show I was wounded, I showed anger. I'm not projecting my action—>reaction response on God. What I am saying is— it made me think.
I don't want to wound God. He's done too much for me. He's already been pierced for my sin, and yours, when He was placed on the cross. Where I'm sitting, it feels like a sacrifice too high. I know it was necessary; I just don't want to inflict any more pain upon Him than He already bore. Something to think about. Our sin does sadden Him. I don't want to grieve the Holy Spirit and I know our sinful nature can do that.
We are called to honor God in all we do and in all we are. That might feel hard at times, but He even helps us to do it. Even though I am well-intentioned, if I had to rely solely on myself to carry this call out, I know I couldn't. Thankfully, I don't have to. We have a Savior that helps us walk in a way that is pleasing to Him.
By the way, I still get mad today as a Christian; it just looks different after God has helped me deal with the emotions roiling. Most of the time it involves me saying Jesus please help me in my head 100 or quite possibly 1,000 times. *Smile* With God all things are possible. *Bigger smile*
Since the biggest call to action I felt compelled to give was for prayer, I'll leave you with this Scripture. God is speaking.
"I looked for a man among them who would build up the wall and stand before me in the gap on behalf of the land." Ezekiel 22:30a
My brothers and sisters, let's stand in the gap.
QUESTIONS & ACTIONS
Choose at least one area to pray for. If you have time to pray for them all, pray through the list as God directs.
Pray for persecuted Christians and their perpetrators. Make them a priority today in your prayer life.
Pray that the world would not desecrate God, His people, or His places.
Pray that Christians would not let sin pollute their lives. Ask God to place specific people on your heart to pray for. Use your spiritual authority to pray and help them break free from sinful behavior.
Pray America would once again become known and act as "one nation under God indivisible with liberty and justice for all".
Pray for our leaders, that they take godly action and seek God for council in leading and guiding our nation. Pray for divine wisdom for our nation's and our world's leaders.
Pray all of these in the name of Jesus, the name above every name.
¹Strongs, James, LL.D.,S.T.D. Expanded Edition Strong's Complete Word Study Concordance. Chattanooga: AMG Publishers, 2004.
²Available at: http://www.ushistory.org/documents/pledge.htm [Accessed 05Sept.2014].