I felt compelled to share with you a letter I wrote to a friend. It's a bit informal, and not at all frilly. In fact, grammar flew straight out the window, because, really, among friends we can be more forgiving of such formality. Sentence fragments quite okay in our everyday every day.
Today's Wednesday's What-Not let's look at this letter amongst friends. Without further ado …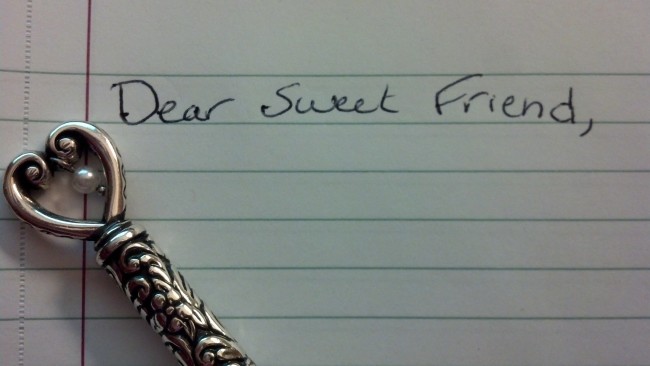 My Sweet Friend,
I was thinking about the question you posed as to why I am so enamored with God's Word. You see me and the changes in my life and it all probably feels a bit confusing. Honestly, if I sit and think about it all for any length of time and consider the life I live now, it boggles my mind too. But here's the thing, I wouldn't trade any of who I am today and what I went through to get here for who I once was. Never. Not on my life!
Why such fervency? Because God's Word reached in and saved me from being consumed in a fiery furnace for all eternity. I didn't even know what was at risk—my eternal destination—before I began reading. Oh, I had some soft sense of it, but I had blinders on and couldn't see how desperately God wanted to save me—all of us, actually. And so, He left us these beautiful words crafted upon the page from a heart that swells with love for us all.
When I finally collapsed into God's Word, I found great comfort there, a soothing for my soul I didn't know was possible. He healed my broken heart. He touched my wounds ever-so-tenderly through His Word, wounds too sensitive for human touch. His Word brought healing, restoration, and ultimately redemption.
Best of all, I know I am deeply and profoundly loved and known by God. He has shown the sweetness of His love for me through His Word. His Word teaches me and guides me each day. As I've learned of His love—and felt it firsthand, I  have grown to trust Him. You know how huge that is! I was terrified to trust. But the Truth in God's Word helped me to be able to take the chance.
I've learned of God's faithfulness to fulfill His promises He made sure were penned in permanent ink upon the pages of Scripture— for that, I am forever grateful.
My friend, I hope and pray you know and experience the sweetness of our Savior through the Scriptures.
Love,
Tracy
Oh, taste and see that the LORD is good; Blessed is the man who trusts in Him!—Psalm 34:8 NKJV
While this is a letter I never actually sent, I would send it and I guess I kind of am right now—to you— all my sweet friends whom God leads to read this. The letter was inspired as part of a Bible study I am participating in called, Children of the Day.
If you have a moment, listen to the song Forever by Chris Tomlin. Truly, it's God's desire we taste and see Him and all His goodness, so that we are safely tucked with Him for all eternity. You won't want to miss it my sweet friend!
QUESTIONS & ACTIONS
Listen to the song Forever and think about what a forever-life with Christ will be like.
If you don't know Christ and don't want to miss being tucked away with Him for all eternity, pray this simple prayer. Lord, I long to know you and the love you have for me. Help me to know how much your love endures. I thank you for the free gift of forgiveness you give me and for saving me when you died upon the cross for the forgiveness of my sin. Teach me and guide my steps, lead my life today, tomorrow, and forevermore. In Jesus' name, amen. (Tell someone you trust that you prayed this prayer. I'd also recommend you find a church that teaches from the Bible—somewhere you can connect with others and learn and grow in your faith. If you need help with that, send me a private message. God bless you!)