Some things are best seen when we look in the rear-view mirror. The image reflected from past performance based, get-it-perfect-or-don't-even-bother mindset, magnified when we look at present circumstances in contrast.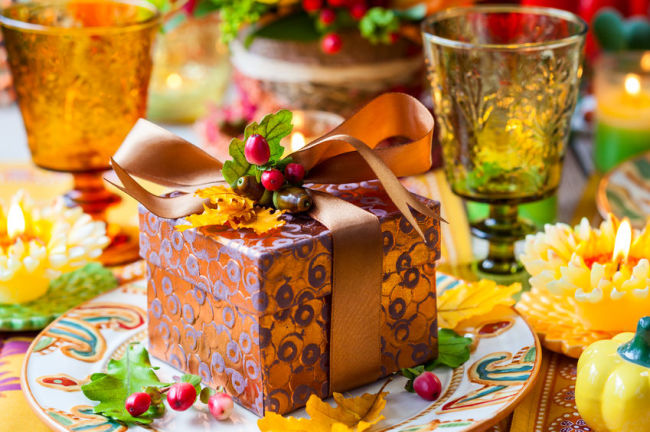 The former view of what really mattered distorted like a circus mirror as it elongates the torso and shrinks the legs. We look at our image, but it's not a true reflection of who we are and how we were made to be.   The view that everything must be "just so" has not one leg to stand on. So why do we buy it like a 50% off sweater, living half the life we were designed to live?
We'll explore that a bit in today's Wednesday's What-Not. Let's look at what I'm referring to as "The Turkey Turnaround".
What is the Turkey Turnaround? A more appropriate way to ask the question: Who is the Turkey Turnaround?
Tracy slips her hand up sheepishly. Perhaps this woman on the other side of your screen wears the title "Turkey Turnaround". Envision me with a satin sash, letters gold, and smeared with all manner of Thanksgiving remnants.  After all a slightly stained satin sash signifies I'm no longer tied up by the idea of perfection.
Perfection, merely an idea, impossible to achieve, yet I struggled to maintain that level for the better part of my life. But there's no budding fruit born of perfectionism—only binding restriction worse than a pair of pantyhose one size too small. It's not very comfortable to walk around like that—especially when indulging in Thanksgiving fixings.
Perhaps right about now you are thinking, "I don't struggle with perfectionism. This message isn't for me."
I'd like to challenge you on that, appropriately of course. I don't know every reader personally, but I know a lot of persons who perform. And it looks different for each of us. In an effort to ditch the idea that we must be perfect, we must acknowledge there is a problem. Granted, for some, perfectionism may be more rampant than others, but I do believe our society promotes it. We are a by-product of our culture, even if we don't possess the genetic disposition to perform everything at perfection level.
What's one thing that leads me to believe this theory? Look up quotes on perfectionism. You'll soon see how many "famous" people wear perfectionism like a badge of honor. It's as if saying we are a perfectionist, makes us so.  Like, somehow, we are better than others because we strive for perfection.
Not so!
There were many quotes to select from, but here's one.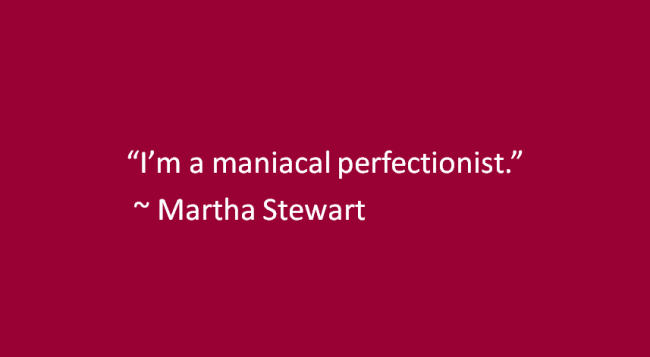 The quote speaks volumes, doesn't it?  Maniacal and perfectionist paint a vivid picture.
Maybe it's the name … Martha.
When Jesus came to the household of Mary and Martha, Mary sat at Jesus' feet. Mary spent time with Jesus, leaning into Him and what He had to say. She enjoyed the visit with her Friend & Teacher, Jesus. In the mean time, Martha scurried about accomplishing tasks, but getting frustrated in the process.  She was "distracted by all the preparations that had to be made". (See Luke 10:38-42)
Make no mistake. I have been Martha. Oh, have I been Martha—getting frustrated in the process!
Scurry, scurry, scurry. 'Tis the season to make everything perfect. The Thanksgiving meal must go without a hitch. There will be no burnt rolls at my dinner table. There will be no lumpy gravy ladled upon mashed potatoes that run like a river, flowing rather than standing firm in place positioned on plates. No, no, no. Rolls will flake in the hand as pads of butter melt and puddle, mouths water at the mere idea of such deliciousness. Gravy will pool in the perfectly built mote from mounds of mashed potatoes.  That's a Thanksgiving Day feast a perfectionist can be proud of (said tongue in cheek).  These are our Martha Stewart moments, the ones where table finery shimmers and the scent of fragrant blooms waft through the air mixing with turkey & stuffing aromas.
This season must be even more special than the last. Pile on a little more pressure.
Every treasured tradition must take its place and march forward year after year. Never mind that people change and so too should traditions. Oh, it's fine to keep some.  (No need to needlessly cause reader uproar.) But perhaps it's time to make some new ones. Let the little things go and do what really matters.
I started a new tradition this year.  I plan to embrace it, because this year felt dramatically different than years past. Tracy's Turkey Turnaround is a tradition worth keeping.
Today, I sit here grateful, in the glow of God's grace. That's where my Turkey Turnaround tradition starts.
I ushered in God's grace.
God's grace is always there for us, but we need to receive it. He is not too busy to guide us through every task, even our Martha Stewart moments.  I wonder what would have happened if Martha (Mary's sister) would have asked Jesus to help her prepare the meal? Would he have gotten up to help her? I imagine He would have. After all, He is a servant leader. He washed people's feet. (See John 13) Why wouldn't He help Martha prepare a meal? It is likely Jesus would have delighted in sharing the experience with her. Instead, she scurried and worried and missed the opportunity to connect with Jesus.
From a modern day Martha experience, I can say she gave up a grace-filled day.  She gave up a day of basking in the glow of God's goodness.
With this year's Turkey Turnaround tradition, gone was my fanatical, frantic preparation. In its place, peace permeated my kitchen and, more importantly, my spirit. Preparation felt easy, enjoyable even, because perfection was no longer the goal. No longer did I have to rush with last minute insanity, arguing with others to get out of my kitchen and get out of my way (even if the argument was unspoken but played out in my mind).
God's grace grows abundant. This year I got to see how much I had matured in it. It made me smile a celebratory smile. Victory God's, not mine, for His glory. Without His grace, I'd still be fretting over the gravy. Because of it, I celebrated who I am in Christ and threw out all those expectations of needing to be perfect.
I also ushered in God's presence.
While I sliced and diced ingredients for our Thanksgiving feast, I listened to sermons online. Specifically, I sought out messages this season from Priscilla Shirer. She's a passionate woman on fire for Christ who inspires me. The messages God gives her challenge me to rise to new levels like my dinner rolls infused with yeast.
Rising is so much better than perfection. Rising implies a process.
"Arise, shine, for your light has come, and the glory of the LORD rises upon you."—Isaiah 60:1 NIV
It's God's glory that rises as we allow Him to raise us.
How do we do that?
The only way I know how? Spend time with Him. He teaches us that which is truly important. He'll tell us the traditions worth keeping, and those we might need to discard in the trash.
Like many other mothers, I desire the holidays to be meaningful for my child. Special traditions upheld for special people. This year, those were kept. And so was my sanity!
Thanks be to God for His grace and His presence. May we all usher Him into our daily lives during this busy holiday season. I pray you grow in the knowledge and experience of God's presence. I pray you receive the gift of peace He desires to give you this season, and always.
QUESTIONS & ACTIONS
Pray about your holiday traditions and seek God's guidance as to what He would have you do this season.
What traditions would He like you to keep? Discard? Create?
What's one thing you can do differently this year to enjoy a more peaceful, perfection free holiday?
If you'd like to listen to a great message about God's Presence, click the link to a message "Stewarding the Presence of God" by Priscilla Shirer.