We're on a five week trek, travelling wisdom's path. Last week we looked at how our prayers get answered. We dug into the first prayer-response scenario in Psalm 107.
In case someone is just joining in, we'll do a high-level review.
Whoever is wise, let him heed these things and consider the great love of the LORD.—Psalm 107:43 NIV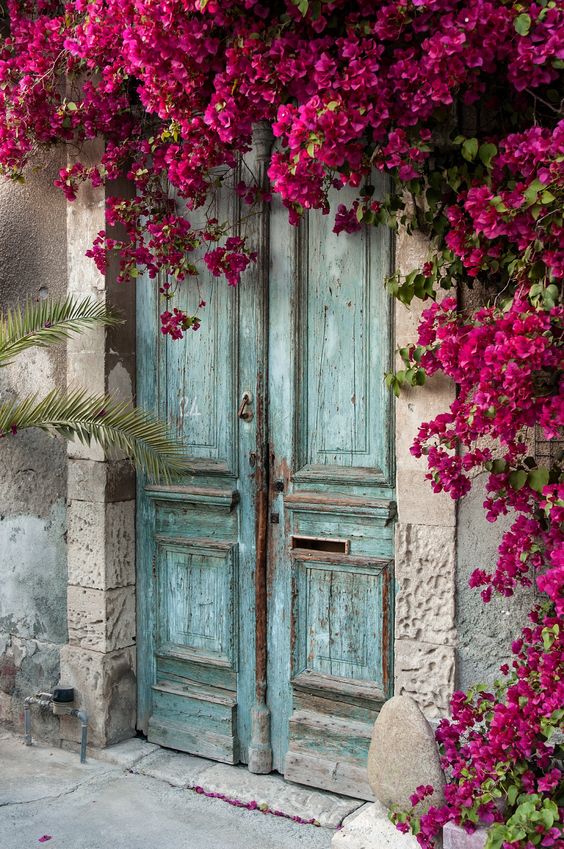 Wisdom's path opens the door for hope to walk through.
Part of that path includes awareness of God's great love for us. Other elements that pave the way for wisdom's path:
Our humble cry in prayer to the Lord for help
God's response as He hears and turns to us in our time of need
Our grateful acknowledgement of God's goodness
God gives us a formula to grow our faith. Strong faith cultivates wisdom. Faith tills the soil of our heart, making it tender to God and all His purposes.
So we're following the formula through four situations. This week we're looking at the second scenario.
Some sat in the darkness and the deepest gloom, prisoners suffering in iron chains, for they had rebelled against the words of God and despised the counsel of the Most High. So he subjected them to bitter labor; they stumbled, and there was no one to help.—Psalm 107:10-12 NIV
Then they cried out in prayer for help in their time of trouble.
Then they cried out to the LORD in their trouble, and he saved them from their distress.—Psalm 107:13 NIV
God responds to their cry for help. He saves them.
He brought them out of darkness and the deepest gloom and broke away their chains.—Psalm 107:14 NIV
God sheds light to every circumstance, for He IS light. He brings revelation, redemption, and liberty to people once held captive.  When we're on the receiving end of such goodness, hearts burst forth in gratitude. No longer looking through prison bars, we finally see clearly. We walk in the light and breathe freedom's breath.
Let them give thanks to the LORD for his unfailing love and his wonderful deeds for men, for he breaks down gates of bronze and cuts through bars of iron.—Psalm 107:15-16 NIV
Going back to take a look at verses 10-12…
Some sat in the darkness and the deepest gloom, prisoners suffering in iron chains, for they had rebelled against the words of God and despised the counsel of the Most High. So he subjected them to bitter labor; they stumbled, and there was no one to help.—Psalm 107:10-12 NIV
Imagine yourself sitting somewhere in the pitch black.  A total eclipse. No stars. No moon. No light to penetrate and provide a glimmer of hope. No way of seeing your way out of a situation. If you tried to stand and walk in the dark, you would inevitably stub your toe or smack your shin.  Even with hands extended in front of your face blindly exploring caverns of black-ink abyss of air, you would assuredly run into some unknown hazard. We need light to see.
When we are in a pit of depression, or sin, sometimes, we can't see our way out.  Like a kitten trapped in a paper bag, it seems easy to an outside observer. Turn around and free yourself from your brown paper-bag prison. Yet kitty struggles to escape, sometimes scratching and clawing. Meowing almost certain.
Perhaps, it's not our sin, but somehow we find ourselves in over our heads. Maybe there's an illness that we didn't see coming. The longer we endure the darker it can get. If we don't hang onto hope, we can fall into a bitter, dark place.
Sometimes, we need to stand on a friend's shoulders to see beyond the pit of our current position. We all need to rely on one another. When one doesn't have enough faith, a good friend will.
Let's look at our Friend, Jesus, and observe how He helped a woman see hope beyond what she had known for a long time.
On a Sabbath Jesus was teaching in one of the synagogues, and a woman was there who had been crippled by a spirit for eighteen years. She was bent over and could not straighten up at all. When Jesus saw her, he called her forward and said to her, "Woman, you are set free from your infirmity." Then he put his hands on her, and immediately she straightened up and praised God.—Luke 13:10-13 NIV (emphasis added)
The woman had been crippled for 18 years. Notice by whom: a spirit. This woman's plight was not of God. The enemy had infiltrated this woman's world for 18 long, miserable years. She was crippled, unable to stand up straight.
Darkness has weight. It weighs us down, because it doesn't want us to ever see hope.  Evil spirits don't want us sprung from the prison of oppression and darkness.
But that doesn't matter, because Jesus does! Look what He tells the woman, "Woman, you are set free from your infirmity."
Jesus tells the woman on the other side of this screen the same thing…
"Woman, you are set free from your infirmity!"
I pray this in the name of Jesus, because His name has the power to set every captive free.
What did the once crippled woman do? She did what God asks us to do as we've been learning through Psalm 107's structure. She stood up and she praised God! She did so immediately. It wasn't like she waited to see what others would think. I don't see her being reserved about her liberation. I visualize her springing up in celebration, excited and barely able to contain herself.
When a woman has been crippled for 18 long years, she becomes jubilant. From a crippled pit to a position of joy, she celebrated because Jesus' hands have the power to heal.
She straightened up—immediately!
Perhaps, someone on the other side of this screen needs to hear that message. Straighten up. Immediately. I say this in the most loving way. If it doesn't apply today, it might tomorrow. There are times when we all need to straighten up. Immediately. Myself included.
When friends care about one another, they'll call them to rise to a higher level of freedom. I hope that's how you take this, because that's how it's intended. Let's all straighten up as soon as God asks us to. He'll show us where we have bondage that needs to be broken.
If we know Jesus as our Lord and Savior, we HAVE to find our way to freedom. Someone else's might depend upon it. If we are saved and we're still walking around crippled, what does that say about Christ? He has the power to set every captive free—every. one. We're all an every. one.
So let's straighten up and praise God.
Jesus calls us forward and says, "Woman you are set free from your infirmity!"
Our freedom requires active obedience to what Christ calls us to—certainly Himself, but He will ask us to do things along the way which will help us travel wisdom's path, the one that leads to freedom.  If we don't allow God to set us free, look who we are allowing to hold us captive.
In Jesus' words,
"Then should not this woman, a daughter of Abraham, whom Satan has kept bound for eighteen long years, be set free on the Sabbath day from what bound her."—Luke 13:16 NIV (emphasis added)
We either submit to God or we submit to Satan. Independence is an illusion.
Before I knew God, one of the things that held me back was the idea of surrender, of giving up control in my life. Had I realized I wasn't controlling anything (the enemy and sin were), perhaps the idea of submission and surrender to God wouldn't have felt so threatening. I was the woman who repeated words one might hear from a two year old.
"I'll do it myself."
That's what I used to believe. Now I know the truth. Jesus sets us free.
We have to pick a side. Let's pick the Savior's side. It's significantly safer. No stumbling in the dark with Him. He'll light the way. He is the way!
When (Jesus) said this, all his opponents were humiliated, but the people were delighted with all the wonderful things he was doing.—Luke 13:17 NIV (emphasis added)
When the people observed the healing power of Jesus, they were delighted. He didn't just heal. He did many wonderful things.
He still does!
He breaks prison bars and sets captives free.  Where once there were bars of bronze and iron, Jesus breaks them down. And He gives us a gift when our bondage is broken.
Hope.
Hope is what happens when bondage is broken.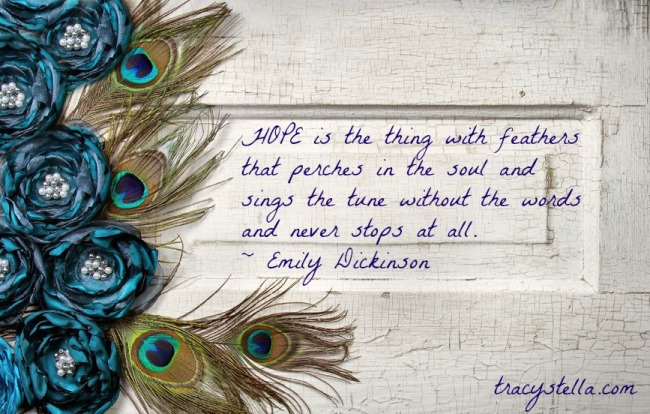 I love this quote. Hope never stops at all if we allow it to park on the perch of our soul and let it sing its sweet tune.
Hope sings, "There's always a second chance."
Hope sings, "There's something new just over the horizon."
Hope sings, "Healing is possible. Jesus still performs miracles today."
Hope sings, "Jesus has the power to set you free."
Hope sings, "We have a Savior who redeems life from the pit. Let's live liberated!"
How do I know any of this is true? Because Jesus told me,
"Woman, you are set free from your infirmity!"
And this crippled woman stood. Thank you, Jesus! This crippled woman stood straight and she praises God for freedom from her infirmity!
Bring hope into the New Year.  Wouldn't it be great to celebrate 2015 as the year Jesus broke captives free from every infirmity?  I hope that happens.  I'll do one better; I'll pray it does.
Jesus, I ask You to be the bondage breaker of every infirmity for every person's eyes who see this post. I pray You help each and every one to stand straight—immediately and in the name of Jesus. I pray you break every chain and burden that wants to weigh Your children down. I pray You lift every person from the pit of darkness who reads this and believes You have the power to set them free from every infirmity. May many eyes and ears see and hear of all Your wonderful deeds and praise Your holy name! Amen!
QUESTIONS & ACTIONS
Listen to this song in a quiet place. Let the lyric wash over you, "There is power in the name of Jesus. To break every chain. To break every chain. To break every chain."
Sing the song as a prayer from your heart, asking God to break every chain of bondage in your life. Remember, there is POWER in the name of Jesus.
*Jesus Culture has powerful worship music. Almost every time prior to sitting down to write, I listen to something sung by them. Their music helps me usher God's presence into my writing process. Support their ministry by purchasing their music and attending their worship events.