Over the last several weeks, we have explored how wisdom leads to answered prayer and hope—for us and others. Wisdom opens the door for futures bright. Dark of night illuminated because eyes of faith see past circumstances. Sometimes we're looking beyond our own. Sometimes we're looking up on behalf of others.
Hope in Christ fuels passionate prayer, and in return spurs God's faithful response. When we are blessed and know it, we praise Him for all He has done and is doing that we can't yet see.  Vision cloudy, but we know He brings clarity. A puzzle solved through fervent prayer as we look to God for wisdom.
Whoever is wise, let him heed these things and consider the great love of the LORD.—Psalm 107:43 NIV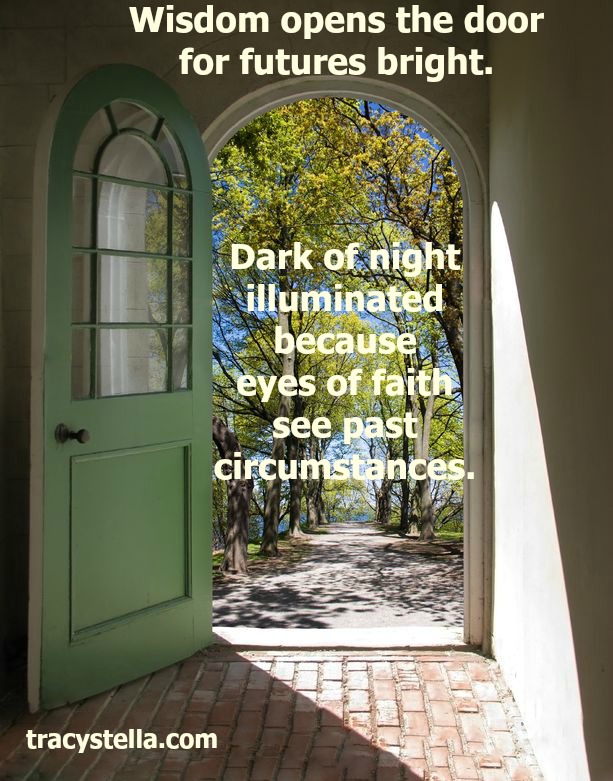 Wisdom's path is paved by:
Our humble cry in prayer to the Lord for help
God's response as He hears and turns to us in our time of need
Our grateful acknowledgement of God's goodness
It's not a circle, us chasing our tails. It's a cycle. And the laundry comes clean in the wash.
She pleads, Lord, hear my cry for help.
God answers, My child, I hear you. I turn to you. I see your need and I respond.
Humbly she praises, Lord, thank you for all you do. Without you, where would I be? Your hand is mighty. Your deliverance looms large. You washed me white as snow. No harsh bleach. Gentle cycle applied from a good and faithful Father.
That first cycle of answered prayer certainly could be mine. He took me, dirty and down-trodden, and washed me clean. Righteousness rinses all the debris away.
One of the most beautiful things about this, God's answer to prayer is, when we let it, it becomes a chain reaction. One cycle of answered prayer becomes another, becomes another. Before we know it, we barely recognize who we once were. None of the dirt and debris defines who we are anymore.
God says, Now share what I have done. Help others to see and know they too can be washed white as snow.
Sacrifice small for all He has done.
When others see what faith can do in the arms of a loving Father, some will want it for themselves too. A cycle of answered prayer is begun in someone else's life. And so, the circle of new life continues. One touches another. Tender. Compassion created only because Christ first extended it.
We all start somewhere. Mine was a lowly beginning.
Some became fools through their rebellious ways and suffered affliction because of their iniquities. They loathed all food and drew near the gates of death.—Psalm 107:17-18 NIV
There was a time when I was extremely foolish and rebellious. I don't recommend following that route. It's pretty painful. Affliction is best to be avoided.
My depression became so severe I couldn't eat. I had no energy. I barely could make it through a day. I carried many burdens by myself. None of which was necessary. I could have handed my problems over to Christ, but I was very stubborn. Instead, I suffered.
I don't know how many months I lived primarily off string cheese. It was many. Maybe it was the peeling away, layer by layer that appealed to me. That's what had happened in my life. Everything pulled apart at the seams. Thankfully, I met Someone who could stitch it all together again. Kind of like new wine placed in new wineskins, God gives us room to breathe and expand in our understanding of who He is. He gives us new purpose. He sees beyond who we are. He sees who He created us to be.
Before He stitched me back together, it was scary. I wasted away. I was withering, not yet connected to the Vine. I looked so bad physically my own picture at Christmas time frightened me. Eyes sunk dark, I thought I had cancer. (And I'm not one to think I'm sick or to even to go the doctor.) Thankfully, I didn't have cancer. Thankfully, he turned my distress around. Thankfully, he gave me the courage to walk through the storms of life and head for safe shelter—Him!
All it took was a cry for help in a time of trouble.
Then they cried to the LORD in their trouble, and he saved them from their distress.—Psalm 107:19 NIV
God responds to their cry for help. He saves Israel.
He saves us as well.
 If we don't know Jesus, He desires we do. It starts with our humble desire for help. That's how He saves us, so often from ourselves and the mistakes we've made. He wants to heal our hearts. He wants to take away our pain. He wants to perform miracles, because He delights in doing more than we can ever think or imagine.
I know that personally.
If we do know Jesus, He still desires to save us from distress. Give Him your pain. Give Him your hurt. Give Him your heart—again. Hand it all over to Him. He'll bring the healing and help needed.
He sent forth his word and he healed them; he rescued them from the grave.—Psalm 107:20 NIV
I love God's Word. But I only love God's Word, because He taught me how to love it by showing me who He was, is, and will always be through it. He showed me its healing power. His Word pulled me from certain death. He sent it forth to do so.
God's Word like a messenger reveals important lessons for us to learn here on earth so that we can spend all eternity with Him. Lessons taught for our time here on earth as well.
He sends the Word forth for you too! Jesus, Himself, the Word sent forth to save us.
For the one whom God has sent speaks the words of God, for God gives the Spirit without limit. The Father loves the Son and has placed everything in his hands. —John 3:34-35 NIV
God the Father entrusts each of us in the hands of Jesus. He is trustworthy to take care of us.
If you've never read God's Word, I pray you do. I pray you see all I have seen in it—and more. I pray you meet Jesus there and you see His great love for you through the most precious of letters He has left for you and me. I pray you have an open heart and mind to what He desires to teach you.
I pray open hearts and minds for us all as we read His precious Word. If you already view His Word as a treasure for your heart, I pray more of its riches are revealed to you. I pray your eyes of faith are delighted with all they feast upon.
When you've been rescued like I have, you won't ever forget how precious God's Word is. It has the power to heal. I'm living proof. I've moved on from string cheese and peeling the layers apart. No more is my life languishing. It's too full of love.
IT'S TOO FULL OF LOVE.
Let them give thanks to the LORD for his unfailing love and his wonderful deeds for men.  Let them sacrifice thank offerings and tell of his works with songs of joy.—Psalm 107:21-22 NIV
If this woman on the other side of your screen could still do a kart wheel, she would. When a lot of things in my life failed (after I thought I had reached many milestones of success), it was God's unfailing love that saved me.
It's why I can't stop talking about Him and all He has done. His deeds wonderful to me, for I know full well what my fate would have been without His unfailing love.
And so, the cycle continues.
Now, my desire is to leave a legacy of love.  I pray that is all our desire, to give what we were so freely given.
Part of our job in loving others well is to look with eyes of faith at what their future holds and see more than present circumstances. Through prayer and thanksgiving, we lift up their needs from our knees. Maybe they don't know how. Maybe they've forgotten how to hope. Either way, we can stand in the gap.
Perhaps the person on the other side of love has yet to learn how deeply they already are loved.  Before we humble ourselves, it's difficult to see what God has for us. He promises future bright. Not perfect, for we all have challenges in life. But somehow, we walk through those with God and they don't feel as large. We learn over time, His love looms larger than any problem.
When we know God's love and healing power, it's our job to tell what He has done. We are to share our faith and the reason for our joy.
Jesus told powerful stories in the Bible. He still tells them through you and me, the lives His tender hands have touched and made whole.
Consider the story of the centurion who was in a position of authority, yet he humbled himself to seek healing from Christ on behalf of someone else. The centurion had great faith and believed in Christ's power to heal. He knew Christ didn't need to be physically present, but that Christ's Word had the power to perform the miracle. God's Word sent forth to heal—then as now. (See Matthew 8:5-12)
Jesus responded to the centurion and He responds to us.
Then Jesus said to the centurion (and us),"Go! It will be done just as you believed it would." And his servant was healed at that very hour.—Matthew 8:12 NIV (added for emphasis)
Right now, I'm standing in faith for a lot of people who don't yet have the eyes of faith to see. But I believe. One day they will.
Eyes of faith change futures—yours and those you love. Look up.
QUESTIONS & ACTIONS
What can you do to grow in your ability to stand in the gap on behalf of others?
What legacy will your faith leave for your family and friends?
Who does God want you to believe for?