Some ideas need to steep. Like tea floating in steaming hot water waiting for the perfect flavor to brew, we need to steep with our dreams. Time often the tool God uses to bring them to the fullness of their potential. Time spent brewing our dreams with Him. Because as much as God desires to bring our dreams to their fullest potential, His desire is even greater to bring US to our fullest potential. He's not looking for perfection, but He is looking for the perfect flavor produced from the brewing process—hearts surrendered to Him.
Perhaps the dream God brewed in your heart began as a child. Little girl. All dressed up. Seated at the table. Future imagined. All grown up. Who might she become? What would be her destiny? Imagination run away wild, because as children the limits of logic haven't lodged their way in our hearts yet.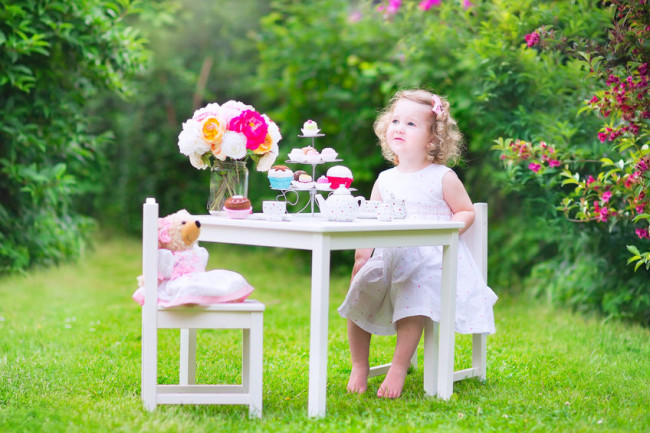 Dreams are not always logical, but that doesn't mean they are not attainable. Dreams stretch our imagination. Dreams require God to step in and do what only He can do in and through you and in and through me.
As we spend time with God, He produces a fragrant aroma rising up as an offering, sacrifices first to the Lord, and then to others. Rest assured if God gives us a dream, it is for others. Yes, there will be much for us as we look to fulfill our God-given dreams, but we are placed in the body of believers to be a blessing to one another. None of us can function to our fullest capacity without being placed within the body of Christ. Different parts to serve different needs, to serve different people, in a way uniquely fashioned and formed by God for each of us to fulfill.
There are different kinds of gifts, but the same Spirit distributes them. There are different kinds of service, but the same Lord. There are different kinds of working, but in all of them and in everyone it is the same God at work. Now to each one the manifestation of the Spirit is given for the common good.—1 Corinthians 12:4-7 NIV
Divine inspiration from God grows from that place, the position of generosity, of giving ourselves away for the common good of others— all of our talents God has placed within us, the gifts He desires to bring to fullness as He helps us fulfill the dreams He's planted in our hearts.
If you are a believer in Christ, believe me, sweet friend, He has given you gifts to share for the common good of others. None of God's children is excluded. We all play a part. The Spirit will help manifest our gifts. And that's how God-sized dreams are fulfilled … every hand coming together for the common good of God's kingdom purposes.  Most assuredly we can count on God-given dreams being rooted and sourced in love, because God is love.
So if your dream springs up like a flower bursting forth, pushing through the earth, and is one rooted in love, keep pursuing that dream and all God has for you and others in its fulfillment. When that flower blooms? I can't wait to hear your good report.
Let God water your dreams. Let Him warm your heart like the sun as it shines its rays bringing about the photosynthesis process. Flowers produced full of color and scent and hopeful blooms. Like the photosynthesis process, dreams bring change in us and for others.
According to an article posted on behalf of MSU, "The primary function of photosynthesis is to convert solar energy into chemical energy and then store that chemical energy for future use."¹
An interesting concept, considering flowers are not the only thing comprised of energy. So are we. Perhaps time spent with God, letting our dreams steep, stores up energy we will need for future use. God doesn't want us running out of steam before we've barely started. Steeping stores up energy. Change takes a lot of that. We'll need reserves.
Right about now I'm thinking, some of you might be saying, "I don't have a God-sized dream." Still others of you might need a reminder, "Yes, you have a God-sized dream. Remember?!" God wants to resurrect it. He has the power! Remember that third day? He has more than enough power to resurrect your God-sized dream!
I encourage you to write down your dream. Capture what captures your heart. Allow God to cultivate it. He'll bring the harvest when it's time.
Perhaps this song will help ignite that spark in your Spirit, the one that says, "Dream sweet child. You were made for it!"
Before you listen to the song, consider listening to it and singing it to the Lord as a prayer. Why? He will be faithful to answer it. About five years ago, I sang my heart out to this song and I have done so several times since. I knew when I was singing it, I was petitioning the Lord, asking Him to do this in me. He's been placing seeds and sweetly watering them ever since. He's warmed my heart. He's done quite a bit of refining, and He's not done yet. But we are closer to that dream, God and me. The one that seemed crazy, and still does – but we're closer. It's been an awesome five years. I can see the dream with more clarity now, not quite so foggy.
Sing a prayer for One Pure and Holy Passion. I know God will help you in pursuit of that too.
Click here to listen to One Pure and Holy Passion
My prayer for you, each of you precious ones reading this, is that God would give you one pure and holy passion to pursue. I pray He uses that dream to bring you great joy and a sweetness that only relationship with Christ can bring. I pray He brings clarity to your purpose and plants a God-sized dream in your heart that makes it sing.  I pray you would be blessed in pursuit of Him and that pure and holy passion He places in your heart. In Jesus' name, amen.
One of the most beautiful things we receive when we pursue God and His holy passions for us is hidden in the definition of what it means to steep. Look how Merriam Webster defines steep.
To soak in a liquid at a temperature under the boiling point (as for softening, bleaching or extracting an essence)
To cover with or plunge into a liquid (as in bathing, rinsing, or soaking)
To saturate with or subject thoroughly to (some strong or pervading influence)²
Please tell me you see the biblical implications hidden in this definition. Have you ever felt like God was softening you, refining you in the heat of a trial – but for the purpose of extracting an essence of Him and His goodness in you? That sweet aroma we talked about, the one He desires to draw out of you when He has softened you to Him and His purposes.
Have you ever felt like He has covered you in His cleansing power, the power of His blood and His baptism by water?  What about being saturated in some strong or pervading influence? In terms of the way we are considering what it means to steep, that can only be Christ Himself, the Strong and Pervading Influence in our lives.
Consider what it means to steep in the Lord's presence as we pursue our God-given dreams. Bathe yourself in streams of His living water. Don't take it from me; listen to the words of Jesus. He's not using His inside voice. He's using the loud one that boldly proclaims, "Go for it!" Pursue God-given dreams as you steep in His rivers of living water.
Jesus stood and said in a loud voice, "Let anyone who is thirsty come to me and drink. Whoever believes in me, as Scripture has said, rivers of living water will flow from within them.—John 7:37b-38 NIV
Let Him flow through you, as Love only can. Steep in His love and let Him lead you to the achievement of your God-given dreams.
QUESTIONS & ACTIONS
What is your God given dream and how will it help the body of Christ?
If you don't have a God given dream, pray the song "One Pure and Holy Passion".
Capture what captures your heart. Writing it down makes it more real. Write down your God-given dream.
What has God taught you during times of steeping?
How is God calling you to drink from His living water today?
¹Cook, Bill. "The Important Role of Photosynthesis." MSU Extension. April 9, 2013. Accessed February 23, 2015. http://msue.anr.msu.edu/news/the_important_role_of_photosynthesis.
²Merriam-Webster. Accessed February 23, 2015. http://www.merriam-webster.com/dictionary/steep.