Little girls play outside, wind catching their hair as they skip-run and play as if they don't have a care in the world – because most don't. There are giggles of delight as bubbles blow, wafting through the breeze.
Sometimes, sticky liquid bursts before it takes flight. No matter. Little girl dips the wand, preferably pink, in soapy liquid and tries again. Bubbles lift overhead and travel far, destination unknown, but sweet girl is unconcerned. Bubbles land where they are supposed to. Perhaps, carried to another little girl to take delight in, as she chases after the transparent orb, hair in yellow ribbons as bright as joy the bubbles bring.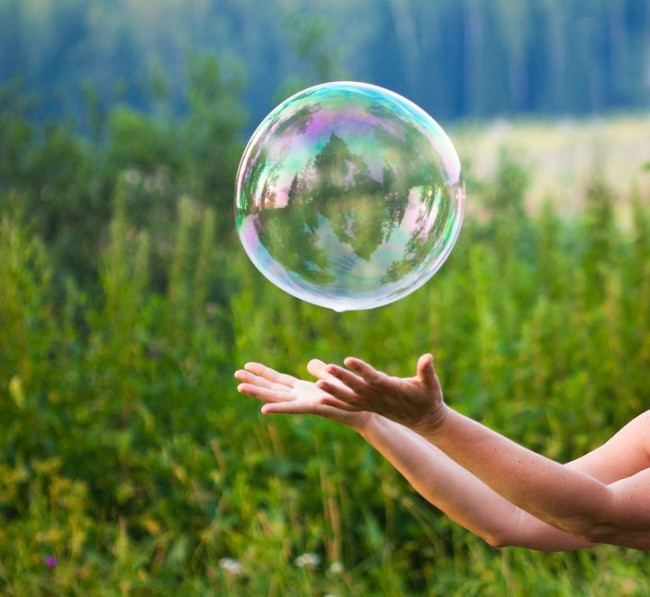 If only life were so easy when bubbles burst.
If only we knew at some point others could take joy and comfort, something to brighten their day, as we share stories of how our bubbles burst. But beyond that, how God gave us the courage to dip our hand back into the sudsy liquid of life and try again.
We don't have to wish for that like a little girl who wishes upon a falling star. We don't have to wait for the skies to cooperate. We can lift our stories up to God and ask for His sovereign hand of redemption to take our hand and help us find our way. As we do, how many others might we help find theirs?
We're all finding our way. Even if we know where we are today, who knows where we will be tomorrow? We can't predict the future.
If there is pain ahead, God will make sure there is purpose in it. There always is.
When I was a little girl, I grew up in Central Illinois. Typically, there's not a whole lot of excitement that happens in rural America. But you can still find trouble.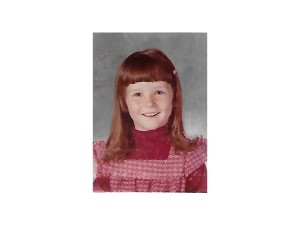 Fresh country air feels invigorating. We didn't have beaches, at least not the ocean. We had sand. Suburban sand. The type housed in homemade wooden squares situated close to the ground. I had squatters rights to little Stevie's sandbox, since his yard butted against mine.
Who doesn't love her toes digging in the sand? Hands trench the warm surface, until you dig deep into the cool, damp subterranean sand.
That's what I was doing one splendid summer day — digging. One moment, I was playing in little Stevie's sandbox. The next, a struggle took place. Apparently, little Stevie wanted the silver shining spatula we used as a shovel. His mama must not have taught him how to share. Nope. Little Stevie, snatched the spatula-shovel from my hands. A warrior, he slung it at me like a tomahawk.
It stuck.
Little Stevie landed the metal tomahawk directly above my right eye. I was five. But the memory is still vivid. I dashed to the house, screaming as blood poured from my wound. Facial wounds are frightening to mamas who open the door and can't see their little girl's face through all the red, sticky liquid. It looked nothing like the transparent bubble liquid little girls should be delighting in.  The thickness of the red-black substance made it difficult to see.  For mom. And for me.
Mama panic set in, but instinct took over as she sprung into action. Dish towels meant to soak up soapy liquid sopped up blood pouring from my facial wound.  If memory serves me correctly, a neighbor drove us to the hospital. My mom held me in her arms all the way to the Emergency Room as she pressed down on my eye, while the driver pressed down on the accelerator, hazards flashing.
I was lucky. It was a close call. I didn't lose an eye.
All the bleeding looked worse than it really was. Facial wounds bleed profusely. It was bad, but not as bad as it looked based on the amount of red liquid that had saturated my mom's dish towels.
Isn't that how our problems can seem sometimes? We can think, "This is bad". But it's not as bad as it looks —especially in hindsight.
The E.R. nurse cried as she stitched me up. Her colleagues looked at her curiously.
"Why are you crying?" they asked.
"She's my niece."
By God's grace, my aunt was on duty. I got a bit of special care from the nurses on hand as they sutured me back up. This was before the days of the adhesive stitches. Like a Girl Scout patch sewn on fabric, needle and thread gave me a badge of honor complete with a pirate patch.
I'm pretty sure I never played with little Stevie again. I have a permanent reminder of him, faded now after all these years, but a scar none-the-less.
I used to be self-conscious of the scar. After all it took up residence on my face. It's one of the first things a person sees when they look at me, and it sits directly above the feature most people compliment me on — my eyes. I point that out because people don't see the scar, or if they do, they see the good thing beneath it. The blue eyes God gave me. The blue eyes He saved of a little girl who could have lost her sight if that spatula had been just an inch or so lower.
As a young girl, I always saw the scar. I didn't see the beauty. I looked and I saw what I thought was ugly. I knew it wasn't my fault, of course, but that didn't matter. I still felt flawed. Not as pretty as the other little girls whose eyebrow didn't have a permanent slash cutting through it.
Have you ever felt like that? Like somehow, you just didn't cut the mustard. You're not quite what the world is looking for. Those thoughts are a lie from the pit of hell.
We grown-up girls (and guys) can still fall into that trap, but my prayer is each of us walks in the fullness of the truth of how God sees us.  His eyes see beauty. He doesn't see our scars.
Oh, He knows our scars are there. Believe me. He knows them all — the ones we've told Him about, and the ones we think we can hide from Him.
That's just not what He sees.
He sees you and me, and He smiles as He thinks,
I made her. Look at her. Isn't she beautiful? She takes my breath away. I always knew she would get here. I knew she would see her beauty too. I knew she would be able to look beyond the scars and see who she really is. Treasured. Chosen. Dearly Loved. Breath-taking.
Let that sink in.
In spite of your scars, God finds you breath-taking.
Doesn't that take YOUR breath away? It does mine!
Scars can be those things we see on the surface, like the white slash that greets me in the mirror each morning. The one I barely even think about anymore; I don't see it – even though I know it's there. It's just a part of me, a part of my story.
Scars can be hidden from sight.  Tissue damaged, mostly in the heart, from situations or people that hurt us as we lived life.  Make no mistake, there will be pain and there will be suffering as long as we walk here on earth. But there is also great joy. Do not despair. Pain is not permanent, unless we allow it to be. We have a choice in how we handle life's difficulties.
Give God your pain, and let His hands heal all your wounds.
He is a gentle Physician.
Even so, sometimes the best physicians need to open up a wound to let it heal properly.
Did you know wounds heal from the inside out?
The American Association for the Surgery of Trauma says,
When a wound is deep, or when it tunnels under the skin, packing the wound can help it heal. The packing material absorbs any drainage from the wound, which helps the tissues heal from the inside out. Without the packing, the wound might close at the top, without healing at the deeper areas of the wound.¹
Let God pack all your wounds. Let Him heal your hurting heart. The deep wounds, the ones tunneled under the skin? He alone has the power to heal them. You are not alone. Every person who walks on this earth will experience trials and pain. It may look different, but to each of us the feeling is real and deep.
But when the wound heals properly, all that's left is a little scar that shows you lived life fully and that you survived. More than that, if you are a believer, you have the capacity to thrive because you have the power of Christ living in you.
Like distressed furniture, scars give us character.
There's something else our scars do that is very powerful. To find out what, let's look at this interaction between Jesus and Thomas after Christ's resurrection.
One of the twelve disciples, Thomas (called the Twin), was not with them when Jesus came. So the other disciples told him, "We have seen the Lord!"

Thomas said to them, "Unless I see the scars of the nails in his hands and put my finger on those scars and my hand in his side, I will not believe."

A week later the disciples were together again indoors, and Thomas was with them. The doors were locked, but Jesus came and stood among them and said, "Peace be with you." Then he said to Thomas,"Put your finger here, and look at my hands; then reach out your hand and put it in my side. Stop your doubting, and believe!"

Thomas answered him, "My Lord and my God!"

Jesus said to him, "Do you believe because you see me? How happy are those who believe without seeing me!  — John 20:24 GNT (emphasis added)
Scars reveal Christ.
Thomas couldn't believe Jesus was not dead, permanently encased in the tomb, with no hope of ever returning. Even though Jesus had reassured the disciples before His death, He would return, and on the third day conquer death as He rose again.
Thomas needed to see the scars.
Thomas couldn't believe based on words. He needed evidence.
Christ allowed Thomas to touch His scars. Proof-positive God was victorious over death. If that's what it took for Thomas to believe, Christ was willing to do it. God was merciful, showing His scars so Thomas would stop doubting the reality of Christ.
You see, Christ understands our scars. He knows the pain of suffering — far more than we do. He felt His pain and the pain of all our sin when He died on the cross for each of us.
Just like God used His own scars to show Thomas the way to true belief, God desires to use our scars to help others find their way to true belief in Jesus. For when the healing hand of our Sovereign God touches our wounds, they are healed and His glory is revealed. We're not supposed to hide our scars under layers of cover-up.  We're supposed to wear them like a Girl Scout badge of honor received for living life full-on for Christ.
I'm not talking about airing your dirty laundry. I'm talking about sharing your story – God's redemption story — with those He places in your path, the ones that need to hear it so they can believe. So their wounds can heal from the inside out.
We're here to dip the bubble wand back in the sudsy liquid of life and blow the transparent orbs of hope to our future brothers and sisters in Christ.
If all non-believers, or new believers for that matter, ever see are the shined-up, perfectly adorned Christians, how many might feel they could never achieve that standard? Why don't we show them a bit of who we were, while showing them who we are in Christ today? Isn't someone's salvation worth showing some of your scars?
See my scar? Isn't it beautiful? It's beautiful, because it is just part of my story now.  It shows how much God loves me. He loves you too! He healed me. He can heal you too. He can heal you too!
Are you willing to show your scars so someone else can be healed? Remember, Christ did.
QUESTIONS & ACTIONS
Listen to the song "Sovereign Hands" by Mia Fieldes off her album "There's a Reason". Lift your hands up in worship as you visualize God's scarred hands holding yours.
What scar would God have you share for His glory? With whom?
If you are in need of healing, I pray God places His healing hand upon your heart and heals every deep wound. I pray what remains is the beautiful remnant of a scar which reveals His glory and goodness to you. I pray you feel His closeness and His presence and that God would infuse hope in your heart. I pray one day you will share your story of how God healed your wounds. By His stripes may your wounds be healed. In the name and power of Jesus Christ our Lord and Savior. Amen!
About the author: Tracy Stella is a Christ-follower on the journey of life, seeking to see God and His will for her on this great adventure. She feels compelled to share the story of God's hand in her life with the hope that readers will search for and see God at work in their own lives. Jesus writes the greatest story of all. It's called Redemption for those who are willing to surrender to His love and leading.

If you found this article helpful, please consider sharing it with others you know who may benefit from the message.  I pray God continues to write a glorious story in each of your lives. Amen.
¹"Discharge Instructions for Wound Cares." Accessed April 16, 2015. http://www.aast.org/discharge-instructions-for-wound-cares
²"Mia Fieldes: "Sovereign Hands" [HQ/Lyrics]." YouTube. Accessed April 16, 2015. https://youtu.be/KK5nqNxvMtA