How many of you have a never-ending To Do List? Me too! There's always some unfinished task carried over for completion another day. There's always something. Always.
Why is that significant? Because there's always something. Always.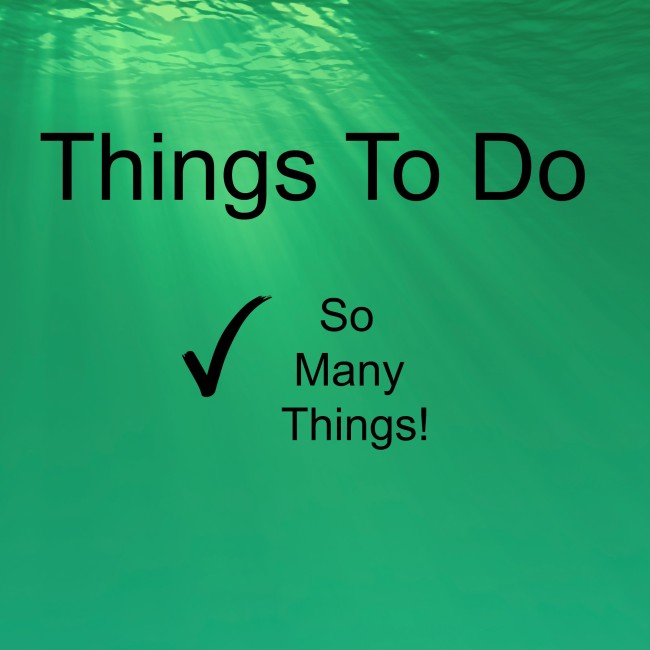 I grew up in a house of list makers. List posted on the refrigerator. The more items checked off, the more accomplished one felt. But is that really true? Doing more definitely doesn't mean being more. Doing more might just make us dizzy, head spinning from too much.
We're never going to have "it" all done—whatever "it" is. If your brain is anything like mine, there's always an idea brewing. There's always something more we could be doing. There's always some new thing to try. There's always some new goal to work toward. There's always someone who wants something from us.
None of that is bad. Wanting things, doing things, that's fine. Helping people, that's good too.
But sometimes we are called to something different. We're called to stop. We're called to savor the glorious moments with God. He is good. He whispers,
Come with Me precious one. Today is a Selah moment. Stop and savor what we have done. Don't let it pass.  Time for us to celebrate.
What is a Selah moment? While there is some disagreement about what the word "Selah" means, God knew I understood its meaning as "pause". It's a musical term you'll see used 71 times in the psalms—the sweet place in Scripture where we find encouragement.  "The word means 'to lift up' and most believe it is a musical sign, perhaps of a pause."¹
God wants His children to pause and find encouragement.
Time spent with God in celebration is the sweetest of gatherings. Parties don't need to be big, loud, and lavish for great joy to be had. There's no one who knows us to the depths God does. He knows every gift that will delight our soul. He desires to lift us up with those gifts. As my husband's congratulations card said to me,
The Lord will take delight in you… He will sing and be joyful over you… Zephaniah 3:17
How's that for encouragement? God delights in us. He sings over us. He says slow down and enjoy the journey. I know this now … but I didn't always.
I sensed in my spirit what God wanted from me. For me. And I couldn't wait! Chomping at the bit, I couldn't wait to bite into every savory moment the Lord wanted to give me as a graduation present. Last week I graduated from life coaching school. I have a lot to do—a lot of exciting, fun things to accomplish. It didn't matter what was on my list.
God said Selah.
Savor this moment.
We can move past each moment in a flurry, missing precious opportunities to take time and drink it all in. What a shame that would be! Life is a journey. We've all heard that. It's true. Why not celebrate the path we are on? Milestones are important to mark. That's why the stones were set in place after Israel crossed over the Jordan. (Deuteronomy 27:2)
We need to take a moment to remember all God did, because it will help us as we step forward and walk further down the path He has called us on.
I'm so grateful for where God has brought me, and I want to share it with you as encouragement. Maybe you are like I used to be: go, go, go, never stopping. If that's you, I pray God gives you your own very special Selah moments. I pray you feel His great delight in you as you pause and spend time receiving encouragement from Him. My friend, those moments are precious. You won't be disappointed.
Maybe you often stop, but every once in awhile, those particularly busy seasons in life, you forget. Oh. That's right. I'm not supposed to be so busy as to miss out on an opportunity to receive encouragement from the One who knows my heart.  He intimately fashioned me and in this Selah moment He has something to say to me.
Wherever you are on that spectrum, we can all use reminders. Selah moments are too important to let slip by us.
So God didn't want my moment of celebration to slip past. The things I had to do could wait a few days. Not so my Selah moment with Him.
We journeyed to Moraine Hills. It was the closest place I could find in northern Illinois with topography that even remotely resembled mountains and valleys. (And even that required quite a bit of imagination!)
One of the first things God did as I stepped out on the crushed stone path was to lead me to a place where He serenaded me. Sounds of nature are God's song for us. I stood in this space and listened to birds chirp and wetland creatures sing over me as I slipped into a deeper level of peace.
If you need a moment of peace for God to sing over you, I recorded the sounds.  Here's a picture, so your eyes can take it in as well. Let God slow the rhythm of your heart as you find peace in Him. Let Him sing over you with sounds of nature.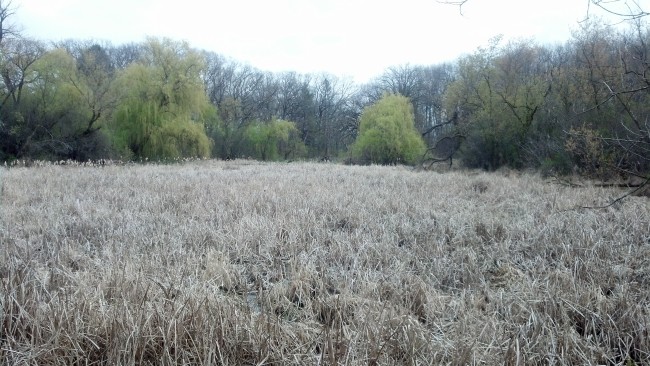 CLICK ABOVE TO LISTEN TO GOD SINGING OVER YOU WITH SOUNDS OF NATURE.
Music sets the mood for a party. This one would be: peaceful, pleasant, full of purpose.
After a time, we continued on our walk. I anticipated more of God's presence as we moved onward. My eyes absorbed fresh signs of spring. New growth – in nature … and in me.  It's an exciting time to see things come alive … people too. That's the path I'm on. Help others to see their God-given potential and to walk more fully in it. Why? Because He makes a way for it to be possible in each of us. He did for me. And He will for you.  And He can't wait to celebrate with you — meaningful Selah moments He desires to give you.
After awhile, God prompted me to stop again. I sat on the slatted boards of a secluded picnic table. Before my Selah moment, God gave me an assignment. I had written Scriptures in my own handwriting and laminated the cards to protect them in case of rain. Here in this oasis, I felt led to pull out Psalm 65. I read it aloud, only partly concerned someone would creep upon me unnoticed and think I was a crazy person reading aloud to myself. (ha ha) I would have turned pinker than the girly ink I had written my Scriptures with. Thankfully, God didn't give me that growth opportunity.  His grace. So good!
Back to Psalm 65.
God led me to record the words of Psalm 65. Later, He would sing over me using His creation once again to sing over me. Only this time, I was the creation He used. My voice He created to carry His tune, Psalm 65 to sing over us.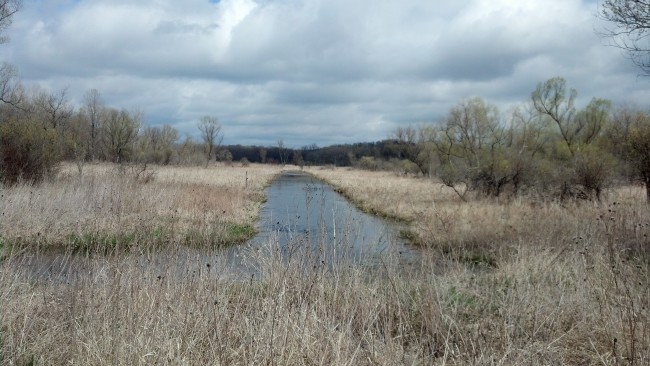 CLICK ABOVE TO LISTEN TO GOD SING OVER YOU WITH PSALM 65.
Here are a few of the verses from Psalm 65…
You call forth songs of joy. You care for the land and water it, you enrich it abundantly. The streams of God are filled with water to provide the people with grain, for so you have ordained it. … You crown the year with your bounty and your carts overflow with abundance. The grasslands of the desert overflow, the hills are clothed with gladness. The meadows are covered with flocks and the valleys are mantled with grain; they shout for joy and sing. Psalm 65:8b-9, 11-13 NIV
Oh how I wish we had more space upon these pages to explore this psalm further. This psalm speaks of blessing and abundance from the Lord. Water meant everything to the Israelites wandering around in the desert. Water represents life. Here it overflows. Grasslands of the desert overflow. How does that happen if not by God's hand? No wonder creation sings, including you and me! God's living water pours upon our lives as well.
I left my picnic table perch and continued on the winding path. Interesting, a short few feet ahead I happened upon this well. It was as if God wanted to place an exclamation point on His words left for us in Psalm 65.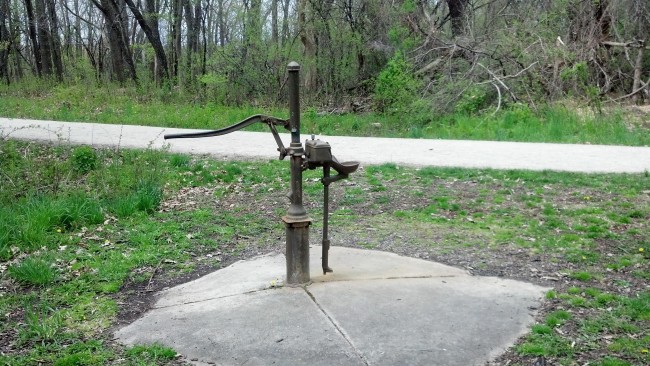 Our lives will never run dry as long as we remain connected to The Source of living water.  Like a pump whose handle has primed the well, we need to draw upon God to refresh and restore our souls. Selah moments spent with the One who knows what we need. Selah moments spent with the One who knows what He has ahead for us: the Promised Land He desires to bring us into.
The land you are entering to take over is not the land of Egypt, from which you have come, where you planted your seed and irrigated it by foot as in a vegetable garden. But the land you are crossing the Jordan to take possession of is a land of mountains and valleys that drinks rain from heaven. It is a land the LORD your God cares for; the eyes of the LORD your God are continually on it from the beginning of the year to its end. —Deuteronomy 11:10-12 NIV
Do you see the difference in the job? When Israel was in Egypt, it was a dry land. The Israelites were in slavery. They had to irrigate crops by foot. Can you imagine? Sounds pretty tedious. But necessary in that time. Now God was saying to Israel, they would take possession of the Promised Land. It wouldn't be through laborious effort. God was going to bless them. The rain would water the mountains and valleys; no need for human irrigation systems. Talk about blessing!
Not only that, look at something that I believe is even more significant. God cares for the land and His eyes are on it continually.
God cares for us.
God cares for us continually.
His concern for us does not cease. It is never-ending.
I sensed God was giving me a personal promise in this moment of pause. I don't know what it means fully, but I did feel like He was saying there is some sort of Promised Land ahead with Him. I'm ready for that. I'm ready to Selah in the rain of all the blessings He plans to pour out from the heavens. Whether I am on the tippy top of a mountain or in the lush, green valley, I know His living water keeps me afloat in life.
He keeps all of us afloat in life. He desires to bring all His children into the Promised Land of their lives. What is God promising you? What do you hear Him whispering?
What does God want from all this blessing He pours upon us?
God wants His children to pause and praise Him.
His Word says…
Praise awaits you, O God, in Zion; to you our vows will be fulfilled. O you who hear prayer to you all men will come. Psalm 65:1-2 NIV
Not only does God want us to praise Him, He wants all to come to Him. He wants us all to know Him — you, me, and those He has yet to reach. Maybe that's you. Maybe you've never said yes to God. Consider letting Him crash your party. He will be the life of yours! Any good thing you've ever experienced pales in comparison to the love, compassion, and care you receive from Christ Jesus. I trust and pray that God will bring you many Selah moments—the times to stop and savor every good thing He does in your life. I pray each of you no matter where you are with God feel His smile upon you. I pray you experience God as He sings over you in nature, with kind words from someone He has placed in your life, a card given with just the right words, the lyrics of a song, or some other way He has uniquely fashioned for you to receive His songs of delight.
Don't forget to stop. Selah. And thank Him for it. There will be many more in your future, but thank Him for the ones He gives you today.
According to Matthew Henry, "When God is coming towards us with his favours we must go forth to meet him with our praises, and wait till the day dawn. 'Praise waits, with an entire satisfaction in thy holy will and dependence on thy mercy.' When we stand ready in every thing to give thanks, then praise waits for God. 'Praise waits thy acceptance' the Levites by night stood in the house of the Lord, ready to sing their songs of praise at the hour appointed (Ps 134:1, 2), and thus their praise waited for him. Praise is silent unto thee (so the word is), as wanting words to express the great goodness of God, and being struck with a silent admiration at it.²
Thank You, Sweet Jesus, for our Selah celebrations. Thank You for helping us slow down and savor every moment with You, Lord. Thank You even when we can't quite find the words to express how our hearts feel. Thank You for Your loving-kindness and Your peace I pray falls upon each of us, Lord, as we pursue You and Your purposes.
Selah
QUESTIONS & ACTIONS
What does God desire to say in a Selah moment with you? Pause and take time to connect with God through nature, music, or however it is you most encounter God. (If you don't know, try walking outside in nature and taking in all God made. Consider yourself in that mix of His creation.)
Listen to (or read) Psalm 65. Pray God speaks to your heart through His refreshing, living Word.
About the author: Tracy Stella is a Christ-follower on the journey of life, seeking to see God and His will for her fulfilled on this great adventure. She feels compelled to share the story of God's hand in her life with the hope that readers will search for and see God at work in their own lives. Jesus writes the greatest story of all. It's called Redemption for those who are willing to surrender to His love and leading.  I pray God continues to write a glorious story in each of your lives. Amen.

If you found this article helpful, consider sharing it with others. Thank you for your support.
¹Richards, L., & Richards, L. O. (1987). The Teacher's Commentary (p 325). Wheaton, IL: Victor Books.
²Henry, M. (1994). Matthew Henry's commentary on the whole Bible: Complete and Unabridged in One Volume (p 834). Peabody: Hendrickson.