Have you ever felt what you have to say wouldn't matter? Like your words couldn't make a dent amidst all the world's woes?
We can run the risk of thinking we won't impact others by what we say or do, so we might as well keep silent. No need to say or do anything if we're not going to make a difference. That's exactly what the enemy wants us to believe.
If Satan is trying to shush, perhaps we should speak even louder. Quite possibly, there is someone on the other side of our words and actions to be set free. Otherwise, why would Satan waste his time attempting to silence voices and squash dreams?
Yes, sweet one, you do have something to say. The world is listening. Don't let Satan steal your dreams. Precious ones need to hear your words. They need to see how you live your life. They need to feel God's love through your hands. As you listen and let God's heart direct yours, let the whole world hear what's on our Savior's heart.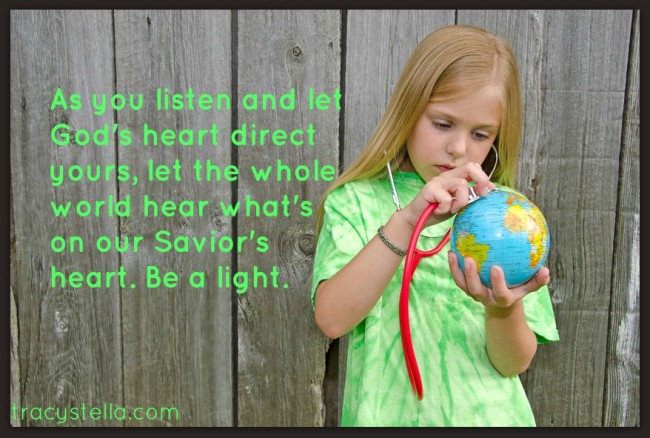 We are the light of the world, a city on a hill (Matthew 5:14).
In the same way, let your light shine before others, so that they may see your good works and give glory to your father who is in heaven. — Matthew 5:16 ESV
A few weeks ago, the enemy tried to snuff out one of my dreams. His voice attempted to silence mine.  I sat vulnerable in my Saturday morning writing group. Sharing my story exposed not only my writing but me as well. This wasn't just any piece I was bringing for feedback. It was the beginning of my story – the foundation to share the tough stuff. The raw. The rough. The broken pieces before Redemption reached in to save me.
That's some messy stuff. Emotions bound to get muddled up wading through muck like that.
As I received feedback, some of it threatened to bring storms in an attempt to make me retreat. Mind you, the feedback wasn't critical. But that crafty serpent loves to enter situations and twist words like a knife. He knows what will cut. Or so he thinks. You see, Satan thinks every old trick he used to pull out of his bag will be successful on us forever moving forward.
Not so.
Christ has something different in mind. As we walk with Him, God strengthens us for spiritual battles the enemy wages against us. The longer we travel with God, the sturdier our legs get. We build spiritual muscle. We learn to fight back!
Praise be to the LORD my Rock, who trains my hands for war, my fingers for battle. He is my loving God and my fortress, my stronghold and my deliverer, my shield in whom I take refuge. — Psalm 144:1-2a NIV
God trains our hands for war. He shows us how to win as He leads us to safety in the wake of His love.
As I got into the car and drove away from our morning gathering, I did something different. I didn't let insecurity overwhelm me. Little Ms. Moses, "I am not eloquent of speech" wasn't about to believe the enemy's lies any longer. God has given me something to say. He has given me a story and I'm not going to be silenced by the enemy. He may tell me I'm not good enough, but I don't have to believe it. I am good enough, or the enemy wouldn't bother. I – and my words – are good enough … they are grand, in fact, because they are for God's glory. We know the enemy doesn't want God's glory to shine like a beacon to a lost and broken world. We know the enemy doesn't want God's glory to reveal God's goodness and the fullness of freedom available to every believer – you, me, all of us!  But it doesn't really matter what the enemy wants. God's purposes always prevail.
There is no wisdom, no insight, no plan that can succeed against the LORD. — Proverbs 21:30 NIV
The enemy's plan will not succeed against the LORD.
God has purpose for you and for me too. He has something special planned for each and every one of us.
You see, before I would have listened to every word the enemy spoke into my life. I would have pulled out a chair, invited him to dinner, and let the guest of dishonor discuss me and my inadequacies at his banquet of bullying.
Not anymore.
The volume the enemy tried to scream "you're not good enough" shouted desperation on his part. The decibels revealed his deceit.
"You're not good enough." Those are fighting words.
"Silence, Satan. I am a child of God with a beautiful story He wrote for me to share with others. He says I AM GOOD ENOUGH. He says I'm worthy. I'm chosen. I am called and you can't stop me from speaking about what God has done in my life. In the name of Jesus, I have full authority to snuff you and your deceitful words out!"
If you are a believer in Christ, you do too, sweet one! Stand in the fullness of your authority. Speak it out loud.  There is great power speaking the truth. It cuts the enemy down to size and places him right where he belongs … beneath our feet.
The next morning during quiet time, God reminded me of a song He used early in my walk. I used to sing it over and over at the top of my lungs during my hour-plus commute to work. Even back then, God was telling me I had something to say. I believed it. The lyrics coursed life through my veins as I sang boldly, in spite of my circumstances.  I wasn't living from a place of victory, but God was sewing seed for my future.
Generous, liberal seed-sewing.
The song is "Something to Say" by Matthew West. One of the lyrics is, "Well your life is the song that you sing, and the whole wide world is listening."¹
The world is listening.
We all have a place on this globe, a responsibility to reach others with the love of Christ through our words and actions and the lives we lead. God has uniquely positioned each of us in a place of influence over others. Where we are and who is around us, not by chance.
We do have a choice. Are we going to positively impact others or will we hide under protective shells too afraid to face fear, criticism, or feelings of inadequacy?  Like a turtle, our head hides from the predator who wants to come and kill, steal, and destroy – our life and the lives of those we touch. (John 10:10) But only if we choose to allow it. We can make another choice, a conscious choice to choose courage.
We can make a conscious choice that if God calls us to a person or a situation, He will keep His promise. He will equip us. (Hebrews 13:20-21) As much as we may want to do what God calls us to, He desires it more. It's like those dreams we have for our child when he or she is young. We want a bright future for them. We want a life full of love for them. We want them to fulfill their destiny. God wants that for us too.
Our destiny is important for us, and for all the lives we intersect. Our words and our actions have the power to reveal Christ. We have influence. God intended it. We have words that must be spoken – stories shared. But the power of words doesn't stop there. Our words have the ability to speak life into a lost and broken world. When the enemy wants to keep people weighed down, we can speak words that lift others higher. We can help them to see hope. Possibility. A future bought and paid for by Christ.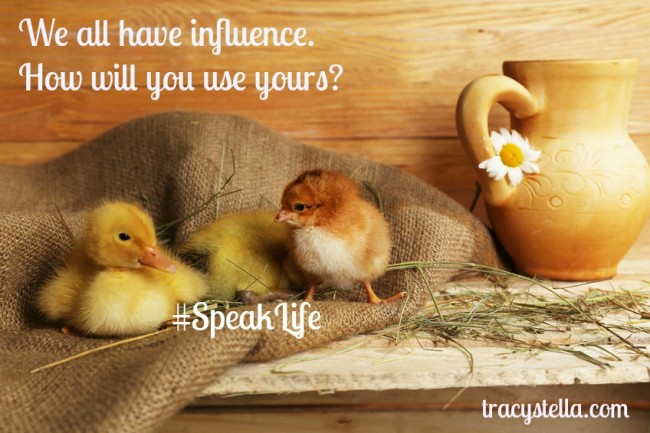 Our words have influence. So if Satan tries to shush you, remember God has given you something to say. Share your story. Speak life. Encourage others because the world is hard sometimes.  But the world is listening for love through the life you lead.
"No one can say it like you do."²
QUESTIONS & ACTIONS
Listen to Matthew West's "You've Got Something To Say", because God wants to make sure you know you do!
About the author: Tracy Stella is a Christ-follower on the journey of life, seeking to see God and His will for her fulfilled on this great adventure. She feels compelled to share the story of God's hand in her life with the hope that readers will search for and see God at work in their own lives. Jesus writes the greatest story of all. It's called Redemption for those who are willing to surrender to His love and leading.  I pray God continues to write a glorious story in each of your lives. Amen.

If you found this helpful or inspiring, consider sharing it with others. Thank you for reading and God bless!
¹West, Matthew. Well your life is the song that you sing, and the whole wide world is listening. "Something To Say." CD. Sparrow Records. 2008
²West, Matthew. No one can say it like you do. "Something To Say." CD. Sparrow Records. 2008