When I began writing the present inheritance and legacy series, I had no idea it would include what we learn from the legacy our pets leave behind.
My husband and I lost our little Stewart unexpectedly. He was healthy and happy, and then he was gone. Untimely death doesn't give emotional space to prepare. Out of nowhere the wind gets knocked out of you.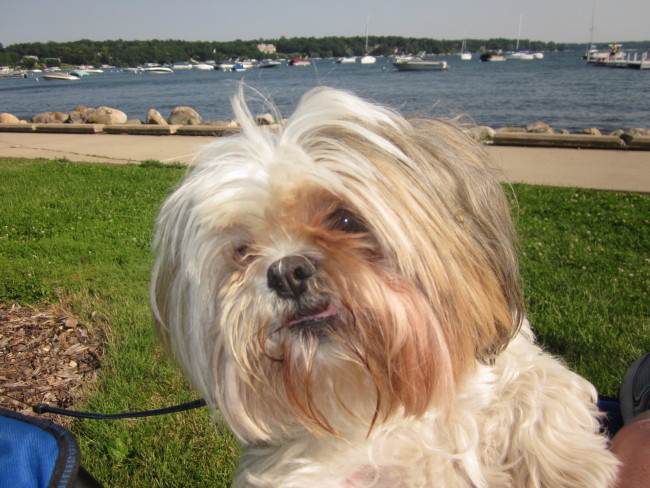 Heartbroken, slowly we are walking out of grief's darkness. It's a process. The pain doesn't diminish over night.
I wish I were writing about something else, but this is the path I am on. I've asked God to wring every good thing from this loss. If I have to experience the pain, I want there to be purpose in it – God's purpose fulfilled.  So my prayer is we all learn something today – about God, grief, ourselves, and the love God gives us through our pets and others.  I pray beauty from ashes.
In case you are not a dog lover, I feel I need to explain why the love of our dog runs so deep. My husband and I were talking about why it was hitting us so hard. It makes perfect sense.
Little Stewart left a legacy of love permanently imprint upon our hearts.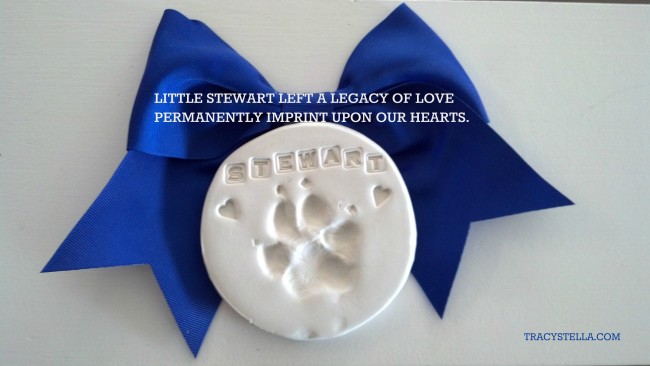 It's etched there, ever a part of who both my husband and I have become: healthy and whole individuals who love Christ. Our grief, we agreed, actually a sign of health. We weren't hiding, running, or numbing out. We allowed ourselves to experience the loss. Not always easy. In the old days, I would have buried the pain like a bone in dirt. Later unearthed in unexpected, odd fashion. No. Better to deal with loss when we know why it's there.
God's grace gets us through.
So we keep walking, motivated by the fact little Stewie would have wanted us to. After all, that little dog did an excellent job of loving my husband and I back to life.
Before either my husband or myself knew how to give and receive love in a healthy fashion, little Stewie taught us how. God used our dog's unconditional love to show us. Stewart was our ministry dog, but his first ministry was to my husband, and later to me.
I believe God brought Stewart into my husband's life to save him. They were meant to be together, because my husband also saved Stewart. My husband has a kind, gentle spirit. He's a good man. Before I was in the picture, Stewart came to him from an abusive home. As a puppy Stewart was kicked hard in the eye by a woman's jealous boyfriend. He caused permanent damage to Stewart's eye. Because she feared for Stewart (once named Piccolo), she gave him to Sam and he welcomed Stewart into his home. Sam's heart would grow larger in its capacity to love through his precious canine.
Stewart never lost his ability to love in spite of human cruelty. He kept his heart open to receive love from someone else. We can learn a lesson from that. Just because someone harmed us doesn't mean we can't give and receive love to another. We lose when we close ourselves off from love's possibility.
Stewart lived a full life because he loved fully. There's a lesson in that too. The more fully we love others, the more fully we are loved. Genuine love is a gift that often gives back. Contrary to the saying It's better to give than to receive, I believe loving well allows for something more.
Where love's concerned, it's better to give AND receive.  
My husband struggled with addiction, obesity, and severe anxiety before he became a believer.  Sam used to take Stewart to the bars. Little Stewie loved everyone in sight, but he always knew who needed it most. He'd give that person a little extra.
All these years later, Stewart still received birthday calls from people he'd made an impression upon. What dog gets birthday calls? Little Stewart, that's who. (I told you he loved well.)
When Sam was still drinking, little Stewie would look at him as if imploring, "Please don't do that, dad." Sam would "listen" to those pleading eyes. He limited his alcoholic intake, because he didn't want to hurt Stewart. God gave Sam someone to care for and love. Sometimes when we're in pain, we don't love ourselves well. Loving our pets diminishes pain and opens hearts to possibility.
Not too long after Sam inherited Stewart, God started to set things straight in Sam's life. God used little Stewie to give my husband a reason to stop drinking and start walking.  Sam was able to give all his love and attention to Stewart whose worst habit was his stubborn nature. (Practice for Sam's future wife, perhaps?)
Eventually, I came into the picture. I was hesitant to love. I had been deeply hurt and I didn't trust men in particular. I remember the first time I met Stewart. Interactions between Stewart and Sam gave me a glimpse of Sam's caring nature. I don't think this is an exaggeration. I'm not sure my husband and I would be together if he hadn't had Stewart when we met. That sounds crazy, I know, but that's how wounded I was.  That little dog left a legacy of love in my marriage.
It wasn't just men whom had hurt me, there were some deep relational wounds inflicted during that time. I wouldn't have made it through that season without Stewart. He wouldn't let me cry. It was the cutest thing. I'd be sobbing and that little dog (no matter where he was) would come bounding at me like Underdog ready to save the day. There was no escaping the licking that would ensue. Eventually, I couldn't help but laugh.
I believe Stewart was a good and perfect gift sent from God to bind up this once broken heart. He loved me through every painful moment until we got to the other side, the place of peace and finding of one's purpose. That little pup helped pave the way for my future, the one God had planned all along, a future of ministry loving others.
For God so loved the world. He gave this girl a dog to give her love and set her feet in a spacious place. That's the power of a pet who loves unconditionally. He teaches us how to fulfill one of God's greatest commandments – to love others and to love them well.
Any love Sam and I are able to extend to others is part of Stewart's legacy.
Eventually, Stewart's ministry broadened to include extending love to many other people. He sat in AA meetings and in Bible studies loving the lost. (We are all lost without Jesus.) God sent me on many a mission with that little dog. Stewart's charisma was difficult to resist. Walking him opened up conversations with people who needed a little light shined in the dark corner of their world.
More impressions made, some unaware of Stewart's impact. But I know and so does God. There are things I can't speak of here, but I see the significance Stewart's life made in dramatically changing and shifting circumstances.
Seeing the significance doesn't make grief's sadness go away. Time will help with that. Honoring Stewart and what God did in and through him will. And walking toward the future will as well. It's true for all types of grief and loss.
If we've lived life at all, we've grieved. It's not only death that devastates and leads to grief.   Loss is loss to the one who has lost something or someone they love.
If there is one thing I've learned walking through grief, it's that you get through it. It's not easy, but as long as you keep walking you'll get out of the valley.  
Walk toward hope's horizon, where the future is bright.
God's giving me help and hope, even in this difficult season.
Last week, He had my friend Robin call. She meant to text, but she called "by accident" instead. What she didn't know was I had written in my prayer journal asking God to show me He loved me. I was feeling lost. He sent love through a caring phone call from someone who loves her dogs as much as Sam and I loved Stewart.
God protected me from being home alone in the silence Stewie used to fill. Four and a half hours and a bad hair cut later, I decided it was a small price to pay from being absorbed by the deafening silence in our home.
God allowed us to grieve with my in-laws who loved Stewart as much as we did. We had a little memorial service for Stewart. We looked at pictures and laughed at some of his antics that brought us great joy. It's good to reminisce over the fun memories.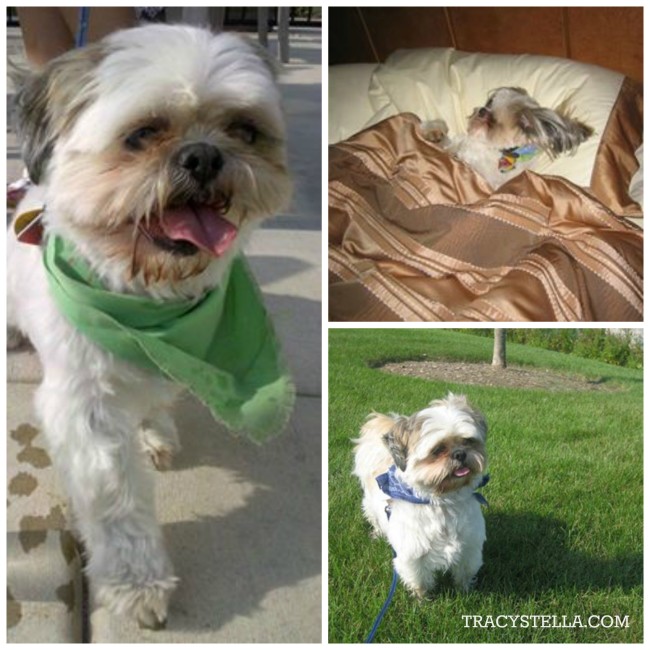 God sent a friend over with a gift, beautiful coffee cups and dessert plates with peacocks – God's symbol to me — FLOURISH. God's message that says, "Spread your wings, live a colorful life, and flourish for yourself and those I place in your path."
And God began casting vision for the future. I'm not sure when. Sam and I will know.
During one of my morning quiet times, God reminded me how He brought a dog into the life of a friend of mine. She was going through a really tough time. Out of nowhere a beautiful golden retriever was sent her way. She saved that dog and he saved her.
God was giving me hope that one day I would have another dog. Oh, that dog won't ever be Stewart. He won't be Stewart's replacement. But he will be a dog I can give and receive love to.  Stewart wouldn't want our hearts to be closed off to loving another.
There is more God is unfolding, more to Stewart's legacy. His life and the love he gave will not be wasted. My husband and I know first-hand the power of love through our furry companions because of Stewart.
Soon I will be serving in a home for girls and women, some of whom suffer from PTSD. They received harm at the hand of other humans. They might not be able to trust me, not knowing my intentions are good. Perhaps God will use Stewart's legacy to lead us to a dog that can show love to those who need it most and might find it difficult to trust people. The calming presence of a pet over time can heal a person's heart. Thank You, God, for showing us that.
When the time is right we will get another dog. It will be a ministry dog as well as a companion for us.  I pray God will lead us to the dog who can carry on our precious Stewart's legacy of love.
Until then (and beyond) I will remember God is faithful to send His love. Not only that, God continues to show us how to love and to walk through seasons of loss. We must keep our hearts open to all God has for us. Because we have lost the love of a pet or another person doesn't mean we will never have it again. It will be different, because love shared isn't identical from one situation to the next. But God's love is always constant. Ever faithful. Never changing. Promise Keeper.
I would have lost heart, unless I had believed

That I would see the goodness of the LORD

In the land of the living.

Wait on the LORD;

Be of good courage

And He shall strengthen your heart,

Wait, I say, on the LORD!

—Psalm 27:13-14 NKJV
In grief I would have lost heart had I not seen God's hope available in the land of the living. One day I will see Stewart again in heaven. But my heart would have been breaking while I was here, had God not given me hope for redemption in the here and now. So I will be of good courage. Loving again, grieving, feeling … those things require courage.
When we wait on the LORD, He will strengthen our hearts and help us walk forward toward a hopeful future in the land of the living. Fulfillment of the love commandment depends upon it.
Let's all learn a lesson from Stewart's legacy and allow ourselves to love well.   It's how we'll make a lasting impression upon others.
We love you, Stewart. See you on the other side, sweet pup!  I know you wouldn't want us to worry about anything.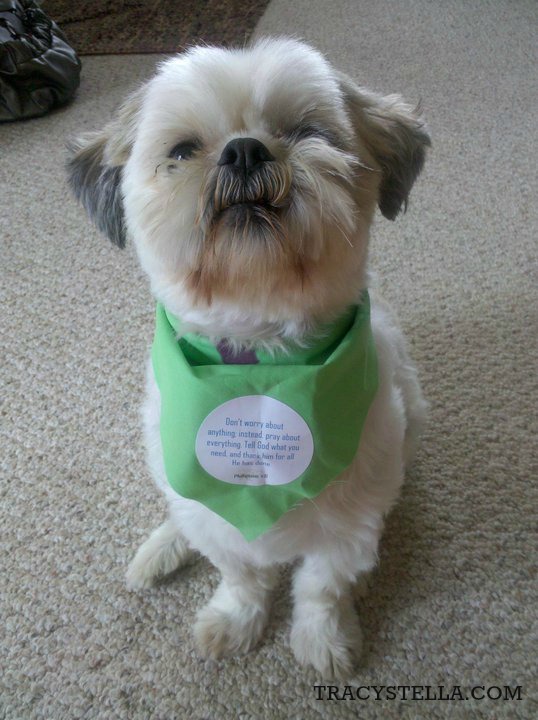 QUESTIONS & ACTIONS
Who has left a legacy of love in your life?
What have you learned from him or her?
How can you carry those lessons with you and share with others?
How has (or is) God strengthening you in a time of grief or loss?
What hope has God promised in your heart?
If you don't know the hope God intends through a difficult season, I pray God gives you meaningful revelation. I pray He brings great clarity and purpose from any pain you have experienced. I pray God brings hope abundant in spite of any present difficult circumstances. Most of all, I pray God's love and comfort consume you. In Jesus' very precious name, amen.
Click here to listen to Kari Jobe's "I am Not Alone". Let truth sink into your soul.¹
About the author: Tracy Stella is a Christ-follower on the journey of life, seeking to see God and His will for her fulfilled on this great adventure. She feels compelled to share the story of God's hand in her life with the hope that readers will search for and see God at work in their own lives. Jesus writes the greatest story of all. It's called Redemption for those who are willing to surrender to His love and leading.  I pray God continues to write a glorious story in each of your lives. Amen.

If you found this helpful or inspiring, consider sharing it with others. Thank you for reading and God bless!
1 Kari Jobe: "I Am Not Alone." YouTube. Accessed July 10, 2015. https://www.youtube.com/watch?v=Ow4OfW4DP9s