God's got your situation under control – whatever your struggle. God knew and knows what's ahead for you, for me.  We don't have to wonder about our future. The One who made the world has it in His hands.
Sometimes, that can be hard to remember.
While I consider myself a woman of strong faith, I sometimes struggle – more than I would like (or would like to admit). I'd like to be so well-rooted I never move. Sometimes, I stand the way Christ tells me to. Strong. Certain. Assured. Courageous. Confident.
Sometimes, I am shaken.  At that point I must stop to remember on purpose I have been created for a purpose. Chosen. Predestined. Well-planned for by the Father who knew He had things for me to do—even if it would take awhile to fulfill His purposes.
God knew it would take time, yet He considered me worth the investment.  He considers us all worth His investment.  His return? We turn to Him.
God isn't in a hurry. He isn't worried. He knows eventually His love will draw us near, those of us that are willing to surrender ourselves to Him.
His forgiveness blows us away, because it's not people's first instinct to let others put the past behind them. But it is God's. Once we understand that principle, we can't help but be overwhelmed.  He says, we are new creations. We are made new in His image. We are redeemed. We are transformed. We are His children whom He dearly loves.
These words the apostle Paul spoke to the Jews are also for us as Gentiles (non-Jewish believers in Christ).
In him we were also chosen, having been predestined according to the plan of him who works out everything in conformity with the purpose of his will,—Ephesians 1:11 NIV (Emphasis mine)
We all can draw near to God and conform to His image. We are chosen. We are predestined. And God works everything in conformity with the purposes of His will.  In conformity means to be in agreement with.¹ All things in agreement with God's plan will unfold, often times in spite of our interference.  After all, He's merciful.
He makes a way, even when we get in the way.
My mind is still hovering over the idea of legacy and inheritance. I can't seem to let go of the concepts.
Have you ever considered people who leave a legacy and don't ever know it? I have. At various times, God has reminded me of people who played a role in my life, people well-placed by God to use as seed for a much later harvest.  He's used interactions from my personal history as evidence He was always there. He was right by my side all along. Still is. Always will be.
I definitely got in God's way. Even though I try not to today, I know I still do. Hopefully, less so now that I've surrendered my life to Him. But I am still grateful that…
God makes a way, even when we get in the way.
The times I doubted and asked God why He let me get so far from Him dismissed when He reminded me of interactions with believers. Encounters ordained by God, I now know. At times I thought it was all nonsense. I had no use for principles of faith, at least as a young adult and into adulthood.
But before that? There was childhood curiosity. There were people whose names I can't remember, ones who left a legacy for Christ in my life. I may not recall their names, but I do have good memories of how these ambassadors for Christ taught me a bit about Him.
God knows who they are and I pray they have been blessed for the way He used their hands to touch the heart of a little girl who stepped through their church doors. Double doors painted white, open for all.
I grew up in a town population just over 400. The town square—more an oval— housed a playground. Like a corral it housed animals, only these came affixed with springs stuck in the ground that allowed us to ride like rodeo riders. Sometimes we got bucked off. Corral also meant to contain us.
Wooden fence posts surrounded the oblong space. Metal bars connected each wooden beam much like a hitching post, perfect for swinging upside down, little girl's hair dragging in the dirt. Ice cream socials the main event for most kids in town. We couldn't wait for summer.
Two summers in particular, I also couldn't wait for Vacation Bible School. From the town square, you could see the Methodist church sign announcing VBS. I think my little girl's heart was drawn to attend.  God was calling me as He calls us all. He tells us to draw near to him like a child.  (Mark 10:15)
God sent me an invitation on the church sign of Henderson United Methodist Church. Vacation Bible School. "Come to me My child."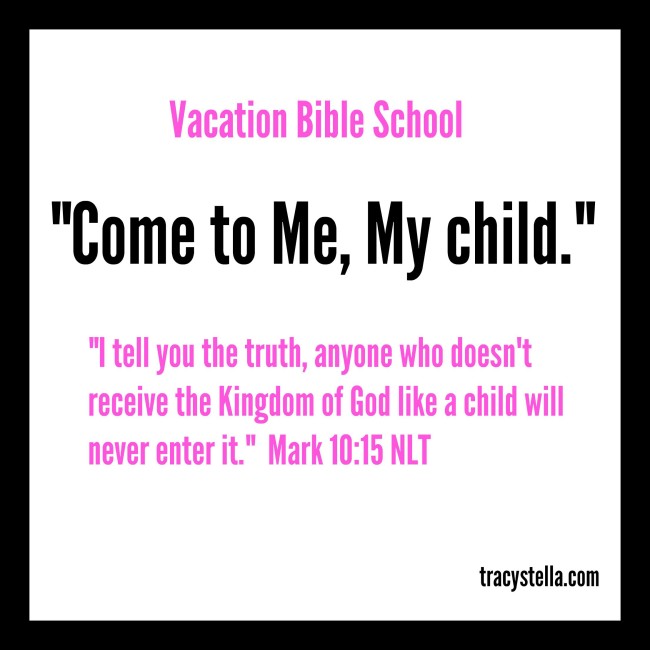 God invites us to come to Him.
I didn't hear it that way as a little girl, but I hear it that way as a grown woman. Evidence He always wanted me by the allure He created in my little girl heart. Like a magnet, I was drawn to attend VBS.
What evidence has God given demonstrating He has always wanted you? If you don't know, I pray He reveals it to you. Because He does. He wants a deep, meaningful relationship with you.  I pray He peels back spiritual blinders and shows you how He has been pursuing you all along. I know He has. God is faithful. He desires to know you. Intimately. Don't hide. Let Him help you. Give Him your heart. He is trustworthy.
Maybe my mom would let me go if I asked. We weren't the church-going sort of family. But as God would have it, she said yes.
Henderson United Methodist Church introduced me to kid-friendly songs of faith. The first year I attended in the old church, not the current brick building with white double doors still standing 30+ years later. Walk out basement letting in lots of light, or maybe it was designed to let light shine outward.
I was in gradeschool. To this day, music stirs my soul. What I remember most from that first year is singing, "This little light of mine. I'm gonna let it shine. This little light of mine. I'm gonna let it shine. This little light of mine. I'm gonna let it shine, let it shine, let it shine, let it shine."
Thirty + years later, I pray that's true. Sometimes prophecy takes awhile to fulfill. (smile)
The second year volunteer teachers planted seeds of Scripture in our hearts. We colored Bible story pictures and I seem to remember macaroni masterpieces of some sort. The church must have had a good budget, because we were given ceramic crafts to chalk color and glaze.
You're not going to believe this.
Even though I wasn't a believer until I was 40-ish, I kept those ceramic crafts. They followed me wherever I went. I find it odd I kept them over the decades and through many moves. But I'm glad I did.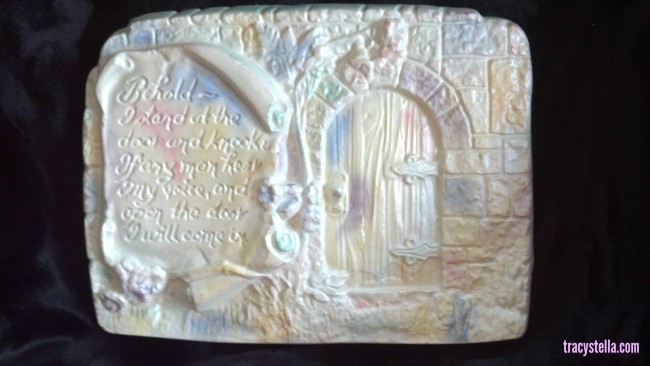 Arts & crafts evidence remaining, like pottery shards dating archeological sites. God is faithful to pursue us. Remember. His purposes predestined. Ceramics covered in chalk dust prove it.
His purposes? Mostly to know Him and to help others know Him too.
Is God asking you to open the door? Don't delay like I did. There is so much waiting for you when you open the door to all God desires to give you.
Let's look at Ephesians 1:11 again with the verses that follow.
In him we were also chosen, having been predestined according to the plan of him who works out everything in conformity with the purpose of his will, in order that we, who were the first to put our hope in Christ, might be for the praise of his glory. And you also were included in Christ when you heard the message of truth, the gospel of your salvation. When you believed, you were marked in him with a seal, the promised Holy Spirit, who is a deposit guaranteeing our inheritance until the redemption of those who are God's possession—to the praise of his glory.—Ephesians 1:11-14 NIV (emphasis mine)
If you are a believer in Christ Jesus, you have a great inheritance. You've been given the Holy Spirit as a deposit ensuring you are God's possession. You cannot be stolen away. You are saved—for all eternity. Forever. The New Heaven one day your home.
Those faithful believers who sewed seed in the 70's, God brought forth a harvest in me. So many seeds sewn, all tended to by Him over time. Those believers played a significant role. They invested of themselves for a great thing, a child's eternal inheritance. A child not theirs, but their Father's. They were the ones that when He said, "Follow me", they did. And because they did, they made a difference in a little girl's eternal destiny… even if it took decades to produce a yield.
I received my first Bible from VBS. I didn't understand anything I read in the King James Version with its thee's and thou's, but I remember reading it in my room anyhow. Red letters wooing me. Read under the glow of my frilly bedside lamp.
When I began seeking God as an adult, I was grateful to my VBS teachers. I didn't wrestle as much as I would have through the pages of the New Testament, wondering, "Where is that book in the Bible?"  Oh the fear created in seekers who feel as if everyone sees they have no idea where "that book" is in the Bible, the one the Pastor says to turn to.  When the Pastor said turn to Romans Chapter 1, I didn't flounder.  I knew where to flip.
You see, our VBS teachers were smart. They gave prizes (candy I think) to those who could memorize the names and order of the books in the New Testament. What kid doesn't want to win a prize? I was competitive even back then. (smile) I wanted to win. Bring on the memorization!
Matthew, Mark, Luke, John, Acts, Romans, 1 Corinthians, 2 Corinthians, …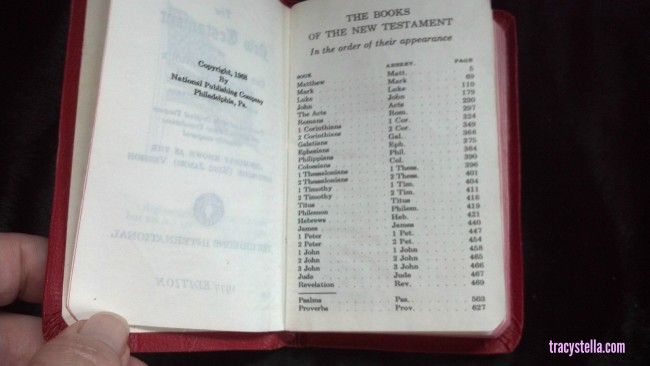 It's funny the things retained from youth. One never knows what might sink in. One never knows what may come to really good use at a later date.
My former Pastor was taught the fruits of the spirit through a coconut song. Another childhood VBS byproduct, I think. He delighted us by singing it to the congregation complete with hand motions. But that's another story.
In honor of those who invested in my eternal inheritance, I feel called to help with VBS this summer. Something inside me stirred (more like Someone). I heard God's still, small voice as He prompted me to offer help. Who knows how God will use that seed in a child's eternal inheritance. It's the least I can do—give back. I know God uses every morsel of experience and exposure to Him. I pray it doesn't take decades to take root in the children's hearts and minds how much Jesus loves them. I pray their roots run deep at an early age and they become difference-makers for Christ in their families and in their communities. I pray they rise to the fullness of their potential in Christ, the potential predetermined and ordained by God.
God chose these VBS children in advance. The ones who may be covered in chalk dust or some other arts and crafts material used to teach them. I like the idea of chalk dust though. It makes me think of how Jesus and His disciples walked the earth in sandals, dusty roads making it necessary for the disciples to dip their feet in the cleansing water of Christ. We all need that. (See John 13:1-17)
It's part of God's plan.
"Furthermore, because we are united with Christ, we have received an inheritance from God, for he chose us in advance, and he makes everything work out according to his plan." Ephesians 1:11 NLT
God makes a way, even when we get in the way.
God knew and knows what's ahead for you, for me.  We don't have to wonder about our future. The One who made the world has it in His hands.  There's a VBS song to remind us, lest we forget.
He's Got the Whole World in His Hands 
What evidence is there God has you in His hands? Maybe more importantly, what does He want you to do with that evidence?
QUESTIONS & ACTIONS
How can you use an experience where you encountered God as a serving opportunity to help others encounter Christ? Sunday school, worship team, VBS, start a small group, disciple someone one-on-one, something else? Listen for where God's heart leads.
How can you thank someone who helped you encounter Christ? For example, I plan to write a thank you note to the United Methodist Church of Henderson. While the volunteers won't receive it (I don't know who they are), perhaps the Pastor will be encouraged by the kingdom impact his congregation made on someone's life. I pray it bolsters his faith and encourages him to keep fighting the good fight.
About the author: Tracy Stella is a Christ-follower on the journey of life, seeking to see God and His will for her fulfilled on this great adventure. She feels compelled to share the story of God's hand in her life with the hope that readers will search for and see God at work in their own lives. Jesus writes the greatest story of all. It's called Redemption for those who are willing to surrender to His love and leading.  I pray God continues to write a glorious story in each of your lives. Amen.

If you found this helpful or inspiring, consider sharing it with others. Thank you for reading and God bless!
¹Merriam-Webster, I. (2003). Merriam-Webster's collegiate dictionary. (Eleventh ed.). Springfield, MA: Merriam-Webster, Inc.
²"He's got the Whole World in His Hands". Youtube. Accessed 7-15-2015. https://www.youtube.com/watch?v=gAzBOGA2JPA