God doesn't want us to compare what we have with what others possess (or don't). Rather, God wants us to consider the true value of the gifts He gives us as His children.  Once we begin to grasp the magnitude of His generosity, we can't help but be changed by it.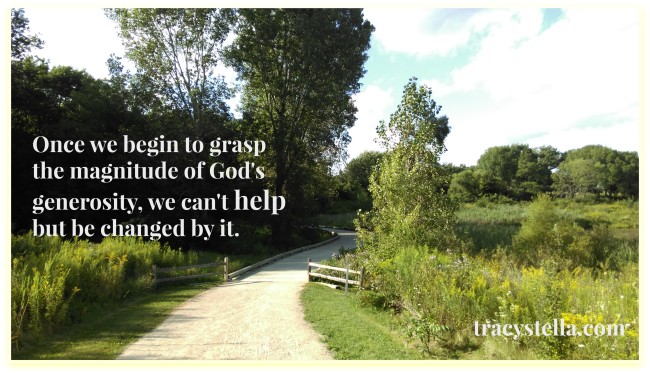 As believers in Christ Jesus we not only inherit fire insurance. We receive something at least as equally significant while here on earth. He gives us the gift of a relationship with Him. Treasure that up in your heart. I pray we all grow in awareness of the incomparable value of our priceless inheritance.
God also gives us right standing with Him. We don't deserve it, but He wants us to have it.  Not only that, He wants us to KNOW it is ours. People who know they are right with God…they change the world.
I don't know about you, but I want to make a difference.  I want to make a positive impact on the lives of those my life intersects. If that's you too, I pray you know your position with God. You are good with Him from the moment you surrender. It's done. Now go do something great (or you can keep reading … and then go do something great, ha ha). But if you're inspired, I have no qualms with you shutting down your computer and making a mark on your little corner of the world. With God guiding, there's no telling what you can do.
When we say "yes" to Christ, we are given great assurances. His goodness demonstrated in the abundant blessings He gives us here as well as what He promises for our future.
Sometimes, He might bless us financially, but money can't purchase happiness or salvation. Money and position can't purchase right standing with God. Power and prestige may appear appealing. However, if God hasn't placed you in the position, you may fall or wear yourself out from trying too hard to maintain your status. Pressure to perform is not part of Christ's priceless inheritance to His children.
Trying too hard to have all the right things, to be all the right things, to do all the right things—there's no need for that.  What God gives us and where He places us are purely at His discretion. It is deception that causes people to seek after the things of this world.
Our first responsibility is to heed God's commands. He directs us not to covet and for good reason.
Covetousness can lead to greed and greed can lead to injustice and oppression. All fall under the umbrella of sin. When we say sin, sometimes it's helpful to put a face on it. Sin isn't harmless. Sin always hurts. It hurts you. It hurts me. It hurts others.
Sin is wicked. Sin wreaks havoc. Sin wrecks lives. Sin can take a young girl's innocence.
When I think of wickedness in today's society, nothing more evil than the dark world of human trafficking comes to mind.   Sin rooted in greed. The pursuit of sexual pleasure saying, "I value my satisfaction over the dignity of another human being." The sin that says, "My desires matter more than another person." Sin that resides in the person who desires power, prestige and money so they are capable of using others in order to create a revenue stream. Sin that diminishes the value of another human being to less than the cash flow that person can generate.
Wicked.
You may wonder, "What's that have to do with me?"
The righteous shall inherit the land, And dwell in it forever. The mouth of the righteous speaks wisdom, And his tongue talks of justice. The law of his God is in his heart; None of his steps shall slide.—Psalm 37:29-31 NKJV
Our second responsibility is to speak up in the face of injustice.
Yes, the righteous inherit the land and dwell in it forever. That, my friends, is a beautiful part of our priceless inheritance if we are believers in Jesus. We didn't earn our righteousness. Rather, it is evidence of God's love and mercy extended to all who commit their lives to Him.
But when we commit our lives to Him, we are also committing ourselves to speak wisdom and to talk of justice. God's law is in our heart. His Word leads and guides our actions. When we let His Word guide us, how can we not speak of injustices in the world? If we're not a voice for Christ and what His Word commands, who will be?
With the assurance of our eternal inheritance comes great responsibility. If we see something that's not right, we need to speak up.
Our God is a God of justice and we can be assured that one day He will wipe evil off the face of this earth. His Word says so.
For the LORD loves justice, And does not forsake His saints; They are preserved forever, But the descendants of the wicked shall be cut off.—Psalm 37:28 NKJV
For the LORD loves justice.
For the LORD loves justice! Not only that, He does not forsake His saints.
Today, I hold that as a precious truth.  I hope you do too. This world, while good in so many ways, can also be a very tough place to palate.
In His promise that He does not forsake His saints, I know He hears the prayers of the righteous. There is power in corporate prayer to drive back the darkness. The volume of one saint is heard in the throne room. Combined, our prayers must sound like trumpets blaring.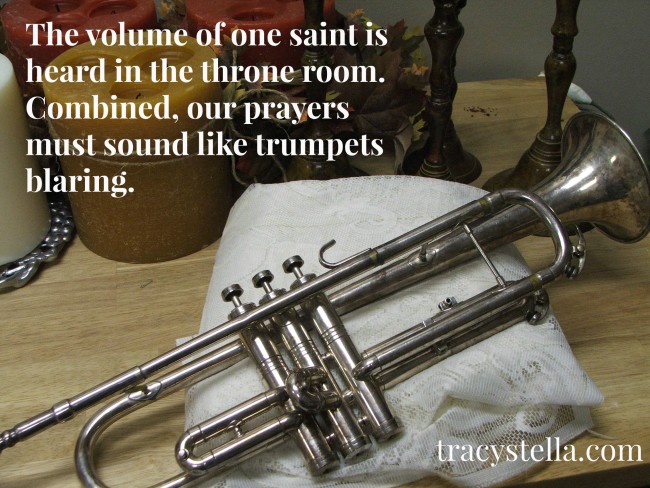 A few weeks ago several saints gathered to pray for organizations involved in human trafficking and for the survivors they help. We can claim the promise that God loves justice and He's not going to forsake His saints. I know He heard our cries and I know He will execute justice. Some justice we may be privileged to see in our time here on earth. Other forms of justice, we are assured, will be brought through eternal judgment if perpetrators are unrepentant.
I'm grateful we have a God who loves justice. The world would be complete anarchy without it. For my sake and the sake of others, I have confidence in God's character. I believe His word to be true. He says He loves justice, so justice will be served.
Gathered together were representatives from Administer Justice, Reclaim 13, New Name, and Refuge for Women. These organizations use their voice to talk of justice for the oppressed. More than just talk, they do. They take action on behalf of those who are victimized by human trafficking and through the power of Christ, turn these women and girls (sometimes men and boys as well) into victors. These organizations are committed to helping others rise from circumstances that, quite frankly, you and I can't fathom. Even when I hear what survivors have been through, my brain can't fully grasp the trauma.
It can seem like the world is winning, but it is not. Our God is sovereign. He reigns supreme. He also wants us to do our part. Speak up. Say something. Do something. It doesn't have to be some huge undertaking. Pray for these organizations and organizations like them. Pray for the victims. And yes, pray for the perpetrators for even they are victims. No one grows up and thinks I want to victimize other people for my own good. Something caused their actions. Perhaps they've experienced trauma in their own life. Who knows why they do what they do? I do not. What I do know is that God directs us to pray for our enemies (Matthew 5:44). We should pray for them.
Our third responsibility is to be patient.
Wait on the LORD, And keep His way, And He shall exalt you to inherit the land; When the wicked are cut off, you shall see it.—Psalm 37:34 NKJV
Can I tell you? This is one of the hardest areas of responsibility for me. Waiting on the LORD is wisdom. I know that. However, in the face of oppression it can be hard. When you think of victim's plights, you want the situation resolved—yesterday.
I don't always understand the wait. Who am I kidding? I often don't understand the wait.  I can give you all the "correct" answers, but it doesn't mean I understand them. Don't most of us want the problems of the world resolved? Soon? The only real way that happens is upon Christ's return when He snuffs out all evil.
But His presence and His people do push back the darkness today. Our efforts are not futile. Listen to the whispers of the Holy Spirit's leading and He will help us lead others to safe passage. Remember. He's the God who loves justice.
Refuge for Women provides 3 stages of care for human trafficking survivors. It's a beautiful, effective program that got its start in Kentucky. They were slated to open a home in the Chicago area soon.  I learned at the prayer gathering that housing fell through as donor circumstances changed. We've been waiting—I've been waiting—for awhile for their doors to open.
In my human weakness, it is difficult to be patient in the wait.
But we will wait on the LORD, because He knows what the timing looks like. He knows what (and whom) needs to be prepared to bring forth justice for these women and girls. He knows what type of home He wants to provide to bless them. If there is a delay, there is divine purpose in it.
Please join me in praying that Refuge for Women would be exalted to inherit the land that they need to care for these precious ones who so desperately need to know their worth and value in Christ (Psalm 37:34).
One day we will see the wicked cut off from the world. No more tears. No more sadness. But perhaps we can bring some hope and restoration through the power of Christ to those in need here on earth. (And don't we all need that?)
Mark the blameless man, and observe the upright; For the future of man is peace.—Psalm 37:37 NKJV (emphasis mine)
We are promised a future of peace. I relish the peace Christ has already brought to my life. It's a treasure worth more than money can buy. My prayer is for all who are oppressed to find the peace that is possible through the love of Christ.
One doesn't have to be a survivor of human trafficking to need peace. Peace is precious and I pray each of you possesses it here on earth as well. I pray Christ comforts you and cloaks you in His perfect peace that transcends all understanding (Philippians 4:7).
Peace is part of our spiritual armor. Peace helps us to stand against the face of darkness. We need to put it on and keep it on. Peace helps us to think with clarity rather than through clouded emotions.
For shoes, put on the peace that comes from the Good News so that you will be fully prepared.—Ephesians 6:15 NLT
While we are in the waiting stages, we are being fully prepared just as David was to fulfill his mission.
He also chose David His servant; And took him from the sheepfolds; From following the ewes that had young He brought him, To shepherd Jacob His people, and Israel His inheritance. So he shepherded them according to the integrity of his heart, And guided them by skillfulness of his hands.—Psalm 78:70-72 NKJV
I pray God guides your heart and hands to be skillful in pursuit of the mission He has given you. I pray that for myself and for all whom God has given an unquenchable desire to be His hands and feet to abolish human trafficking.  Make no mistake. God is calling an army of Christ followers to this issue. The number of people He is calling tells us of His great concern for those in harm's way. Only Christ can save. Only Christ can show the way. Only Christ is strong enough to break the chains that bind us all, but especially those who have suffered so.
But the salvation from the righteous is from the LORD; He is their strength in the time of trouble. And the LORD shall help them and deliver them; He shall deliver them from the wicked, And save them, Because they trust in Him.—Psalm 37:39-40 NKJV
Our fourth responsibility is to understand who holds ultimate responsibility.
What does our part look like on the journey of helping others? Point people to Jesus. Trust that His countenance will one day help their countenance to shine forth with Christ's beauty and light.
The LORD shall help them and deliver them. He shall deliver them from the wicked and save them. And because they will trust Him, they will help show someone else The Way.  Let that be our prayer.
Remember, people who know they are right with God….they change the world.
QUESTIONS & ACTIONS
Ask God how He wants to use your voice to raise awareness and the steps He would like you to take to bring the justice He so dearly loves.
Select one or more to pray for from the list below…
Pray Refuge for Women obtains housing free and clear of any debt so they can effectively care for all whom God calls them to. "And my God shall supply all your need according to His riches in glory by Christ Jesus."—Philippians 4:19 NKJV
Pray for Administer Justice that they will be able to effectively cut through legal red tape to serve their clients. Pray that those in need will know how to access the services of Administer Justice. Pray also for highly qualified attorneys to continue to join efforts with Administer Justice and help address human trafficking legal needs.
Pray for New Name that the women they are approaching are open to relational connections with those serving in the organization and ultimately with Christ. Give the women great courage to hold hope in their hearts for a better future and to trust volunteers reaching directly into the darkness. Pray too for safety of the volunteers.
Pray for Reclaim 13. Pray for those they serve-specifically children who have been victimized through human trafficking. Pray for resilience and redemption and that Christ would reclaim territory the enemy tried to steal.
Pray for law enforcement. As first responders, they often see the worst society has to offer. Pray for their spirits to be strengthened. Pray that they know Christ, so they do not carry the burden of such darkness on their own shoulders. Help them to be wise and discerning and to keep them safe as they protect society.
Pray God's healing hand reaches in and touches the hearts and minds of those who have been victimized. Pray they will become a powerful voice rising out of the darkness proclaiming victory and redemption through the power of Christ Jesus. Pray all the captives are set free.
Pray for healing of the perpetrators. Pray God would break through any hard hearts and cause genuine repentance. Pray they experience God's love and that they would turn from wickedness to receive God's love, mercy, & forgiveness.
About the author: Tracy Stella is a Christ-follower on the journey of life, seeking to see God and His will for her fulfilled on this great adventure. She feels compelled to share the story of God's hand in her life with the hope that readers will search for and see God at work in their own lives. Jesus writes the greatest story of all. It's called Redemption for those who are willing to surrender to His love and leading.  I pray God continues to write a glorious story in each of your lives. Amen.

If you found this helpful or inspiring, consider sharing it with others. Thank you for reading and God bless!