Have you ever felt restricted, as if someone were trying to limit God and what He might do in and through you? I have. The person's voice did not sound like the Voice of Truth. Everything inside of me rose up like a tsunami and emphatically crashed in my spirit as a resounding "no"! I would not let this person dampen God's plans and purposes for me.
Up until that point, I had been spiritually sheltered. I was blessed with people who came along side me and spoke life, and hope, and possibility into my future. They drew out the gifts God placed deep within me like water from a well, for the better good of God's kingdom.
After all that's why God gives us gifts—to share with one another, to build one another up, and to draw those gifts out of each other. The world is thirsty. They need God's children in pursuit of God-given dreams. Those are the only ones big enough to bring hope to a hurting world.
In the gulf between our inability and God's capability is where God's glory is revealed.
God doesn't want us to dam up the dreams of others. He wants us to cheer on our brothers and sisters in Christ. We need support, not the binding up of believers and their dreams. I pray we do not spiritually tie believer's hands behind their backs and expect them to fulfill their calling. I pray we help others to see possibilities God has for them. I pray we give people a chance to rise into the fullness of his or her calling as we cheer them onto victory!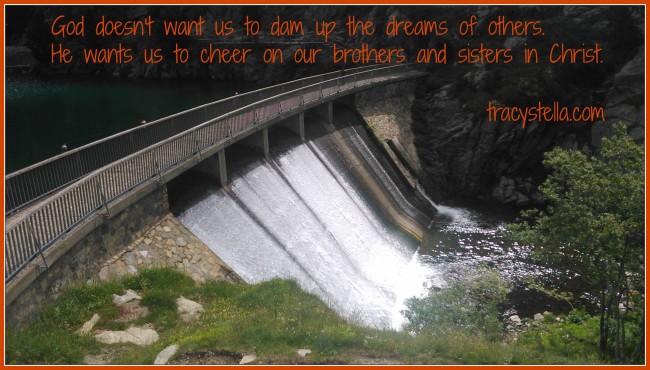 The contrast in experiences I personally encountered caught me off guard.  I was placed in a situation where someone tried to contain me and my growth. The situation contradicted what I knew. It felt like captivity and was a spiritual shock to my system. Limits without love have a way of doing that.  Limits without a genuine relationship look like legalism.
By the way, I'm not suggesting a spiritual free-for-all. What I am suggesting is we do not spiritually stifle what God is doing in and through another person.  There is a difference. We should always use discernment. We should let wisdom guide us. But we are not God, nor should we presume to know what God is doing in another person's life.
I believe the enemy tried to use that scenario to discourage me from doing what God has called me to do. I was fortunate in that I had a strong body of believers outside of that circumstance to come along side me and counter the lies with truth. At a time when I needed spiritual encouragement, I was blessed with friends and mentors who could speak life and liberty over me in extra doses. Sometimes that is what is needed to extinguish the lies and limits someone tries to place upon us.
Sometimes, people mean well but don't understand what God has planned for us. They don't know the dreams God has placed in our hearts.  Even we don't understand our dreams in their fullness. God reveals what we need, when we need it.
Perhaps, they don't mean to squish dreams but may view themselves as more "spiritual" than you or I. They may feel justified because they "have your best interest at heart" thinking they understand the journey God has you on. As if somehow they have a closer, more divine connection with God and they know what's best for us.
That is not truth. That is deception. That is unbelief. Sometimes people don't realize they're not trusting God. You see, God is big. He's bigger than me. He's bigger than you. He's bigger than Billy Graham. He's bigger than any spiritual bully trying to put you in a pot too small for the one God wants to grow you into.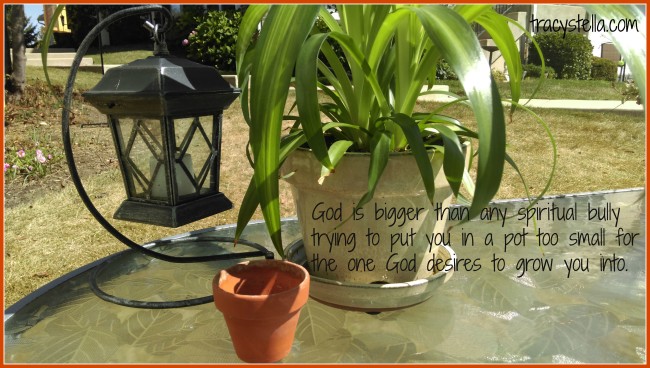 If that has ever happened to you at the hand of another believer, I'm sorry. We do one another a disservice when we place limits on what God can do through our brothers and sisters in Christ. Wasn't it the religious Pharisees who thought Jesus couldn't possibly be the Son of God? After all, He was born in a manger in the lowliest of circumstances. How could God the Father possibly use a baby to save the world?
Yet He did.
God's ways are not our ways. Whom God selects is not our choice.
This is a cautionary tale for every believer. We need to take care not to limit God by placing limits on His children or those He plans to save. We just don't know who God is going to use or how He is going to use them.
That's part of God's beauty. He sees beneath the surface—to the heart. That's a place neither you nor I can possibly peer into…even into the depths of our own heart. We don't know what's in there until we are put in a situation that challenges us, perhaps reminding us of our own sin. Reminding, not in some shame-inducing manner. Rather, reminding in an "I need a Savior" manner.
I need a Savior. Don't you?
Honestly, God is the only One who could have gotten me through that situation intact.  I felt like someone was trying to control and restrict my every movement. It made me angry, but God helped me to control my anger so I didn't sin in the midst of this spiritual struggle. Without prayer and the Holy Spirit to lead and guide me, it would not have been pretty. (Me being honest.) God's grace got me through that season.
I grew because I faced the situation. I didn't turn and run, although I wanted to. I made myself walk through the trial. I prayed ferociously. I faced my fears. I walked through the fiery furnace. It smelled smoky for awhile, but I learned some things about myself. I learned I'm not who I once was. I can be angry and yet not let the anger dictate my actions.
After all, we've been given the spirit of self-control … even when someone is trying to control us (which is one of my areas of woundedness). By the way, I recognize the person who I was on the receiving end of is just like me … wounded too. Aren't we all?
I learned a valuable lesson on the receiving end of someone else's sin.  It could very easily have been me (or perhaps you) or any of us thinking we know what's best for a person. We don't. We don't know what God has planned for others.
Remember how the apostles acted when they first found out about Paul's conversion? They didn't realize God was big enough to reach into a murderer's heart and turn it toward His. Where would the Church be without Paul's ministry?
We need to make every effort not to place limits on other people and what God is doing or can do in someone who has surrendered their life to Him. Sky's the limit as He helps His children to soar like eagles. Actually, not even that is high enough. God doesn't have a ceiling for His children.
He gives power to the weak and strength to the powerless. Even youths will become weak and tired, and young men will fall in exhaustion. But those who trust in the LORD will find new strength. They will soar high on wings like eagles. They will run and not grow weary. They will walk and not faint.—Isaiah 40:29-31 NLT
Let's help one another soar. More importantly, let's trust God and His ability to give power and strength to those we might consider weak or unable.
Now all glory to God, who is able, through his mighty power at work within us, to accomplish infinitely more than we might ask or think.—Ephesians 3:20 NLT
QUESTIONS & ACTIONS
Have you ever been on the receiving end of legalism? If so, how did that make you feel?
How does an awareness of how legalism feels help you avoid acting in a legalistic fashion toward others?
What dream has God placed in your heart?
Who are those encouragers who can help build you up as you fulfill God's plans and purposes for your life?
Who can you build up? Seek God and ask Him who and how you can encourage a brother or sister in Christ.
If you need spiritual encouragement and would like help achieving God-given dreams in a more in-depth, individualized manner, prayerfully consider hiring a life coach. I would love to work with you to help achieve what God is calling you to. I am passionate about helping believers walk in the fullness of all God has for them. For inquiry about life coaching, contact me via tracy@summitstepscoaching.com.
About the author: Tracy Stella is a Christ-follower on the journey of life, seeking to see God and His will for her fulfilled on this great adventure. She feels compelled to share the story of God's hand in her life with the hope that readers will search for and see God at work in their own lives. Jesus writes the greatest story of all. It's called Redemption for those who are willing to surrender to His love and leading.  I pray God continues to write a glorious story in each of your lives. Amen.

If you found this helpful or inspiring, consider sharing it with others. Thank you for reading and God bless!